Mount Assiniboine Provincial Park is one big playground. There are mountains, lakes and stunning views. I'm happy that I was able to spend a week here!
Photography Mecca
With my love for photography this park was a dream. You have the big and beautiful Mount Assiniboine as the centre (and attraction) of the park, but there is so much more to discover. Lakes looking like a mirror in the morning, peaks with 360 views and soft light on the mountains.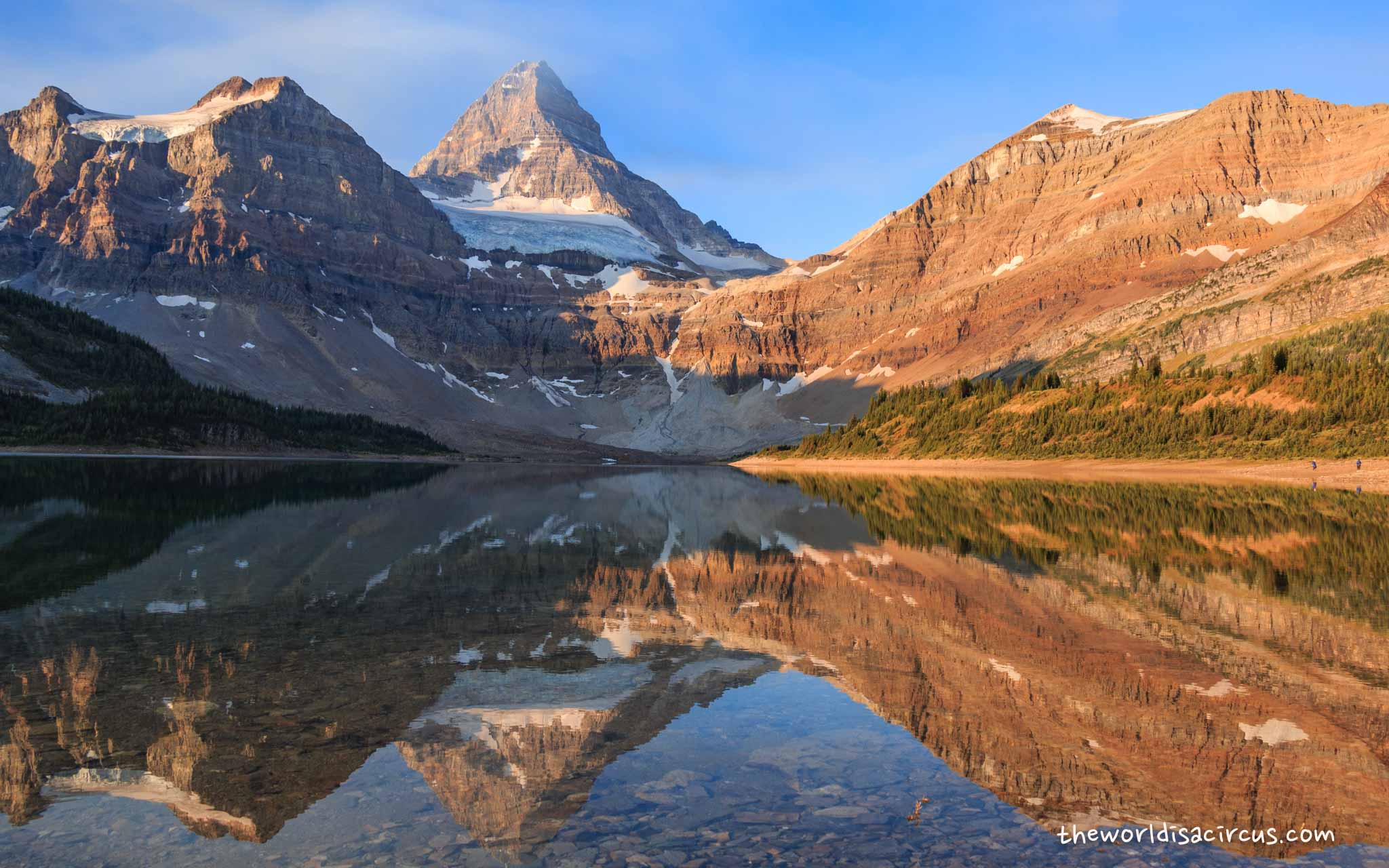 To get the most out of it I spent six days in the park. Two of those days were assigned to hiking in and out, because this place is not easy to reach. If you're willing to pay, you can take a helicopter flight in, which is 175CAD for an 8- minute flight. If you don't have or want to pay that money, you walk the 26km to the Lake Magog campground in the park.
I did the latter.
Day 1: The Hike In
There are different tracks to reach Assiniboine Lodge and the Lake Magog campground. See below for information on the different routes. We chose for the track via Wonder Pass, as it is the most scenic one, and the shortest – still 26km though!
It was our first longer hike in Canada and we were carrying big backpacks, so we decided to split the hike in two and camped our first night near Marvel Lake. This is a popular option, especially for people hiking in.
We left the Mount Shark Trailhead after lunch and hiked to the Marvel Lake campground (also called BR13 on maps). It took us 3.5 hours and I'll be honest: it was boring. You walk 13km on an easy and maintained track through the woods. There is nothing technical about it and you get no views. There are trees, trees and trees. I felt like I was hiking the same track over and over.
Because it was still bear season we made a lot of noise while hiking – a very funny sight! At the campground there were also wires to hang your food high in the trees – to protect it from bears. There were also some tables, a creek for water and a drop toilet.
Day 2: Marvel Lake campground to Mount Assiniboine
After a good night sleep and no bear encounters we left at 9.30am. 30 minutes later you arrive at Marvel Lake, and believe me when I say it really looks marvellous with its clear blue colour.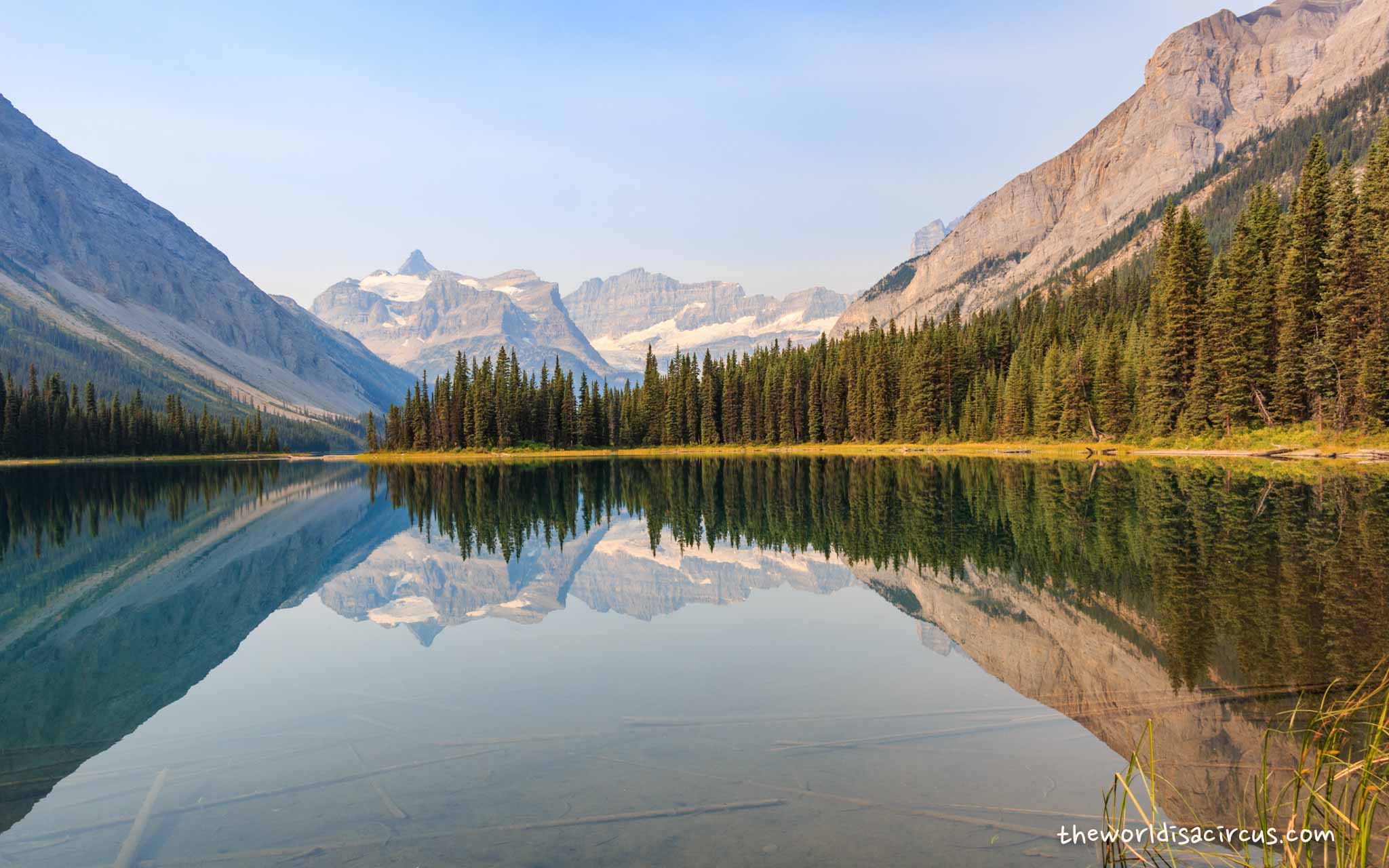 Then you follow a track with a tremendous view on the lake. It is so blue, and after all that time in the bush a real treat for the eyes.
While you're enjoying the scenery you can start preparing yourself mentally for a big climb. To reach Wonder Pass (and eventually Mount Assiniboine) you have to zigzag up and leave the blue lake behind. It took us around 1.5hours to get to Wonder Pass. One hour of that time is steep up, and the last 30 minutes are less steep, but still going up.
You can imagine how happy (and sweaty) I was when arriving at Wonder Pass. It was time to sit down, have some lunch and just relax. The last part to Mount Assiniboine and the Lake Magog campground is easy. You just hike down, and 45 minutes later you reach the lodge. The campground is another 2km from the lodge.
We were perfect on time to enjoy a sunset at Lake Magog and Mount Assiniboine.
Day 3 – 5: Exploring Mount Assiniboine Park
Once we set up our tent it was time to explore the area, and there is SO MUCH to see!
Magog Lake
This is the main lake in the park, close to the campground and the lodge. Mount Assiniboine stands beautifully at the end of the lake. Have a walk around the lake, take a (cold) dip and enjoy a sunrise or sunset with views on Mount Assiniboine.
When we arrived at Mount Assiniboine we were treated on a beautiful sunset.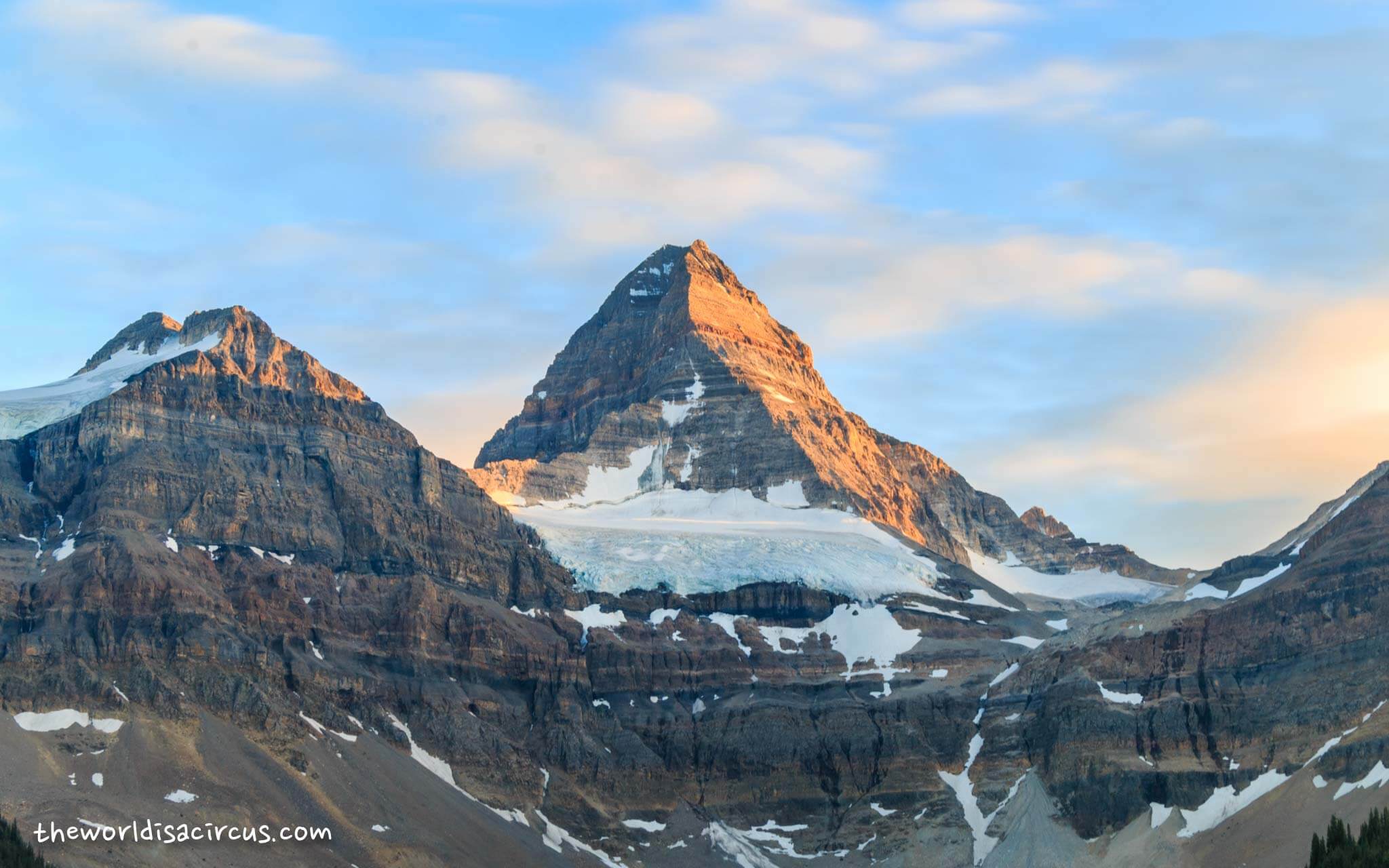 Sunburst Lake
Sunburst Lake is only a 10minutes walk from the Lake Magog campground. The trail is very clear and easy to follow and before you know it you arrive at the small and beautiful lake.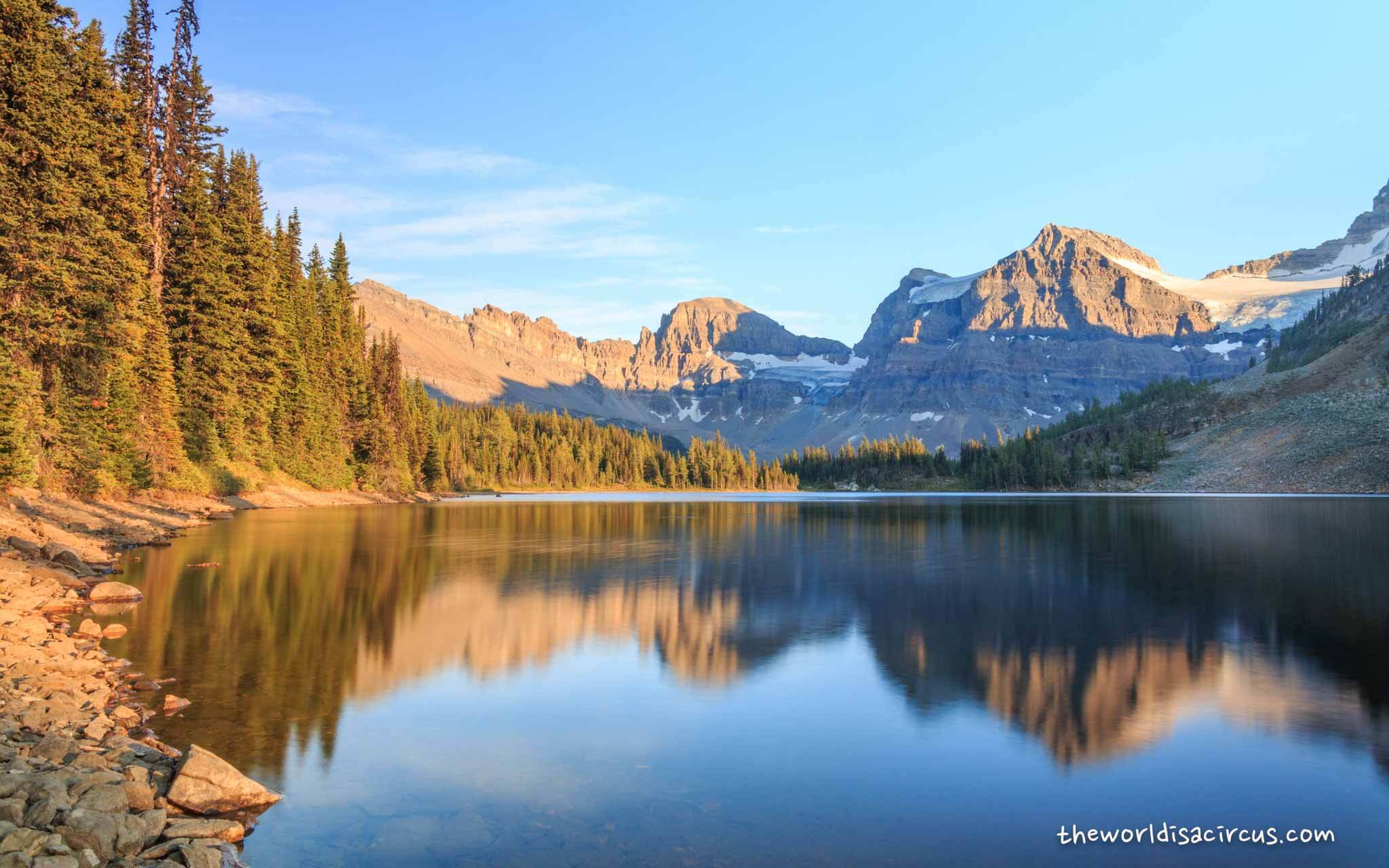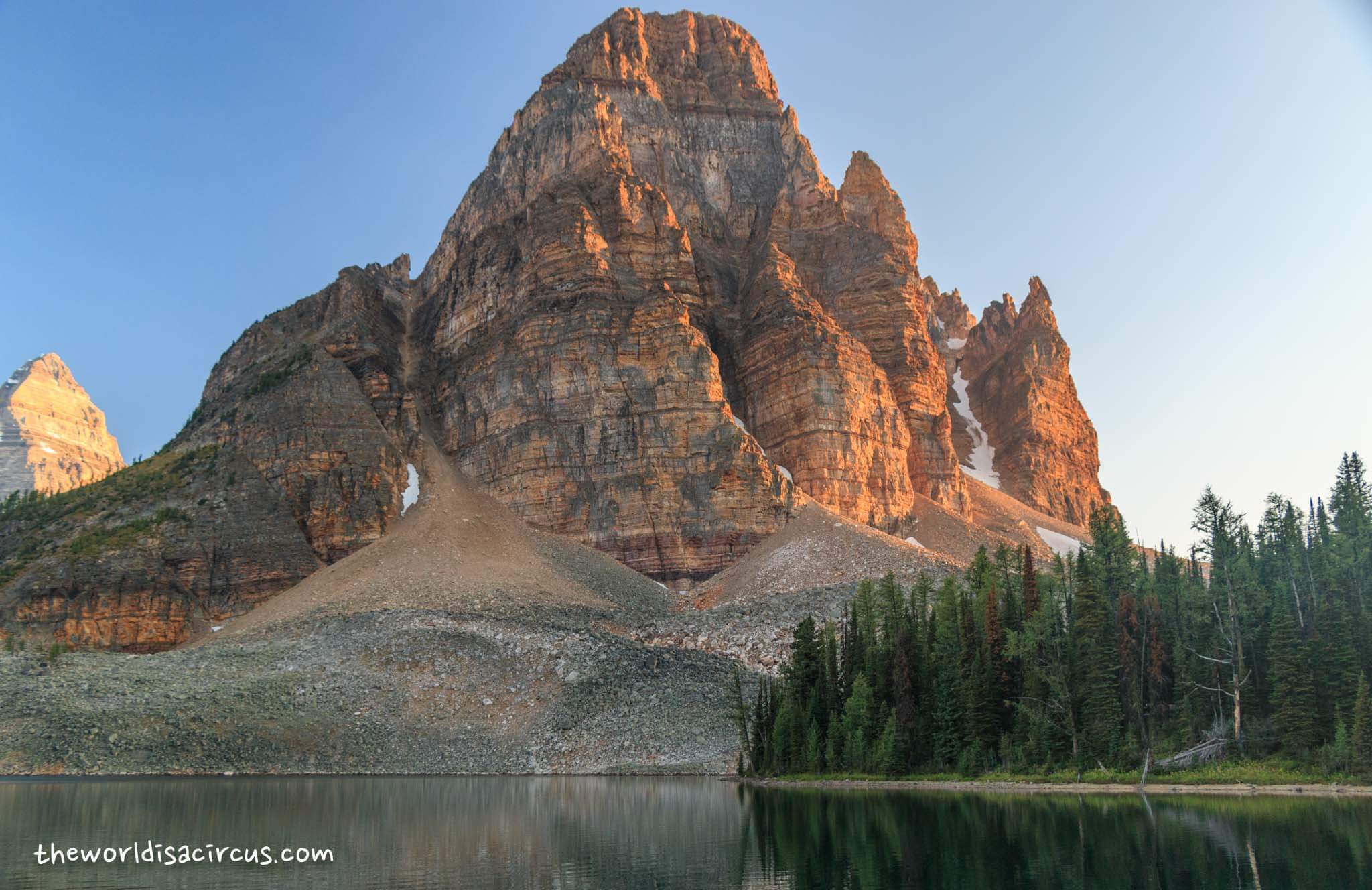 It's perfect for sunrise shots, as it's not that far from the campground, and it offers great sunrise views.
Cerulean Lake
When you walk past Sunburst Lake and you keep going, you'll end up at Cerulean Lake. It's bigger than Sunburst, and will take you circa 30minutes from the campground. Its clear waters and reflection of Sunburst Peak are worth the visit!
The Nublet / Nub Peak
If you've seen a picture of Mount Assiniboine, it's probably taken from this location. The Nublet and Nub Peak give you the best views on Mount Assiniboine and its surrounding lakes.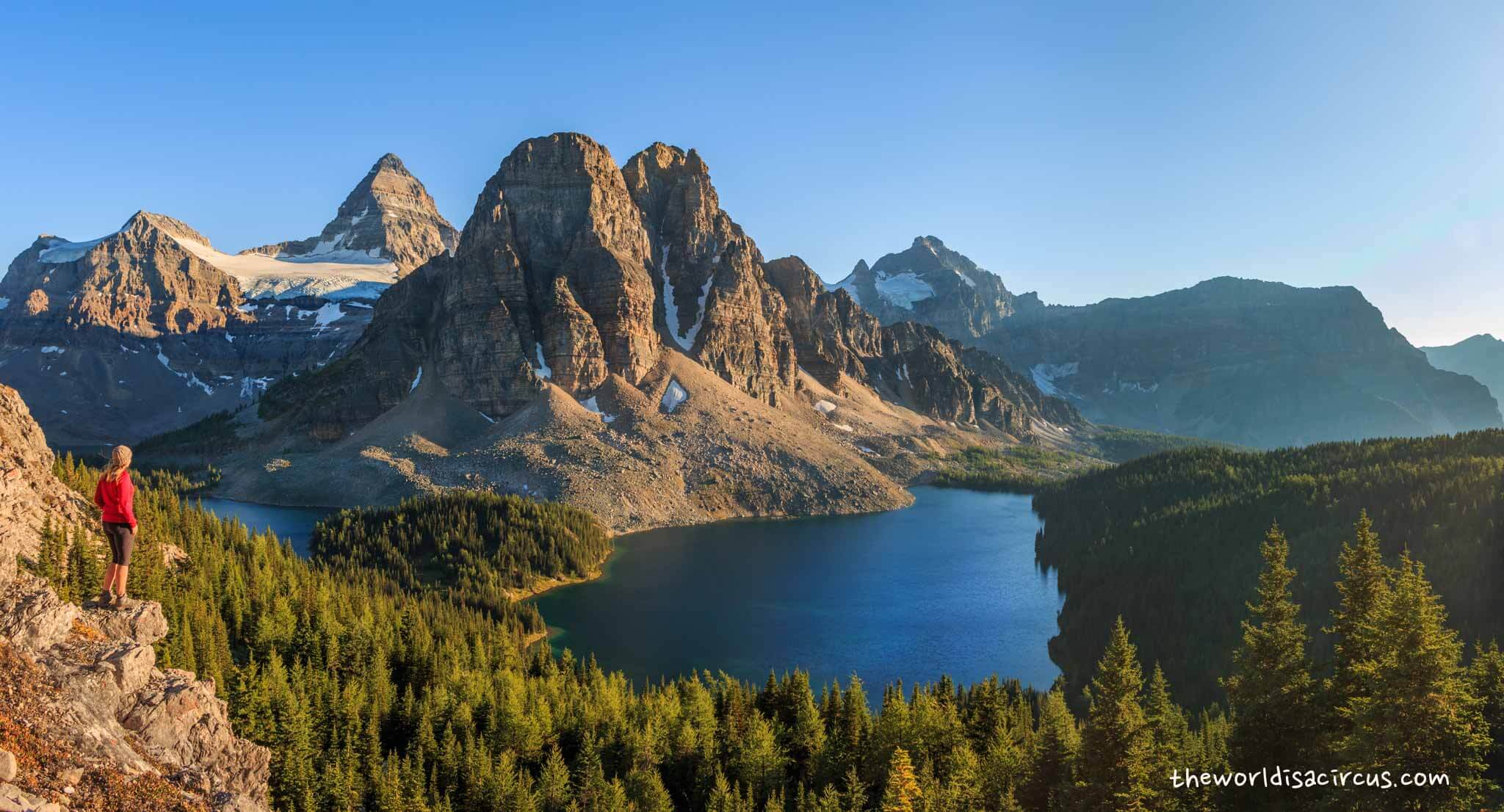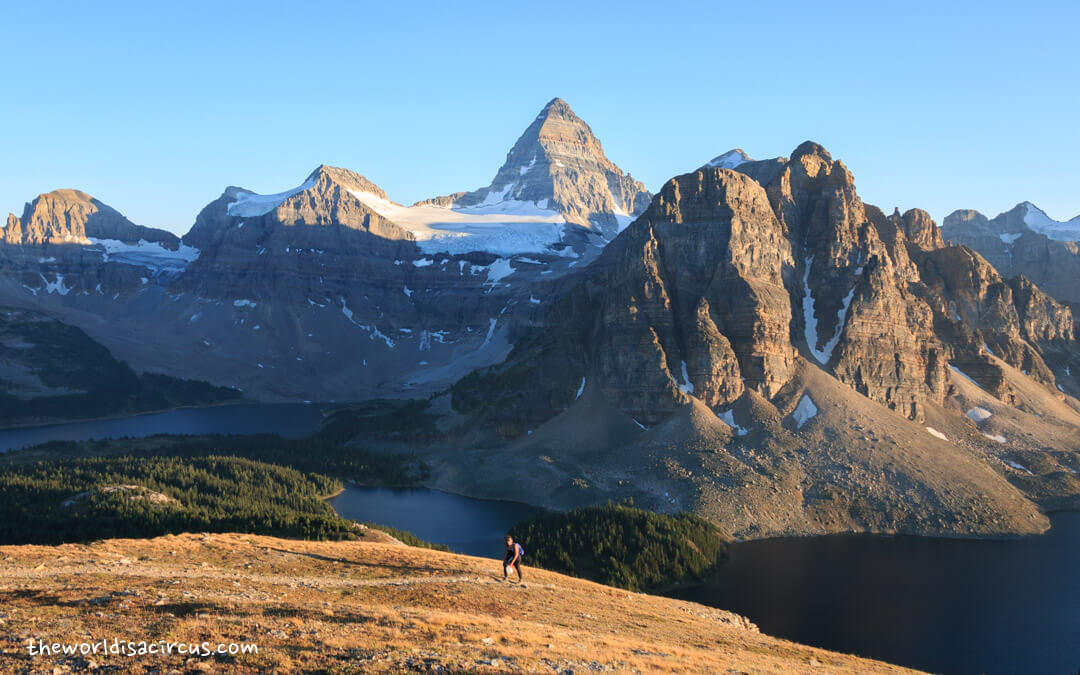 Those who want to hike more can continue on to Nub Peak, giving you an even better view. Take some wind jacket with you, as it can get very windy up there.
Waterfall and surroundings
Although there are lots of lakes and peaks around to explore, the area around the campground and lodge are worthwhile too. There's a little river flowing with a few small waterfalls. On a hot day it is great to jump in the water and cool down. Don't freak out though, there are a lot of fishes in it who like to tickle your feet.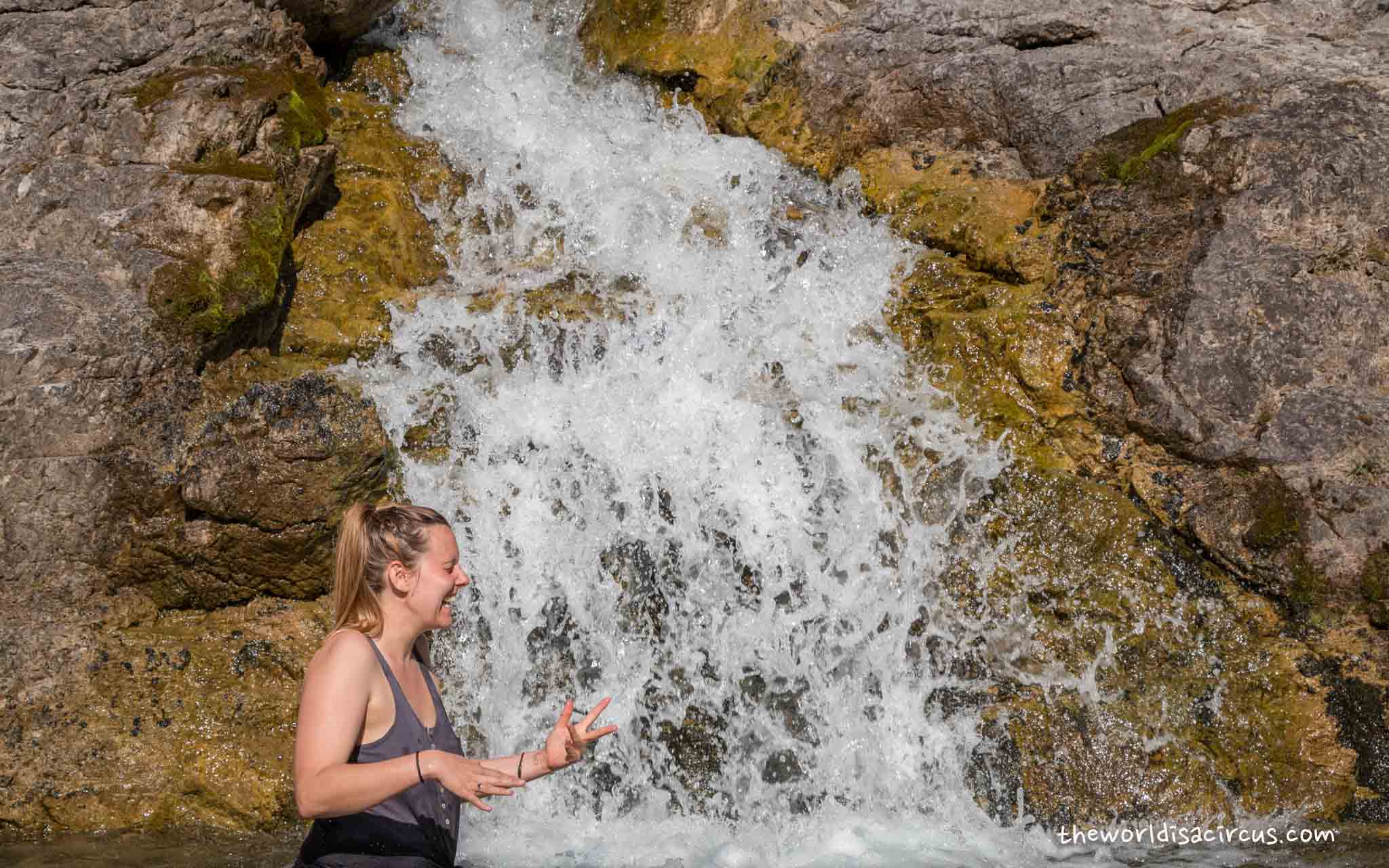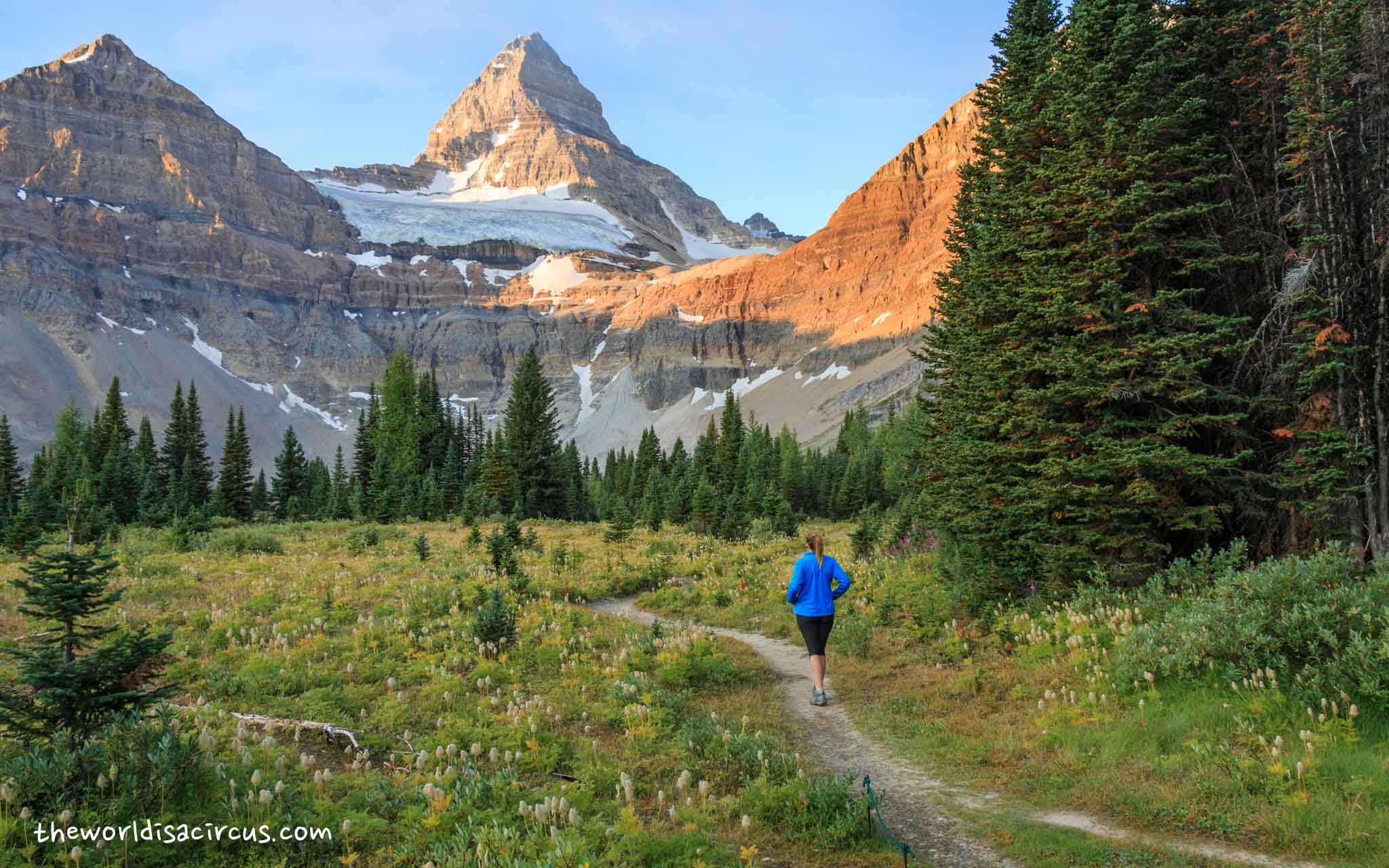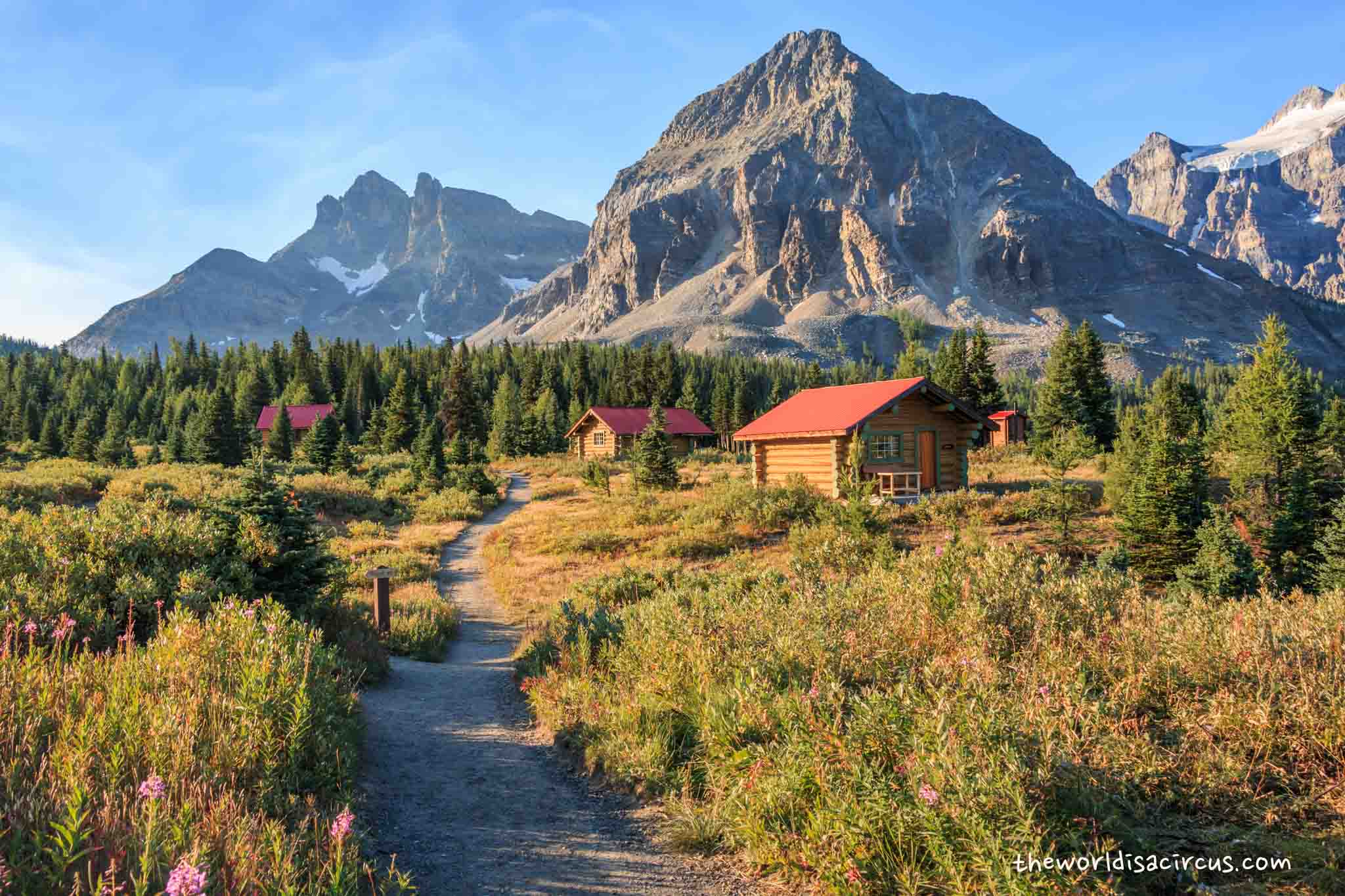 Day 6: Hike Out
We started early in the morning, because the days were hot and we wanted to hike out in one go. At 6.45 we hiked in the dark and enjoyed a mild sunrise at Wonder Pass. The hike to Wonder Pass is the only time you really have to walk up on the way out.
Hiking in the early morning is pretty amazing, as all the wildlife is out. We saw plenty of elk, chipmunks and cheeky birds. Those big birds were just sitting in the middle of the track, not moving and caring we were there. It was such a special moment.
At 11.30am we arrived at Marvel Lake, perfect for a lunch break and some more photo time. There were a lot of fires that days, so the view is a bit hazy.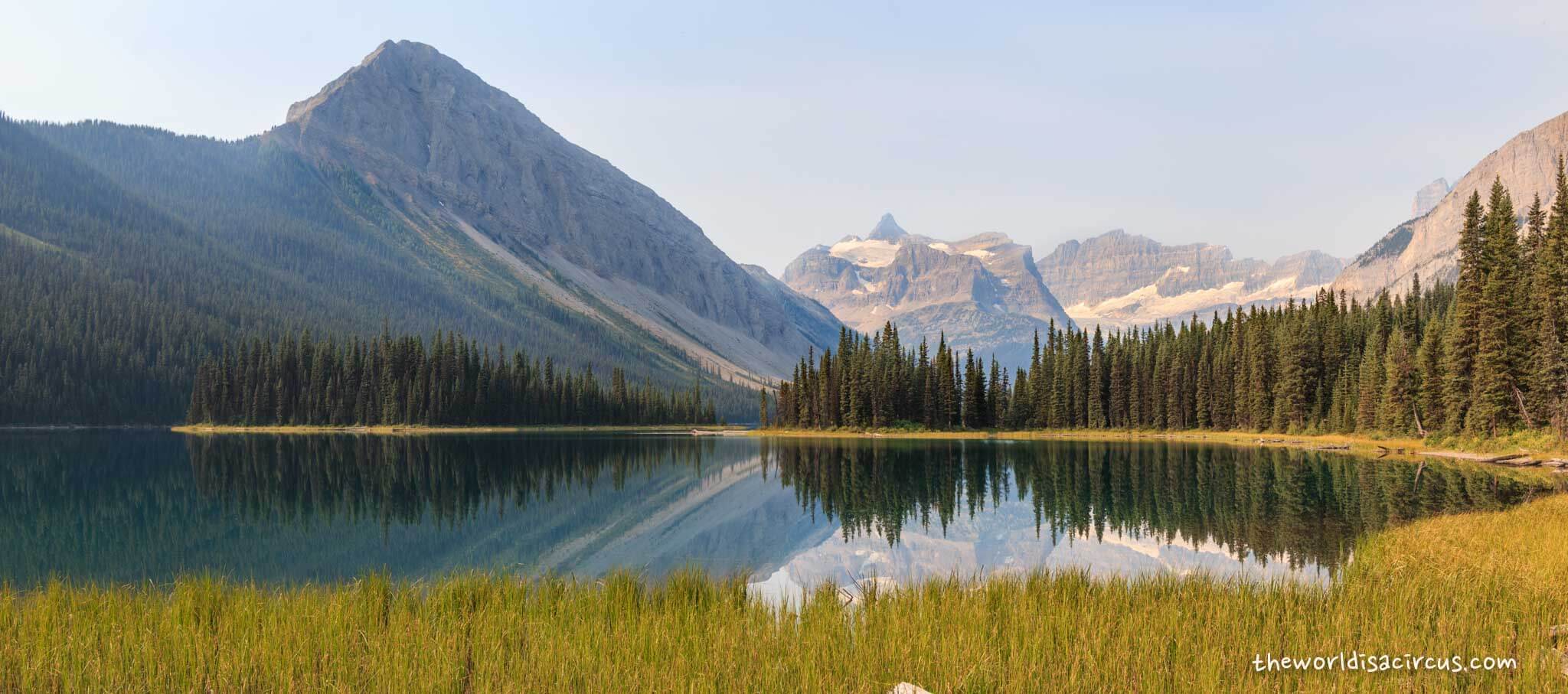 Then it was time for the boring last part back to the car park. I ended up listening to a podcast, because I couldn't handle the boring road. Unfortunately we couldn't run it, because of our big bag packs. At 3pm we arrived at the car and we were SO happy.
We didn't see any bears, but did carry our bear spray with us all the time! You never know when you'll bump into one.
This truly was such a wonderful week of hiking in a wonderful place. Don't let the distance scare you, it's definitely worth a visit and you can take it easy!
Accommodation
There's something for everyone in Mount Assiniboine Provincial Park, from camping to staying in a huts or a fancy lodge. We went for a mix of those!
Campground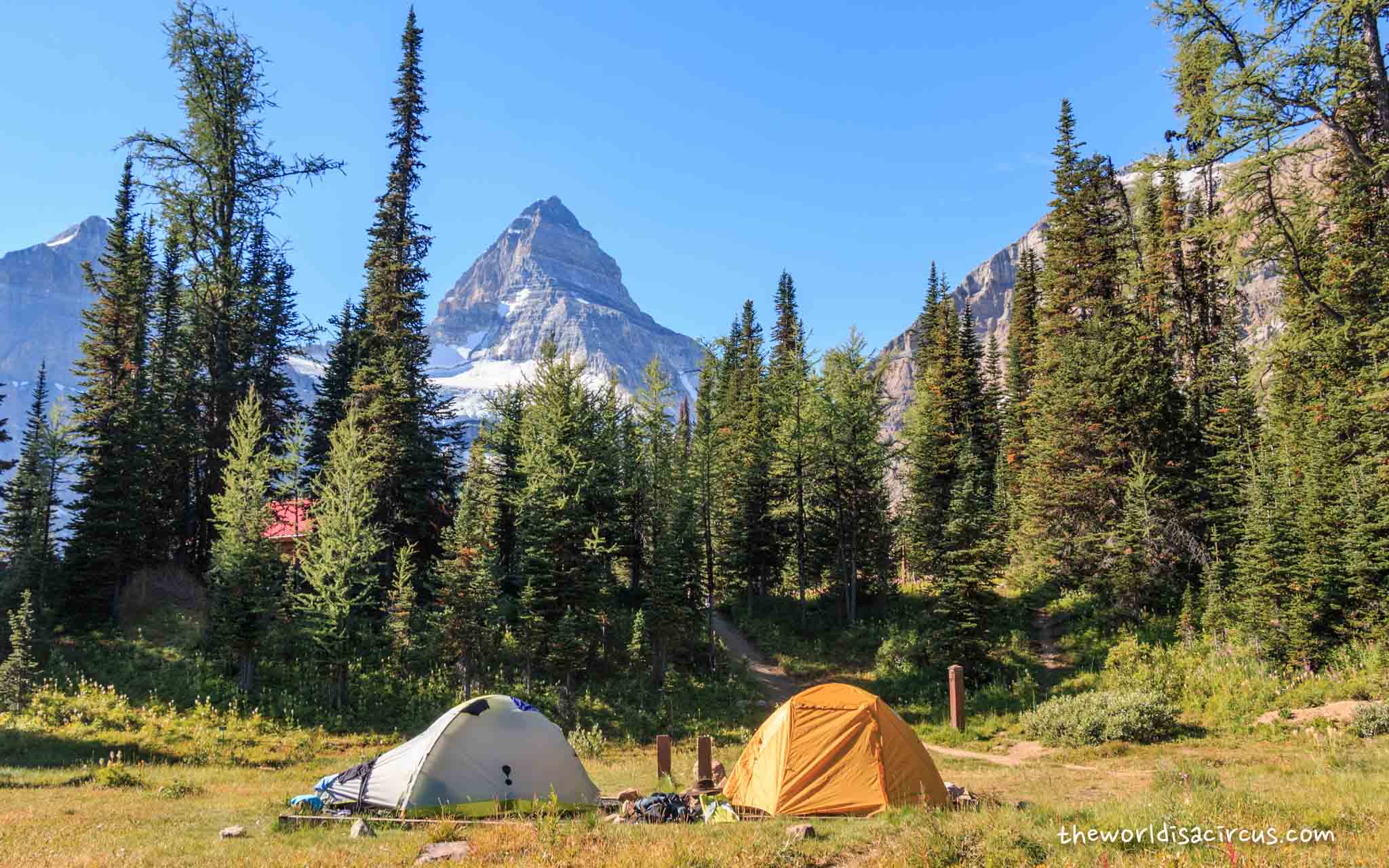 If you're planning to cut your walk in two and spend the night at Marvel Lake campground, you'll need to book this. You can do this via the online reservation system of Parks Canada. The campground is part of the backcountry camping in the Banff, Kootenay and Yoho Backcountry. 
The campground in Mount Assiniboine Provincial park is called the Lake Magog campground, and on the right hand side of the lake. It has 40 campsites and used to work on first come first serve base (when we were there), but since april 2018 an online reservation is required during peak season (June 26 – September 30). There is NO overflow camping anymore. Find more info here.
There's also a supply of non-potable drinking water and toilets. Use the bear lockers on site, as bears might be closer than you think!
Do bear in mind: the campground is 2km from the lodge – so if you want to go for tea time, you'll have to do a little walk.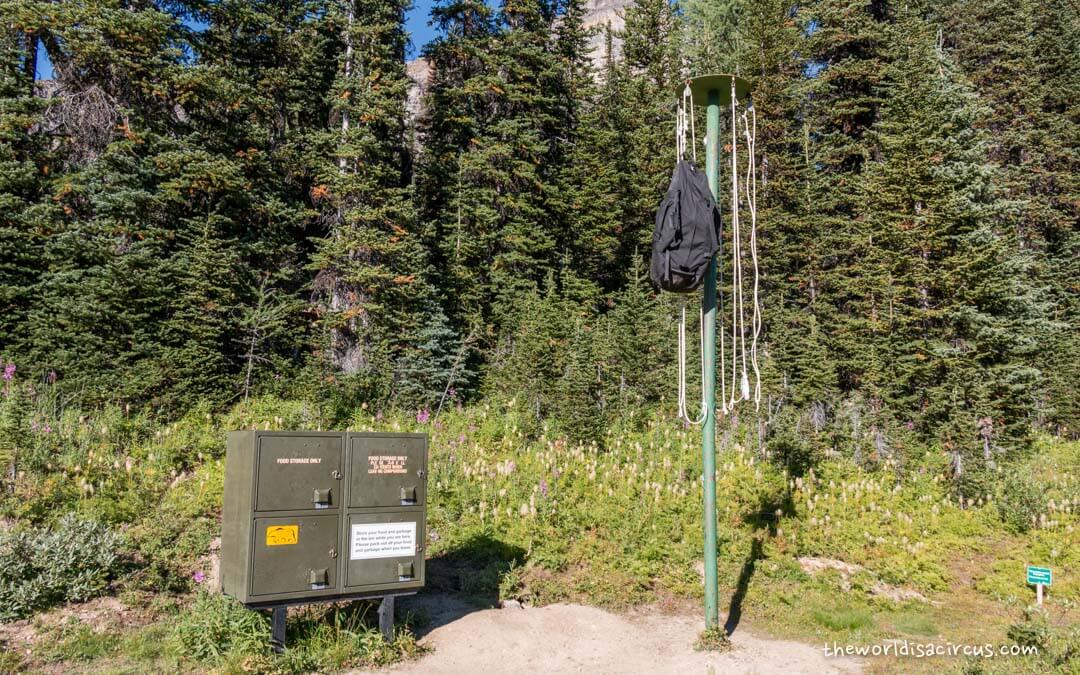 Naiset Huts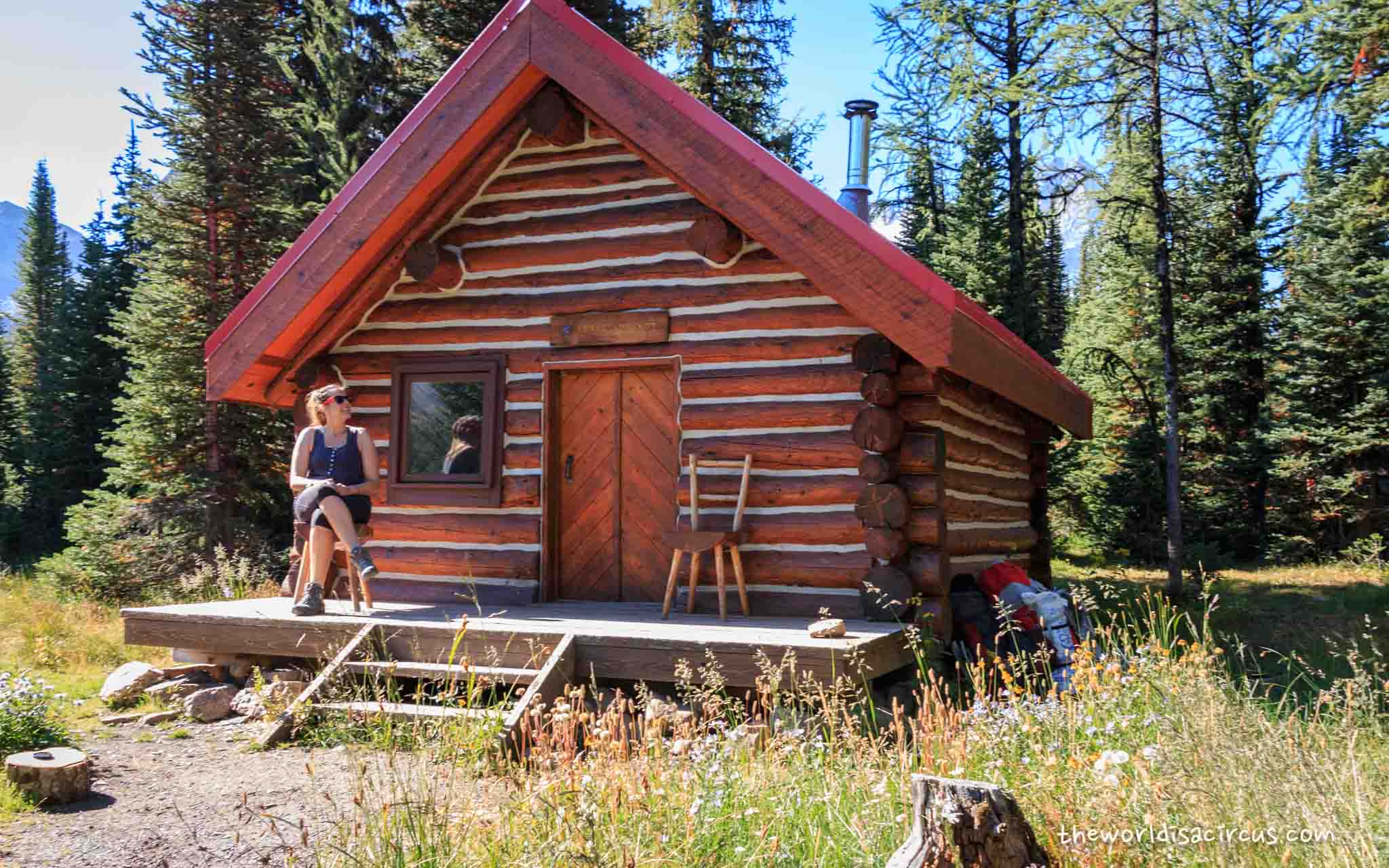 There are five Naiset Huts, around 500meters from the lodge. They're small and cute, and there's a kitchen hut with everything you need – seriously everything. Such a luxury when staying the mountains. The huts cost $25 per night and bookings are recommended. You can just drop in, but always bring your tent. Nico and I were quite lucky, we stayed three nights at the campground and the last night at one of the huts.
http://assiniboinelodge.com/naiset-and-hind-huts
Assiniboine Lodge
The Assiniboine Lodge is the most luxurious option in the park. You get a comfortable room and lots of food and drinks. Prices are also quite a bit higher, ranging from CAD290 to CAD495 (prices are cheaper in winter). You then either sleep in the main lodge or in one of their nice little huts.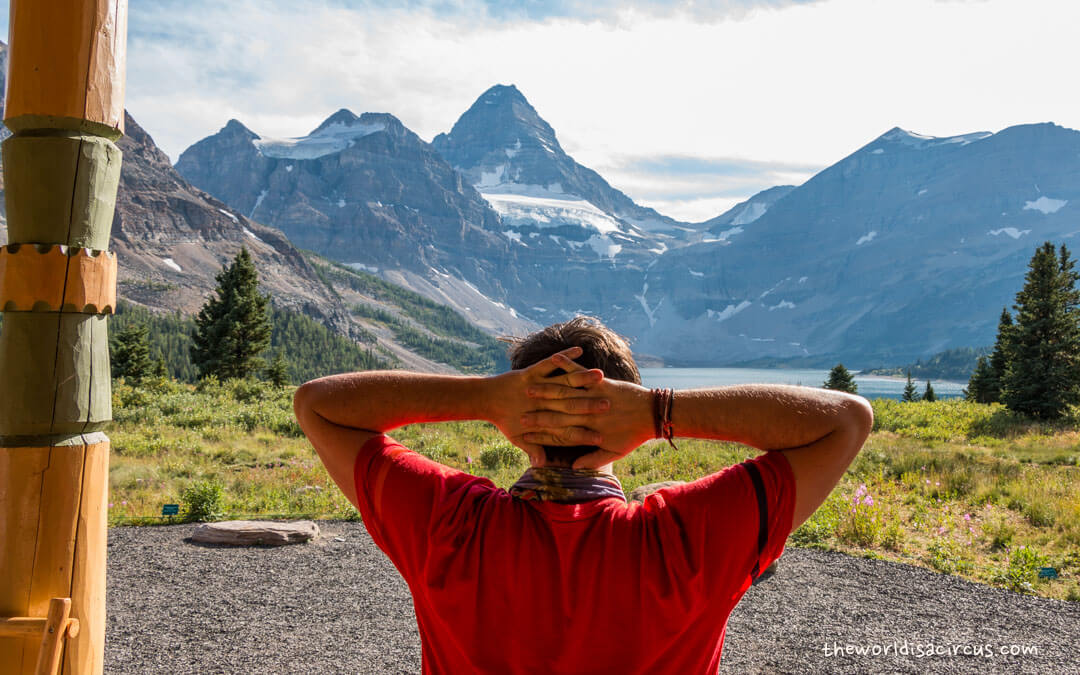 Canmore
The Mount Shark Trailhead is about 40km away from Canmore, so you might want to book a bed the day before beginning your hike. It's a cute small town, in between the mountains. Have a look at lots of accommodation options.
How to get to Mount Assiniboine?
The closest airport is Calgary International Airport. From there you have different options, including options to hike in to Assiniboine and taking the helicopter.
On Foot
There are multiple tracks to reach Mount Assiniboine. I'll list the 3 most popular ones.
Mount Shark Trailhead to Mount Assiniboine via Wonder Pass – 26km: The trail starts at the Mount Shark Trailhead, around 40km south of Canmore. The first part of the trail is easy, and it branches off at Bryant Creek (around 14km in). Then you walk along Marvel Lake and hike up to Wonder Pass. From the top of Wonder Pass you just follow the trail down to the Assiniboine Lodge. This hike is seen as the most scenic one, as it passes Marvel Lake. It's also the shortest hike, but not the easiest, as the hike to Wonder Pass is quite steep.
Mount Shark Trailhead to Mount Assiniboine via Assiniboine Pass – 27.5km: This trail also starts at the Mount Shark Trailhead, and follows the same route to the Bryant Creek Warden Hut. Then you follow the Assiniboine Pass signs. After you pass the McBride's campsite, continue straight until you reach the Assiniboine Pass. Then you'll climb steeply before gradually descending the final 3km toward the Lodge. This trail is closed to public during August and September due to bear encounters, although you can still hike via the Assiniboine Pass using the horse trail.
Sunshine Village to Mount Assiniboine – 30km: Start at Sunshine Village Ski and Snow Resort. There is also a shuttle that can drop you off there for 15$ from Banff. Although this trail is the longest, it's easier than the other options, and also offers great views of Mount Assiniboine.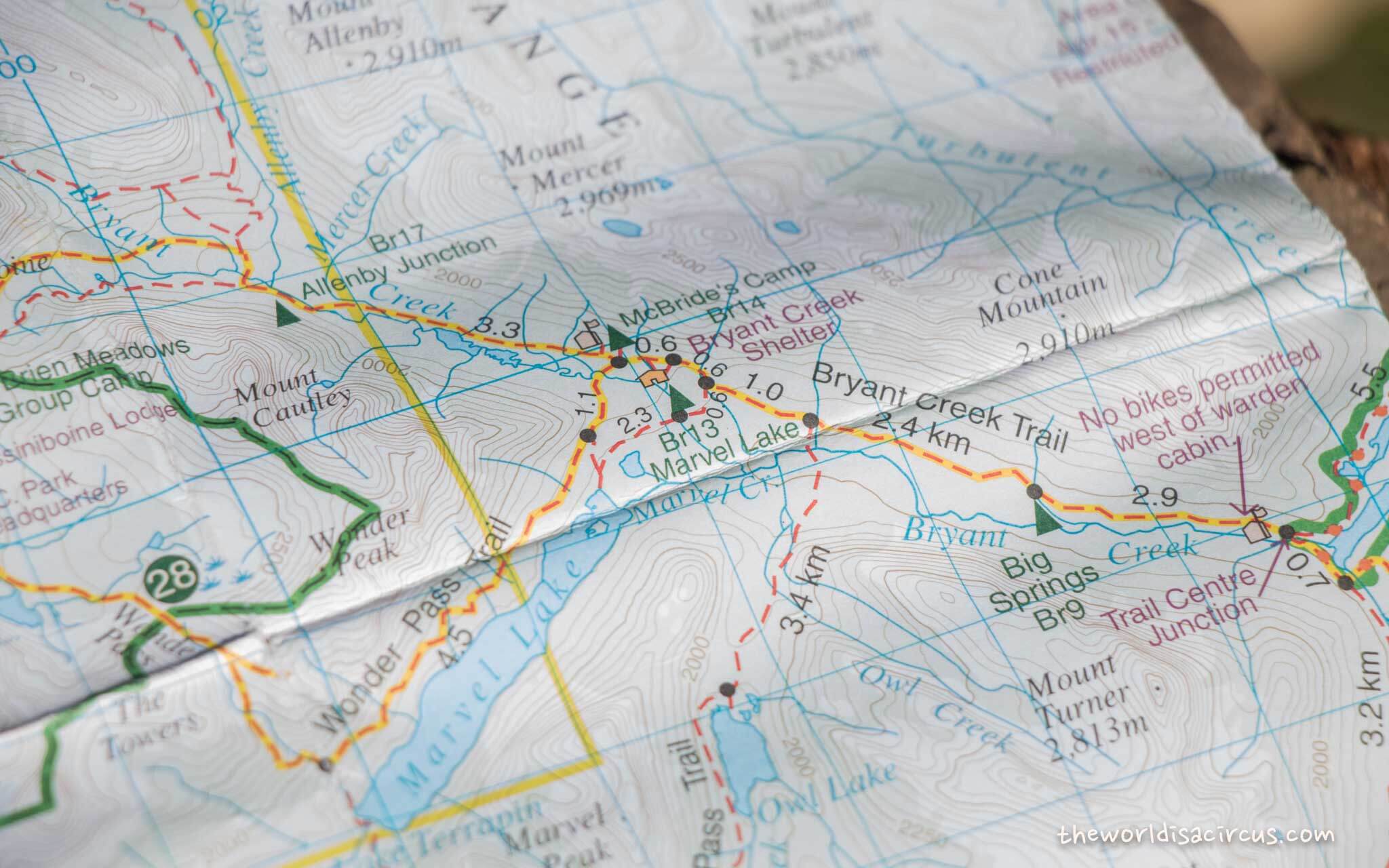 By Helicopter
This is a great option if you don't have a lot of time and only want to visit Mount Assiniboine Provincial Park. You can also fly in and hike out – or the other way around.
Flights are arranged via the Assiniboine Lodge. They only fly on Friday, Sunday and Wednesday. The flights start at CAD175 one way. Find more information on their website.
What to take to Mount Assiniboine Provincial Park?
The less you carry, the better. You have quite a lot of kilometres to hike, so try to not take too much stuff with you.
Here are the essentials:
Tent: opt for a light one, as it's nicer to carry.
Sleeping bag
Camping stove (+lighter)
Bear spray
First aid kit
Food (+extra food)
Water purification pills
Map
Camera
Cash: for a tea (or outside of peak season to pay the camping)
If you're curious what I bring along on my hiking expeditions, have a look at my gear.
Ready to visit Canada?
PIN IT FOR LATER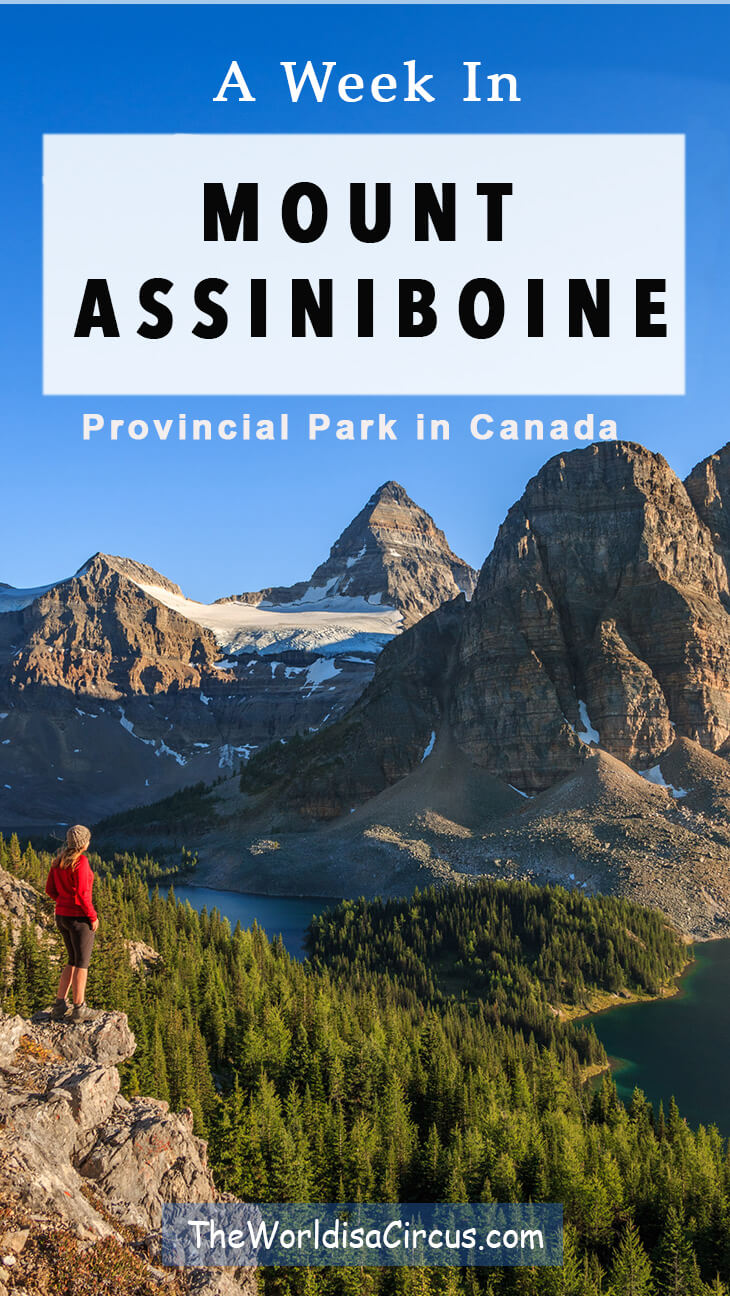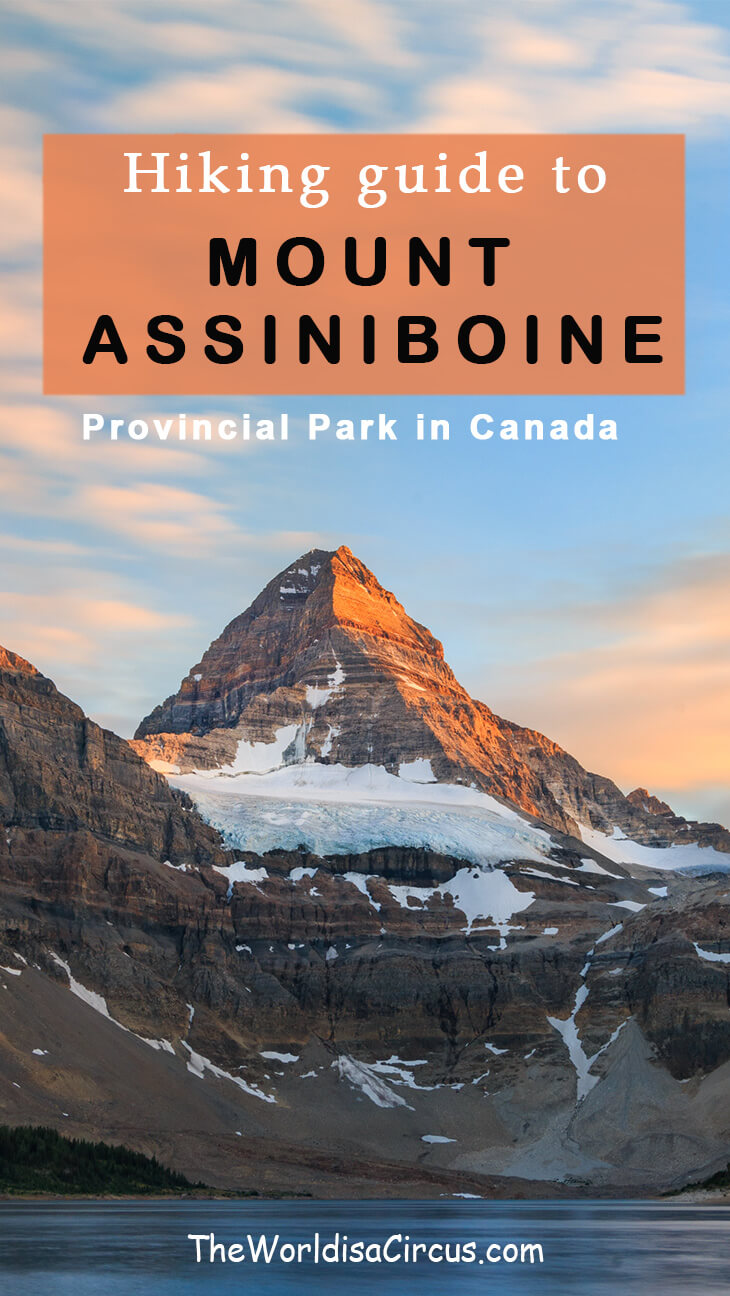 Read more about my Canadian adventures:
Winter Wonderland at Emerald Lake Lodge
A Trip Through Time at Num-Ti-Jah Lodge
Some of the links in this article are affiliate links – which supports this site without costing you anything extra. Thanks!