Driving more than 6000 km, through 6 countries and that only on electricity. A crazy idea? Yes. Impossible? No.
Let's do crazy
Yep. You read that correctly. Only on electricity, 0.0L of fuel used. To show that an electric car is more than a city vehicle Nico and I drove from Belgium to the Arctic Circle and back. We never shy away from a challenge, but for this project we had a nervous voice inside our heads – especially since we had never travelled with an electric vehicle before – for me it was even the first time driving an electric car. While looking at our routeplanner it looked doable, but… what if it was not possible after all?
As a writer and photographer we often have to take the plane, a way of travelling that is extremely bad for the environment, and this is weighing more and more on us and on our desire to travel as responsible as possible. Mobility that does not emit any harmful substances is a step towards tackling the climate problem.
With this project we wanted to show that you don't always need to take the plane, that you can travel more environmentally friendly and that it is possible to travel far with an electric car – even all the way to the Arctic Circle! I mean, if we can make it to the Arctic Circle, you can make it to France or Spain.
We teamed up with Audi Belgium, because they are always in for a crazy challenge, and they were curious to see how their first all-electric car would do: the Audi e-tron.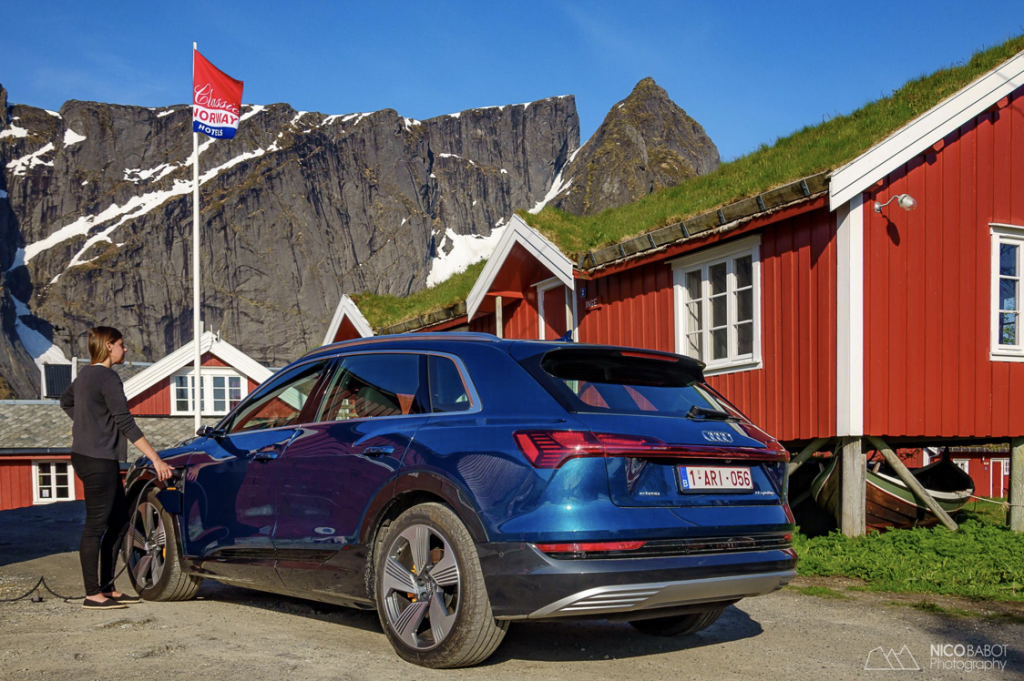 Off we go!
After weeks of educating ourselves about electric cars and planning our trip, it was finally happening. We get in the car, and off we go! It was such a strange feeling to start a trip you've been looking forward to for such a long time. Yes, we might have pinched ourselves a few times.
The first day we drove through Belgium and the Netherlands to Bremen, a charming city in Germany. It's a walkable city, with lots of charming pubs, little streets and quaint houses. After a good drive, we enjoyed some German food and beer.

Of course we allowed ourselves to have some fun on the German highways (where there's often no speed limits) and got the car easily to 200km/h. But the faster you go, the more your battery consumes, so we had to top up the car afterwards.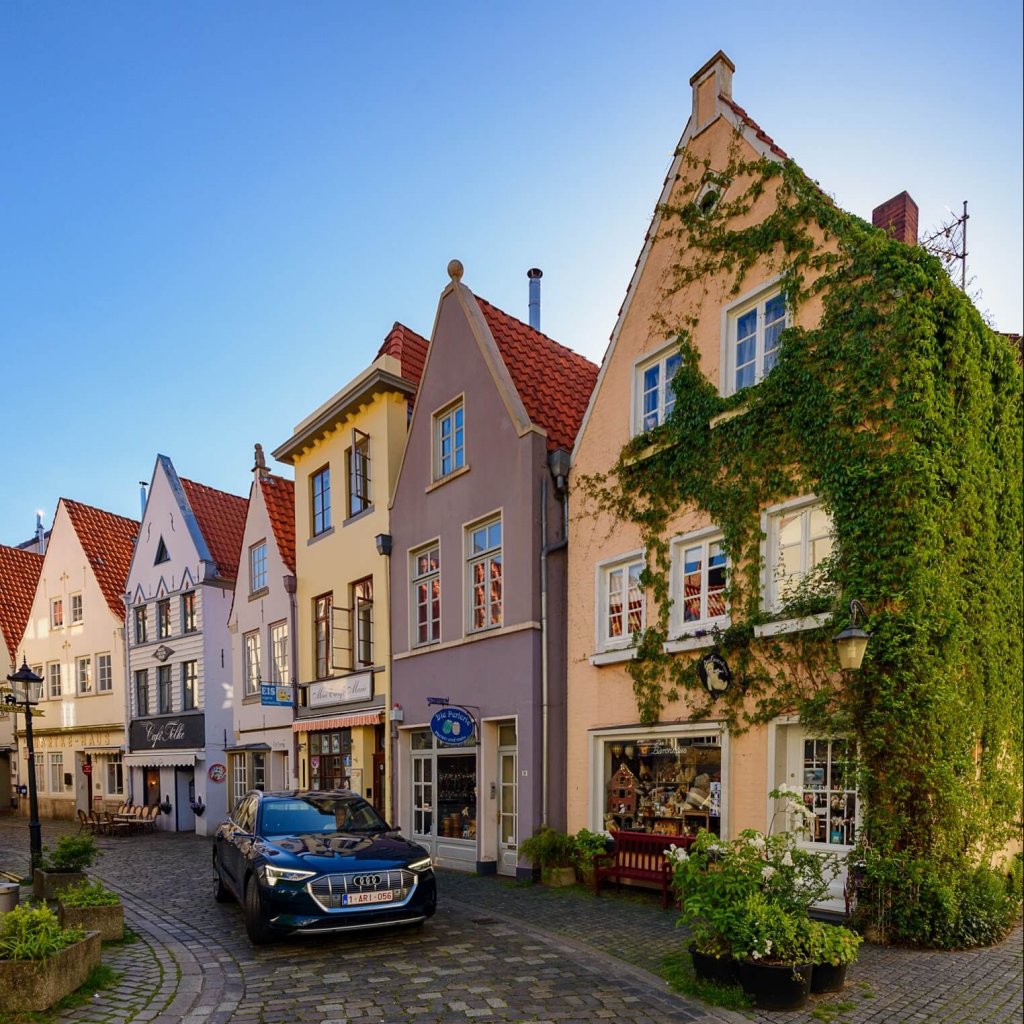 If you want to do more road trips, read about my road trip to Italy: Road trip in the Dolomites.
The world of charging
Being electric newbies, we entered this entire new world of electric cars, kWh, chargers and much more. We were a bit nervous at our first charging stop, because the charging station wasn't working. But once we connected the car to another charging station nearby, it was all fine.
The charging went incredibly smooth – especially with the high power chargers, that can charge the car at a capacity of 150 kWh. In only 15 minutes, the car jumped from 30% to 80%. We usually combined our charging stops with a coffee or toilet break – but the car was often ready before we had finished our coffee. The fact that we didn't have to change our rhythm and adapt to the car was a very nice surprise.
After three days we saw that our planning was good – and even too cautious – so we started skipping charging points. Your knowledge and confidence definitely increases while travelling. It's a mindset and in the end it's not much different from charging your phone – just a bigger size.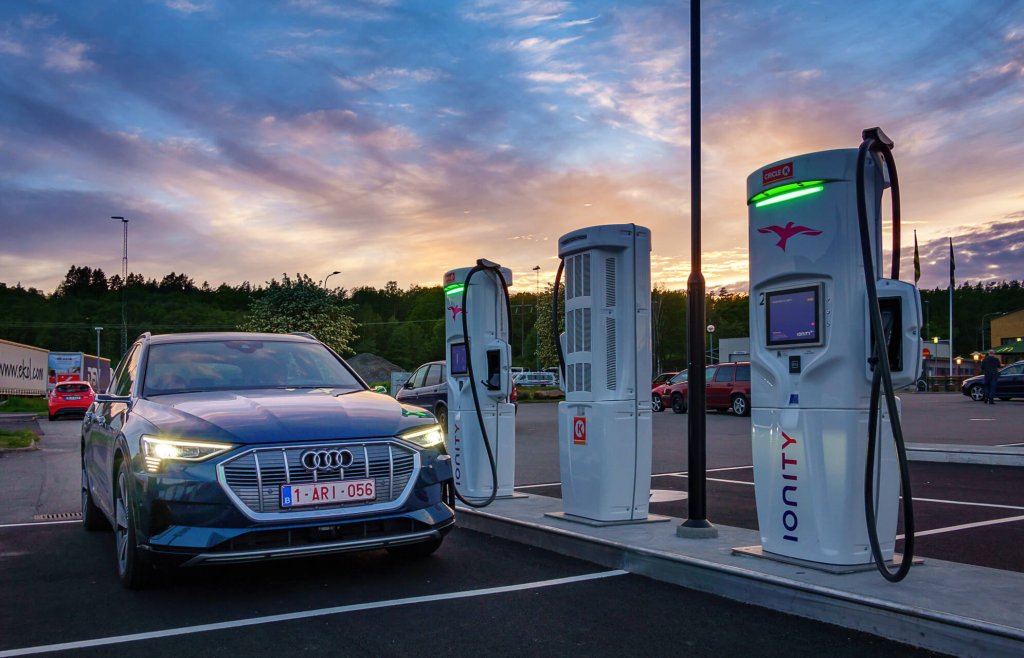 We took the Audi e-tron through beautiful landscapes in Denmark, Sweden and Norway. We passed picturesque fishing villages, visited the Lego Museum (our inner child was happy) and went on the most amazing hikes. You can see these stories on my Instagram highlights. I'm preparing a guide to travel electric in Norway, so more info on those locations and charging stops later.
The Arctic Circle
On day 6 we reached the Arctic Circle.
And it was surprisingly easy…
It took us 2985 km and 20 charging stations to get there. The car (and drivers) did a great job and we even arrived faster than we expected. I loved that the charging never felt like a burden. We always had breakfast, coffee or a toilet break. It's also a great way to avoid getting tired while driving. We didn't have any hiccups or problems to overcome, besides twice a charging station not working.
On one hand I almost wish we had encountered some obstacle to figure out to reach our goal, since that would have been a bit more exciting to share. On the other hand, I wanted to show you that electric travel is possible – and what's a better example than driving to the Arctic Circle without any problems?
You just need a little bit more preparation, like knowing where the charging stations are located. A Better Routeplanner is btw a great website to plan a route and find charging locations. The e-tron card also made the trip a lot smoother, because it gives you access to a large network of charging stations in different countries. You just hold the card against the charging station and that's it!
Lofoten bound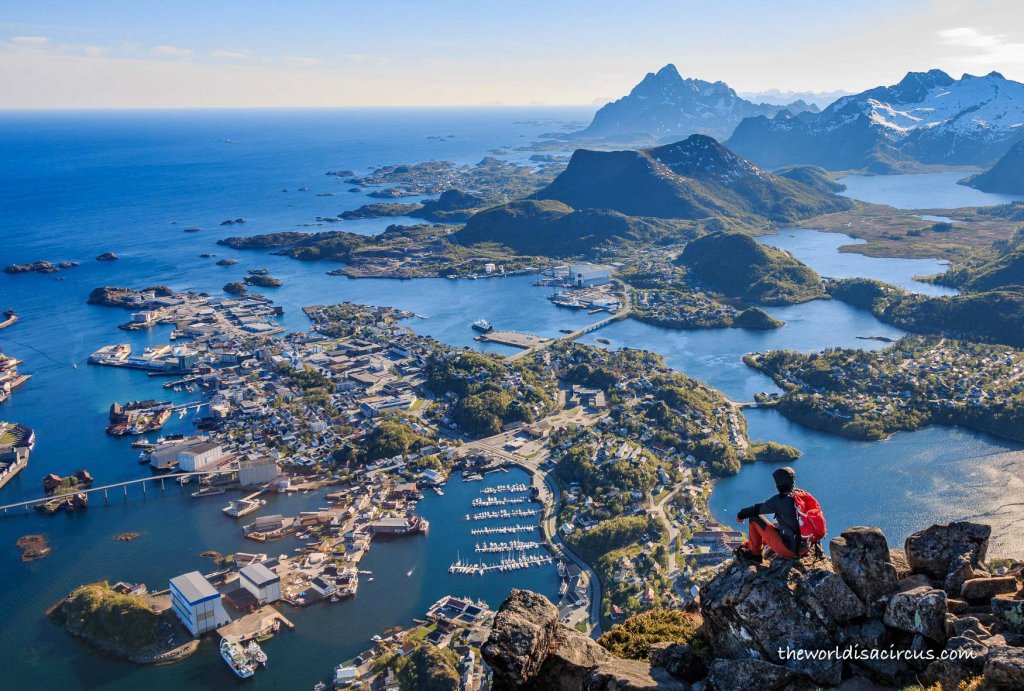 Because the e-tron had done such a good job – and let's be honest… we didn't want to go home yet – we continued our trip to the Lofoten, a mountainous island group of Norway.
We even found hotels with their own (free) charging stations. What a luxury to be able to charge your car while you're sleeping or going on a hike. Going to the Lofoten was a good choice, because it is one of the most stunning locations I've ever seen and because the e-tron thrives in a mountainous environment.
Recuperation is the answer
Due to the built-in recovery system you can easily recover energy while driving. Especially in mountainous areas, like the Lofoten, this is efficient. We sometimes saved up to 30% of the radius, which allowed us to get a 400 km range with one charge. Our average consumption of the entire trip was 25,7 kWh/100km (keep in mind we drove fast in Germany 😉 ).
After doing about 800 km in a day we noticed it is absolutely no problem to cover many kilometres, without having to stop and charge all the time.
Our takeaways of travelling to the Arctic Circle electric
Travelling electric is easy! We drove 6694 km in 18 days and it was much easier than expected.
There are plenty of charging stations on the road, just make sure you have a look before you go on your adventure. We mainly used the 150+ kWh fast charging station on main roads, which would charge the car from 20 to 80% within 20 min. If there weren't any 150+ kWh stations, there was usually a 50 kWh around. This will take a bit longer to charge, but is still very doable.
I absolutely loved the silence of driving electric. We passed reindeer, and they didn't even look up when we passed. You can really enjoy your surroundings to the fullest. Definitely an absolute plus of travelling electric.
Regarding the Audi e-tron itself, we were immediately hooked. It's a very nice and well-designed car and we couldn't have wished for a better electric car. Not only was the large range a plus, the comfort while driving was also great. And in case we would've been stuck with an empty battery – the trunk is super big and looks great for sleeping too.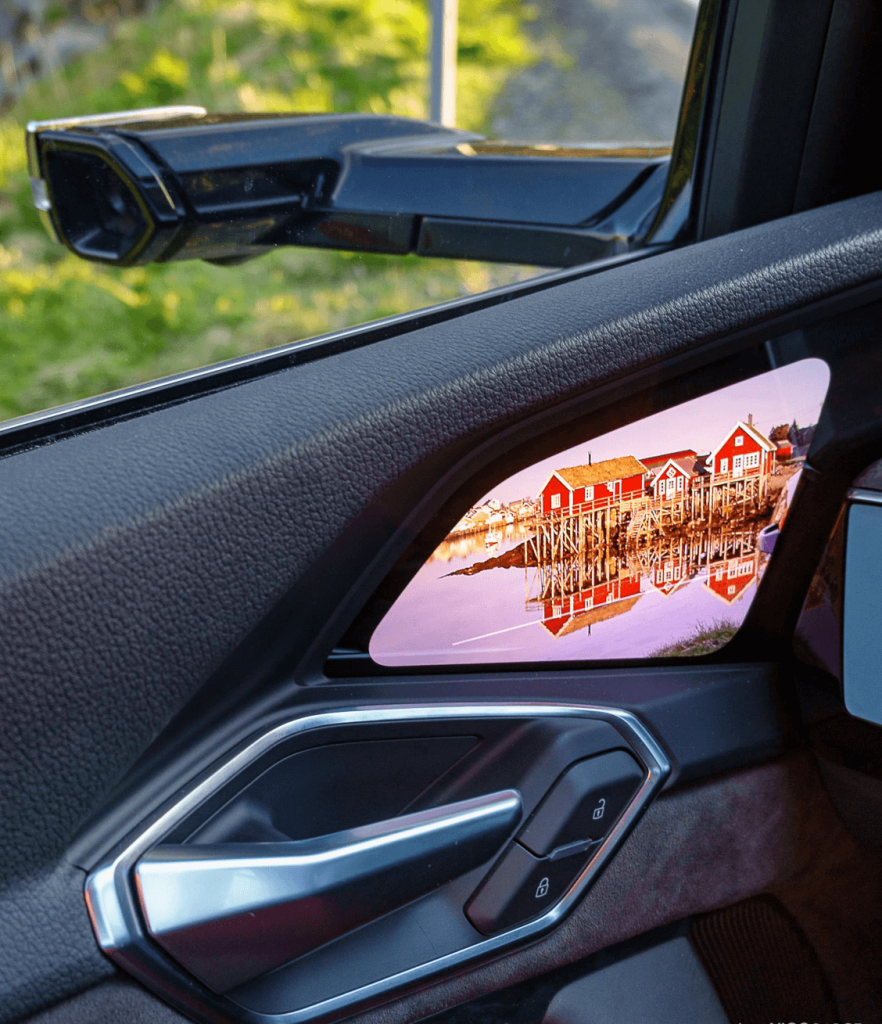 The exterior mirrors took some getting used to. These have been replaced by virtual ones that display camera images inside the car. After looking in the wrong place for a few days, the virtual mirrors became a habit and their quality is incredibly good. The displays are razor-sharp and indicate if there is someone in your blind spot. Contrary to what you might think, the mirrors work great in the dark with clear images.
18 days later we were back in Belgium. What a trip. Not only did we discover beautiful scenery, we also proved that electric travel is possible and a lot of fun!
Have you ever travelled in an electric car? Would you be interested in doing it?
Disclaimer: This article was in collaboration with Audi Belgium. All opinions are, as always, my own.