The mountain village of St. Anton am Arlberg is a hot skiing destination, but is emerging as the place to be in summer.
You find St. Anton am Arlberg in the Austrian mountains, about 1 hour by car from Innsbruck. Imagine quaint streets with a Tyrolean charm, where everyone knows everyone. Known for its variety of pistes and legendary après-ski parties, the village is jam-packed with skiers and snowboarders in winter. Unlike many ski-villages that turn quiet once the snow has gone, St. Anton am Arlberg has a lot to offer in summer.
In summer most of the snow on the mountains will have almost totally disappeared, so instead of being covered in a white blanket, St. Anton turns into a beautiful village in bloom. There are numerous events, like a triathlon, an e-bike festival and a Mountain Yoga Festival.  All of this with a magnificent alpine backdrop. Keep reading to discover the things to do in St. Anton in summer.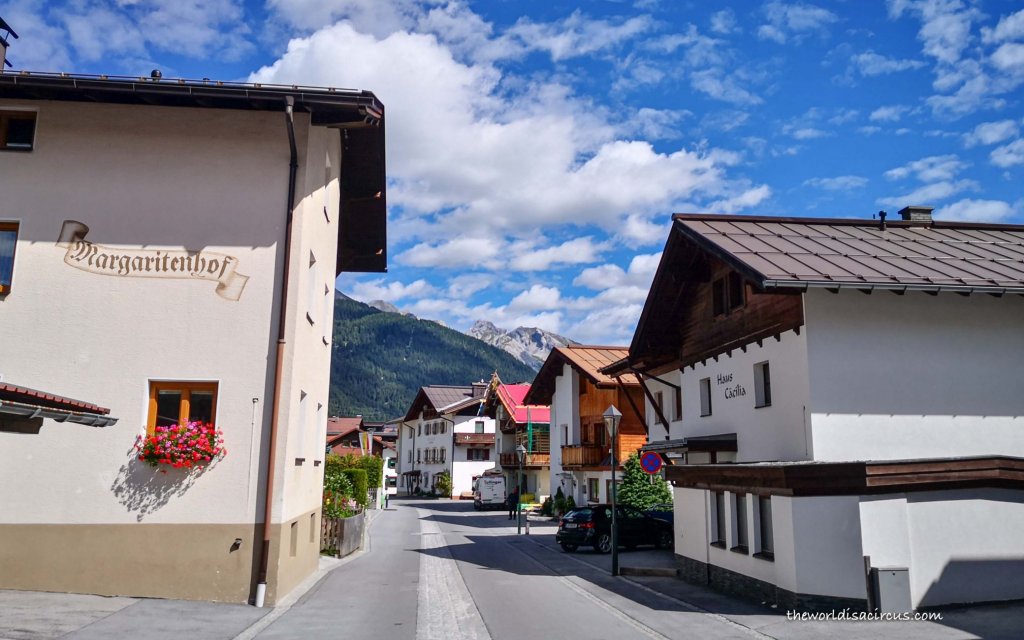 Summer outdoor activities in St. Anton am Arlberg
There's nothing like getting your blood pumping when in the mountains, right? That's one of my favourite things about the mountains: you get to be active, surrounded by a stunning scenery. That's no different in St. Anton. Make the most of your stay and experience the diverse sport and nature activities.
In summer you have the option to buy the St. Anton summer card, from just one overnight stay. The summer card includes one day's use of the St. Anton cable cars, as well as bus rides between Landeck and St. Christoph. You can also partake in many activities, like early yoga sessions, archery and e-biking trips. The St. Anton Summer Card is available for about 3 months. In 2019 this was from 19th June to 22nd September. 
E-biking
With its well-marked network of cycling routes – 350km in total – St. Anton is a popular destination for cyclists in summer. The trails can be challenging (although there is something for everyone), but you are rewarded by fabulous mountain views. You got to earn those views, right? 🙂
Giving you access to places where you otherwise wouldn't get, e-biking is gaining popularity. People – like me – who aren't used to mountain biking can cheat a little bit by using an e-bike. St. Anton is well located to discover different areas by biking tracks. During my stay I did two e-bike trips. It was also the very first time I ever hopped on an e-bike.
E-bike to Speicher Kartell and Darmstädter hut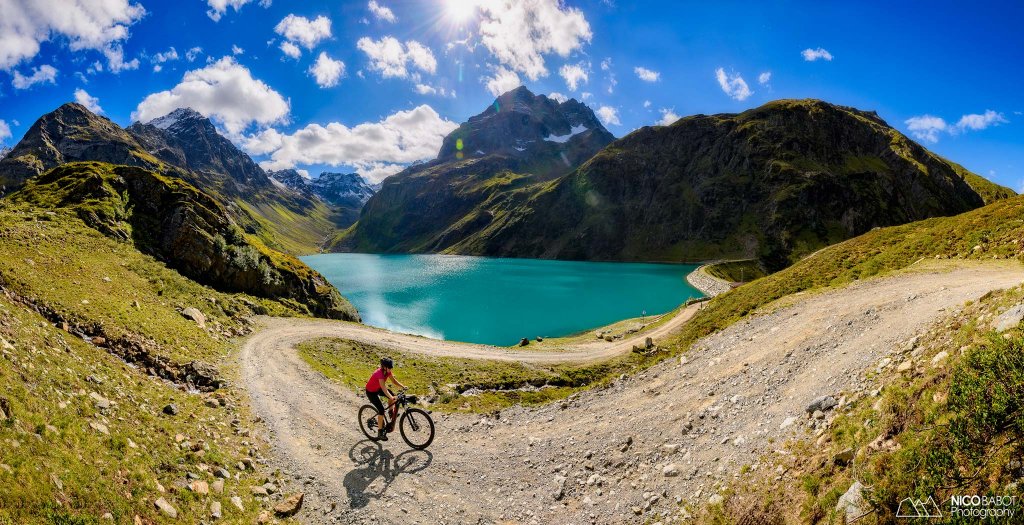 This route to Speicher Kartell isn't long (only 8km), but it goes all the way up. You climb approximately 700m to the Speicher Kartell lake, with hardly any flat or downhill part. Getting up there took Nico and me 1,5h. Going down only 25minutes – this gives you an idea of how steep it was!
The e-bike makes it so much nicer. You still have to bike, but it is way less intense for your body. If you want you can keep biking, to Darmstädter hut at 2,385m/12,7km.
Route: Start at the roundabout in town and cycle to the rear of Rendlbahn cable car valley terminal and on to the bridge that spans the Arlbergstrasse. Follow the gravel trail which leads over a wooden bridge. Cycle uphill into the Moostal Valley, passing Trischalpe whilst heading towards Lake Kartell-see. The last few hundred meters are zigzagging up, until you reach the lake. To go to Darmstädter Hut, turn left at the lake and follow the signs to the hut. Follow the same route back for your return journey.
Time: officially it is 2h45min up – 1h return. We did it in 1h30 up and 25min back. Climb to Kartell See: 700m, to Darmstadter hut: 1,114m. 
E-bike to Konstanzer Hut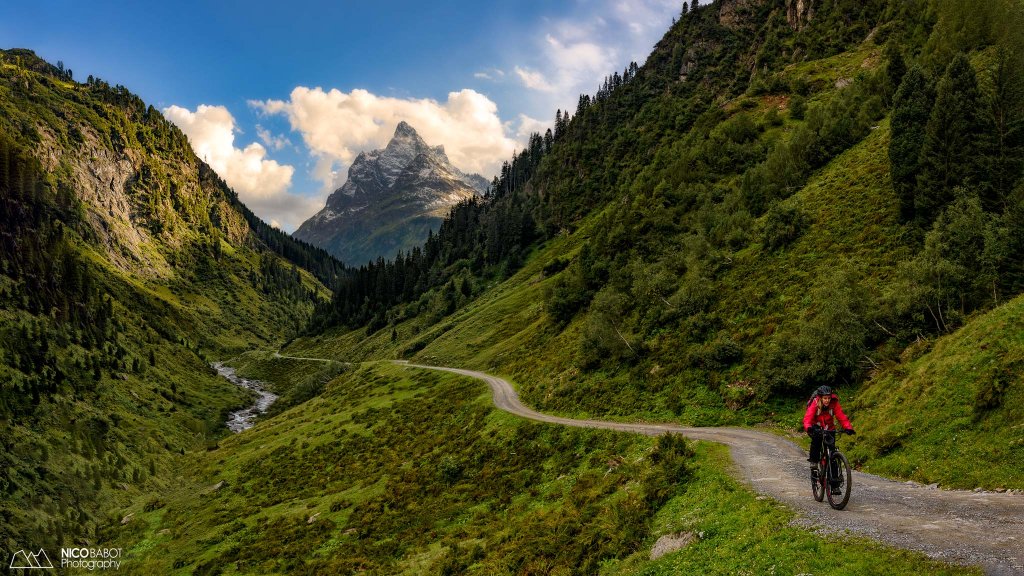 We went on a little sunrise mission to Konstanzer Hut, at a height of 1688m and 11.4km from St. Anton. Alarm at 4.30am, on the bike at 5am. It took us 1,5h to get to the hut, where we started to take pictures. Unfortunately the clouds sabotaged our plan, blocking the sun at sunrise. Still, it was a great morning workout and I absolutely loved the idyllic views. Of course we went for a little tea-break in the hut. Then we 'flew' back down, just on time for our breakfast in the hotel!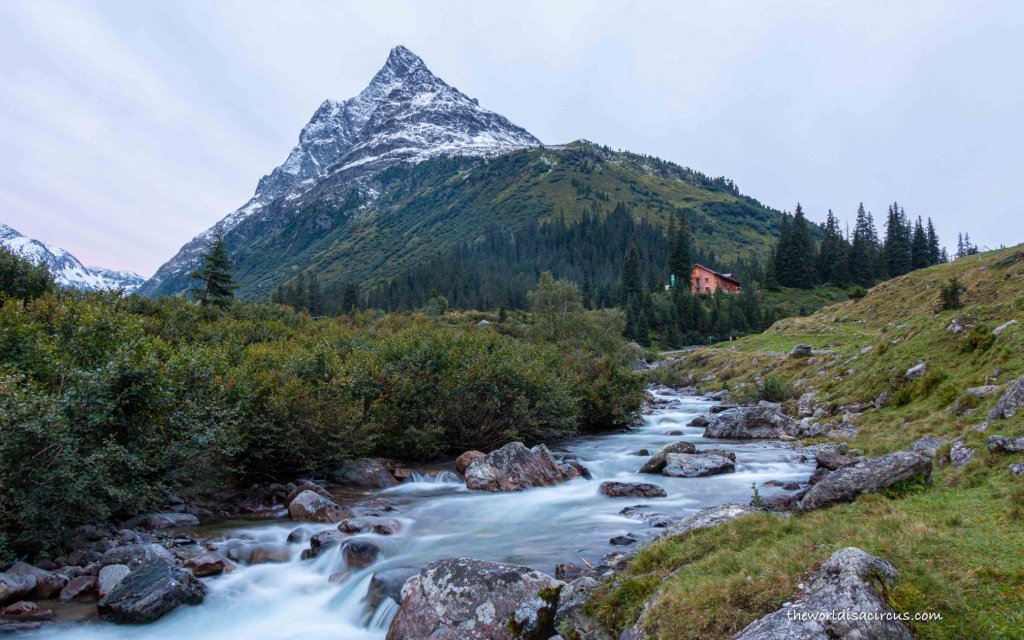 Route: Take the Hannes-Schneider-Weg in a westerly direction. At the roundabout take the first exit up through Oberdorf. The route leads towards Lake Verwallsee. From there, continue to the Salzhütte and follow signs to the Konstanzer Hut (for 4.6 km long). Follow the same route back for your return journey. You'll bike approximately 490m uphill.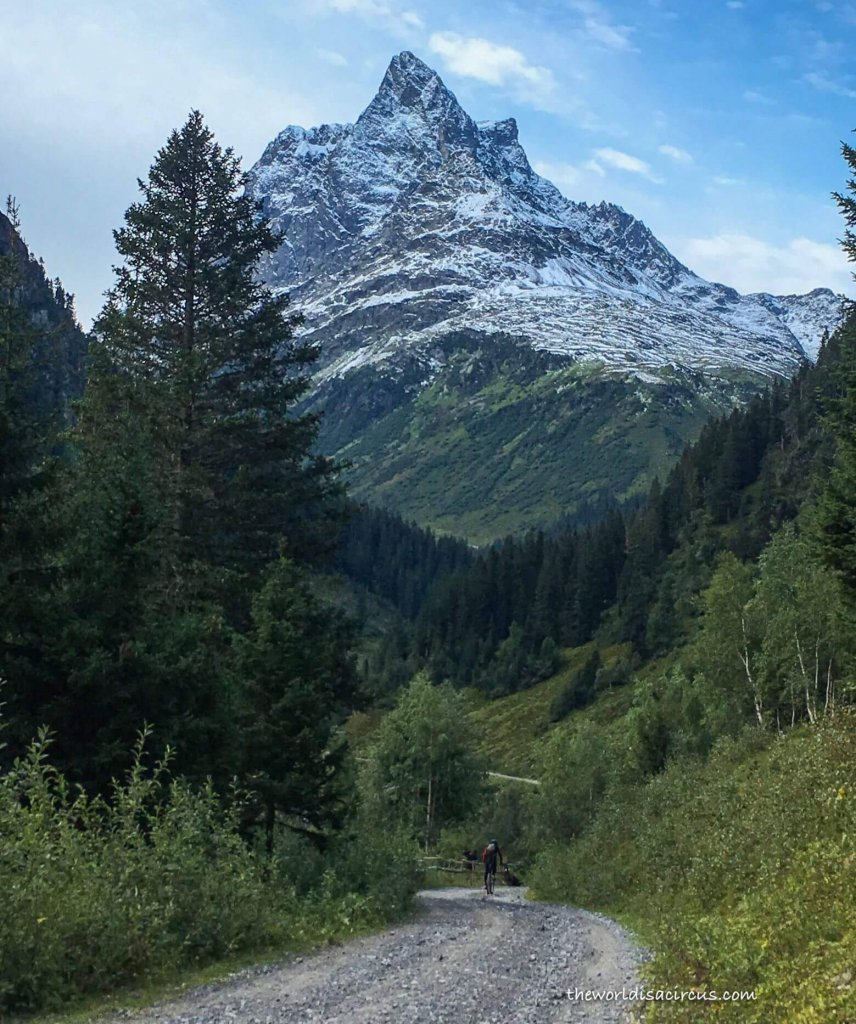 It was my first time e-biking, and I liked that it gives you the opportunity to get to a location quickly. Way faster than hiking or regular mountain biking, and I love that. Without the e-bike we (read: I) wouldn't have been able to go for sunrise to Konstanzer Hut. You choose how much e-power you want to use and off you go! The hardest part for me was getting used to the saddle – and I didn't btw. My bum was quite sore after two days of biking.  

Of course, if you like mountain biking, you can do these routes also without an e-bike! I couldn't, but maybe you can 😉

Note: when you cross any barriers while biking, make sure to always close pasture gates – so the cattle doesn't get lost.
Arlberg klettersteig
A 'klettersteig' is a via ferrata, which is a route with steel cables on the face of a mountain.
If you're familiar with via ferratas, you should do the Arlberg klettersteig. It is almost 2 kilometers long and consists of 2000 metres of steel cable and 500 hooks. It is considered one of the most beautiful, yet challenging via ferratas in the area. Find more information from the tourism office about the Arlberg klettersteig route here.
Unfortunately for us it had snowed the week before we arrived, so the conditions weren't optimal for us. We'll have to return to do the klettersteig!
Hiking
With 300km of hiking trails and mountains in every direction you look, there are a myriad of options to take those hiking boots out. Huts are spread all around the mountains, making it easy to go even further and do overnight trips. Find more information about hiking here. Pack your rucksack and off you go!
Since we were only in St. Anton for 4 days, we didn't get to go hiking, but there are some great trails. Some of the hiking options are: Moostal Hike (Alpenrosenweg Trail) – 6 hours, Edmund Graf Hut – 7 hours, the Kaltenberg hut (Berggeistweg trail) – 6 hours.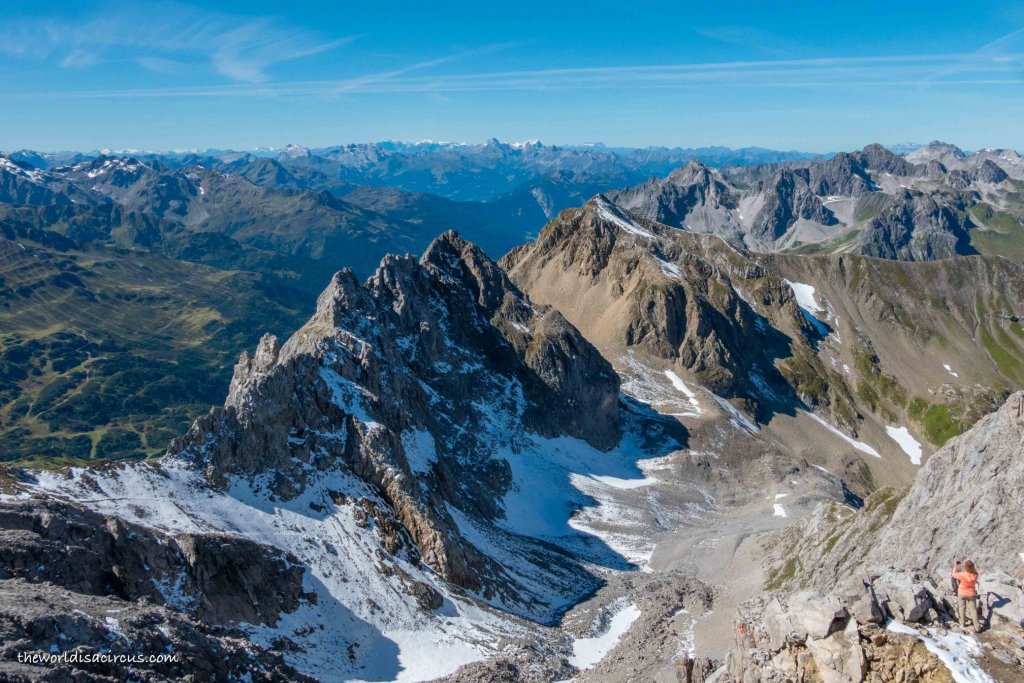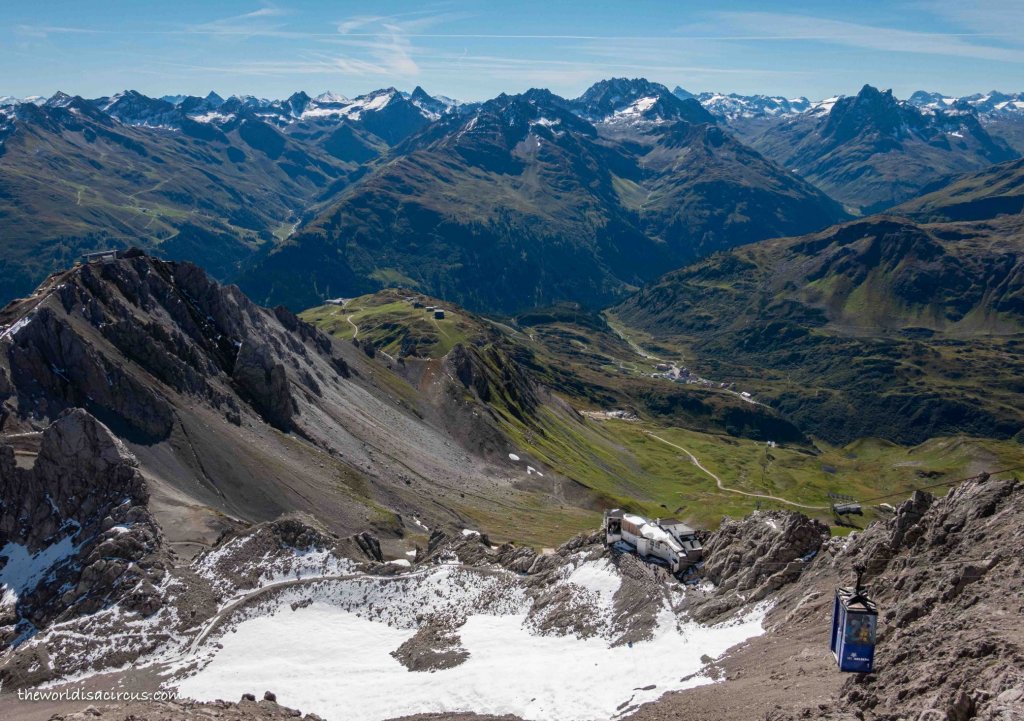 In case you want to get the views, without too much effort, you can take the Valluga gondola, which brings you to the region's highest peak: the 2811m high Valluga. It takes 3 cable cars to get there, starting with the Galzigbahn and two sections of the Vallugabahn. This ticket is included in your summer card.
Other gondolas in St. Anton in summer are the Rendlbahn Gondola, Kapallbahn and the Gampenbahn. Remember that gondolas close in autumn. Check here for latest updates.
Check out more mountain destinations in Europe: the impressive Dolomites in Italy.
Relaxing activities
After all the hard physical work, you're allowed to treat yourself with some more relaxing activities. St. Anton has got that covered too. Enjoy!
Visit the museum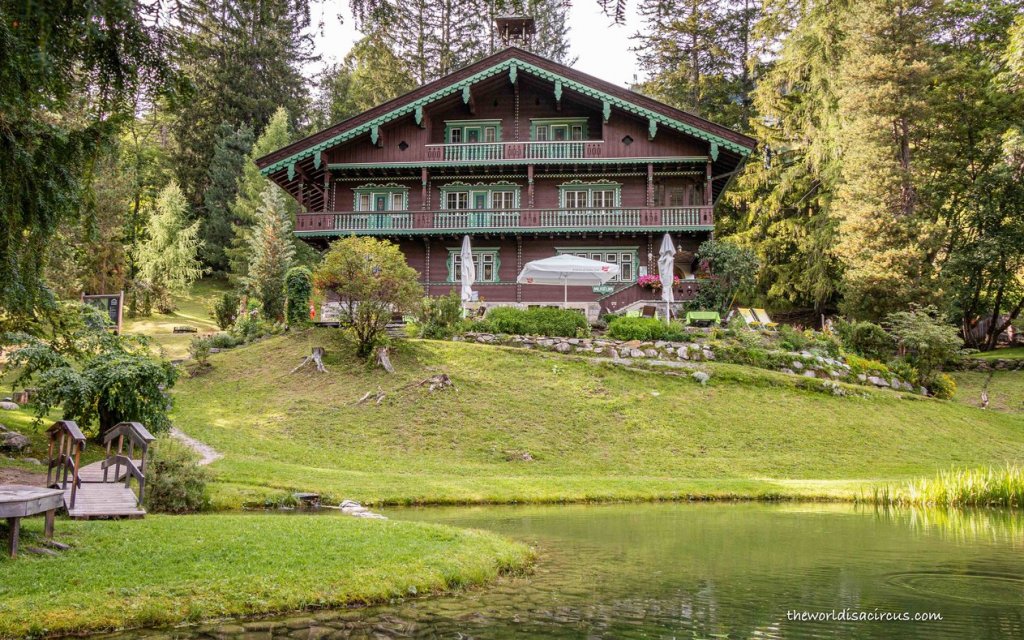 For only a few euros, you can visit the quirky St. Anton museum. It showcases the history of the village and is located in an authentic, beautiful building in a little park. There's a nicely designed restaurant and a terrace where you can enjoy a drink. Even if you're not into museums, it's definitely worth visiting – just to have stroll in the park, to check out the building and have a drink.
Spa

Relaxing with views of the mountain peaks, who would say no to that? Not me! Swimming, sauna, steam baths are all a part of summer holidays in the mountains.
You can get your relax on at the Arlberg WellCom, with its indoor and outdoor pools, whirlpool and the sauna and wellness zone on the roof. Relax while overlooking the impressive peaks of the region. The summer card gives you one admission to the swimming pool at Arlberg WellCom or at Wellnesspark Arlberg Stanzertal in Pettneu.
Many hotels will also offer their own sauna and wellness area, like the one we stayed at- but more about that later!
Indulge in Austrian food and drinks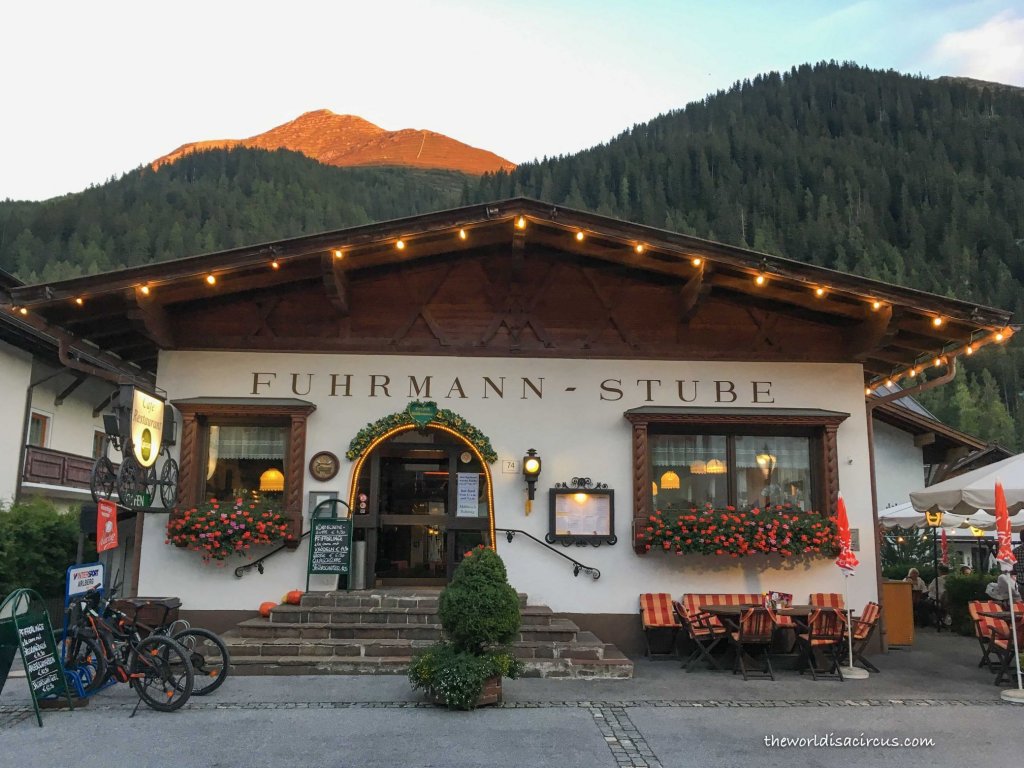 Even though St. Anton is relatively small, there is a lot of choice in the food and drinks department. Try out the Knödel, a local speciality made of bread. We tried them in Fuhrmannstübe. The friendly owner was so helpful to explain us what Knödel was. We shared a large table with other customers and loved the relaxed and happy atmosphere. Fuhrmannstübe doesn't take reservations, but you can wait at the bar until a table is available.
A bit pricier, but also tasty, is Bodega Bar – where you can have some tapas. For lunch I went to Hannes Café Schneider, for filling soups, coffee and delicious cakes. When in Austria, you have to try the apple strudel!
Where to stay?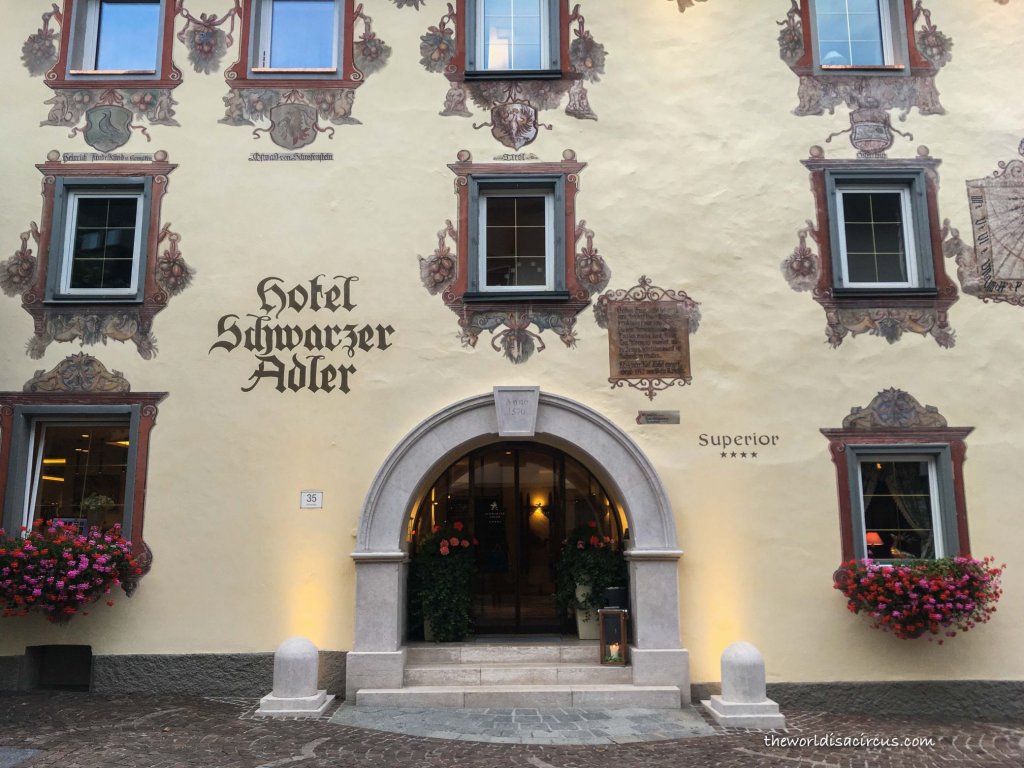 We stayed in the Schwarzer Adler hotel on the main street of St. Anton am Arlberg, a four-star hotel with spa.
The rooms were large and comfortable with mountain views, and the breakfast was the most impressive and delicious one I've ever had. Pastries, fruit, vegetables, bread, eggs, there was so much choice. My favourite: their juice maker with vegetables and fruit, where you can make your own juice. I started every day with my carrot and orange juice.
My favourite part of the hotel was probably the spa. Hotel spa's are often just one pool and one sauna. That wasn't the case at the Schwarzer Adler Hotel. They have an extensive spa area with two pools (one on the roof!), multiple sauna's (infrared included), a steam bath and relaxing areas. This place is perfect if you want both an active and relaxing holiday in the mountains.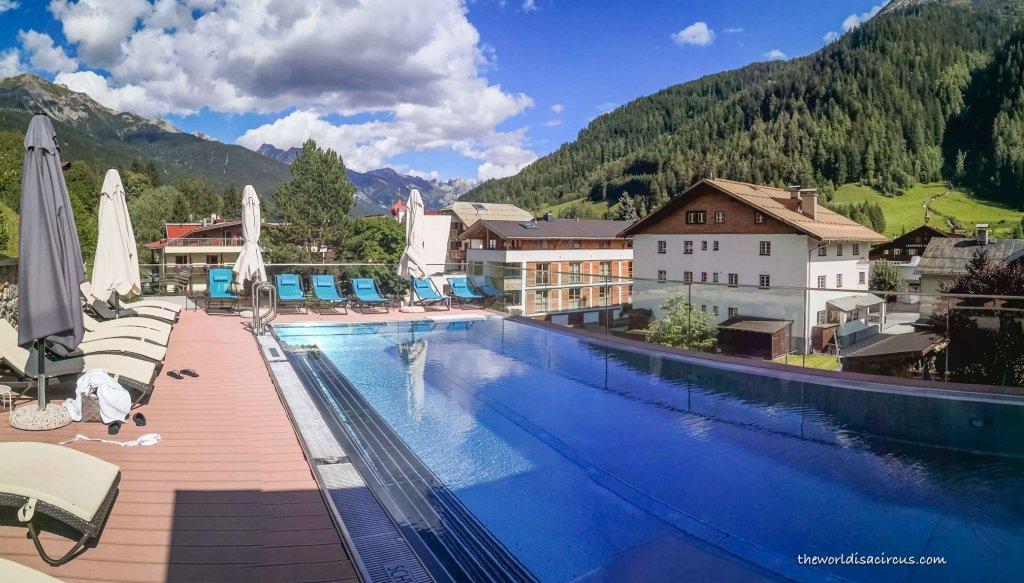 Want to go there too? You can book it here: Hotel Schwarzer Adler. For more accommodation options in St. Anton am Arlberg have a look here.
How to get to St. Anton am Arlberg?
You might think that a village in the mountains isn't easily accessible? Well, think again. In true Austrian spirit, there is a good road and train infrastructure.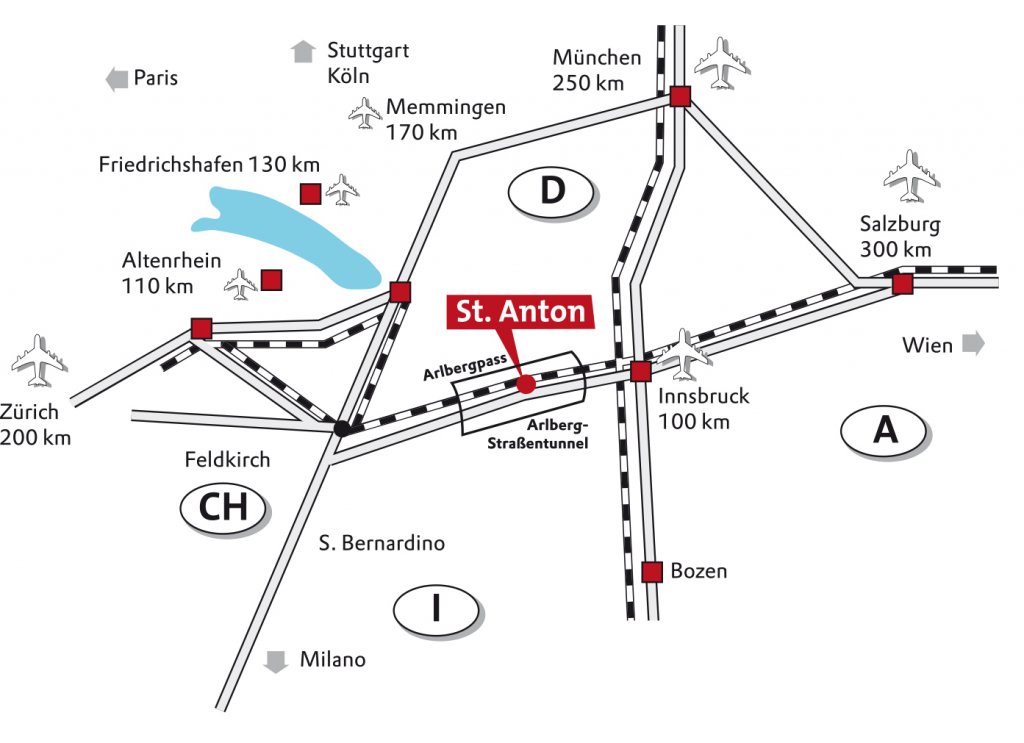 By train
We arrived from Paris by train, a trip that took us 7,5h, with a lunch stop of 1 hour in Zurich. We paid 154 euro per person for this easy trip from Paris to St. Anton. The train station in St. Anton is just a stone's throw away from the center. The train ride from Inssbruck to St. Anton takes about 1h20. There's even free wifi on the train.
It's also easy to reach Italy from St. Anton. When we left St. Anton, we took a train to Bolzano, in Italy.
St. Anton – Innsbruck: 1h20 – 17,5 euro
Innsbruck – Bolzano: 2h – 9 euro
For only 26,5 euro you are in the mountains in Italy.
To get those good prices, you do have to do a bit of searching and compare days and hours. For example the train ticket of 9 euro was another time of the day 30 euro. I got pretty good at it finding good prices, because I've been travelling for a long time. In this case I checked the following websites: Oui sncf (French website), Öbb (Austrian railway) and the Trainline.
By car
St. Anton is about a 1h15 drive from Innsbruck. You drive via Landeck to St. Anton am Arlberg
From Innsbruck airport, get on the A12/E533/E60 in Völs from Färstenwegand Kranebitter Allee/B171. Continue on A12/E60 to Sankt Anton am Arlberg. Merge onto A12/E533/E60 (this is a toll road). From S16 turn to exit St.Anton a.A.. Follow B197 to Postpl.
Important: You will need a road tax sticker to drive on motorways and on the S16 in Austria. It is called a 'vignette' and you can buy it at the border, petrol stations and in many 'Trafik'. There are three types of stickers: 10 days, 2 months or one year.
By plane
The nearest airport is Innsbruck airport, at approximately 100km. The E60 motorway that runs east to west from Switzerland to Austria and the Arlberg tunnel puts St. Anton am Arlberg within easy reach of also Friedrichshafen airport (130km) and Zurich airport (195km).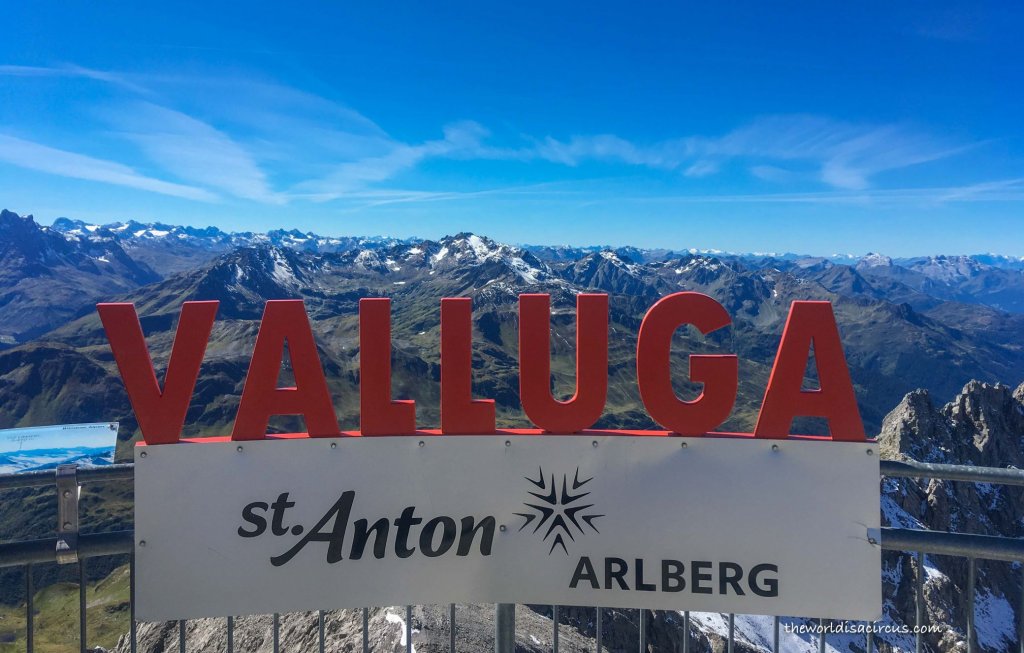 So if you're looking for a new summer destination, St. Anton is the place to be! One last tip: try to visit at the end of summer, when the majority of the tourists have left. You'll have the place more to yourself!
Disclosure: Nico and I were invited by St. Anton am Arlberg Tourism to explore the area. All opinions are, as usual, my own. Some of the links in this article are affiliate links, which supports this site without costing you anything extra.