Updated 20 November 2019.

Are you looking for an unforgettable road trip in Europe, with mountains, lakes and amazing roads? A road trip in the Dolomites is the answer!
For many people Italy equals wine, pasta and picturesque towns, but it's also home to huge mountains. The Dolomites are one of the UNESCO World Heritage Sites and they're waiting for you in northern Italy. Imagine steep mountains, beautiful lakes and winding roads. This beauty makes the Dolomites the perfect place for an incredible road trip.
In this extensive article (get ready!) I will share practical information, photo's and my 4 favourite roads in the Dolomites, with map and a video!
You'll be all set for your road trip in the Dolomites!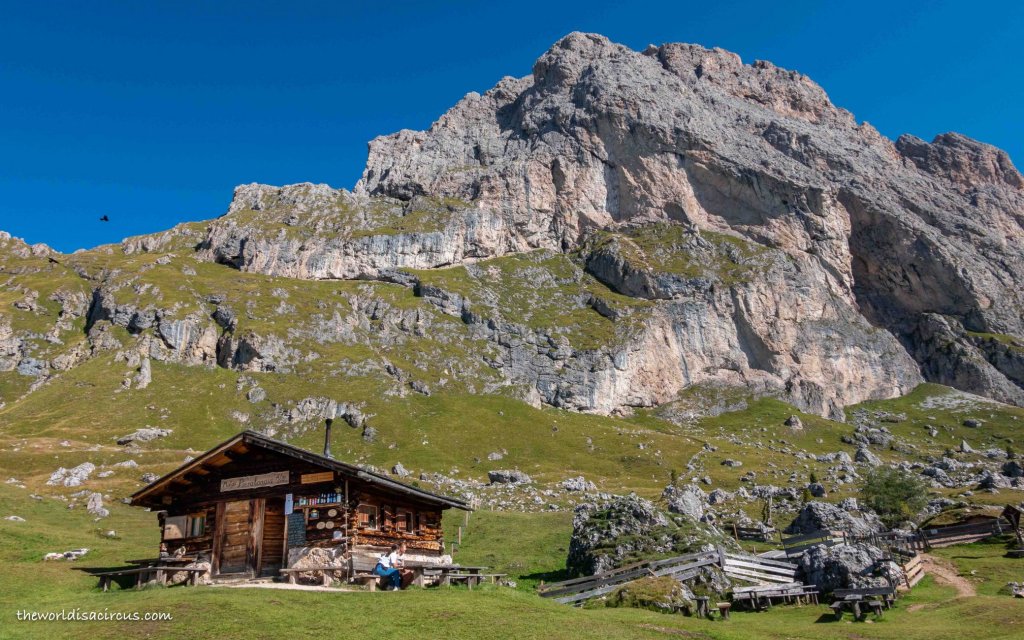 Where are the Dolomites?
The Dolomites are a mountainous area in the northeast of Italy, right under Austria, in the provinces of Belluno, South Tyrol and Trentino. With 18 peaks exceeding 3000 meters, it's a real feast for your eyes. The little and winding roads through quaint villages make it the perfect destination for a road trip.
People here speak Italian, German and Ladin. The latter is a Rhaeto-Romance language going back more than 2000 years. They speak it in schools and use it in public offices in certain places in the Dolomites. You sometimes forget you are in Italy, as you get a more Austrian vibe.

Learn some Ladin words!
How are you? = co vala?
Good morning! = bon dí!
Good night! = bona nuet!
A bit of history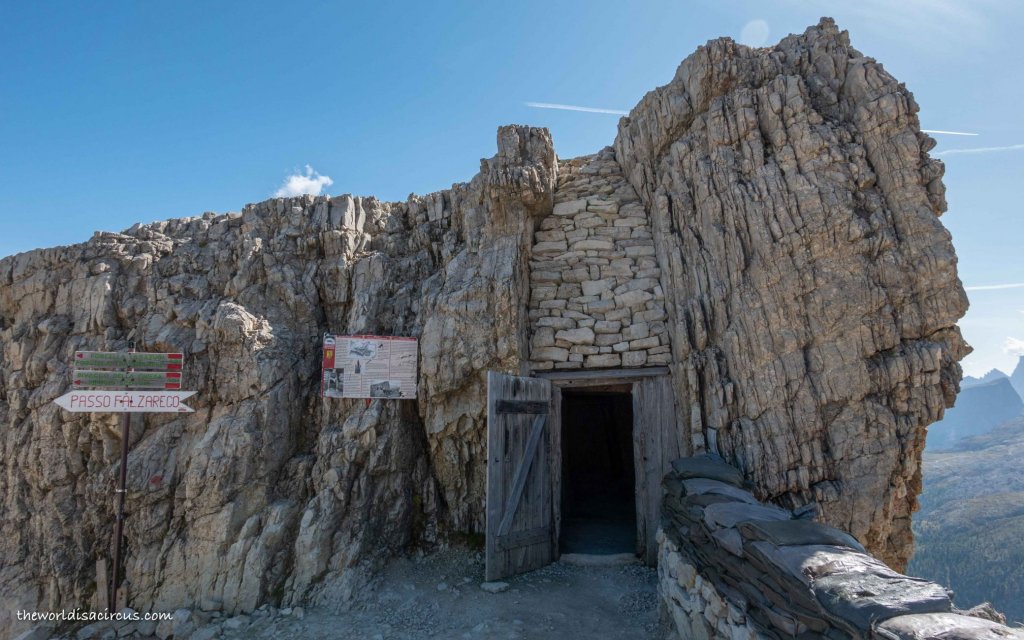 If you're a history buff, you're in the right place. The Dolomites are also rich with World War I history. During the war, the Dolomite front was fought over between Italy and Austria. The challenging terrain made that the military had to be innovative, by using mine tunnels and via ferratas. They used the latter to carry soldiers and weapons up the mountains. A lot of the history remains visible in the mountains, like old trenches and tunnels.
In 2009 the Dolomites were also listed as a UNESCO World Heritage Site, because of its beauty and uniqueness, and scientific importance in terms of geology.
4 Roads You Can't Miss On A Road Trip In The Dolomites
Who doesn't love a good road trip, right? I absolutely love the area and have explored the Dolomites quite a bit, but on my very first road trip to the Dolomites a few locations stood out for me. Those are the ones I 'm mentioning below, so you know where to go (and be impressed) on your trip.
To be honest, wherever you go in the Dolomites there are cool roads, mighty mountains and quaint villages. But there are those few roads that are a bit better than others, and luckily for you I'm sharing them below. At the end of the article you can find my map with exact locations. Audi Belgium was so kind to let me use one of their Q5's for this trip, which was a real pleasure with the mountainous terrain.
1. The Great Dolomites Road
The most famous road is the Great Dolomites Road or Grande Strada delle Dolomiti in Italian. You can find some different routes online, but it stretches about 100km long and covers many, many beautiful areas. The Great Dolomite Road starts in Bolzano and ends in Cortina D'Ampezzo.
Itinerary:
– Go from Bolzano to Cardano, where you take the SS241 to Ponte Nova.
– Continue to Carezza, where you'll pass the popular Lago di Carezza.
– Cross Passo di Costalunga to Vigo di Fassa.
– There you turn left on the SR48 to Canazei.
– From Canazei you go to Passo Pordoi, following a steep and winding road until Arabba.
– Continue on the SR48 through Livinallongo to Passo Falzarego.
– From Passo Falzarego you descend to the Ampezzo valley all the way to Cortina.
Enjoy the beautiful road to Passo Pordoi as seen from a drone!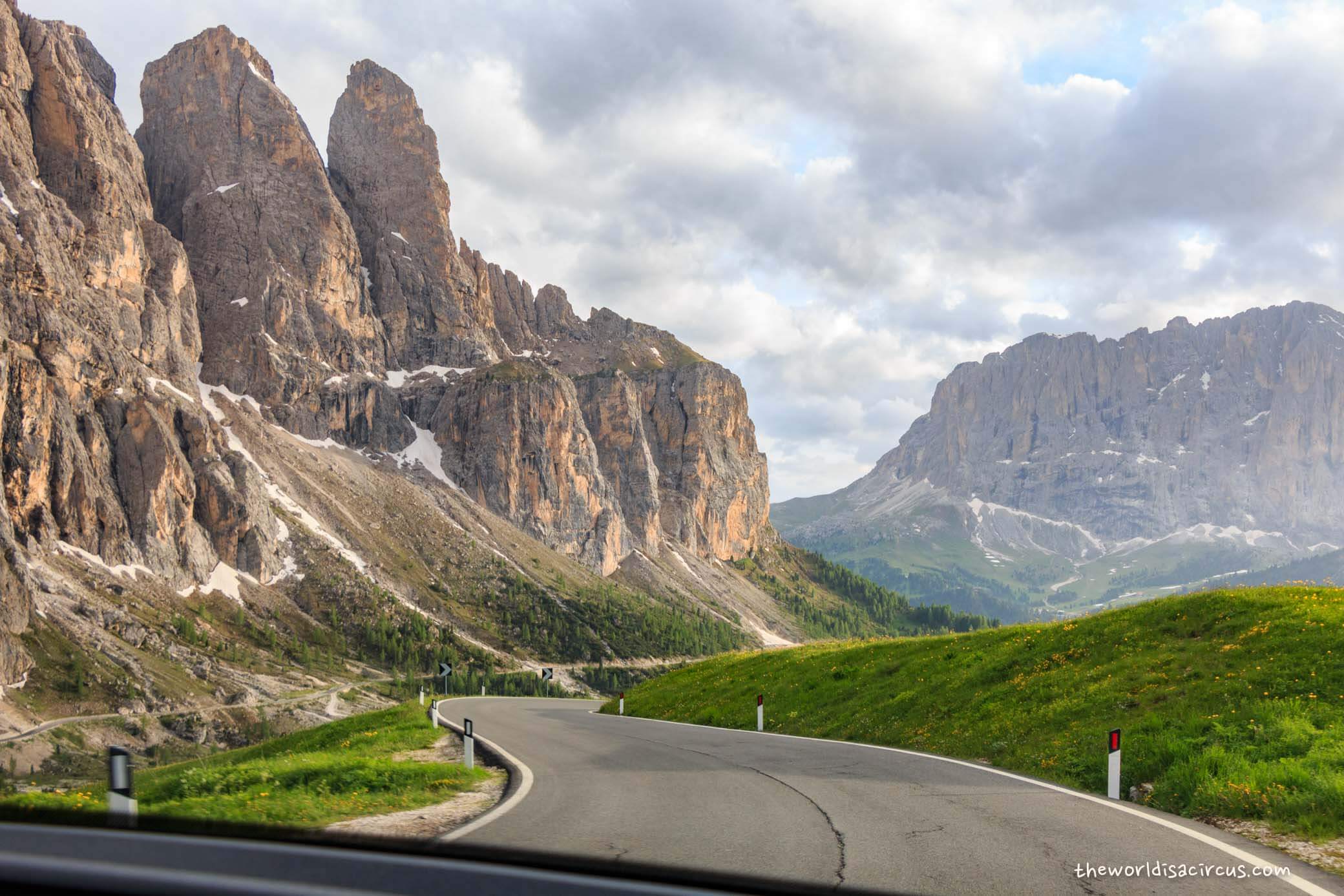 Take your time to enjoy this road. There are lots of great viewpoints and resting areas to have a picnic. We did this road in a few days, since we made some stops and enjoyed little villages and took lots of photos. I recommend it doing this way, since you have more time to take everything in.
2. Sella Pass
Not far from the Great Dolomites road is Sella Pass. You'll enjoy this beautiful drive with a great view on the huge Langkofel mountains. These mountains are also called Sassolungo or Saslonch, so don't get confused if you suddenly hear a totally different name. The name actually means 'long peak', and you'll get why when you have your eyes on it. They're candy for the eye and are also nicely visible from the Val Gardena valley.
Where to find this road?
Follow the SS48 from Canazei, which turns into the SS242. This leads you to Sella Pass, with beautiful views on the Langkofel mountains. Find the exact location on the map below.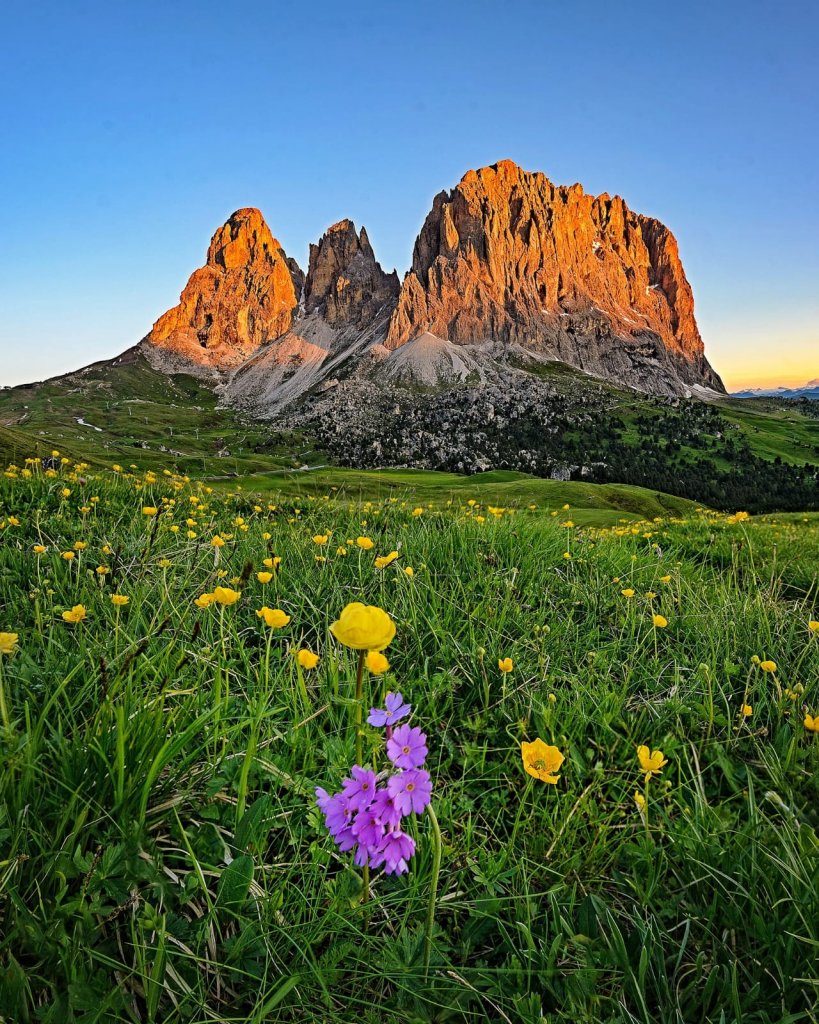 3. Passo Gardena
This road turns and turns and turns. Be prepared! Especially during summer, when lots of motorcyclists and cyclist use the road. Since I'm from Belgium, I'm not used to roads going up and down and keep on turning. I don't think I've ever done this many turns during a holiday. Thank God for the Q5, which made driving in the Dolomites way more pleasant.
This mountain pass has an elevation of 2,136 meters. You can imagine the views will be nice from the top!
Where to find this road?
The Passo Gardena connects Selva in the Val Gardena valley with Corvara in the Val Badia valley. Look on the map for its exact location.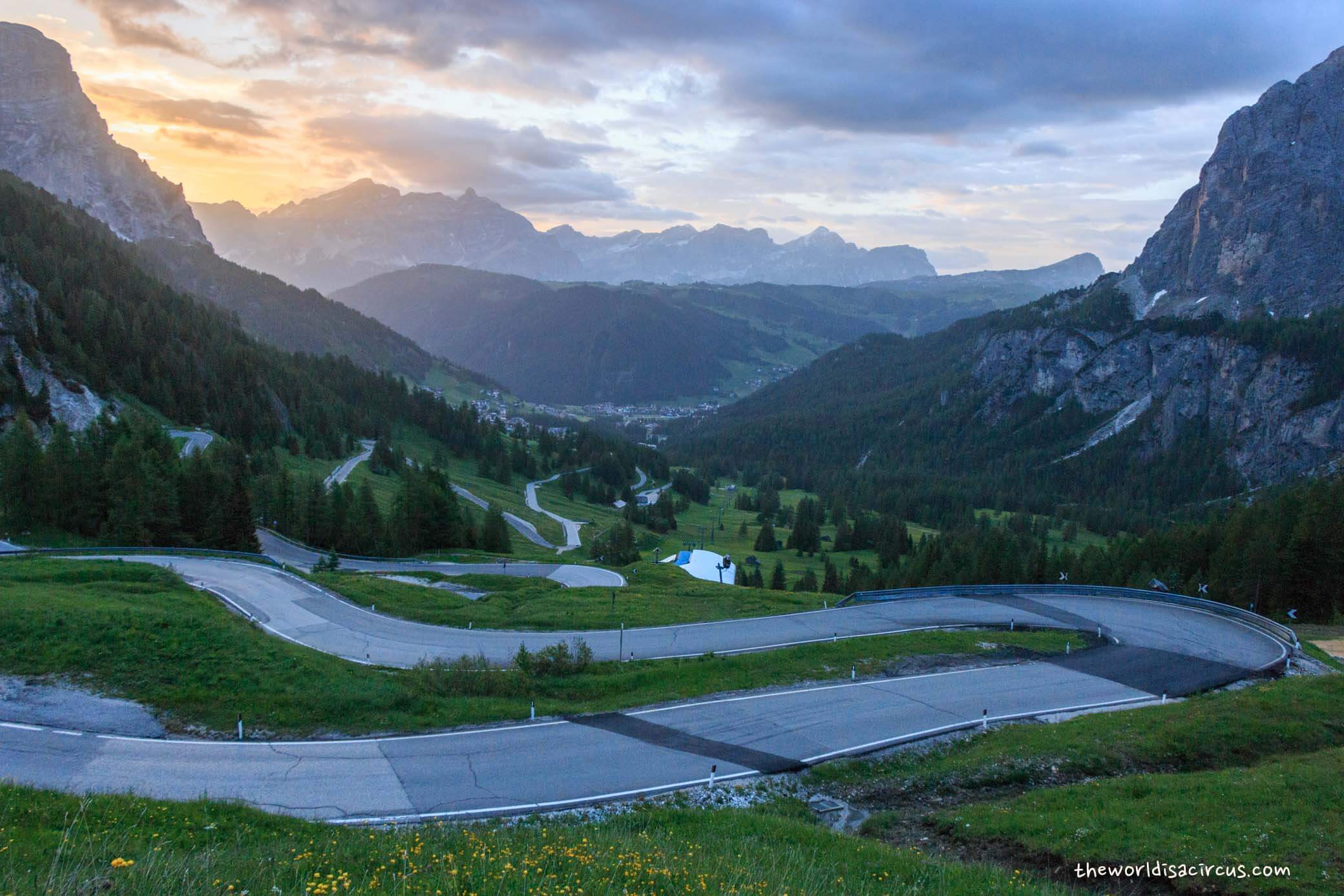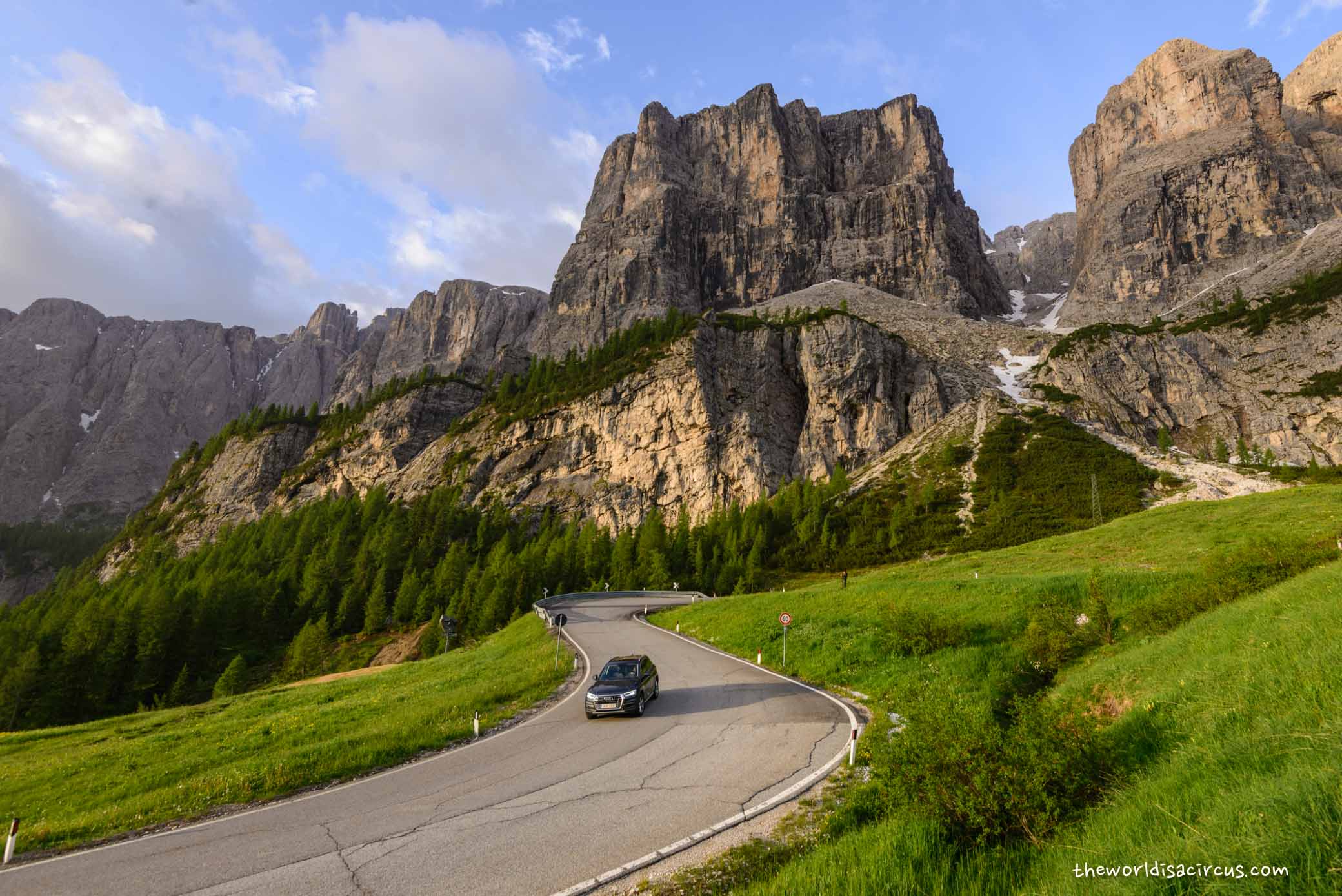 4. St. Magdalena
Finding this road and view was a bit of a challenge. We had seen a picture we liked on Instagram and tried to find the location. We often do this when going to new places. This little street in the Dolomites was no given and took us a bit of work.
After turning into a few wrong roads we finally found the correct spot. It was definitely worth the effort, since it was a beautiful view. So no need for you to try and figure out its exact location!
Where to find this road?
This little road is the Magdalenaweg. You go via the Magdalena village and then on to small roads. Have a look on the map for the exact coordinates. It's a small street, so be comfortable driving on little roads.
Want to discover other beautiful locations in Europe? Have a look at Dinant, a cute and historic village in Belgium: Visit Dinant.
Detailed Road trip in the Dolomites Map:
Why should I visit the Dolomites?
You have mountains, pasta and amazing roads all in one place. Should I say more?
More seriously: the Dolomites are a destination with something for everyone. Whether you enjoy cycling, food, hiking or history, the Dolomites have it all. In general: if you enjoy nature, you'll have a blast. There are lakes, mountains and great walking and biking tracks. A road trip in the Dolomites can link all of these activities together! Here is a list of activities to pursue when visiting the Dolomites.
Via Ferrata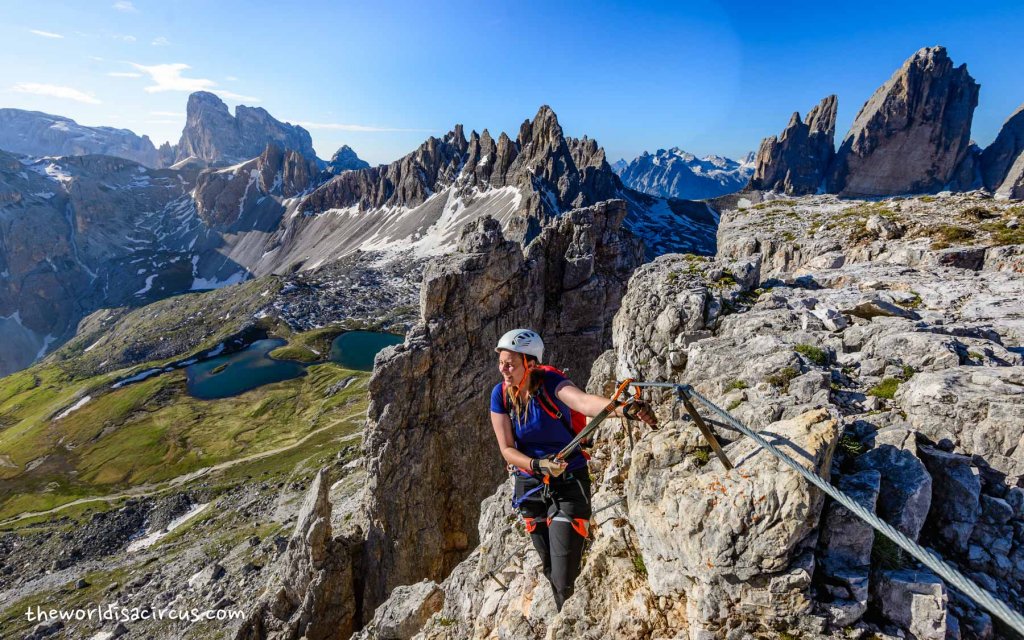 A via ferrata is – in my opinion – the coolest way to explore the mountains. I enjoy it even more than hiking, since it has a bit of everything: you hike and you climb. You basically use your legs AND hands – and you're always rewarded with an incredible view, especially in the Dolomites. When you do a via ferrata, you follow a steel cable along a route on the mountain. With a via ferrata kit you attach yourself to the cable, protecting you from falling. Several via ferrata routes in the Dolomites date from World War I, when they were used to aid the development of troops.
Two via ferratas I highly recommend are Torre Toblino and the Oskar Schuster Steig. We wanted to do a few more, but the weather was very unstable and because we visited in June, some via ferratas were still closed because there was ice in the tunnels.
We ended up doing the Torre Toblino, north of the Rifugio Locatelli and it was just incredible. I'm not exaggerating. If you aren't very experienced, this is a great one to do. One prerequisite: you can't be afraid of heights. The first part up you have to climb 17(!!) ladders, on the side of a mountain. I absolutely loved it. I'm working on a detailed description and video, which will come online later this year.
The one I did a few years ago is called Oskar Schuster Steig to climb Sasso Piatto. It's a bit of a hike to get to the start, but you're rewarded with awesome views. You first take a cable car up to Langkofelscharte, do a hike and then the via ferrata begins.
For most via ferratas you require equipment: a harness and via ferrata kit (to lock yourself to the ropes). Do you just want to try out an easy one? No problem. Google 'via ferratas in the Dolomites', and find great ones for people without experience. There are even routes just following tunnels, where you don't need any equipment. If it makes you more comfortable, you can also join a guided tour.
Rock climbing
There are lots of climbing routes in the Dolomites. It's a real playground for rock climbers, there's multi-pitch, trad climbing, big walls, steep faces – there's something for everyone. The best time to go rock climbing is in summer, from July to September.
Cinque Torri, Sella Towers, Vajolet Towers, Sassolungo, Tre Cime di Lavaredo, Sass Pordoi, all of them give great views. Find more detailed routes here.
Hiking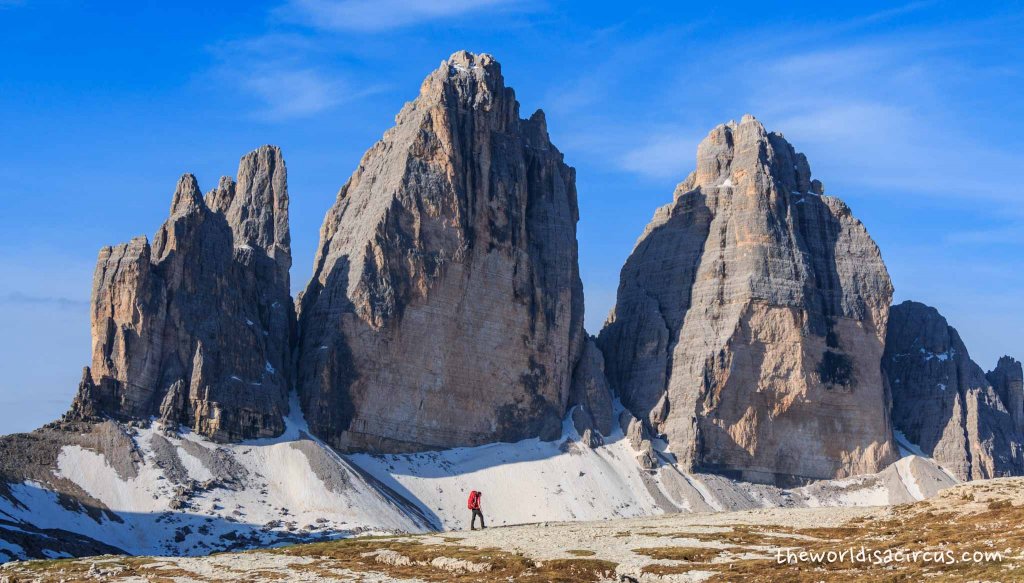 The Dolomites are THE place to go hiking. I mean, how could they not, with all those mountains around?
Hiking is the ideal activity in summer, autumn and spring. The best time to hike in the Dolomites is from June to September. Try to avoid peak season (July and August), 'cause there will just be too many people.
Each hike gives you access to some of the most beautiful scenery of the Italian Dolomites. Often you have to take a cable car up and then you have a myriad of hiking routes to choose from.
Some hiking areas to check out:
Seceda: cable car up, lots of different hikes along the top and down to the valley
Cinque Torri: great place for history geeks. Drive up or take the cable car and explore the trenches of World War I. Besides impressive views, there's lots of information signs about World War I. Interesting place!
Tre Cime di Lavaredo: expensive toll road up, but gorgeous area. It's a bit less green, but nice mountains and beautiful lake.
Selva to rifugio Puez: start at dantercepies cable car station
Lago di Braies: aka Prager Wildsee. Clearblue, popular lake. Not really hiking, but nice walk along the lake.
Lago di Sorapis: nice hike for people who aren't afraid of heights.
Cycling
Especially in summer you'll see many cyclists. The steep and winding roads are a dream for cyclists. I would hate it and suffer, but I've seen many happy sweaty cyclists on the road. Be cautious when driving your car; there might be a cyclist nearby.
Another great cycling destination is St. Anton am Arlberg, in Austria. Read here to about a visit to St. Anton am Arlberg, mountain bike options included!
Photography
With mountains and lakes around every corner, the Dolomites are a photography walhalla. There are photography opportunities around every corner, but there are some locations you can't miss. Make sure your camera batteries are fully charged when you're out exploring! The Dolomites offer multiple photography opportunities, but make sure to put Tre Cime, Passo Giau, Langkofel, Seceda and St. Magdalena on your list.
When to visit the Dolomites?
This depends on the kind of activities you want to do. Summer gets very VERY crowded, so I suggest going in spring or early autumn. Unless you don't mind getting stuck behind campervans. If you'd like to do via ferratas, then summer or early autumn (September) are best. In spring some of the routes aren't accessible, because there is still ice and snow in the tunnels.
Weather in the Dolomites
The Dolomites are perfect for year-round active adventures. Every season has something to offer.

Summer (July-September): mild, sunny, average of 20-25°C
Activities: hiking, climbing, via ferrata, cycling
Autumn (September-November): average 0-11°C
Activities: hiking, climbing, via ferrata, cycling
Winter (December – March): cold and dry, average -4°C – 2°C
Activities: skiing, snowboarding, snowshoeing
Spring (April – June): more rainy days, average 5-13°C
Activities: hiking, cycling, singing in the rain
In every season the mountain areas will get some rain – that's the way it goes in the mountains. Also note that in the mountains the weather can change quickly, so always be prepared. It will also be quite a few degrees colder in up there than down in the valley.
Where to stay in the Dolomites?
To get the real Dolomites experience I recommend to stay in villages or small cities. Therefore I would avoid Bolzano. I'm listing three locations that I enjoyed and recommend.
Ortisei
You find this picturesque, small village right in the centre of the Dolomites, in Val Gardena. The colourful buildings, carved wooden structures and cosy streets are a pleasure to discover. The pedestrian zone invites you to do some window shopping and try out some local delicacies. Take your hiking boots with you, because this is a real hiker's paradise.
I highly recommend staying at some of my friends' accommodations: Villa Quenz Family Suites, this is especially recommended if you're going with a family. For other accommodation options, have a look here.
Cortina d'Ampezzo
Surrounded by high mountains, Cortina is the ideal starting point for many hikes, cable cars and other activities. It is mostly known as a ski destination, but definitely worth a visit in other seasons too.
Accommodation in Cortina D'Ampezzo: discover here.
Santa Maddalena (St Magdalena)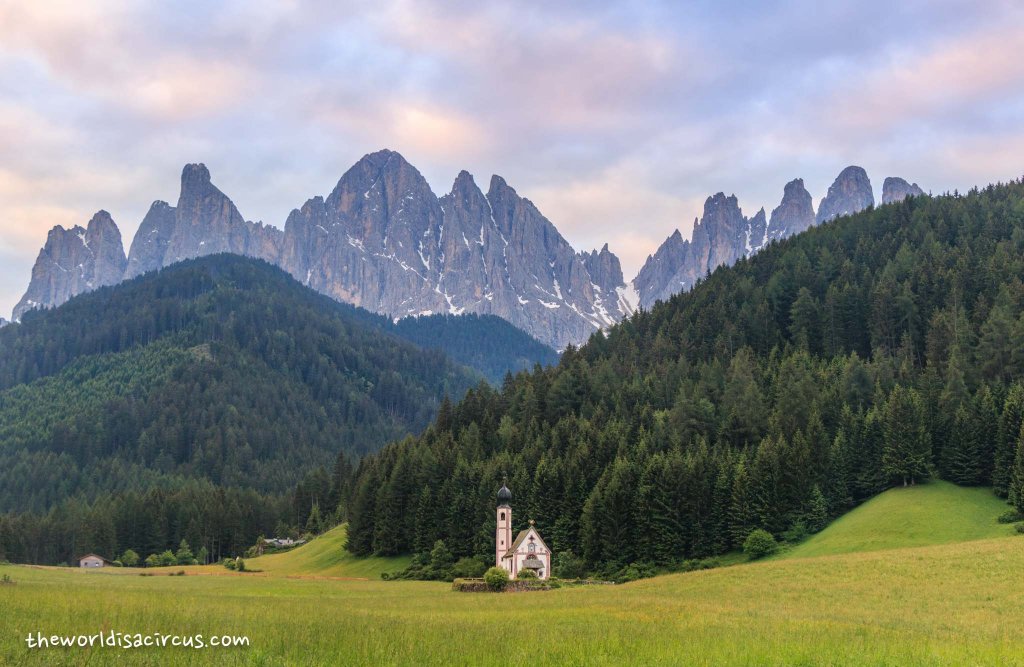 This small and peaceful village is the perfect spot to spend a night. Careful, there is also a Santa Maddalena more northeast, close to the border with Austria. Make sure that you don't book in the wrong village.
Lastly, you can also rent a camper van and sleep at campgrounds or designated rest areas. Freedom camping is not allowed. We switched between staying in a tent and in hotels/B&B.
Some final extra tips:
If you've made it this far in the article, I think you can handle a few more extra tips!
The parking fees and cable cars can be quite expensive. If you're staying at a hotel, make use of the guest cards offered by most hotels in the area. They usually include free public (local) transport and give discounts on cable car rides.
The currency in Italy is the euro. In most places you can pay by card, but it's always good to have some cash on you, especially when visiting smaller villages. You find ATM's in most villages.
To all the Brits and Australian/kiwi's: People drive on the right side of the road. Roads are well maintained. In summer it gets quite busy, with a lot of cyclists and motorbikes on the road. Be extra cautious. There are fuel stations in most villages.
How to get to the Dolomites?
Since this article is about going on a road trip, I assume that the majority of you arrive by car. Nonetheless, I'm sharing some public transport options, since it is quite straightforward.
To Bolzano, from Innsbruck
By car: 125 km – approx 1h30. Straightforward route, passing Brennero/Brenner (A13) and Bressanone/Brixen (A22)
Don't forget – if you're driving in Austria, you will need a road tax sticker to drive on motorways and on the S16. There is no road tax sticker in Italy. There is a toll to pay though in Italy! When you exit the toll road (autostrada) you must pay the toll. Do not use the Telepass lane.
By public transport: there are plenty of trains available between Innsbruck and Bolzano. On our last visit we took a train from Innsbruck to Bolzano, which took 2 hours and was 9 euro per person. You can find tickets on Öbb (Austrian railway) and the Trainline (that's the two I use).
To Cortina D'Ampezzo, from Venice
By car: 267 km – approx 2.5-3h – drive direction of Padua, then follow to Verona and Trento until you reach Bolzano. If you have time, drive along Lake Garda (Lago di Garda) for some extra nice views from your car window. Go direction of the lake after you pass Verona. If your plane arrives in Treviso airport you can skip Padua and Verona and go straight to Trento (via Feltre).
By public transport: Train prices are between 9-30 euro, depending on the day, time and how much you book in advance. You'll reach Bolzano in 2.40h – 4h, with a transfer in Verona. (tickets via Trenitalia or the Trainline)
To get good prices, you do have to do a bit of searching and compare different days and times. For example the train ticket of 9 euro was another time of the day 30 euro.
I also found this handy bus routes schedule in Val Gardena, in case you are taking the bus there: bus.
Getting around by public transport is easy, you just need a bit of patience. Buses and trains aren't always on time, but it is easy to get from village to village. If you have to make a transfer, take enough time into account, because your train might be delayed. I would go for a minimum of 30 minutes between train
Is it your first road trip and you're a bit nervous about how to get ready? Read up on how to prepare for a road trip here. Who knows, maybe you'll end up in the Dolomites!
Unfinished business
Every time I leave the Dolomites I'm already thinking when my next visit could be. I've been three times so far and every time my road trip in the Dolomites was over before I knew it. I really could spend a few months in this mountain paradise and I will be back!
Are you ready for your road trip in the Dolomites? Let's start packing!
Liked it? Pin it for later!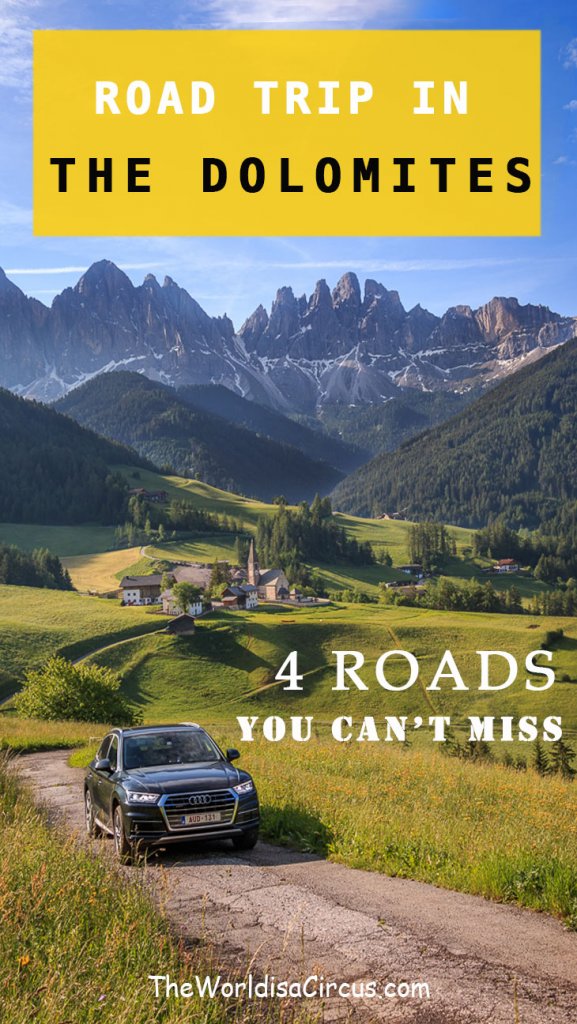 The car for the first road trip to the Dolomites was sponsored by Audi. All opinions are, as usual, my own. Some of the links in this article are affiliate links, which supports this site without costing you anything extra.