Nihahi Ridge in Kananaskis is the hike that has it all! Beautiful Canadian nature, adventure and endless views.
If you like a dose of adventure and aren't afraid of heights, you'll have a blast. I couldn't stop smiling while doing this hike, because it is just so much fun.
Kananaskis Country
You find Nihahi Ridge in Kananaskis Country in the Canadian Rockies. Kananaskis is also called K-Country by the cool kids. K-Country is an area west of Calgary with many parks, including five provincial parks, four wild land provincial parks and much more. As you can imagine Kananaskis hides many awesome hikes, the Nihahi Ridge hike being one of them!
(Definitely check the video at the end of this article to get even more excited)

From Campground to the Top
The hike starts from the Little Elbow Campground. This is convenient if you want to spend a night at the campground and start your hike early in the morning. We parked up our van the evening before, planning to hike the next day. Be aware that Little Elbow Campground is quite expensive. We paid 26 dollars to park up for one night. The campground has toilets, (untreated) water and a fire pit.
We were excited to get up the ridge, although the conditions weren't ideal. Heavy wildfires were spreading in British Columbia and Alberta – this is unfortunately something that happens sometimes during hot summers. When we got out of the van we knew immediately. The sky was filled with smoke, making the scenery very hazy. A pity, but we had set our minds on doing this hike and the fires were far away from us, so we went for it.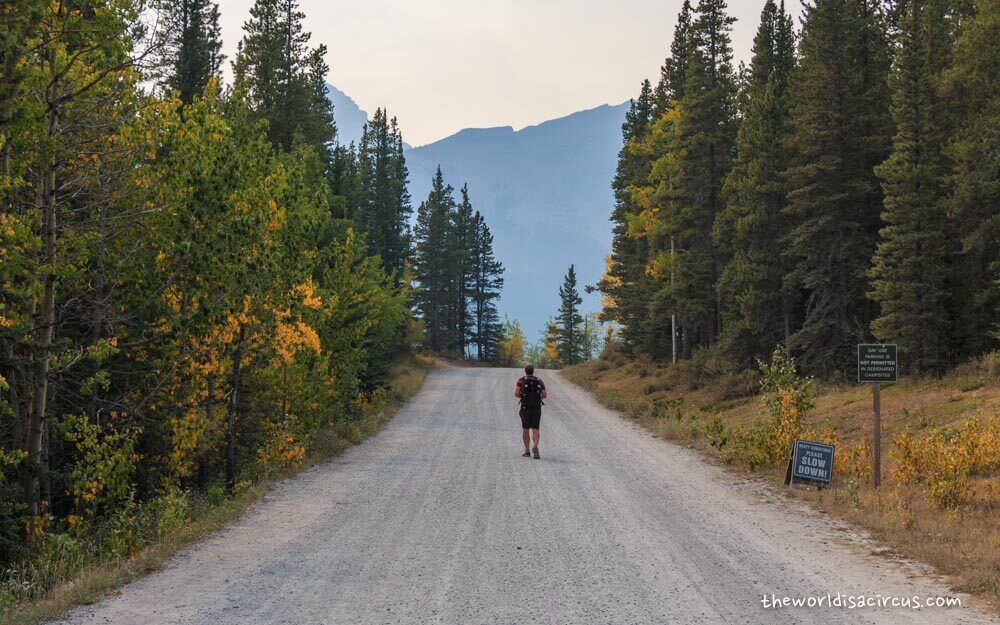 The first meters you follow the main road until you reach the official start of the hike and the forest. There are many little paths; so make sure to check every sign. It's a nice, small track taking you through the forest up to a meadow. The trail keeps going up and getting steeper step by step. Once you're almost above the tree line you start hiking on rocks. Keep going uphill and don't forget to look back. The view gets better and better!
At one point you follow a small track on some gravel along the right side of the mountain. Here you'll have to do a tiny scramble of a few meters, but nothing too bad (if you're not afraid of heights).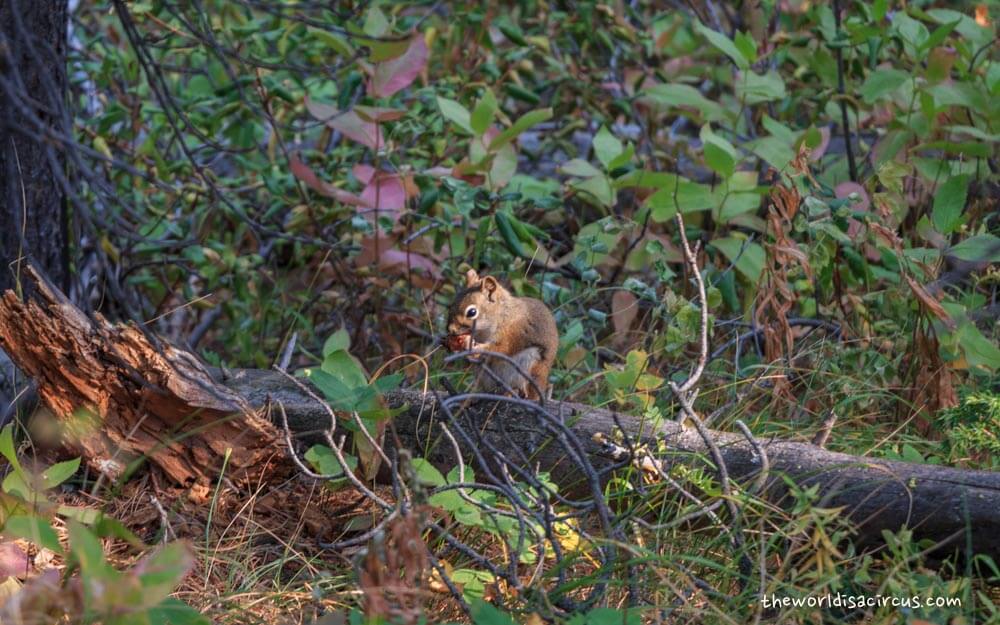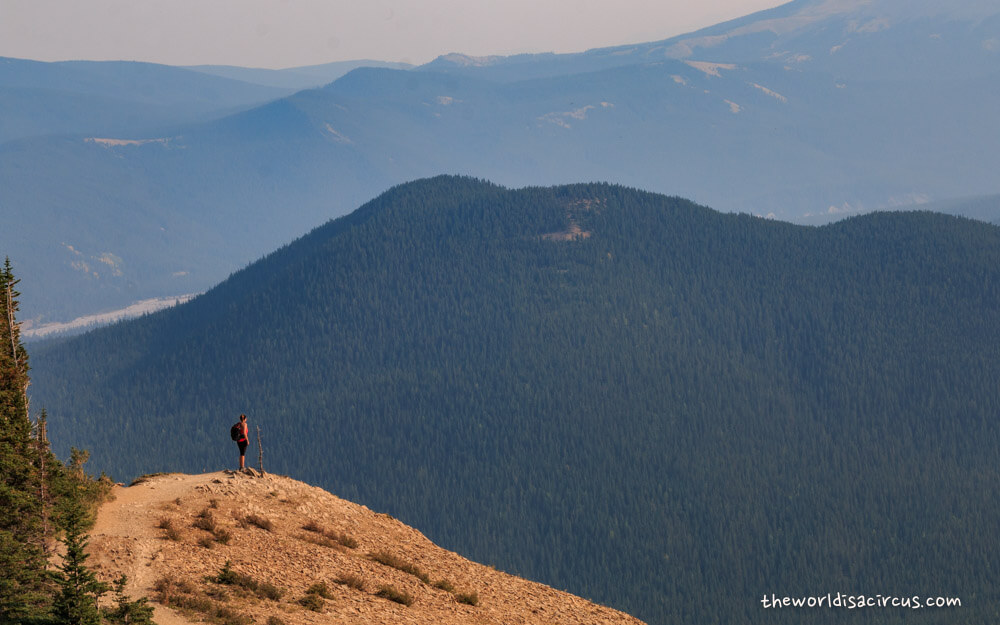 Route Up to Nihahi Ridge
Once you finish the little scramble there are a few tracks up, and you quickly gain altitude. I'm pretty sure all tracks lead to the top, but we followed the right hand one. Then you'll reach a large buttress, marking the end of the hike.
Here you have two options. You either stop or you keep going. Of course we wanted to walk ON the ridge, so we kept going! Once the track finishes there is the option to climb up some rocks and walk on the ridge. Here the fun part started! The little climb up was quite vertical, but not exposed. There were large rocks to hold on to and climb up.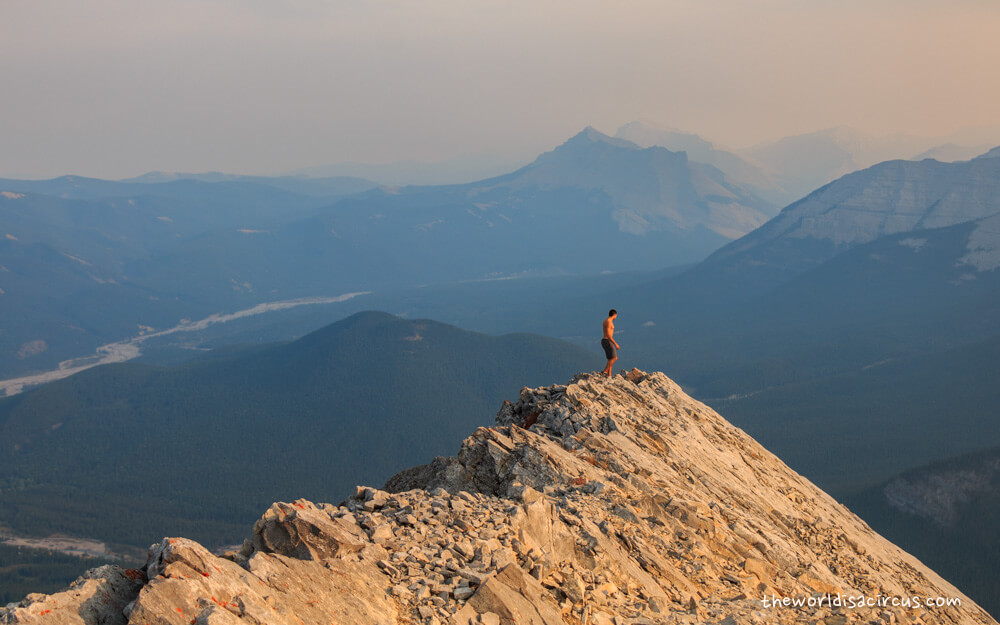 Hikes where you have to do a bit of scrambling and climbing are my favourite ones. A combination of fun and adrenaline in a magnificent scenery. 
When you reach the top of Nihahi Ridge you feel mighty! You balance at 2,345m high on a ridge. One side of the ridge was very steep, while the other side was a slab, making it safer. I felt the adrenaline pumping in me.
Don't climb to the top of the ridge if you're not confident on your feet or with heights! Always be careful and smart.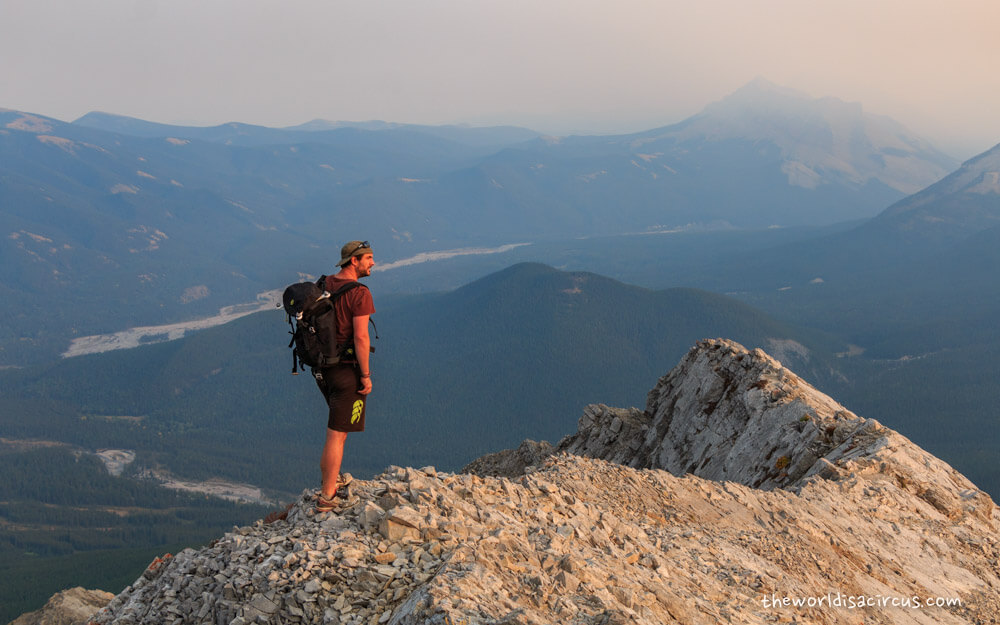 Because of the smoke we didn't get the best views, but it still was one of the best day hikes I've done in Canada. This hike is just so much fun. I still get a smile on my face when thinking about it.
Video Nihahi Ridge Trail
Is Nihahi Ridge a dangerous hike?
In general Nihahi Ridge is not a dangerous hike, but this depends if you go all the way to the top of the ridge. The track to the official end of the hike isn't dangerous, but the second part to the top could be considered dangerous since you are very exposed on top of the ridge (on one side).
When I was doing my research before hiking up Nihahi Ridge, I was a bit worried about the scramble and climb up to the ridge – but having done it now know I had no reason to be worried. You just always need to stay focused.
I have done a lot of hikes that were pretty high and steep, so if you are not confident with heights, you should definitely not do the second part of Nihahi Ridge. Also please always wear proper shoes – you would be surprised how many people I've seen in flip flops on hikes…
More hikes in Canada: A week in Mount Assiniboine Provincial Park. 
Nihahi Ridge Hiking Route Description
The Nihahi Ridge hike is about 10-11km return and the elevation gain is around 450m, depending on how far on the ridge you go. It took us about 2 hours up and 1,5h down, but we were in a hurry to get nice light up there and we didn't really take any breaks.
Start at Little Elbow Campground and walk towards the end of the road. Go past the gate to the trailhead. About half a kilometre later you see a sign on your right where you need to get off the main trail and go into the forest toward Nihahi.
Don't forget to take that turn off the main road into the forest! There are many trails, so it's easy to get confused. Once you get off the main road, you slowly go up through the forest until you reach a meadow. From here you already get some views on the surrounding mountains.
Once you pass the meadow the trail gains elevation rapidly, with views getting better and better. The track climbs continuously, with an exposed section at the side of the mountain. After a little (and easy) scramble you're almost at the top. You just keep following the clear track.
At the end of the trail you have the opportunity to go further and walk on the ridge. Climb up the rocks and access the ridge. Be careful when doing this.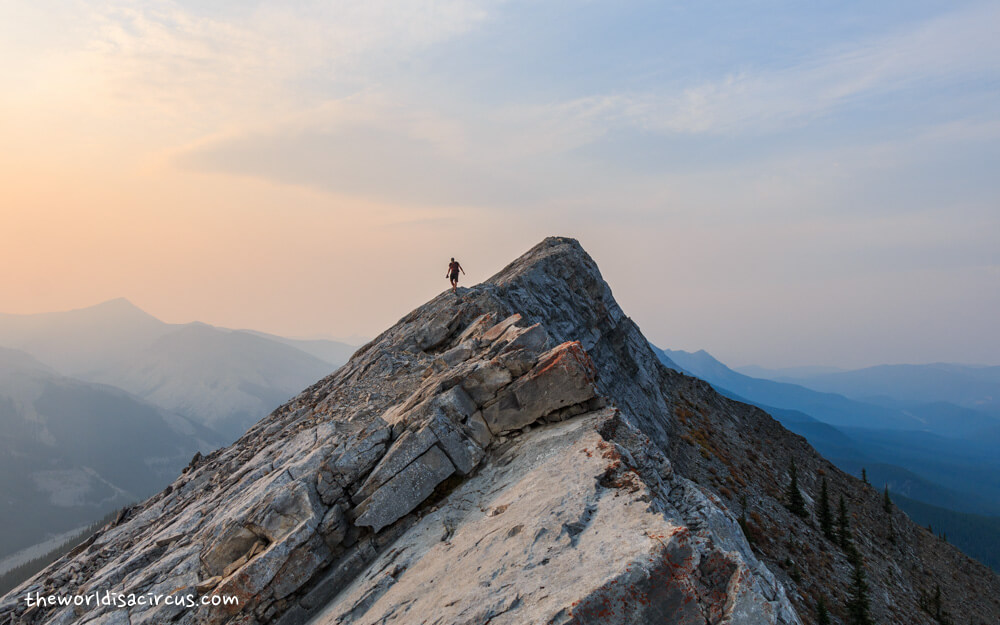 How To Get To Nihahi Ridge Trailhead?
The start of the track is near Bragg Creek,  about 40 minutes from Calgary
Take Highway 66 from Calgary until the roads ends
Park at the Little Elbow Campground
This road is closed from 1 December to 15 May (because of winter conditions)
TIP: there is a big car park, but if you want to cut a few (boring on the road) hundred meters from the hike you can park close to the campground. You just drive towards the campground, and at one point you'll see a tiny car park on your right and a big sign: LAST PARKING FOR TRAILHEAD (or something like that). It fits about 10 cars.
Thinking of working and travel in Canada? Find out more how you can do that: Work and Travel in Canada. 
Where To Stay near Nihahi Ridge – Kananaskis?
Since this trail is near Calgary (only a 40 minutes drive) you can either stay in the city or spend a night at the Little Elbow Campground.
Little Elbow Campground
This is a large campground in the Little Elbow Provincial Recreation Area with a lot of space. There are over 60 sites for RV's or tents and about 30 walk-in tent sites.
We didn't make a reservation, but if you like to be sure, you can reserve a spot on the Alberta Parks website. It's a cute campground with nice surroundings. Walk to the Forget Me Not pond, stroll through the forest and of course hike up Nihahi Ridge!
Calgary accommodation
If you have a car you can easily stay in Calgary. Calgary is a large city with lots of accommodation options, from hotels to hostels and AirBnB's. If you don't have Airbnb yet, use this link to get a discount.
Also on there are plenty of options for accommodation in Calgary.
Ready to hike? Let's go!
Like it? Pin it!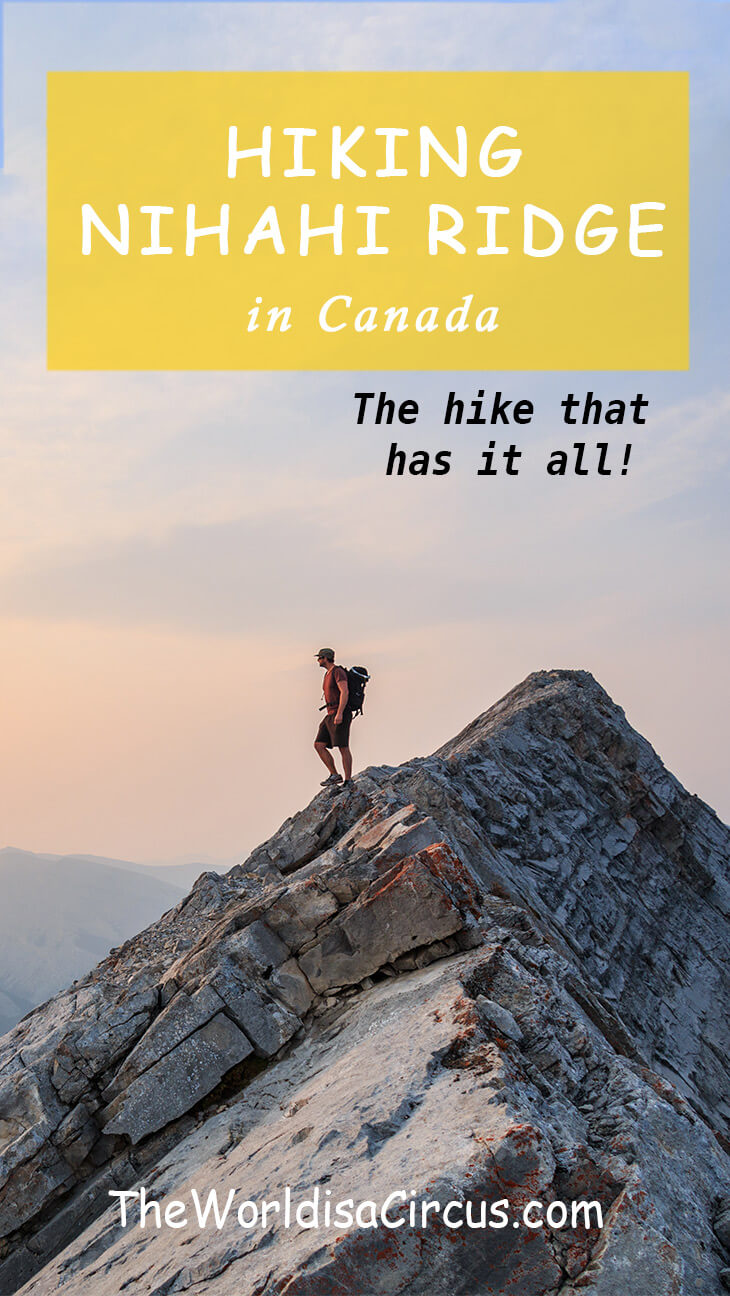 Disclaimer: some of the links in this article are affiliate links, which supports this site without costing you anything extra. Thanks for helping me buy my coffee