If you're looking for a real Canadian and unique experience, Simpsons Num-Ti-Jah Lodge is the place to be.
How To Get There?
The Num-Ti-Jah Lodge is located on the Icefields Parkway, right at Bow Lake in Banff National Park, offering incredible views on Bow Lake and Cradle Mountain.
From Lake Louise: 38km. Follow the Icefields Parkway and after 30 minutes you will see Bow Lake and the Num-Ti-Jah Lodge on your left-hand side.
From Jasper: 195km. Follow the Icefields Parkway south and after 2,5h you will see Bow Lake and the lodge on your right-hand side. There are many amazing stops on the way, so take your time!
As every good and new road tripper in Canada Nico and I wanted to do the Icefields Parkway with all its beautiful locations. Right at the beginning, we drove past the Num-Ti-Jah Lodge. The quirky red roof and historic charm immediately drew our attention. We had to stay at this lodge! We got in touch with the manager and were hosted to experience a real Canadian lodge.
In this article you'll find more about our stay at the lodge, its history and all the awesome things to do in the area!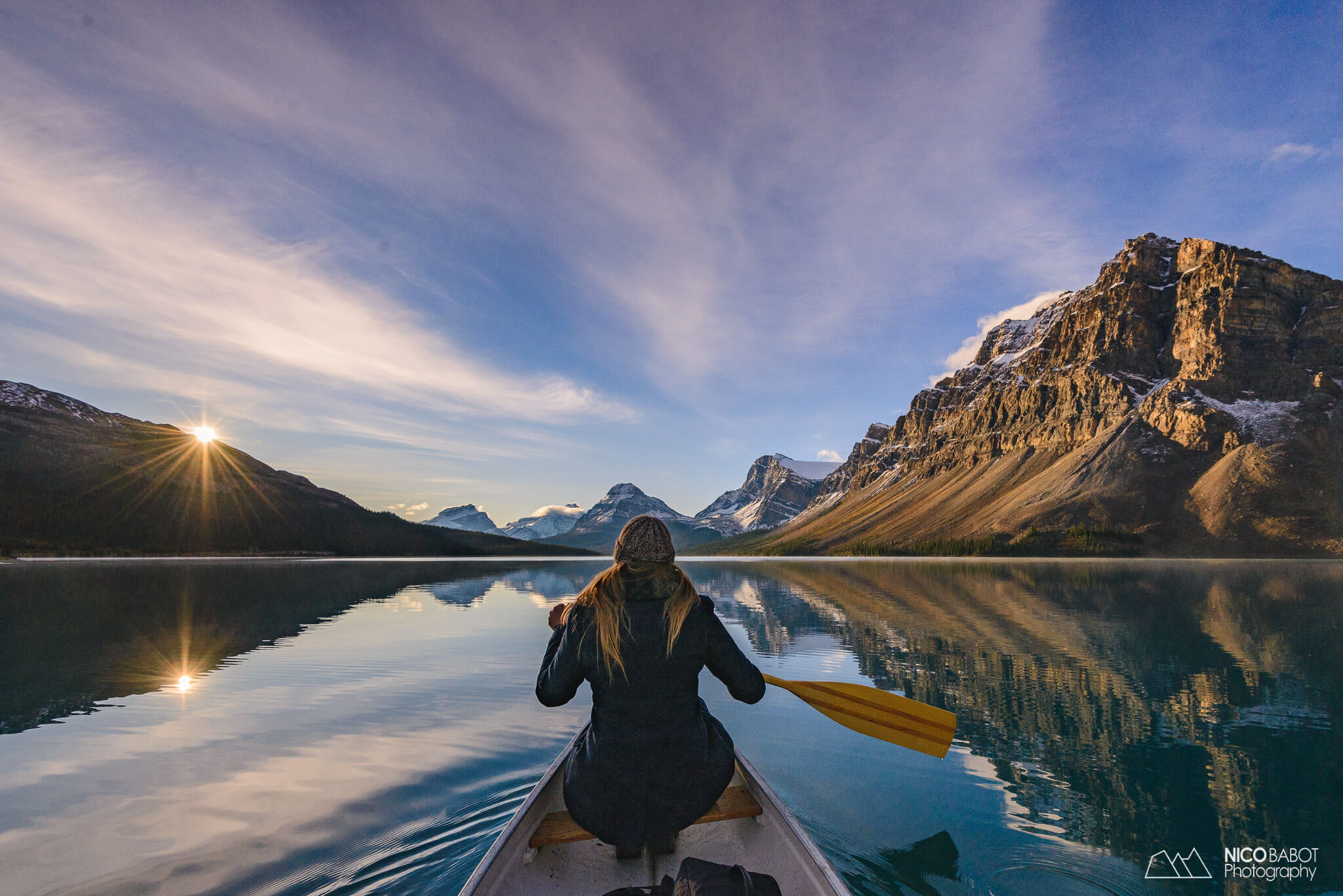 Simpson's History
Isn't "Simpson's Num-Ti-Jah" a great name? I love pronouncing it! There's more to it than just sounding nice though.
The lodge is named after Englishman Jimmy Simpson, who left England for Canada in 1986 and became one of Canada's greatest mountain men. He guided people through the Canadian Rocky Mountains, which were back then little-explored.
In 1898 he camped at Bow Lake and vowed to one day "build a shack here". 25 years later he did it! He built the first log cabin on the site, and he called his operation Num-Ti-Jah, which stands for the small animal pine marten. A few years later he opened the Num-Ti-Jah Lodge, back then with six guest rooms. Ten years later he expanded to 16 rooms – and that's how it still is today.
Apparently Jimmy was a witty and wild character and fun to be around. He became a real living legend and his reputation attracted many tourists. I'm sure it would've been nice hanging around the campfire with him! He died in 1972, but his spirit definitely lives on. The cool thing about staying here is that the lodge hasn't changed much since it was completed in 1950.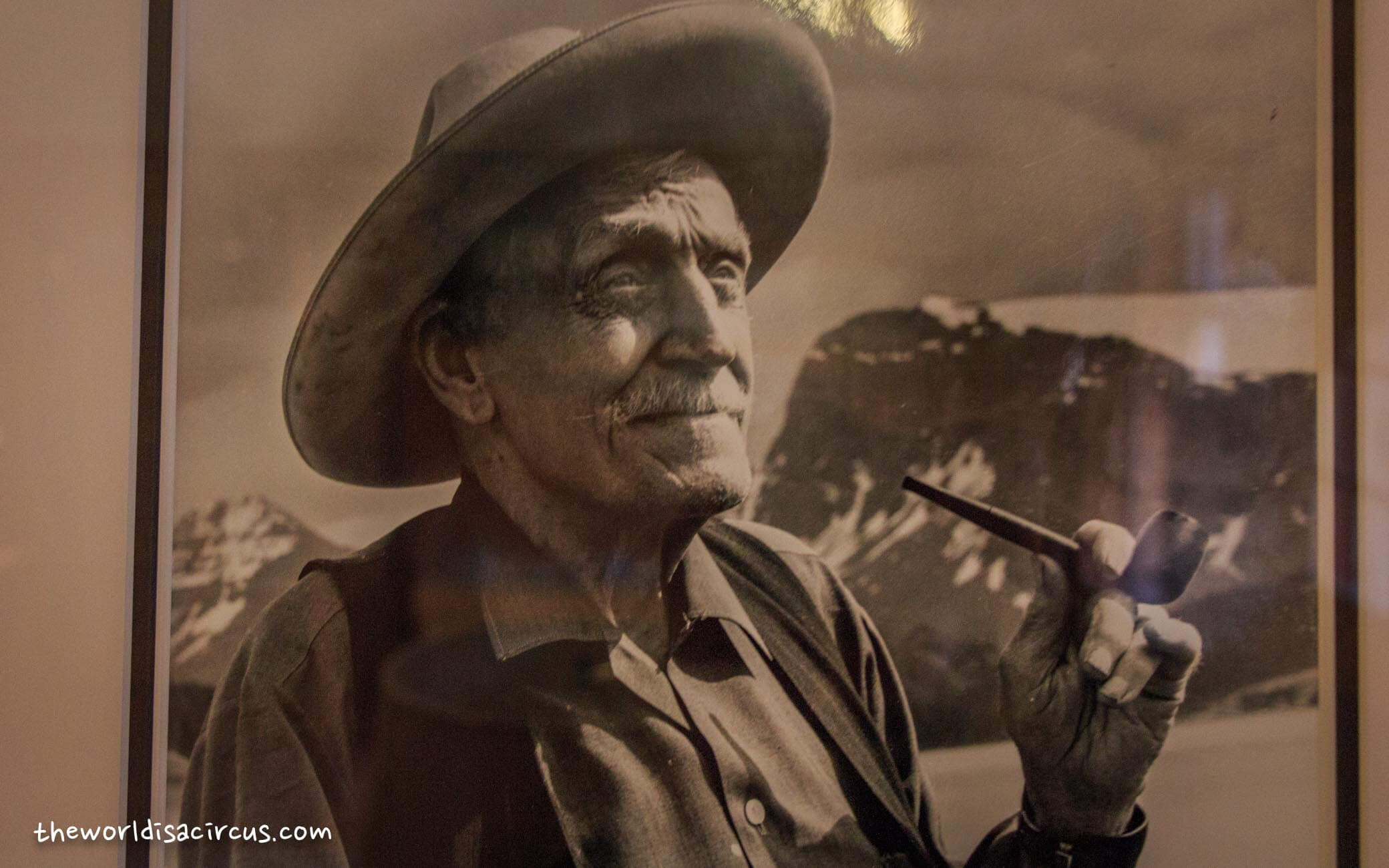 In Jimmy's shoes (and cabin)
When you enter the Num-Ti-Jah Lodge, you immediately feel the history. The stuffed animals, wooden structure and old pictures set the time perfectly. You really feel that this place tells a story. Wander around the halls and enjoy the alpine hut feel with a quirky touch.
If you're looking for a fancy 5 star design hotel, this is not the place for you. The Num-Ti-Jah Lodge is for travellers looking for a real and unique experience, at an amazing location.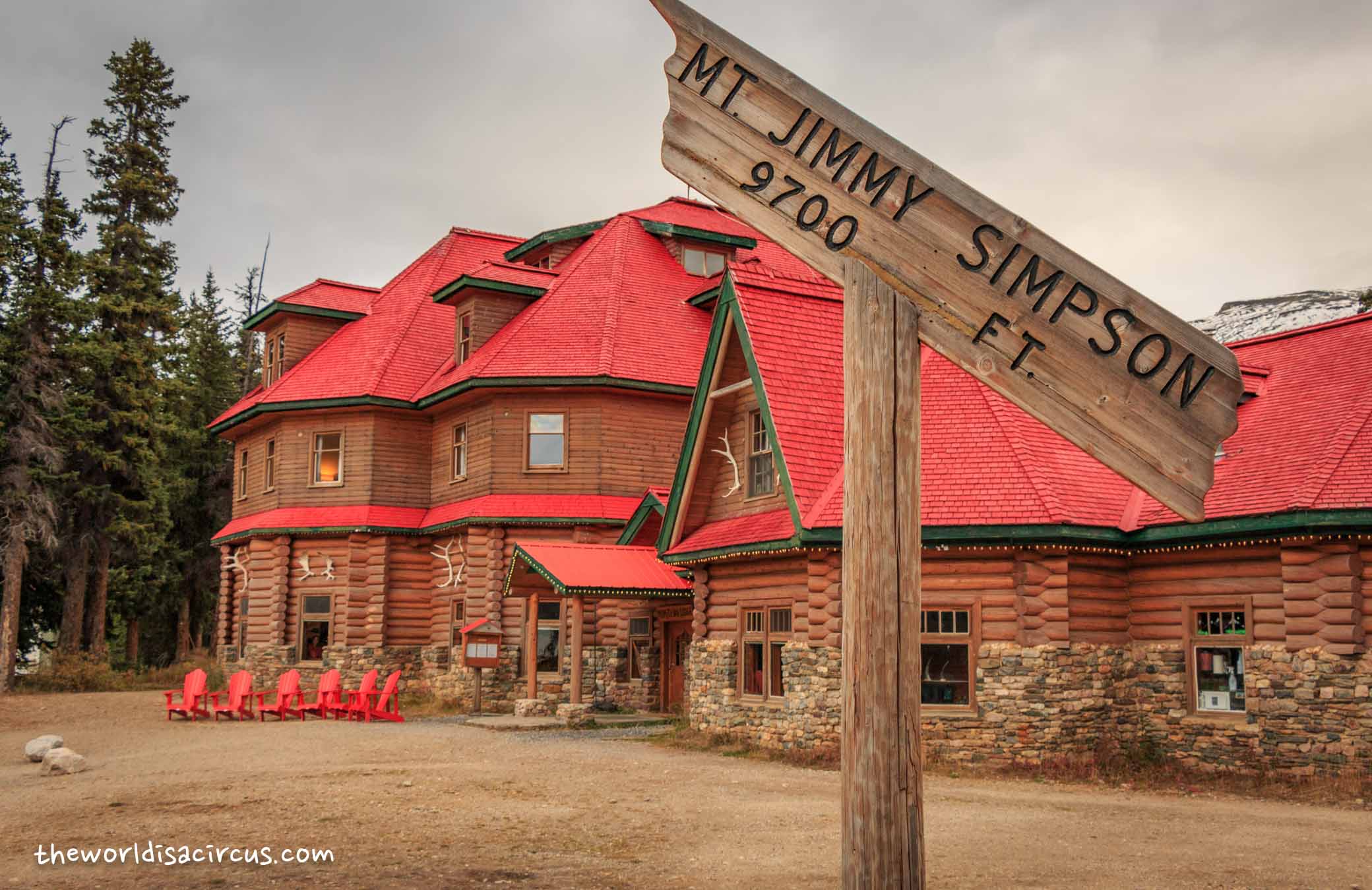 Nico and I were offered the opportunity to spend one of our two nights in the Ram Cabin, which is the original cabin, built by mister Jimmy in 1924! That was long before there even was an Icefields Parkway!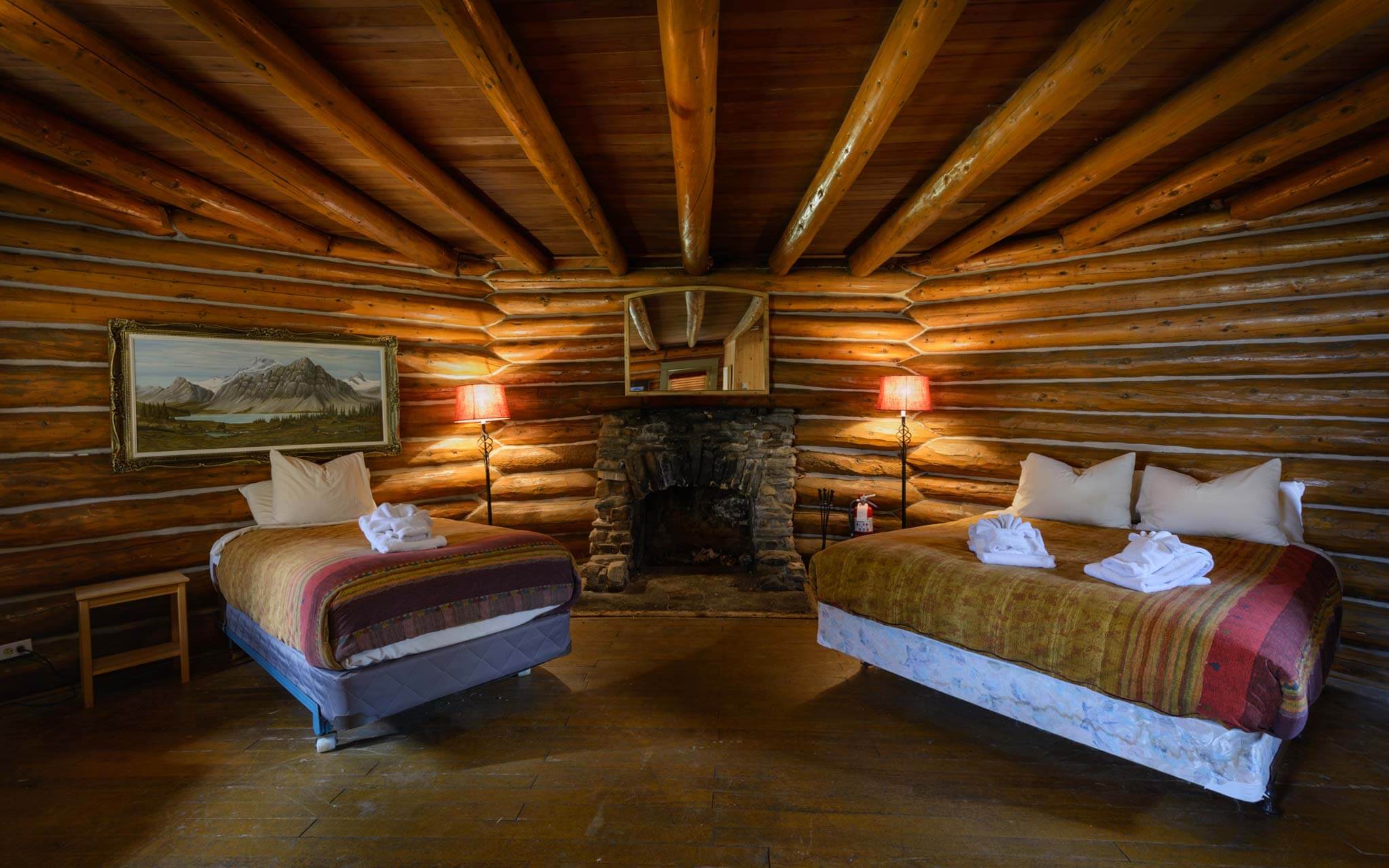 The interior of course looks a bit different now, but the structure is still the same. I loved all the wood, and again: the shape! Jimmy definitely had a unique style. It was quite a wonderful experience staying in the original cabin. Do note that it can't be booked by guests.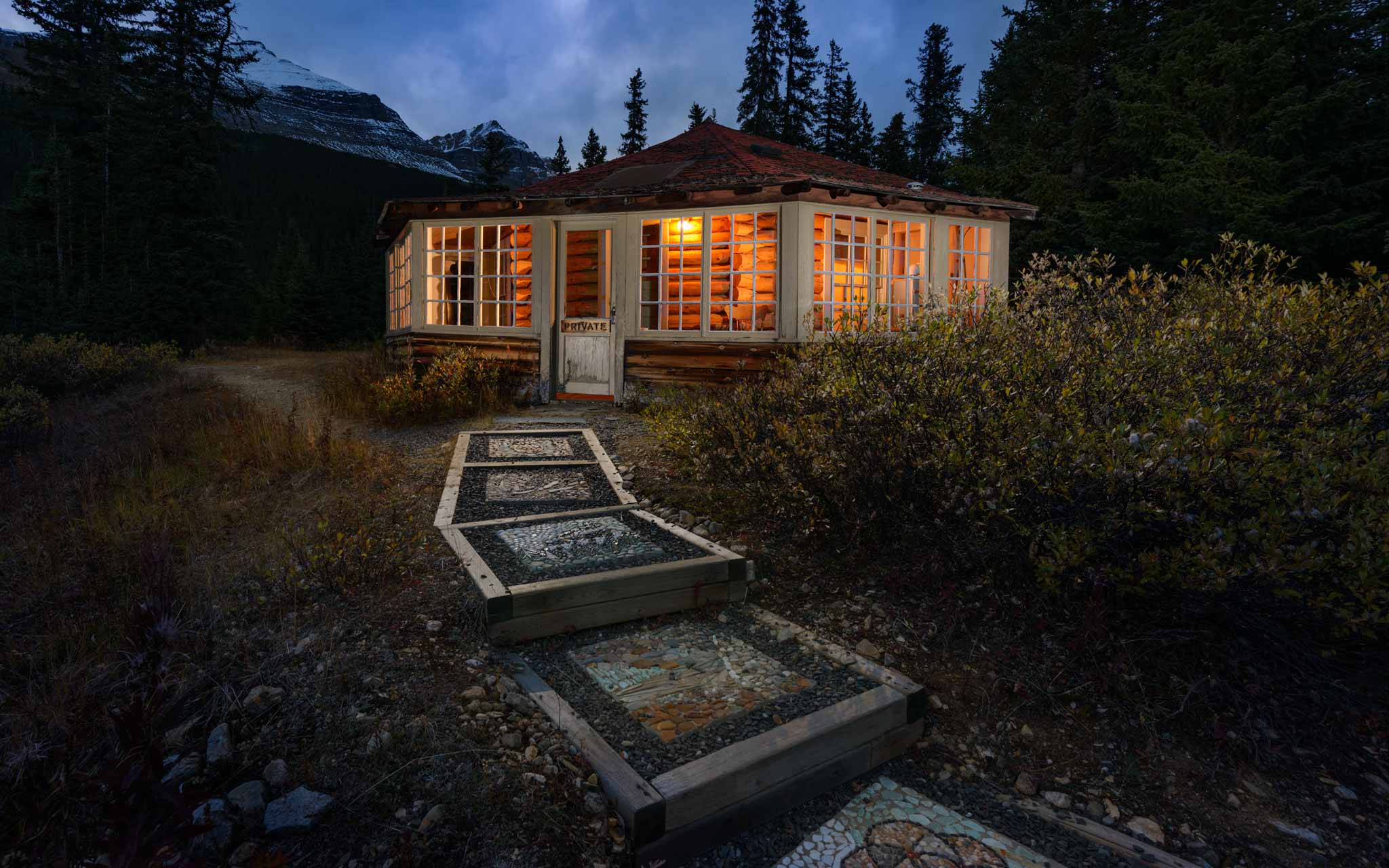 The second night we stayed in one of the Lakeview Rooms. The rooms are spacious and simple, which adds to the historical character of the place. Enjoy the charming mishmash of wood panelling and old furniture. Ours even had a bath to warm up after a cold day outside (yes – I spent an hour soaking in water).
The walls are a bit thin (remember it was built in 1950!) and the creaking of floors reminds you that you're spending the night in a historic and awesome lodge. Imagine how much history is in between these four walls. Decades of travellers have passed through here, all with their own story. Isn't that wonderful?
Even when you're not staying at the hotel, you can go to the little café and souvenir shop to breathe in some Jimmy spirit – and to have a laugh with this item: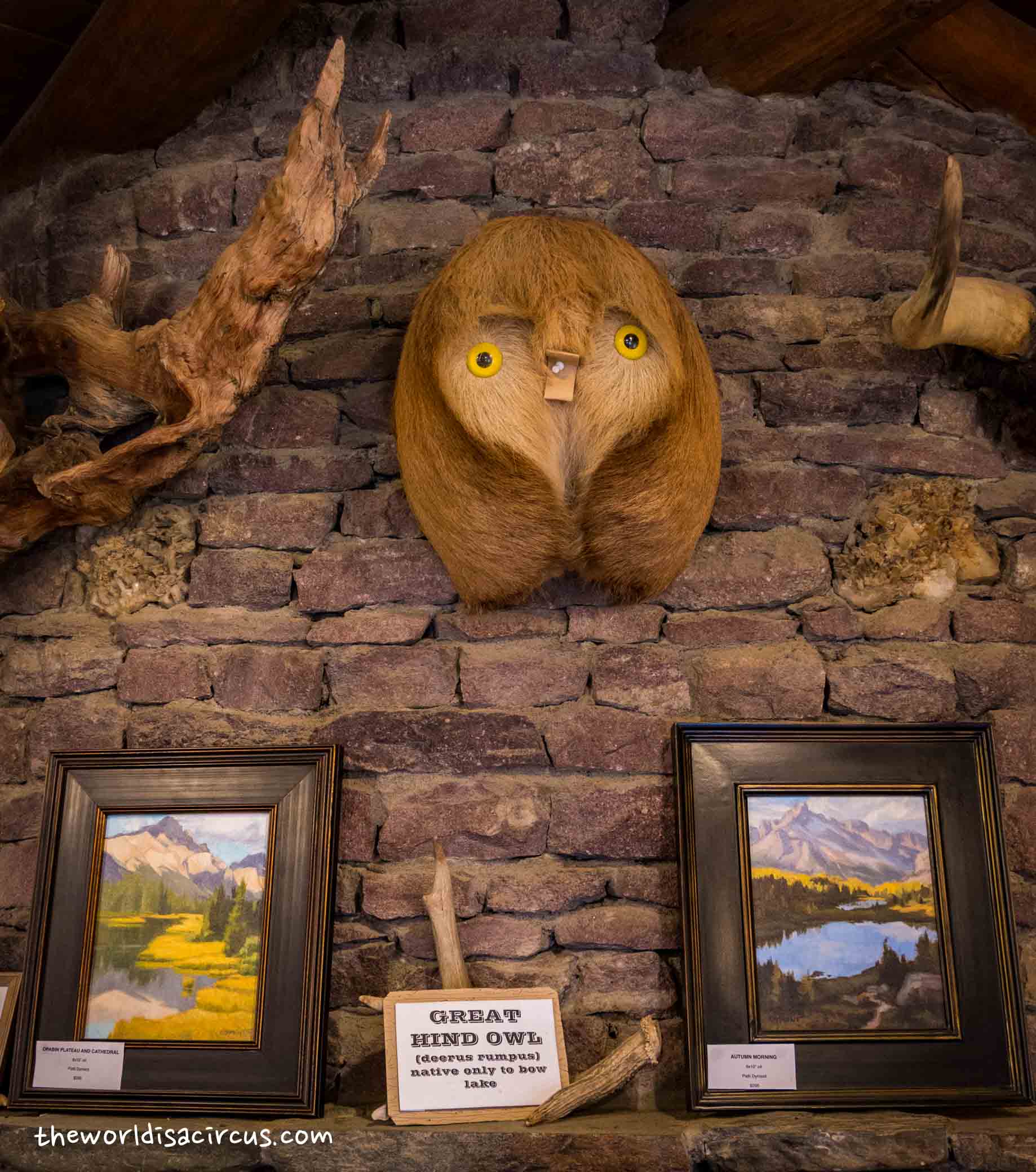 Majestic mountains and rad reflections
With the lodge set on the side of Bow Lake you get endless stunning views on Crowfoot Mountain, Bow Lake and the Bow Glacier. Crowfoot Mountain stands proud like a big bloke. It is my favourite mountain in Canada, as it is fierce and beautiful.
When it's windstill, the reflections at the lake are unreal. Take a picture, turn it upside down and you wouldn't notice it. This place is perfect to breathe in some crisp mountain air, isolated from the busy world.
Of course we couldn't resist a morning paddle on the lake. Bring your own kayak or rent one in Lake Louise village. It was a cold morning when we were there, but it felt so magical, floating on the still water.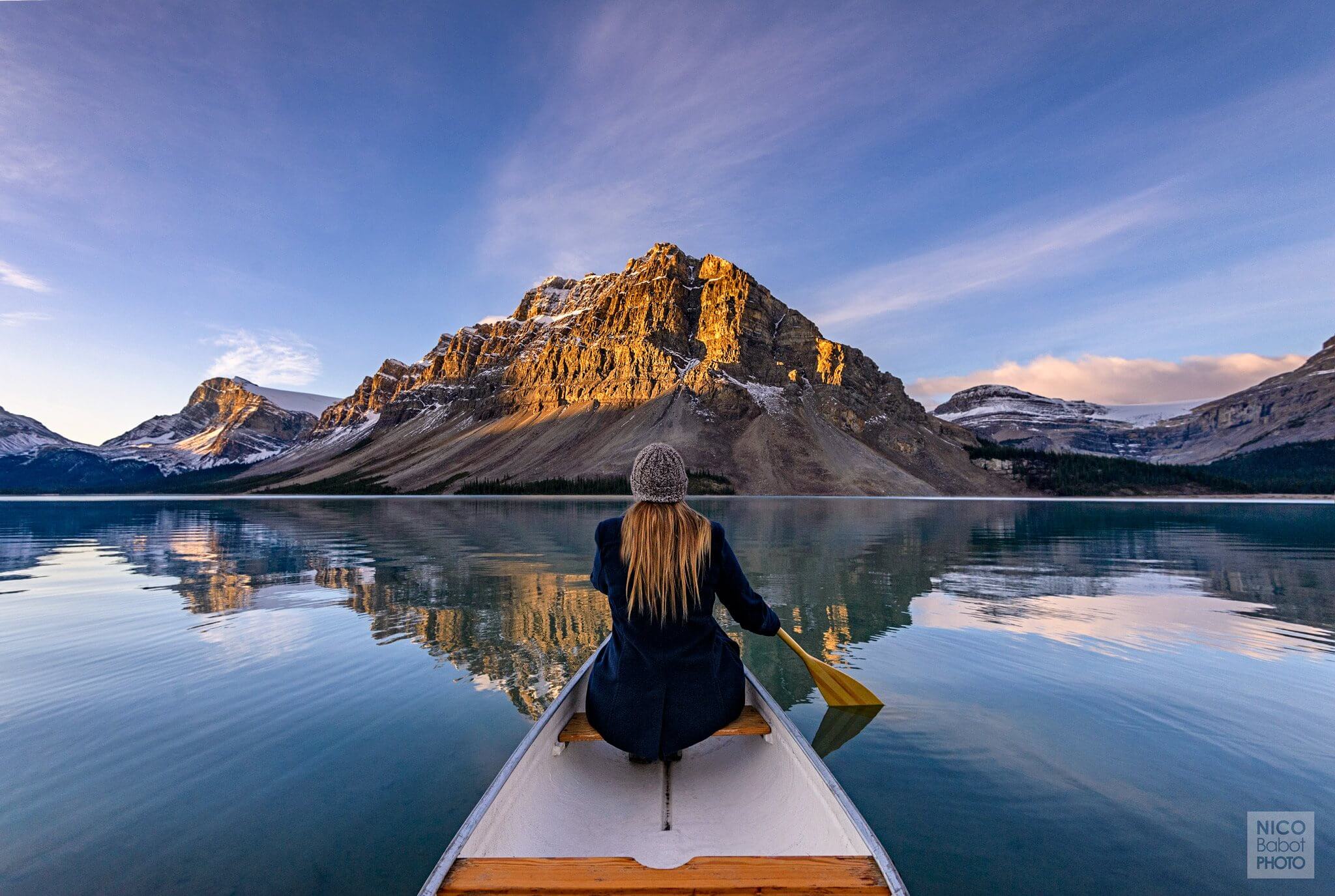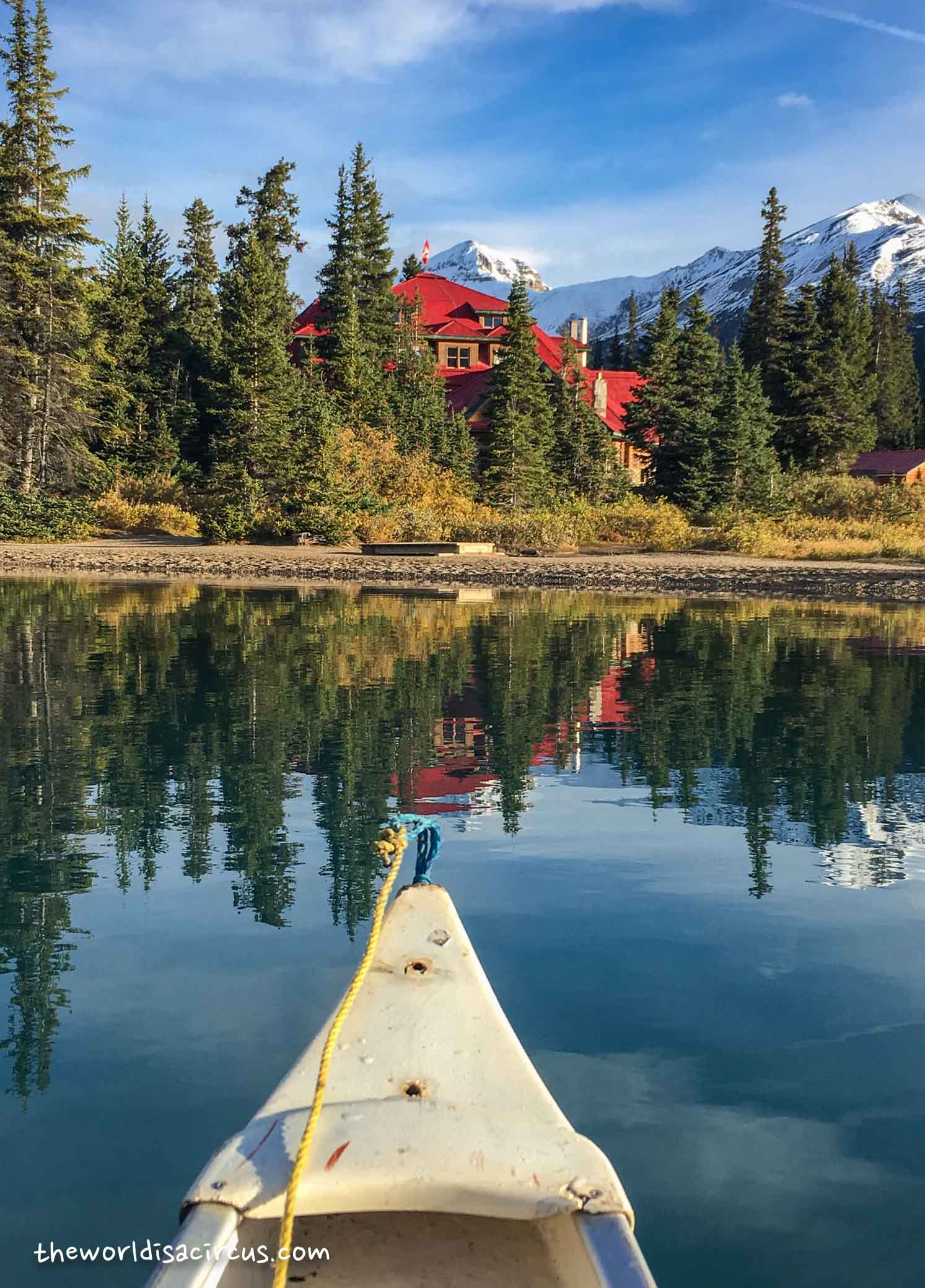 Note: be aware of wildlife, especially in spring and summer. Nico encountered a bear on the shores of Bow Lake, so always be prepared! Bring your bear spray and don't leave any food or garbage behind. No need to be afraid of bears in winter.
Local food in the Elkhorn Dining Room
Breakfast and dining happens in the Elk Dining Lodge. It's built in a typical and beautiful lodge style and decorated with lots of hunting trophies. Take a table at the window, dream away with the view outside and most of all: enjoy your dinner.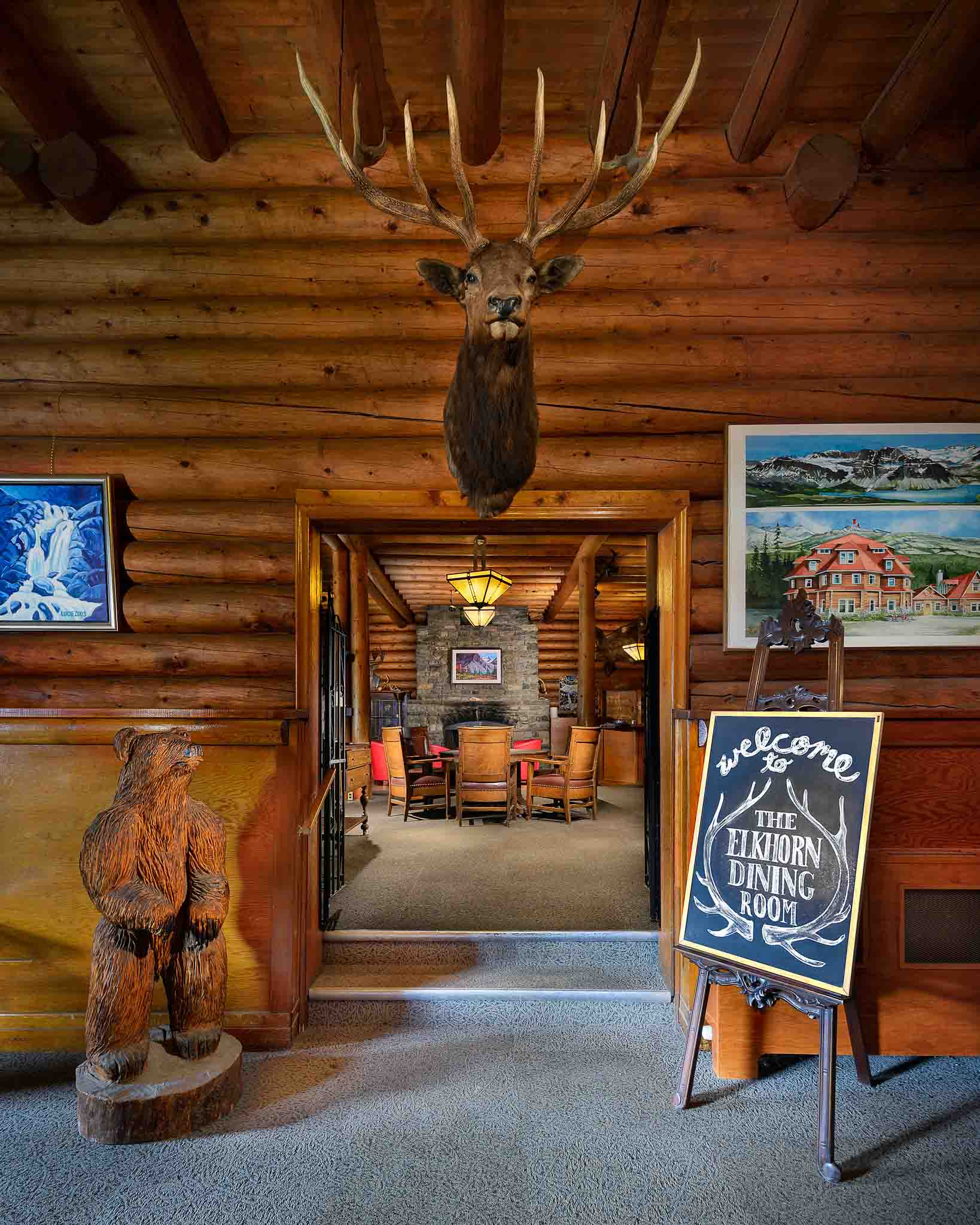 The breakfast at the lodge was one of the best hotel breakfasts I have ever had. The fruit and more especially the fresh blueberries didn't survive long and the homemade muesli was outstanding. I recommended the manager to sell the muesli in the shop, it was that good. I hope he listened, so you can try some yourself! Add some nice pastries and eggs and you get a satisfied Lieselot.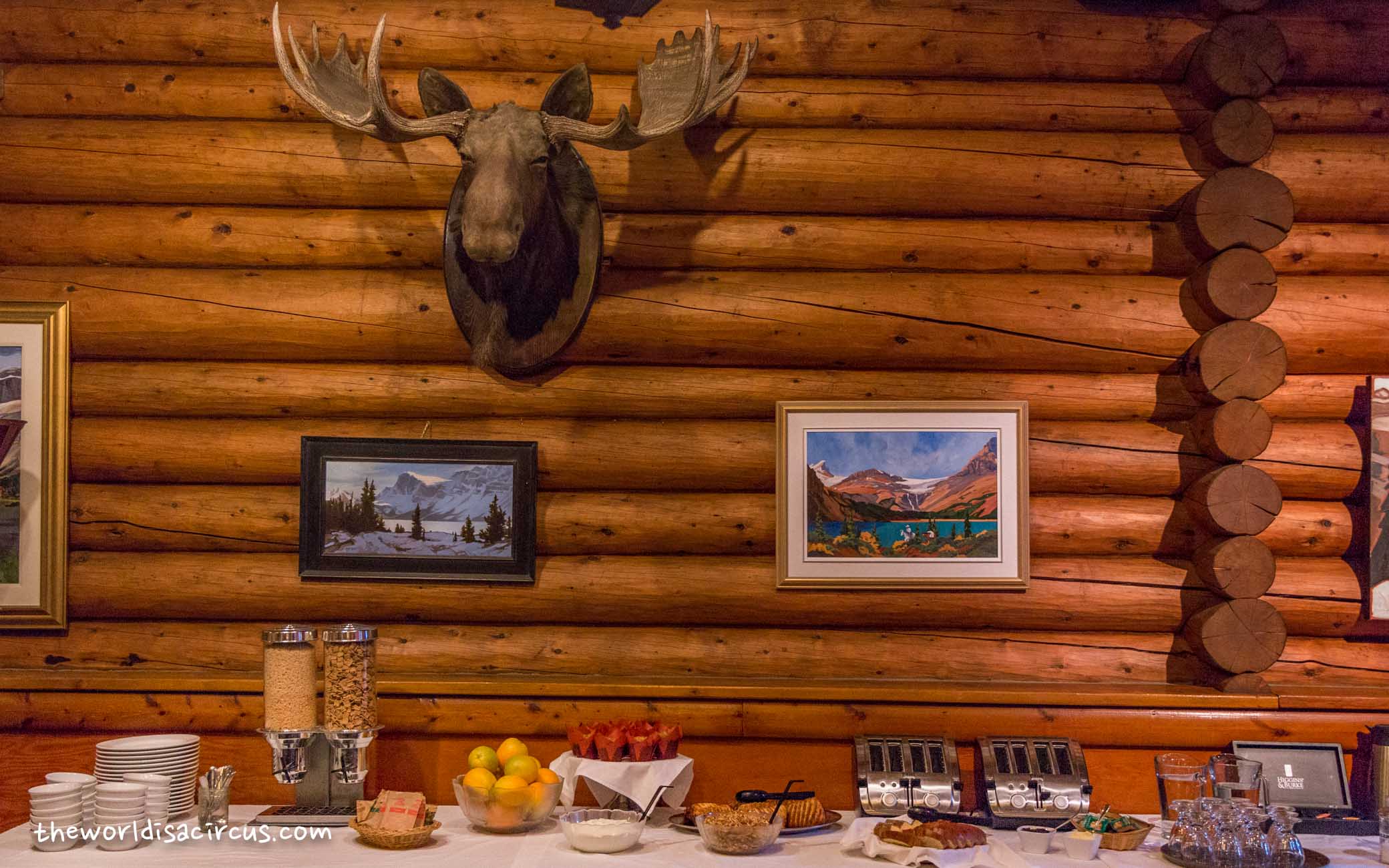 After a nice day out hiking Iceberg Lake we warmed up and talked about our awesome day over dinner and drinks. The Num-Ti-Jah Lodge is proud of the food serve, as they should. The chef sources food from local wildlife. Nico ordered venison medallions with a parsnip purée and I was curious to try the bison burger. Nico's venison was apparently extremely tasty, and my burger was good too!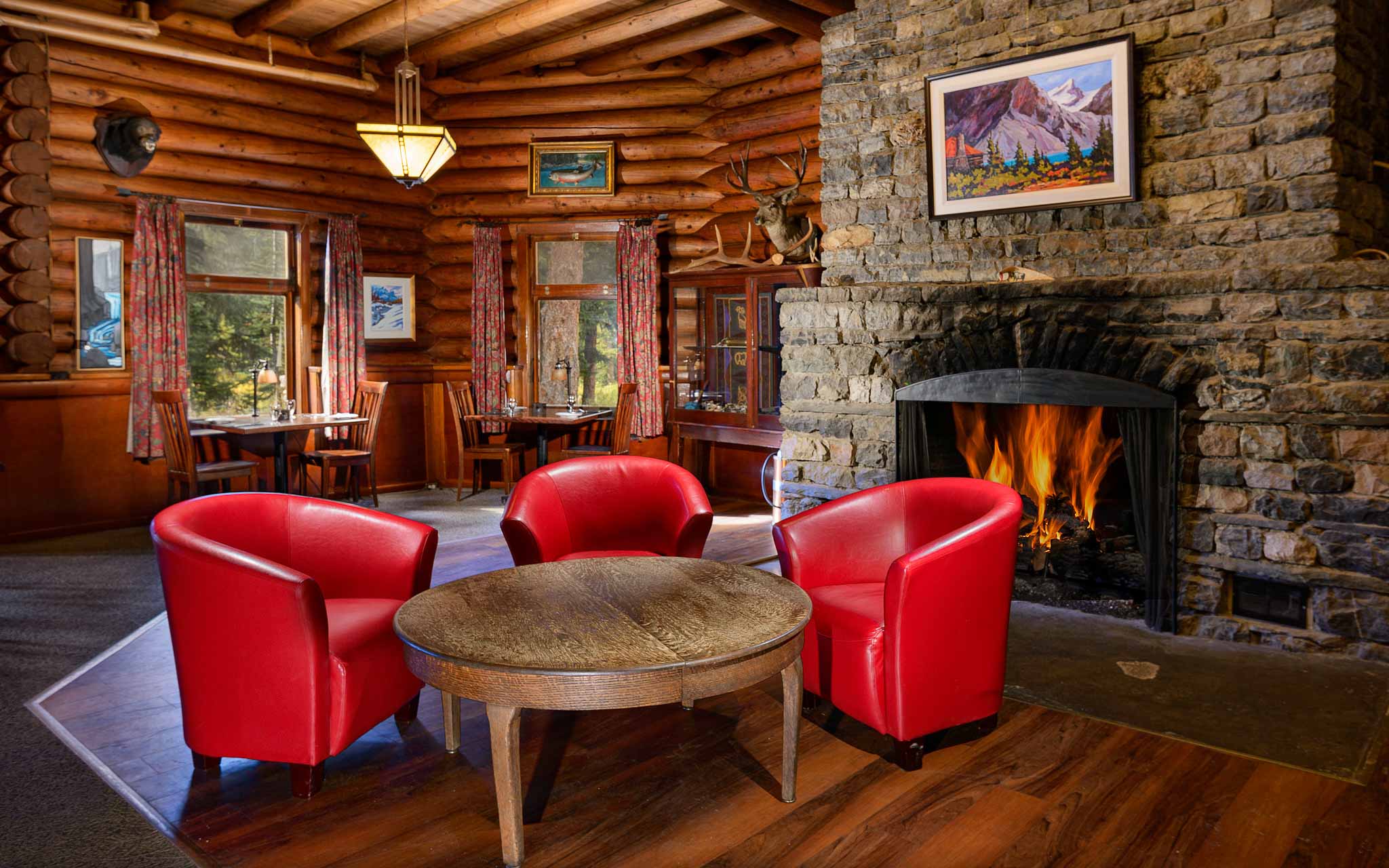 What to see in the area?
The Num-Ti-Jah Lodge is the perfect base to explore the rest of the Icefields Parkway, which starts in Lake Louise and ends in Jasper. Here's a list of things to do within a 30 minute drive from the Num-Ti-Jah Lodge.
1. Bow Lake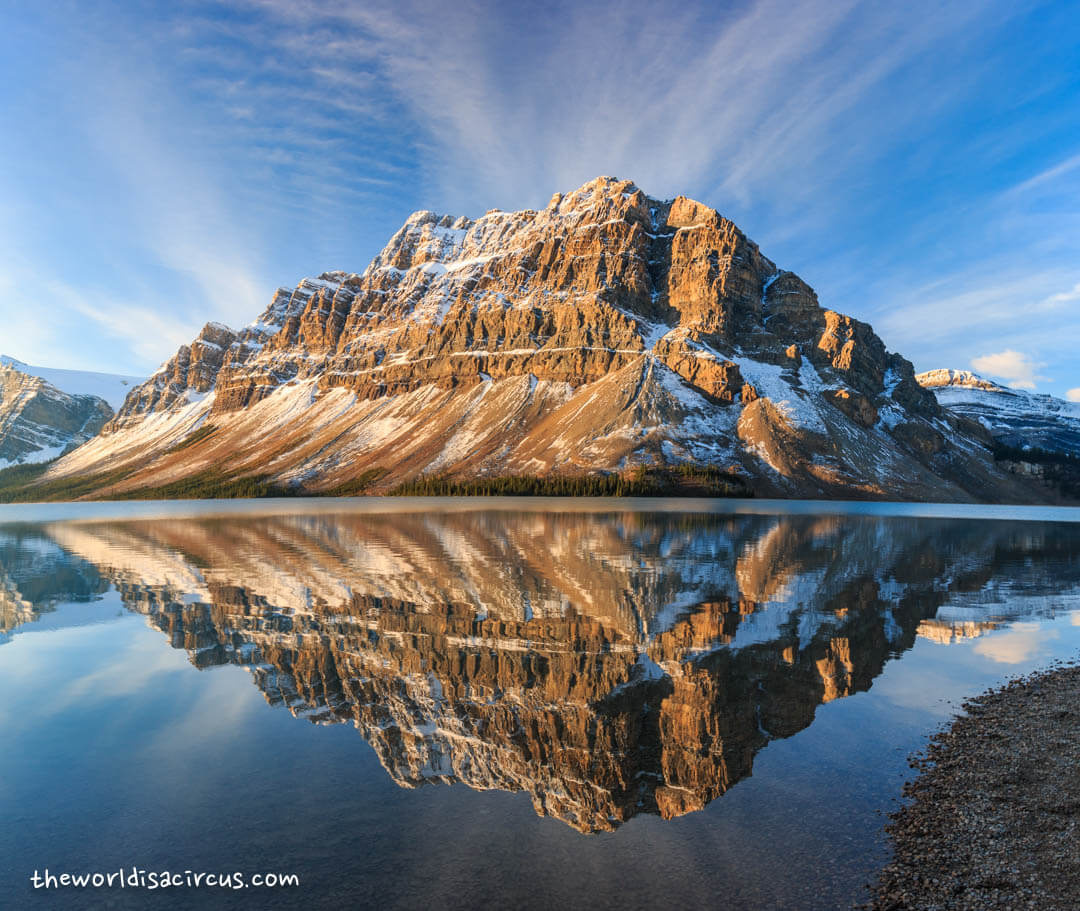 Bow Lake is one eye catcher you can't miss when driving the Icefields Parkway. The big blue lake, accompanied by the impressive Crowfoot mountain is a beautiful sight. It's right at the lodge, so perfect to go for a morning stroll after breakfast or to enjoy a nice sunset.
2. Bow Glacier & Bow Glacier Falls
The Bow Glacier is visible from the lake and the lodge. The runoff from the glacier supplies water into Bow Lake. The glacier isn't super impressive from the ground, but there is a cool hike you can do to get closer. It's called Iceberg Lake hike, and it will take you to a lake at the bottom of the glacier at 2260m high. It is one of my favourite hikes in Canada, and I'll dedicate a blogpost to it in the near future!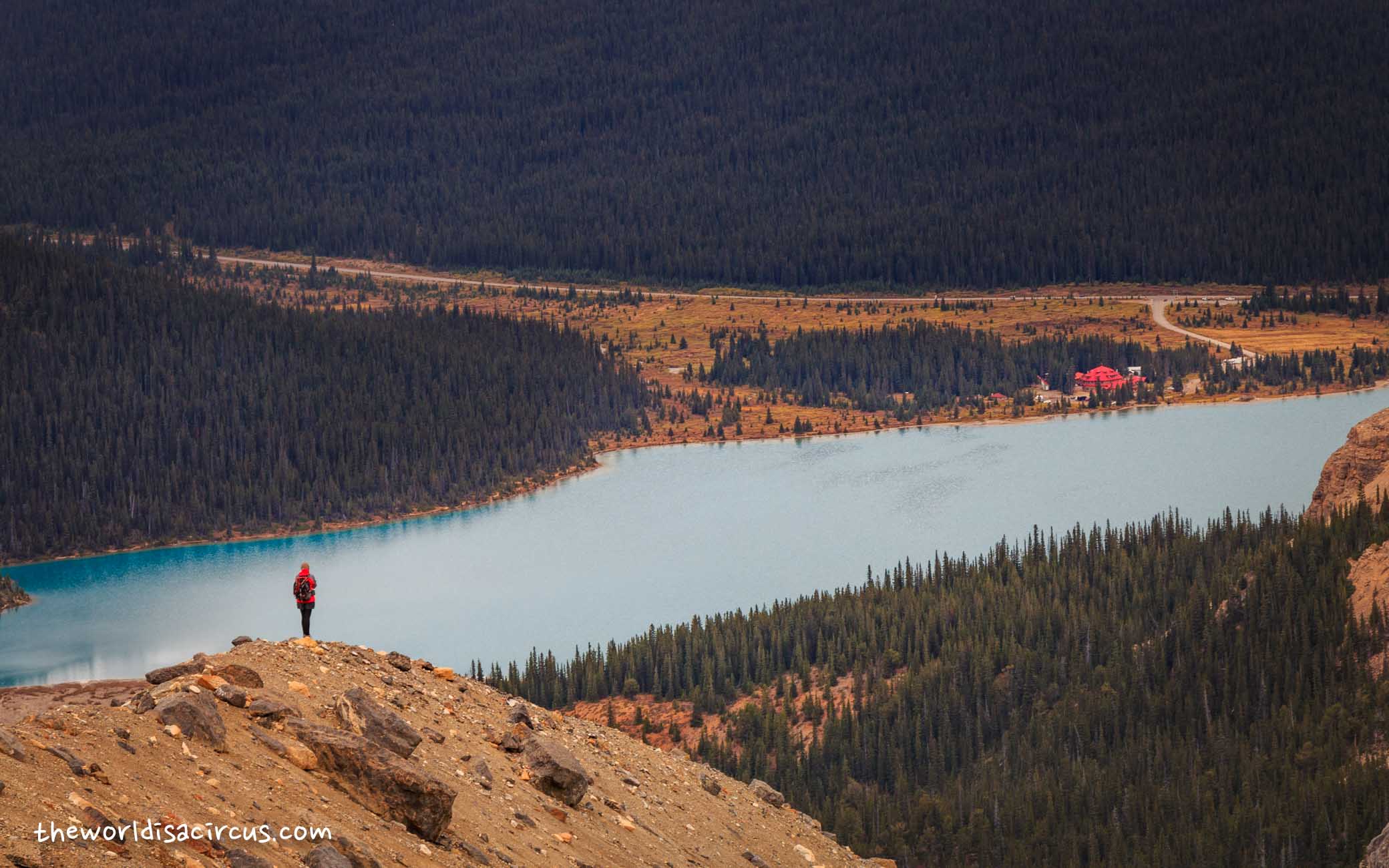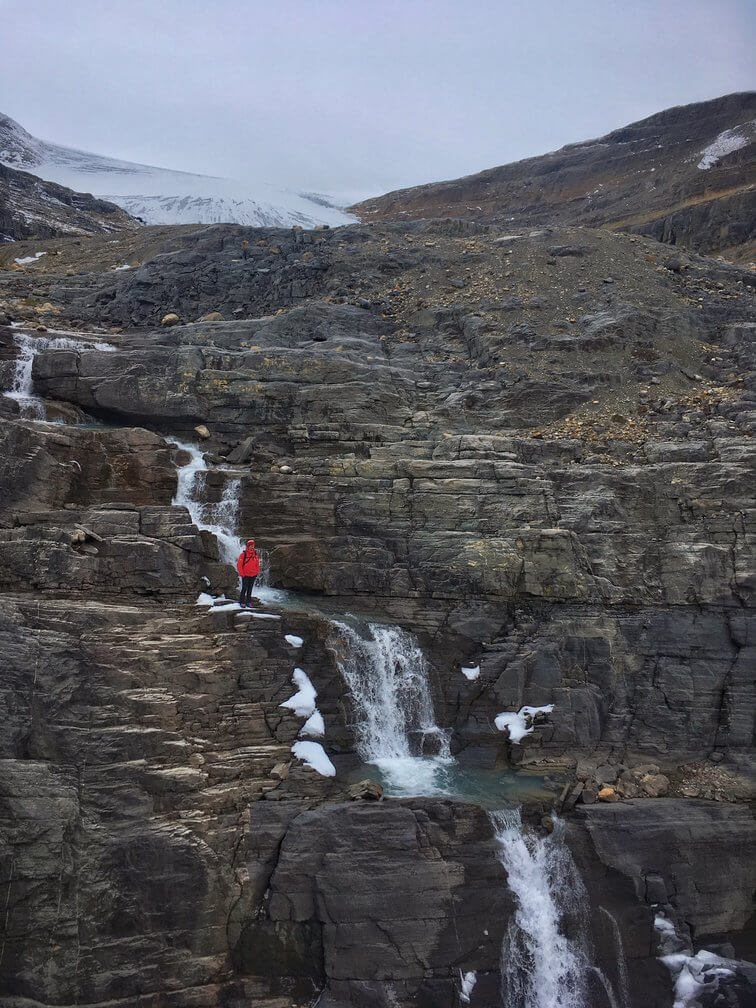 The melt water from the Bow Glacier turns into the impressive Bow Glacier Falls, 120 meters high. There's also an easy walk that goes from the lodge to the bottom of the falls, but I suggest doing the Iceberg Lake Hike, as this will bring you to the top of the falls.
3. Peyto Lake
Peyto Lake is a clear blue glacier lake and only a 10-minute drive away from the Num-Ti-Jah Lodge. It is 140ha big and super impressive. If you're looking for one of those typical Canadian Rockies shots, this is it! A little walk brings you to a viewpoint, which is great to take some pictures.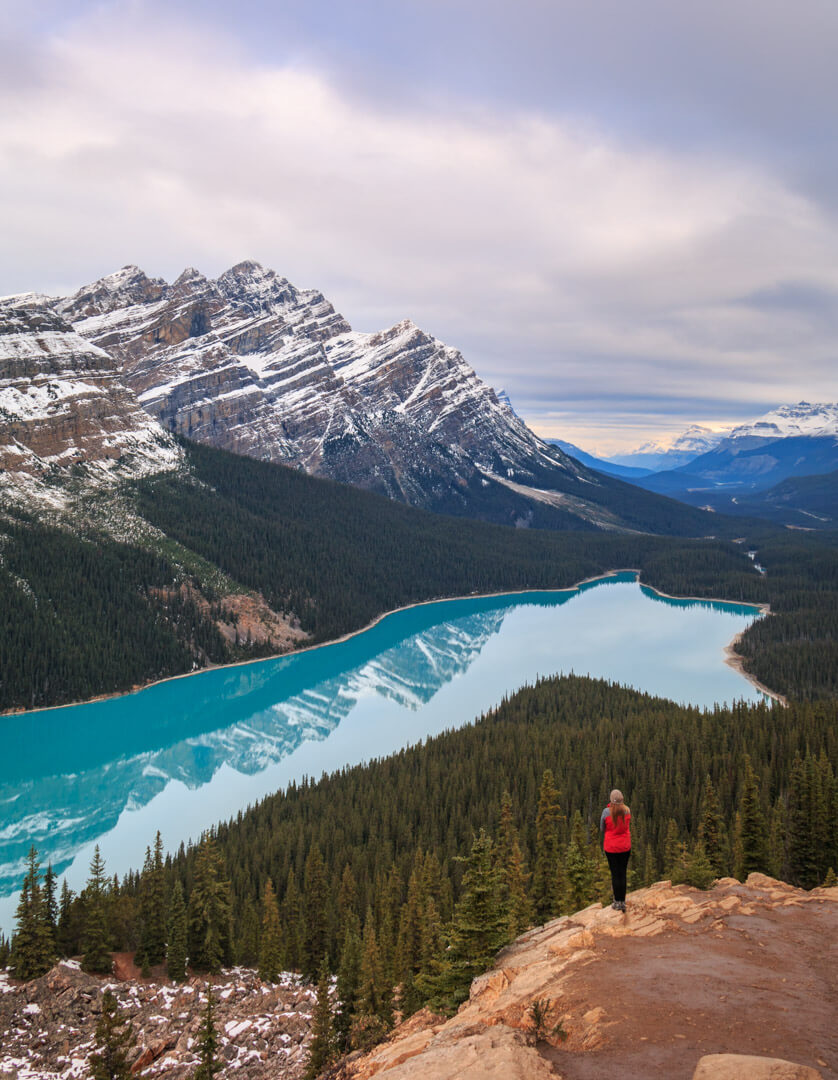 Winter in Canada is pretty harsh and huge lakes freeze, as does Peyto Lake. It is covered in snow and look so different. It's still a very cool location, but I do prefer it in summer with the clear blue colours!
4. Herbert Lake
As you'll quickly notice, the Icefields Parkway has an abundance of lakes. The most famous ones are Peyto and Bow Lake, but Herbert Lake is also a nice little stop. Get out your lunch and enjoy the crisp mountain air and beautiful views.
5. Lake Louise
The village of Lake Louise is 30 minutes away from the lodge and it's home to the famous Lake Louise. The lake is a popular destination, and there's a lot to see and do around it. Hike up to the Tea House and the Beehive and get some unreal views from above!
Lake Louise is also a perfect stop for to fill up your car and have a coffee or some lunch.
6. Hiking Helen or Hector Lake
Keen to go hiking? Then Helen or Hector Lake might be for you. Helen Lake is 1km south of Bow Lake and it takes a 1.5 to 2hours hike to get to it. You'll climb about 460 meters and get some cool views. Find more information here.
Hector Lake is a 21 minutes drive away from the lodge. It's a small glacial lake that you reach after a 5km hike. It's an easy walk and you'll enjoy a refreshing swim in the lake on a hot summer day!
7. Mistaya Canyon
This is one cool place that you have to visit! The curvy canyon walls and the Mistaya river flowing makes it an impressive place, great for some photos! Be aware though, it can be very slippery and without railing it's easy to fall into the canyon. Even in spring the trail can be still very icy. It's a half hour drive from the Num-Ti-Jah and easy to reach after a 10 minute walk.
As you can see, you have plenty of activities to do in the area. Combine multiple locations on this list for the perfect day out! Don't forget to spend enough time in the lodge too! Relax, have a delicious dinner and watch a sunset at Bow Lake.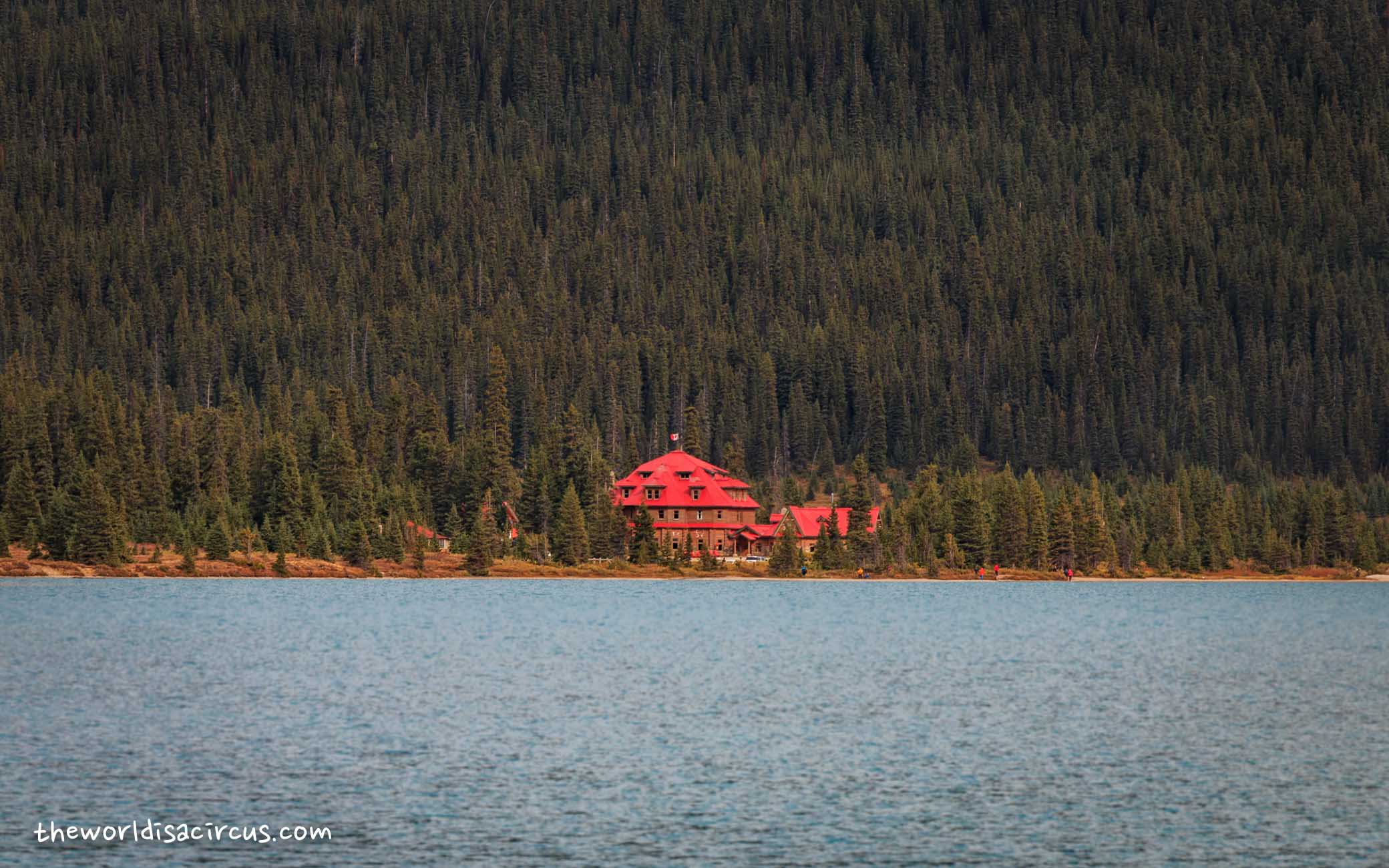 How do you travel? Do you like to visit places with lots of history? Or are you more interested in only seeing nature? 
Like it? Pin it!
Num Ti Jah Lodge Alberta