Emerald Lake in Yoho National Park is one of those rare locations that look as good in reality as on camera (or even better!)
I couldn't believe me eyes when I first arrived at this place. Emerald Lake is prone to reflections, surrounded by the Rocky Mountains, and to finish the picture: there is a lodge right at the water.
Emerald Lake Lodge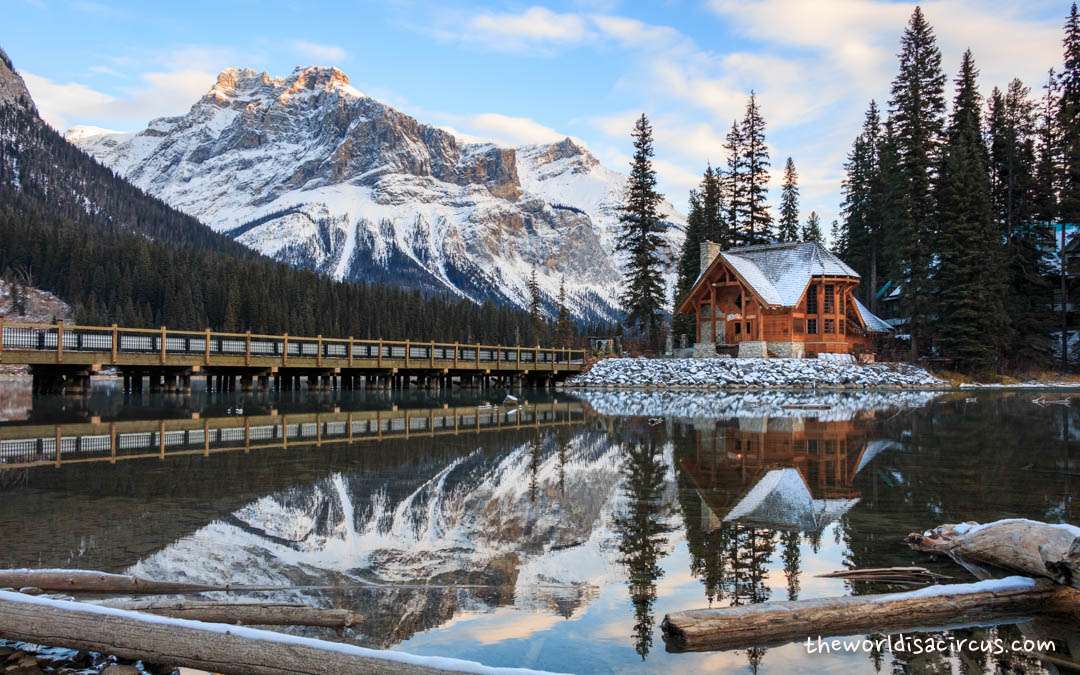 Emerald Lake Lodge is the only accommodation at the lake, and it's beautiful. The main building goes way back to 1902, when the Canadian Pacific Railway built it. More than 100 years later, the wooden and fine structure kept its historic charm.
We checked in for two days at the lodge, and I was ready for two days of nature and just spoiling myself. It was November, and the winter had just arrived in Canada with a big snow dump and temperatures to -18 degrees Celsius. Emerald Lake is beautiful in every season, but the snow made it extra special.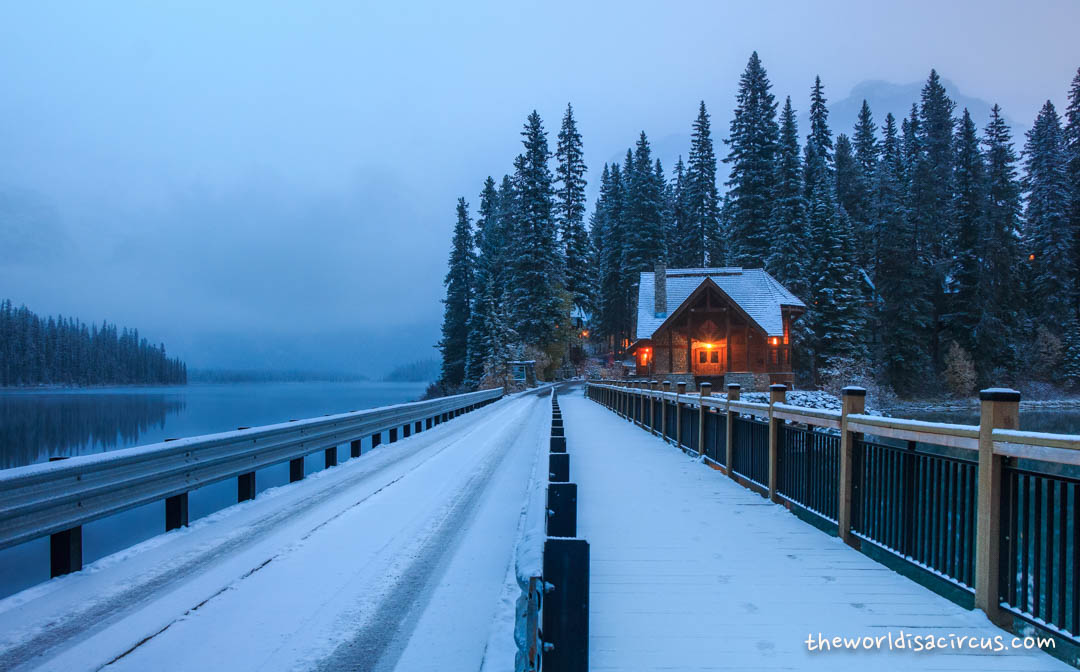 The lodge exists out of multiple chalet style cabins, and we got one with lake view. Every room has a balcony and a fireplace in the room, adding to that cosy chalet feeling.
How To Relax at The Lodge?
Besides the stunning Emerald Lake right in front of you, the lodge offers a lot of ways to relax (me like!). On the very top of my list is the HOT TUB.
Hot Tubbing
Those who know me, know I have a soft spot for hot tubs. And this one was a special one. The tub is outside (remember temperatures are -18C), and has a view on the mountains. Well, that is if it isn't cloudy. When I jumped in the tub the clouds were covering the mountains. No view for me, but I still enjoyed it. I even got some company from a squirrel playing in the trees.
Cosy time at the fireplace!
When you're done soaking you can enjoy the fire in your room, because YES, every room has its own fireplace! Visiting Emerald Lake Lodge in winter gives you that extra joy of seeing the cold and snow outside while you're warm inside at the fire. The staff even comes to your room to prepare the fire for you (not that I can't make my own fire… 😉 ). And who doesn't love a good old fire? Drink some wine, and the experience is complete!
If you can handle the cold, Emerald Lake Lodge also has an outdoor fire pit. Can you see where I'm going? S'mooores! I had never done s'mores, and wanted to experience this real Canadian tradition so badly. The staff lit the fire, and I finally tried some s'mores. For those who are also new to this popular Canadian sweet: s'mores are white marshmallows melted and squashed between biscuits. You can even add some chocolate if you want.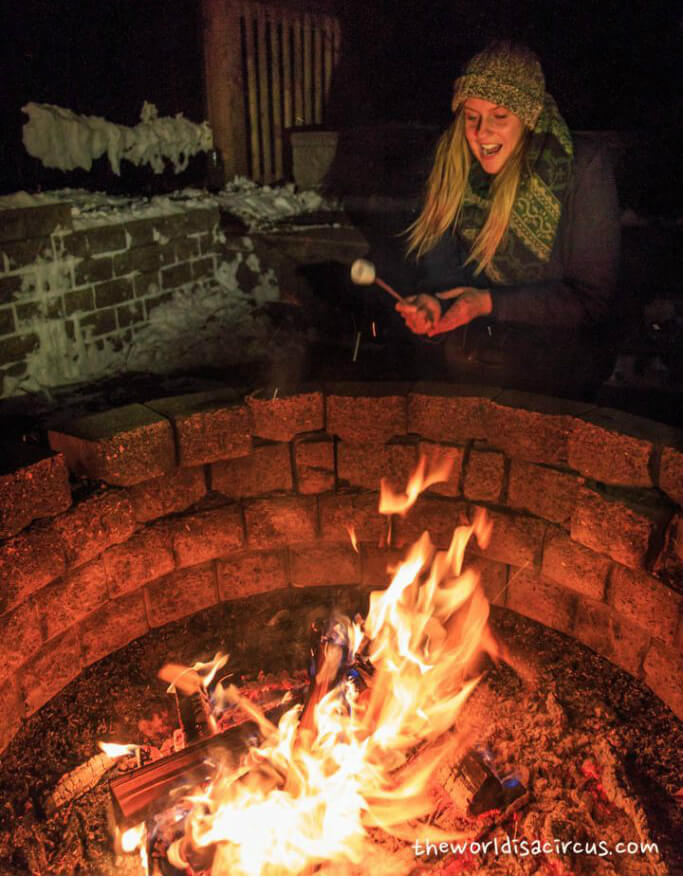 Some fun for the belly!
Another way to relax is by treating your taste buds. The lodge has great dining, with a variety of tastes. From local meat like bison and caribou, to fish and fresh vegetables, there is something for everyone. And let's not forget: all of with a view on the lake and mountains.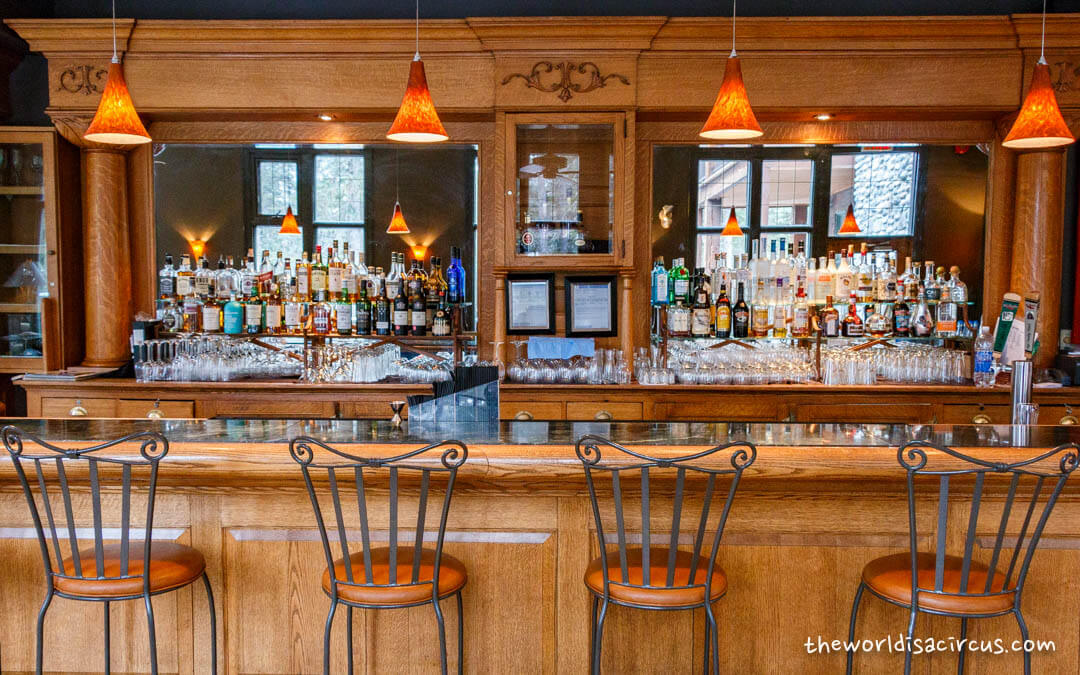 For the internet addicts – there is no wifi in the rooms! It's perfect to tune off the online world, and enjoy your company. And if you really are getting withdrawal symptoms, there is free wifi in the main lodge.
Activities In The Area
This area is one big playground, with Emerald Lake Lodge as a great and comfortable base. Here are a few things to do when spending time at the lodge.
1. Explore Emerald Lake
Enjoy Emerald Lake to the fullest! This turquoise lake is a treasure, and you should make the most of it. You can take a walk around the lake, which is the perfect way to take it all in. It will take you 5.2km, or about two hours. There is also a little waterfall that you can visit. The track starts at the car park.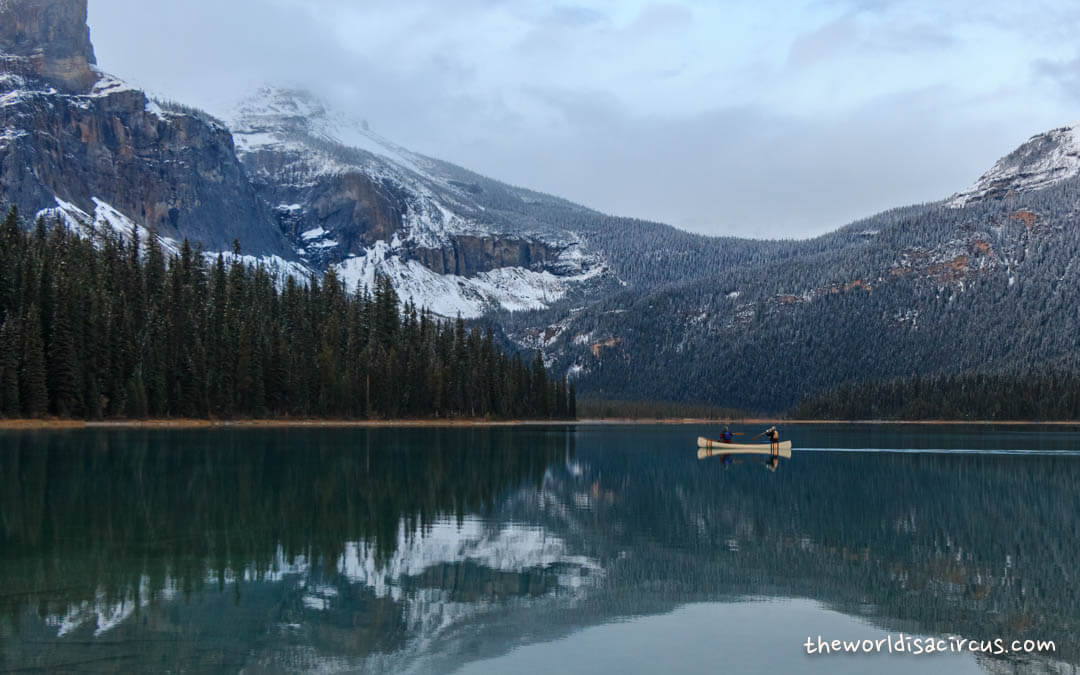 Deep in winter, it is also a great place for snowshoeing on and around the lake and cross-country skiing. Just be aware of avalanches. At the lake you find information which area to avoid. We visited the lodge a bit too early to see the lake frozen, but might come back later in winter to see how it looks with loads of snow. In summer Emerald Lake is the place to be for canoeing.
2. Photography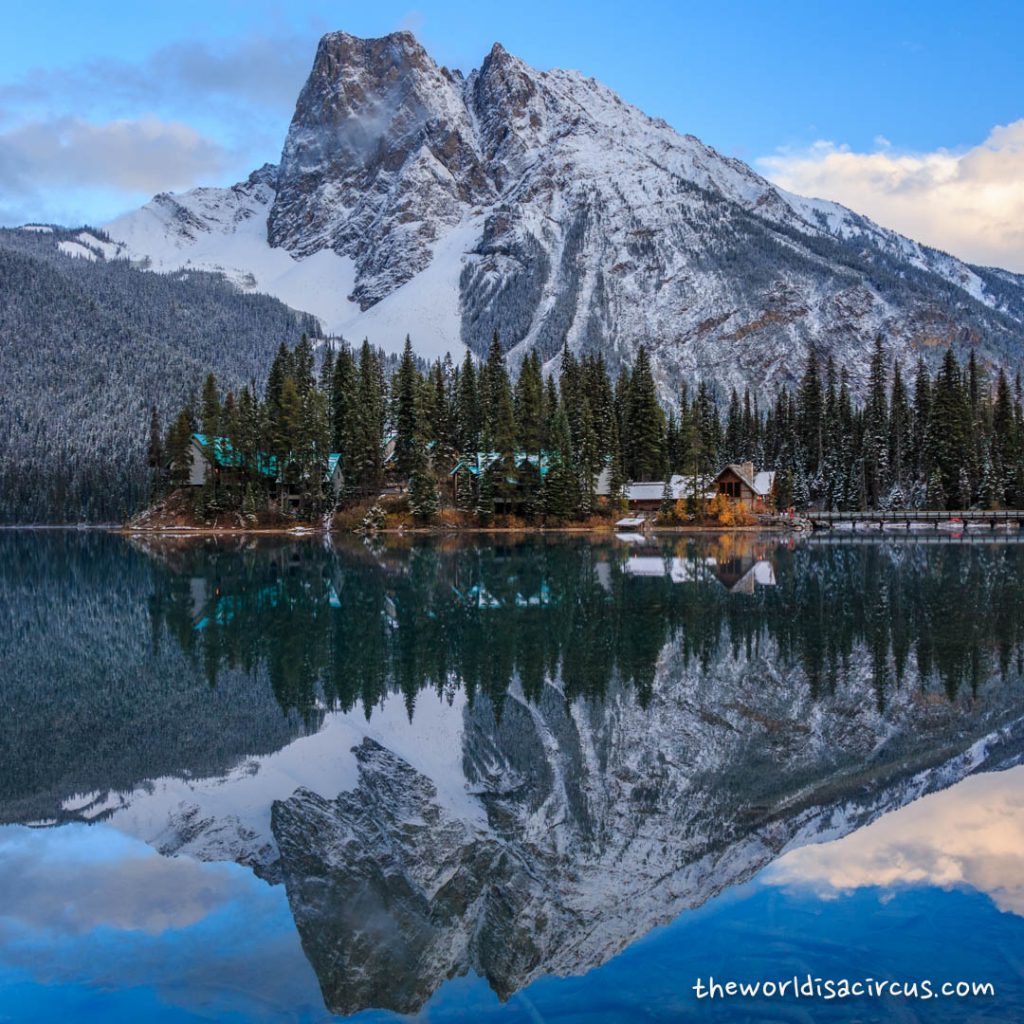 Emerald Lake is the spot to get your camera out and get shooting. The lake has stunning reflections, from many angles! The advantage of going in early winter is that you get snow AND reflections, which is in my opinion the best!
3. Natural Bridge
The Natural Bridge is a beautiful force of nature. It's a natural rock formation, looking a bit like a bridge – although I didn't really see it. It's a very impressive piece of work though, and the rushing water makes you want to hold on to the edge extra firm.
We visited the Natural Bridge before checking into Emerald Lake Lodge, and visited it again two days later. The scenery had changed totally!! Suddenly the waterfall was frozen and there was ice everywhere. Winter had arrived!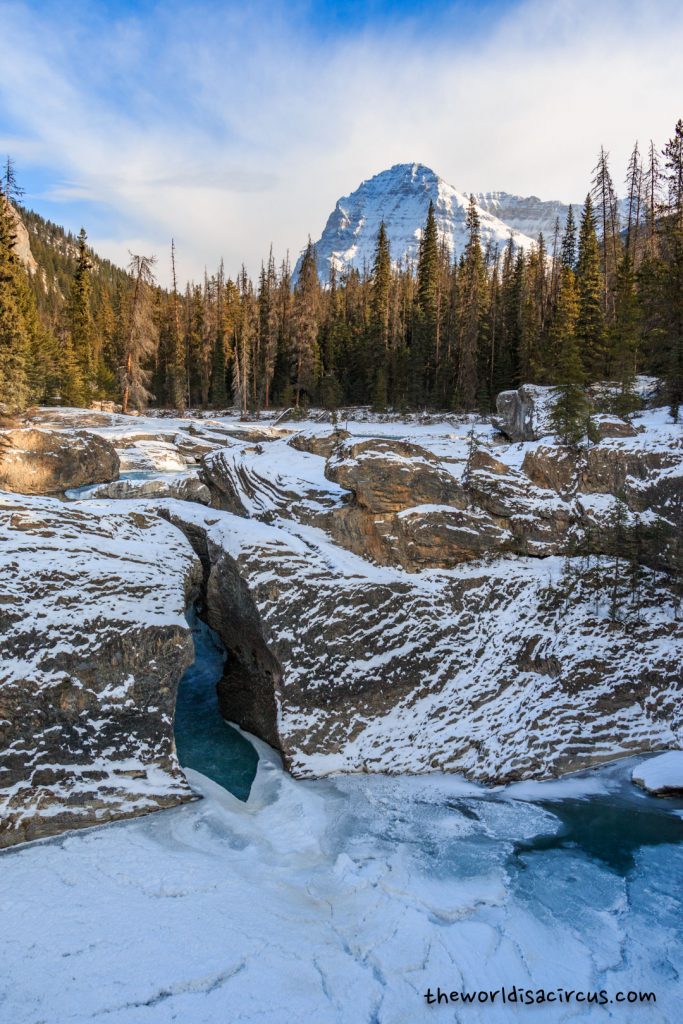 4. Field
Field is a cute, little town at only a 15-minute drive of Emerald Lake. There isn't much, but the houses are just adorable. There is one restaurant, Truffle Pigs Bistro, and it's luckily a good one. I ordered a flatbread, which I rarely do (because it's just a piece of bread..), but this time I gave it a try. Man, was I surprised. The cook managed to create an incredible tasty flatbread, with a mix of flavours. It really was way above expectations! Maybe I should order flatbread more often..
5. Takakkaw Waterfall
The Takakkaw waterfall is an impressive and high waterfall. It has a height of about 380meters. The road is to get there is open from June to mid-October and closed the rest of the year due to avalanches. You can visit in winter, but avalanche training is required.
How to get to Emerald Lake?
You find Emerald Lake in Yoho National Park, in British Columbia. It is 30 minutes west of Lake Louise and 2,5 hours from the Calgary International Airport.
You then take the Trans-Canada Highway towards Field and Golden. The turn off to Emerald Lake is located 1km west of Field. Follow the road until you reach the lake. Emerald Lake Lodge is at the lake. On the way there you will also pass the Natural Bridge on your left, makes a perfect stop! If you're visiting Emerald Lake Lodge in winter, be extra careful for the roads. They might be a bit icy and slippery.
I was hosted on this trip, but I really enjoyed the entire experience. From the rooms, to the views, to the staff, it was all great. It's a bit a more luxurious stay, but I would definitely come back here for an anniversary or special occasion. It's the perfect setting for a weekend away and to get your romance and nature on 🙂
And one more reflection picture, 'cause I just can't help it! 😀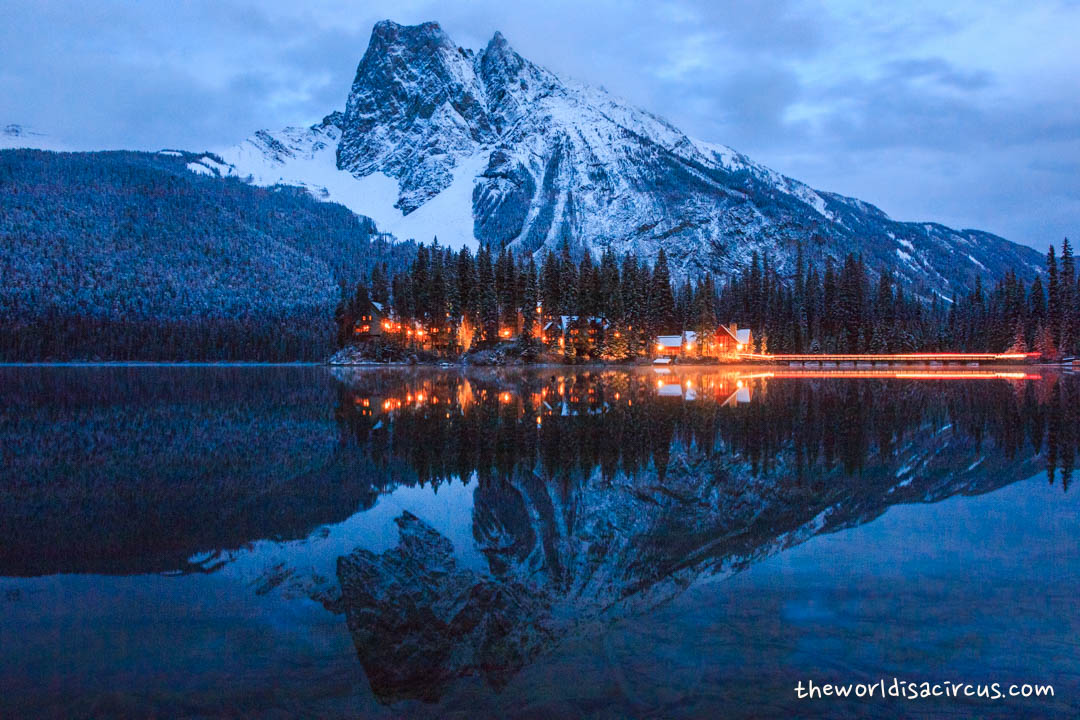 Like it? Pin it!

What's your favourite winter destination? Or are you more a summer person? Let me know!
Read more about my Canadian adventures:
Disclosure: This blog was sponsored by Emerald Lake Lodge. All opinions, are as always, my own. Some links might contain affiliate links. That means that by no extra cost of your own, you will be supporting this blog by buying something through these links. Thank you!