How to spend a perfect girls weekend in Akaroa? First you need a few girls. I got that sorted quickly, with my lovely friends Vanessa ansd Nancy being on board for a weekend away.
We jumped in the car and were ready for our girls' weekend. The drive from Christchurch to Akaroa is absolutely gorgeous (see some tips below for the best route). It was a cloudy day, but the Banks Peninsula still looked stunning. I think it's very hard to find 'ugly' scenery in New Zealand. Oh, we're so spoiled.
France or New Zealand?
Akaroa is a small, historic village on the Banks Peninsula, only an hour and a half from Christchurch. There are about 650 inhabitants, and it's mostly known for its French touch.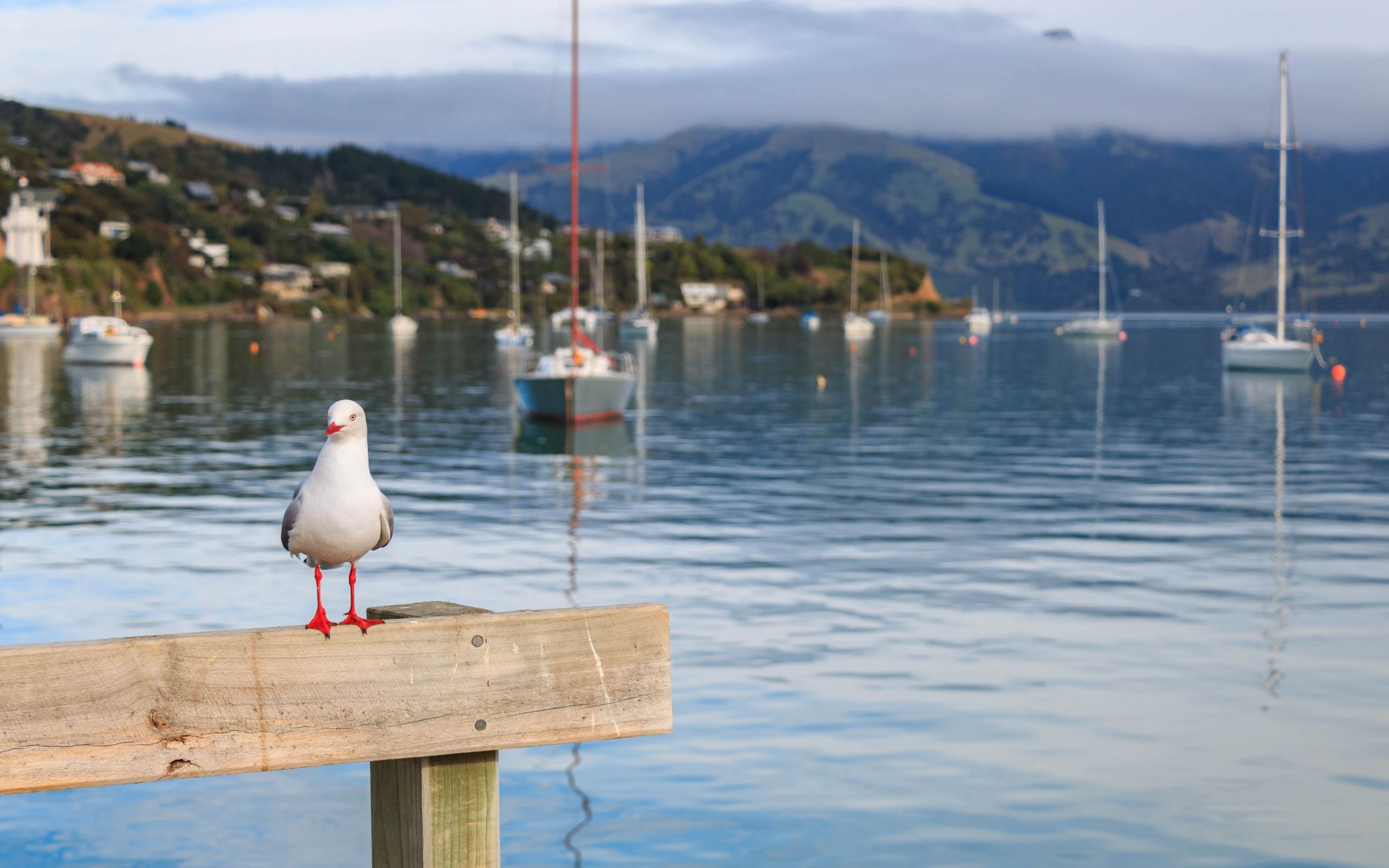 French explorers tried to colonise Akaroa in 1840, but arrived just a few days after the British. They still managed to leave a big influence though. Akaroa breathes a French atmosphere, with the colonial architecture, French street names, and a gas station that's called 'L'Essence'.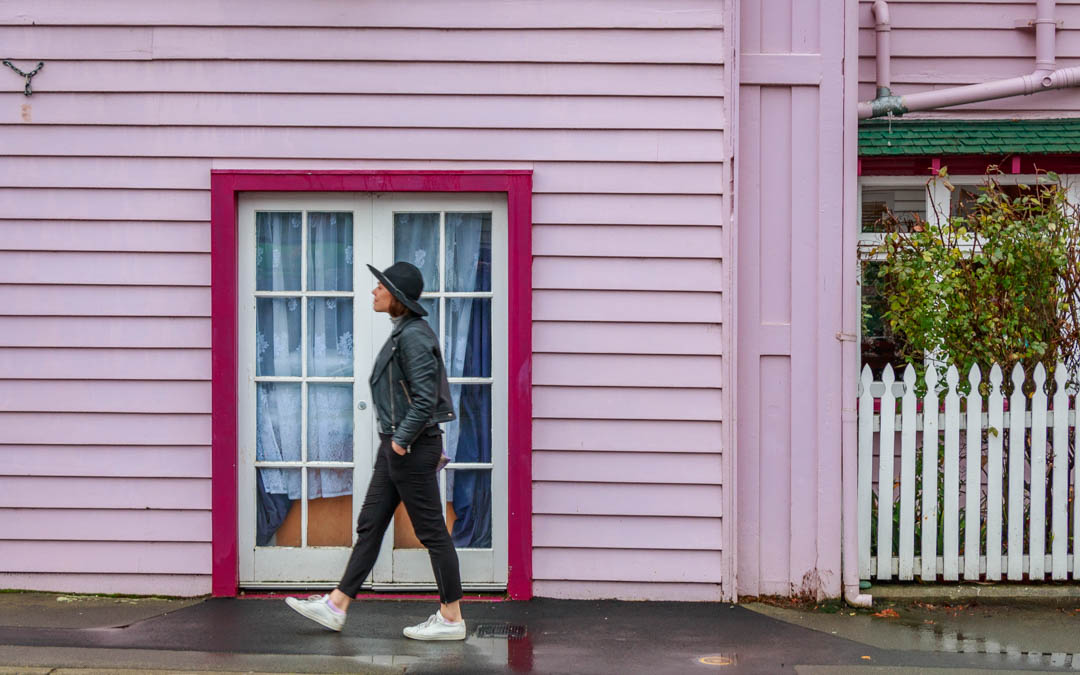 Akaroa is small, but let that not mislead you. There are lots of things to do. You can find a list of my favourite activities below!
Dolphins with Black cat cruises
The Akaroa waters are home to the rare Hector dolphins. They are the smallest dolphin species around and a delight to see. Dolphins have something playful and disarming, I just love watching them.
Black Cat Cruises is the place to be if you like to meet some dolphins (and believe me: you want to!). We signed up for a swim with the dolphins and went on the water. There was a bit of a swell that day, which tested our stomachs, and made the boat ride very bumpy.
I didn't really mind. It's nature in its glory, and it made adrenaline rush through my veins.
I saw dolphins swimming and some even put a show up for us.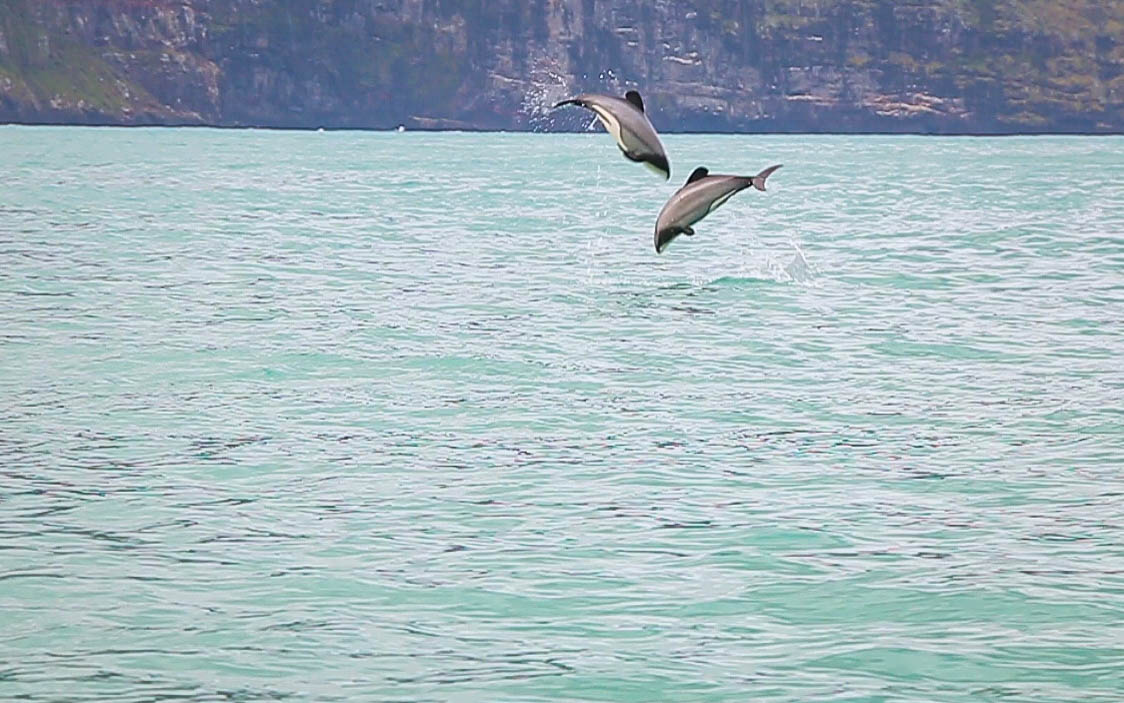 We also saw a White Flippered penguin, aka the world's smallest penguin, in the middle of the water, which was cute and funny in a weird way. If you want to see some penguins from up close I highly recommend doing a tour with Pohatu Penguins. They help the population grow and take care of wounded penguins.
In the end all the dolphins we encountered were feeding, so we couldn't swim with them. It was still very cool to see them in their habitat, and if you don't manage to swim with the dolphins, Black Cat Cruises pays a portion of your fee back.
Alpacal Love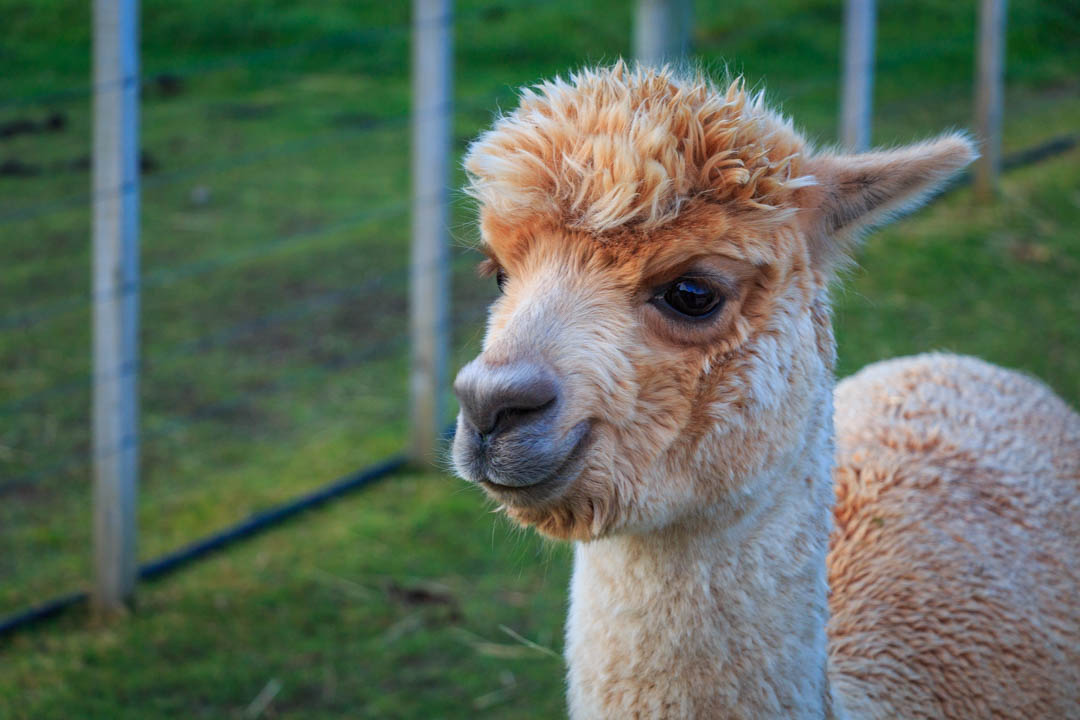 Do I need say anything more? Doesn't this picture say everything? Alpacas are cute and they're just the best.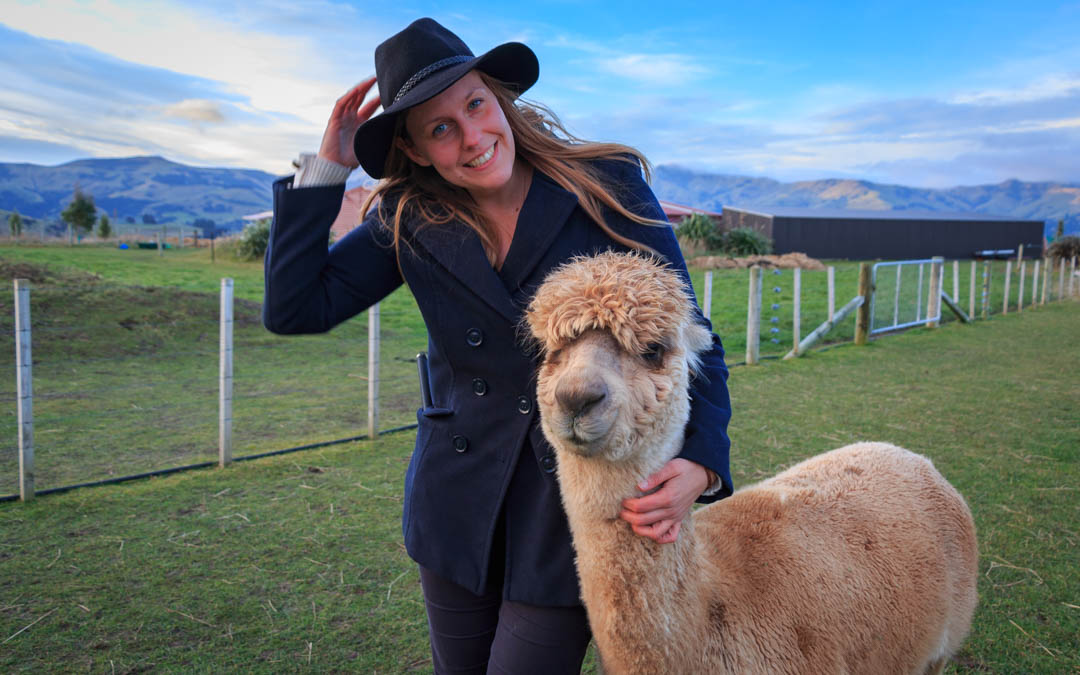 On Saturday afternoon we spent some time with the alpacas at Shamarra Alpacas. They have 150 alpacas, and we got to walk between them, feed them, and learned a lot about this beautiful animal.
I don't want to know how many photos I took, but I can tell you this: many.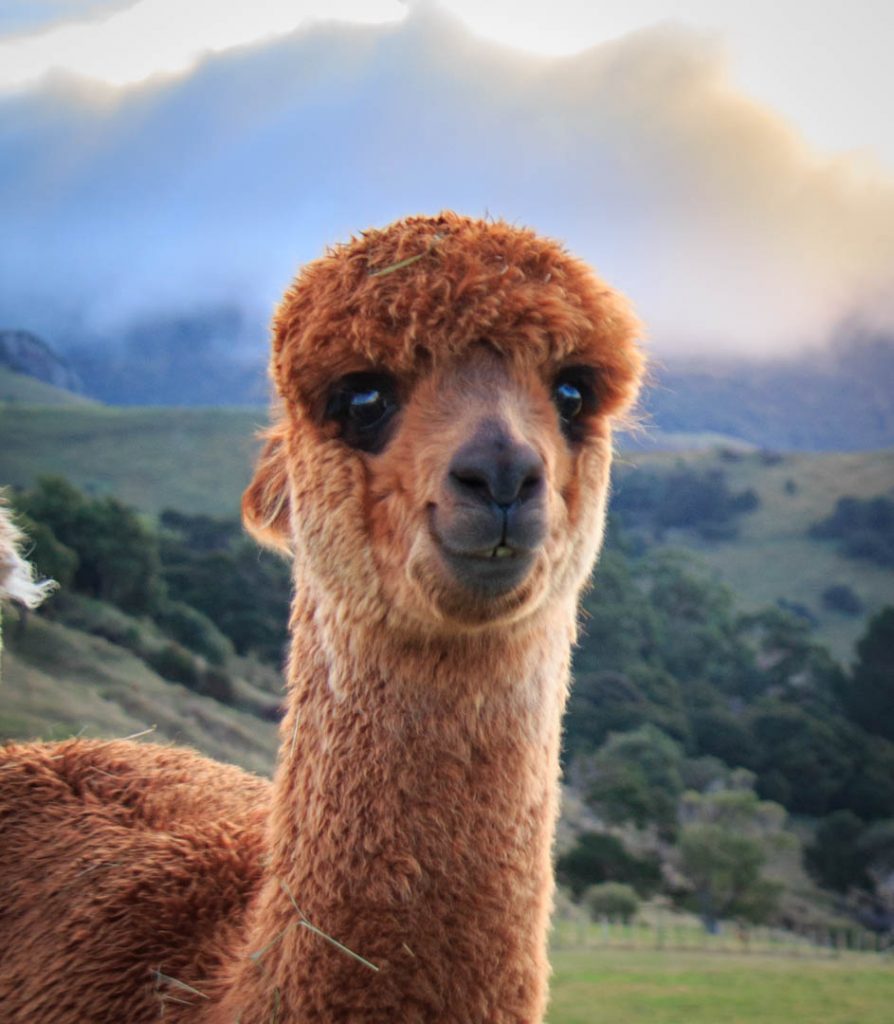 Did you know that they produce wool in 22 different colours? It's the only animal in the world that produces this many colours. They clearly wear it well.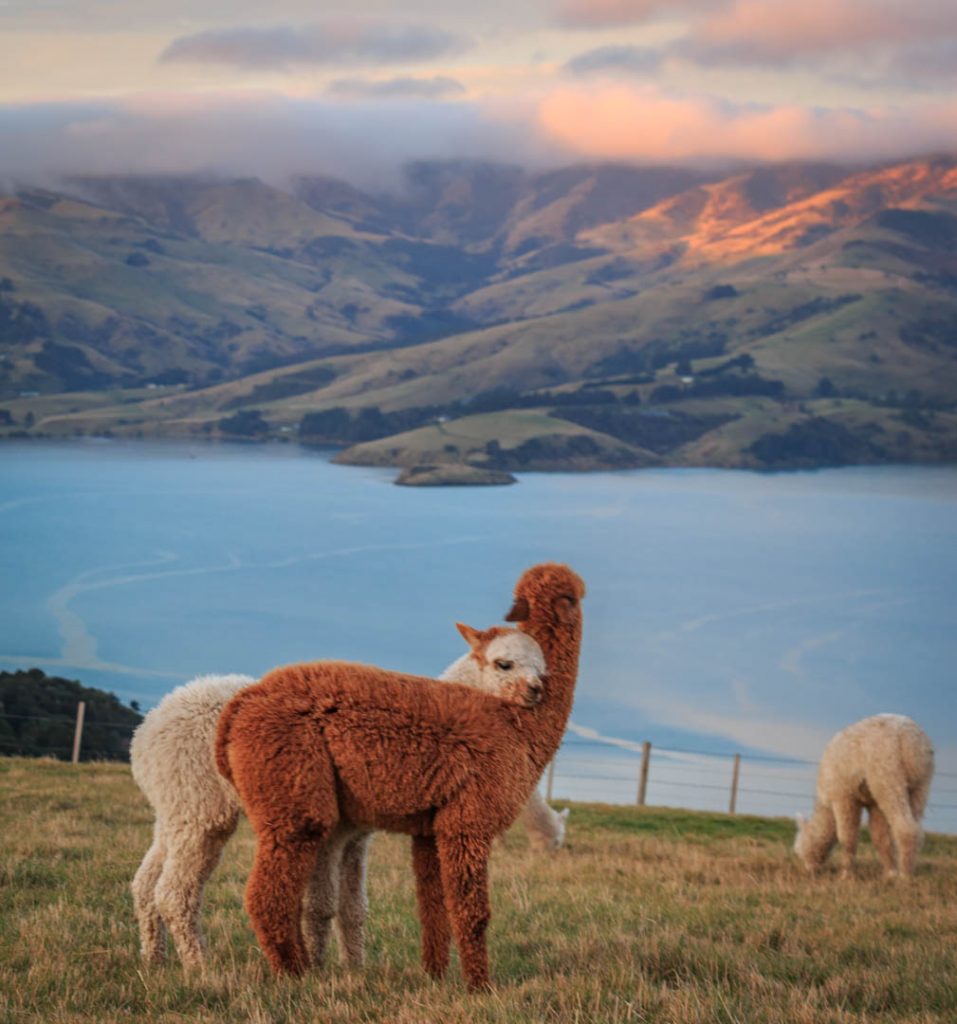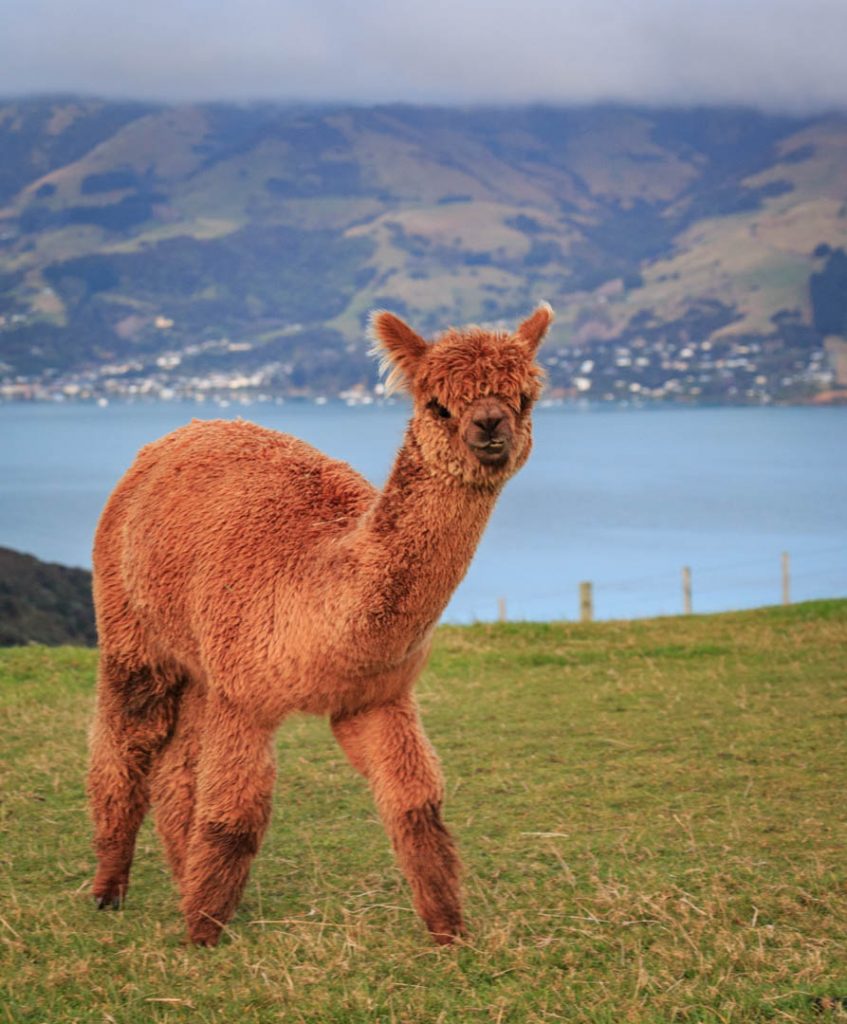 Not only will you enjoy spending time with alpacas, you get some superb views, as the farm lies up a hill.
Accommodation
You won't have any problem finding nice accommodation in Akaroa. There are Holiday Houses, B&B's and hotels.
We opted for the Akaroa Waterfront Motel, because it is right in town, and – yes you guess it – right at the water. Our little studio with double bed and 2 single beds was perfect for the three of us. We had a couch, kitchenette, table and balcony!
I loved that we could just walk to the water and to nearby cafes, but it was also nice to spent some time inside. With, as it should on any girls' weekend, wine, cheese and crackers.
Book your stay here: Akaroa Waterfront Motels 
Giant's House
Do you want to feel in a different world? Go to the Giant's House. Your eyes will go wild, exploring all the impressive and huge sculptures.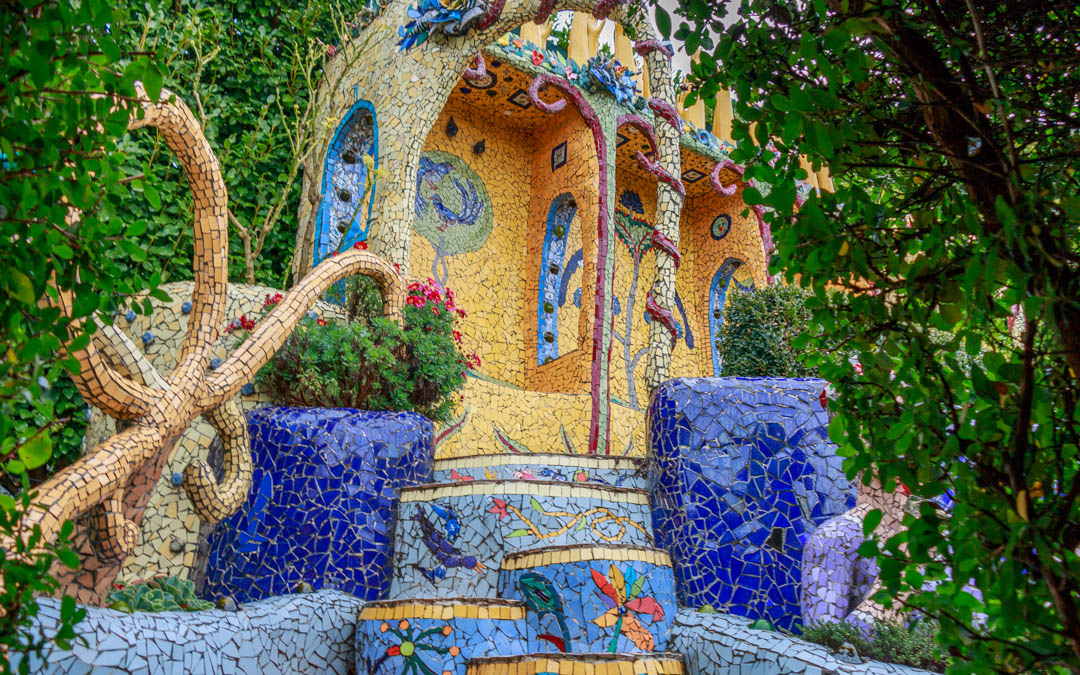 The Giant's House is up a little hill in Akaroa, and owned by Josie Martin. She's the artist, and has made EVERYTHING herself, over the last 20 years. I think we can call that persistence, patience and talent.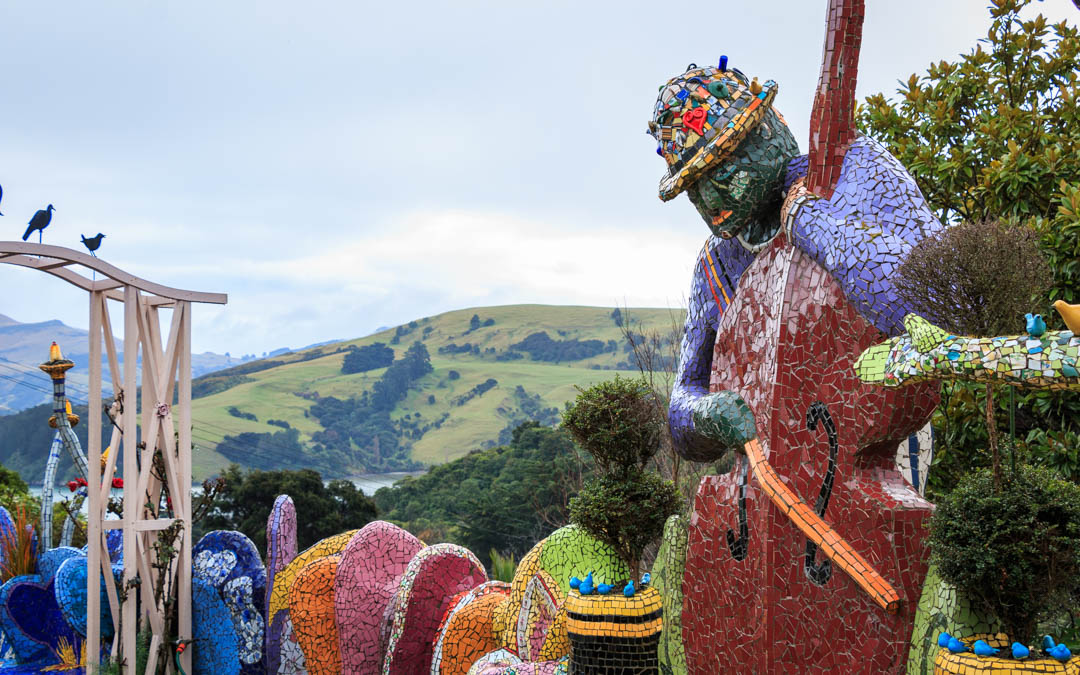 There is so much to see. I could've spent all afternoon there. I recommend that you just take your time and wander around. You'd be surprised of what you'll find.
FOOD
Food can't be excluded in this guide to Akaroa. Exploring a new place makes one hungry. Luckily for us, there are some good options in this quirky town!
Sweet As
Sweet As café is as French as it can be. Lots of red colours around, freshly baked croissants, baguettes and sweet and savoury crepes.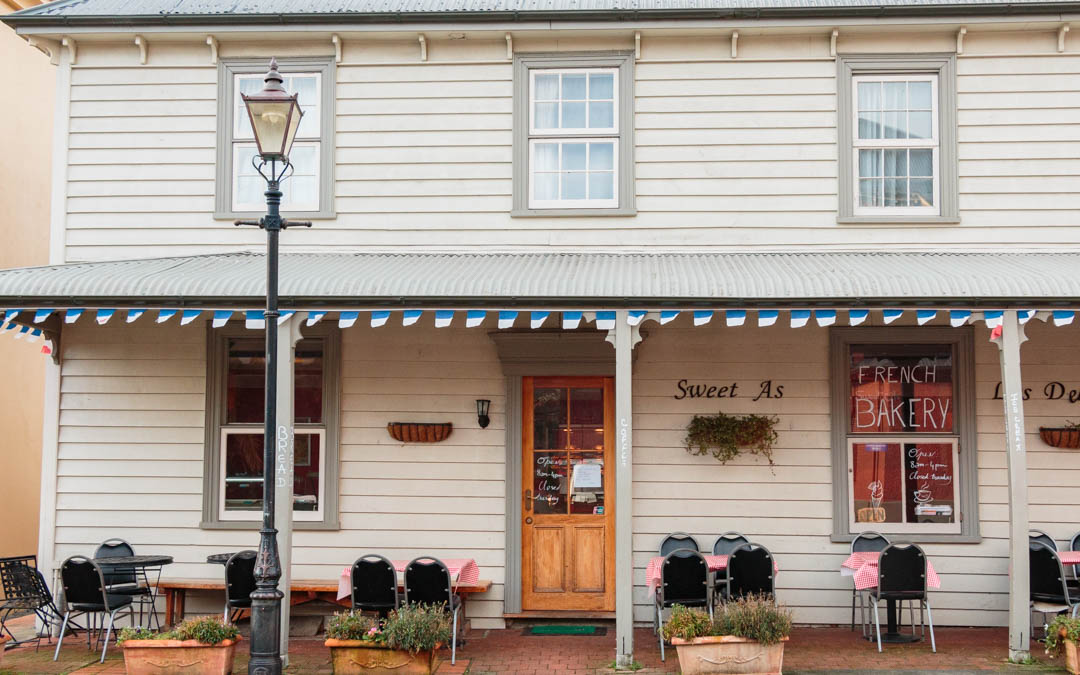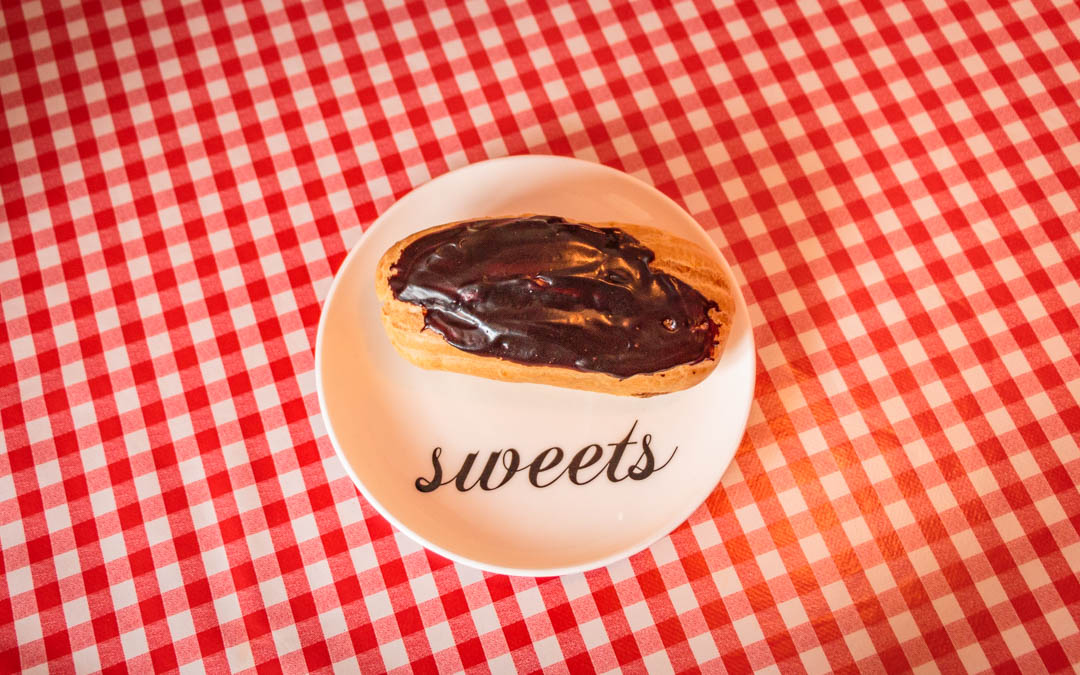 Every time I visit Akaroa I make a stop at Sweet As, because their croissants and sweets transport me to France. 
Hilltop tavern
A must stop for the view! The location of the Hilltop Tavern is superb. The tables inside and outside give you a first class view on the Banks Peninsula.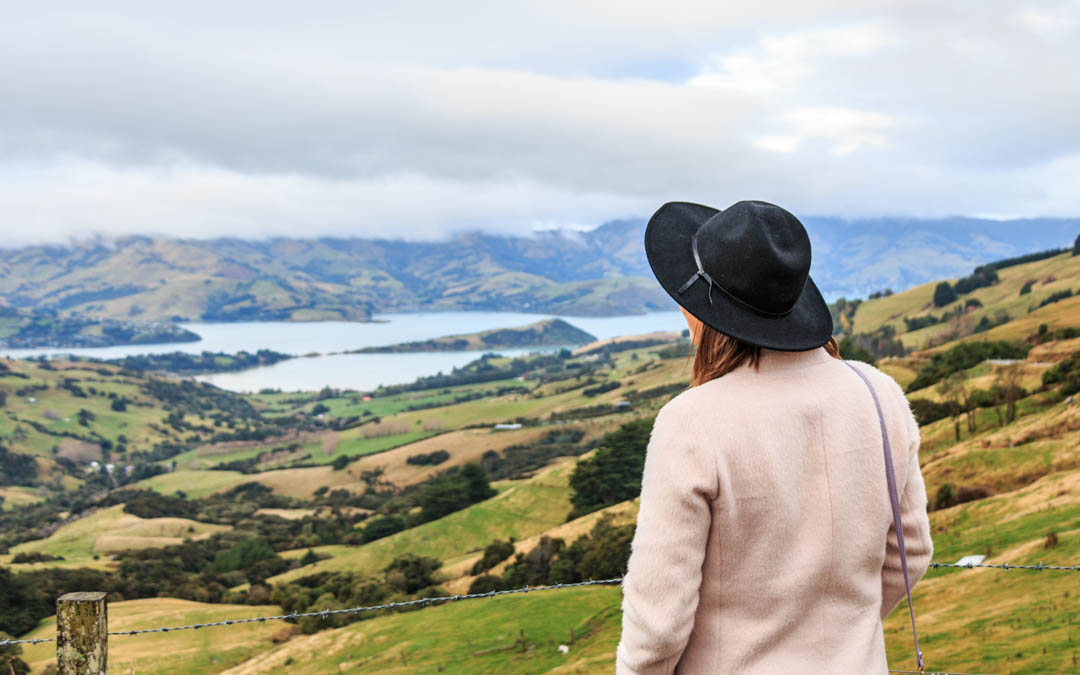 I recommend stopping on your way to Akaroa, or on your way back to Christchurch. Take a coffee, wine or some yum food and enjoy the view! It almost looks like a painting!
Sweet and Savage
Looking for some energy? The doughnuts from Sweet 'n Savage are the perfect sugar infusion. They almost look too delicious to eat, but we did it anyway (no regrets).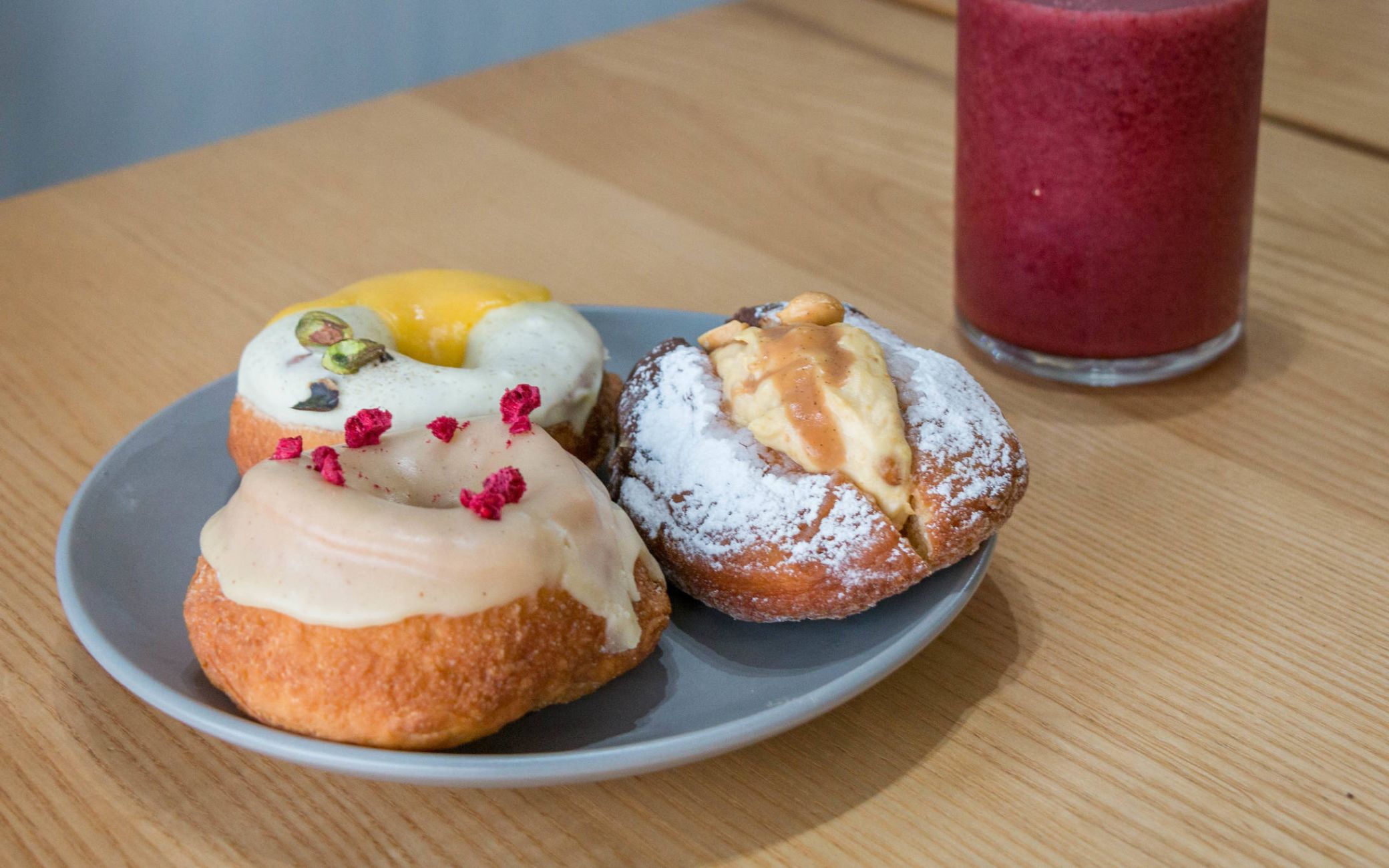 You can see and taste that they are made with love. Baker Rachel makes them just outside of Akaroa, and she brings a little food caravan into town in summer. If you want to try them in winter, then I recommend visiting the Christchurch Cafes Uncommon or Park Ranger. They sell her doughnuts too.
Wine
A great place for wine tasting is French Peak Wines. You can find the vineyard on the shore of the Akaroa Harbour.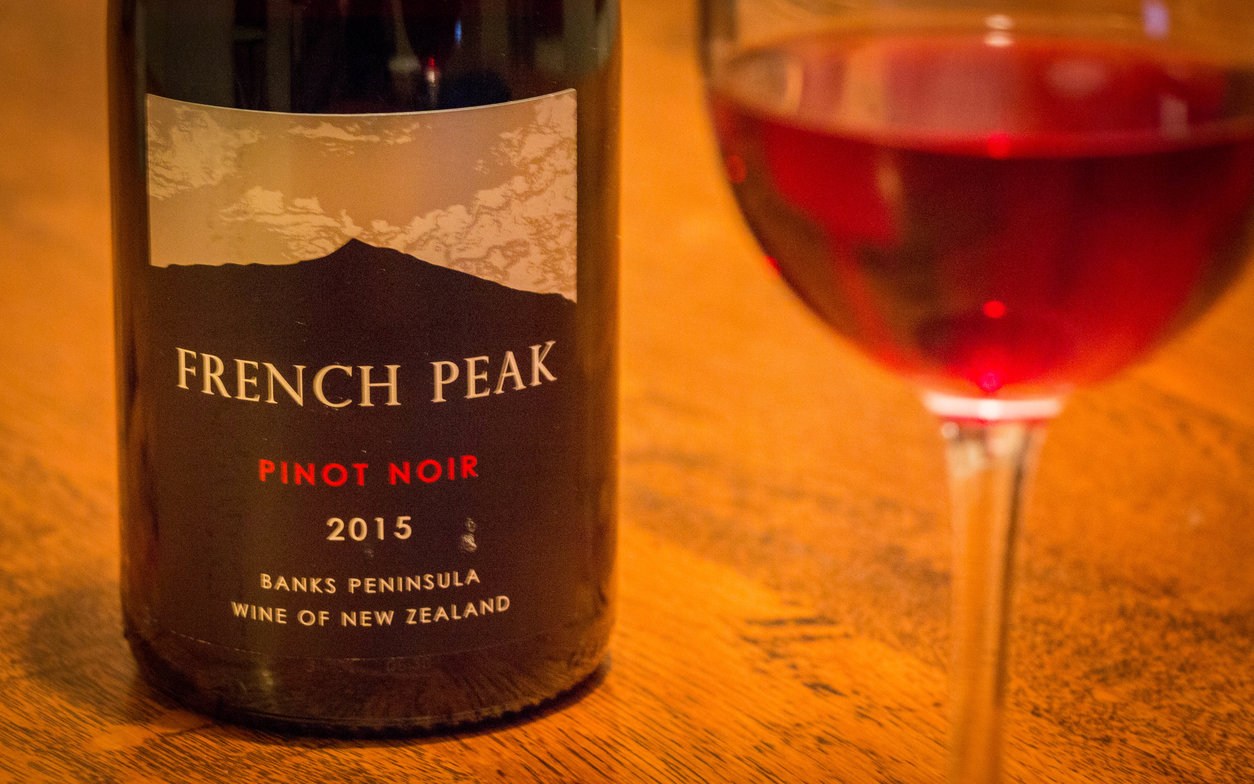 They 're specialised in Pinot Noir, Chardonnay and Pinot Gris, and I like all of them 🙂
The Brasserie
On Sunday morning we slowly woke up at The Brasserie, with a much needed coffee and some breakfast. I ate the eggs benedict, tasty and beautifully presented on my plate. I always appreciate it, when cafes do that little extra to present food nicely.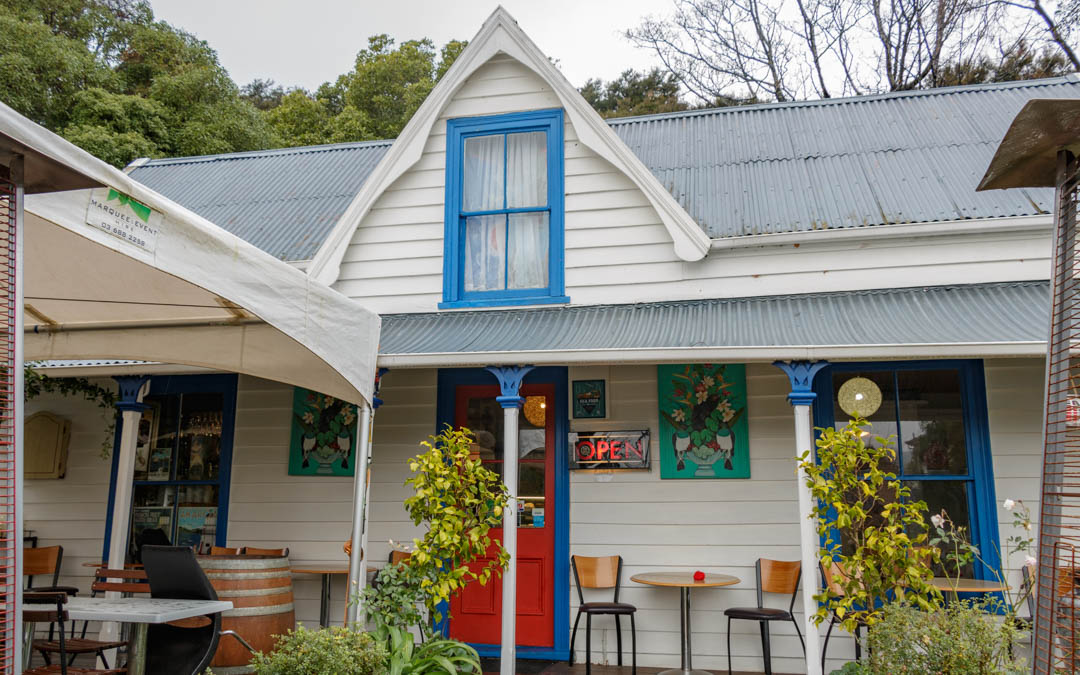 Waterfall Walk
The Banks Peninsula is home to many walks and longer hikes. One right in town is the Newton's waterfall.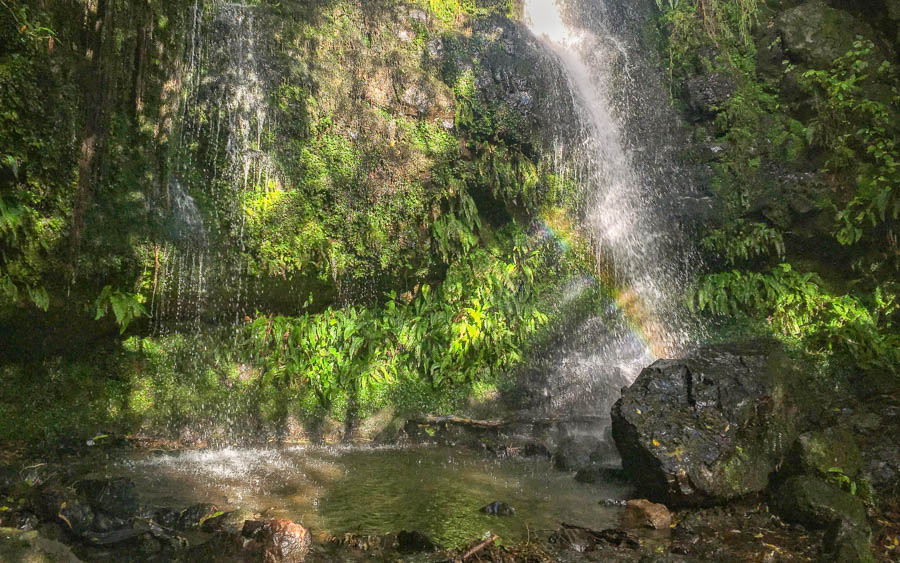 You drive up Aylmers Valley Road to the Misty Parks Reserve car park, or you can walk up the hill. I opted for option two, to stretch the legs a bit.
It's only a 10-minute walk from the carpark to the waterfall. I didn't expect much, but it turned out to be quite impressive, rainbow included!
Cinema fever
I'm a fan of little cute cinemas (as you can read here), and Akaroa hides one as well. The Akaroa Cinema is small, with only two small rooms available.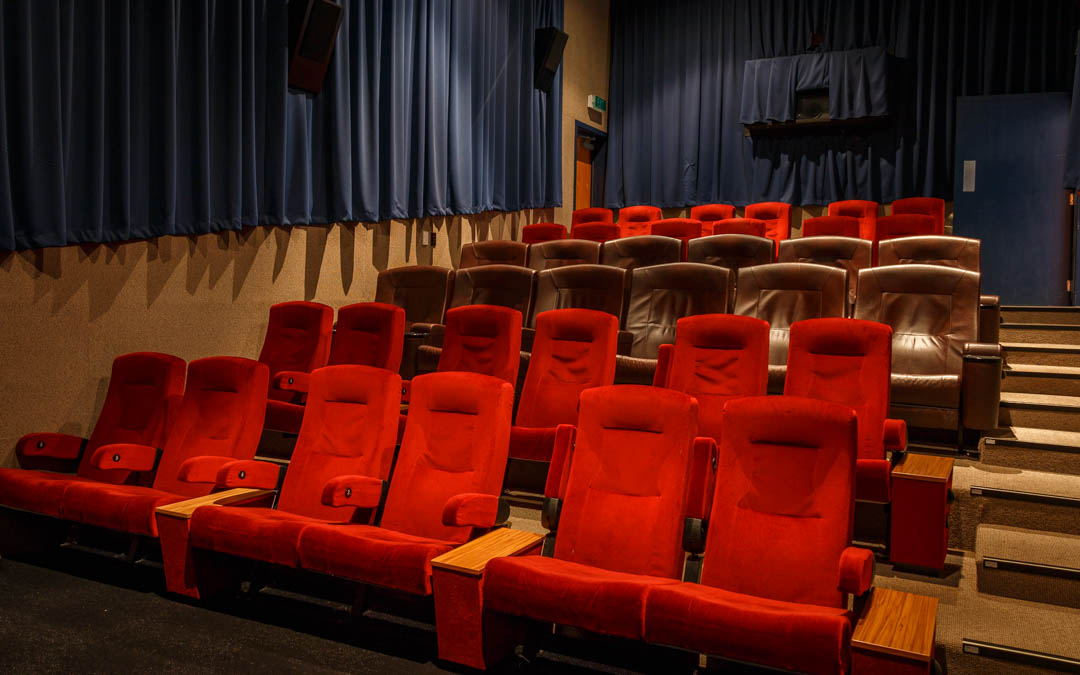 You can take a coffee or wine inside and enjoy a movie in peace.
Some extra tips…
When driving to Akaroa, start at Dyers pass road, then take Main 

Road

 en Gebbies Pass 

road

 until you're in Little River. From then you just follow the main road to Akaroa. This route gives you a beautiful view on the peninsula. It's a small detour, but you'll be able to get a better view of the Banks Peninsula.
Near Akaroa you'll find the scenic road: Summit Road. Take it on your way to Akaroa. It's a little detour, but the views are the best. You get a great vantage point, and at one point you will see water on your left and right.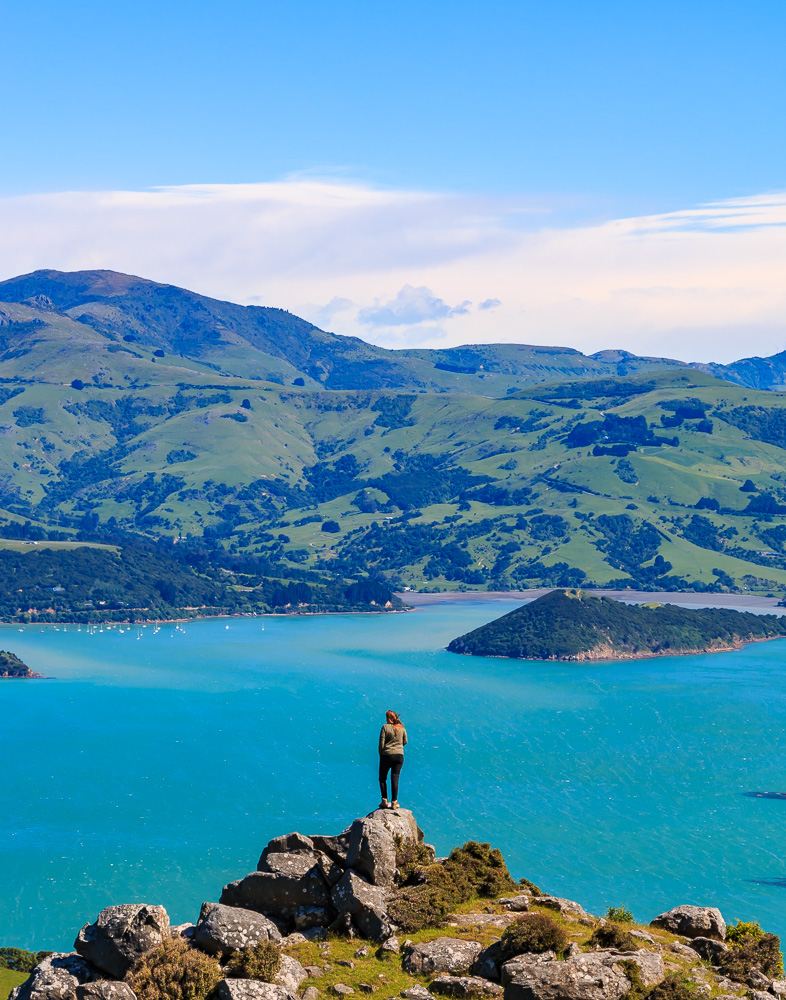 I hope after reading this girls' guide to Akaroa that you don't ignore this cute French town when you're visiting Christchurch!
Disclosure: I received discounts and free activities for the dolphin tours, accommodation, alpaca tour, doughnuts and the Giant's House. All opinions are, as always my own. Some links might contain affiliate links. That means that by no extra cost of your own, you will be supporting this blog by buying something through these links. Thank you!