I you like New Zealand backcountry huts and you don't mind hiking up a bit, then Liverpool Hut is something for you! With stunning views over the Matukituki Valley and surrounding peaks you can't go wrong!
Practical details for Liverpool Hut Track
Most people who visit New Zealand only check out the big, popular huts, like Mueller Hut. They are beautiful too, but the small ones are so much more special. Liverpool Hut is lost in the mountains in Mt. Aspiring National Park at a height of 1100 meters. Here is some practical information to plan your Liverpool Hut trip.
How to get there?
Take the Wanaka – Mount Aspiring Road to Raspberry Creek carpark. It's a 1 hour drive from Wanaka. Be aware that the last 33km of the road is unsealed.
Timing
The Department Of Conservation website say the hike takes between 5,30 and 6,30 hours one way. This of course depends on your fitness. We ended up walking about 5,5 hours.
7.45 – 9.45am: Raspberry Creek Car Park to Mount Aspiring Hut
10.10- 11.40: Mount Aspiring Hut to Pearl Flat
12-14: Pearl Flat – Liverpool Hut
Distance
Liverpool Track is 30km return. You hike back via the same track. Be careful when going down on the steep parts, as it can be slippery.
Elevation
Liverpool Hut is located at 1100m high, on the steep lower slop of Mount Barff. The first part of the hike through the valley is very flat. Once you reach the track junction at Pearl Flat the real climbing begins, with an elevation gain of 500m over only 1km.
If you don't like steep and exposed tracks, then this hike is probably not for you. The end can be dangerous if it's wet and you really have to be comfortable on your feet.
Liverpool Hut
The hut has 10 bunks and is serviced, which means that there are mattresses, water supply, a toilet and hand washing facilities. You pay 15$ per night to spend the night and you can't book it in advance. Buy your receipt at the local Department of Conservation office (in Wanaka).
Also notice that backcountry hut passes can't be used at Liverpool Hut.
What to take?
Hut fee receipt (please pay, as they need every dollar they can get to keep the parks in the great shape they are)
Sleeping bag
Rain jacket (the weather is unpredictable, so be prepared)
Warm clothes for in the hut
Cooking utensils
Food (take some extra food in case the weather changes and you're stuck for an extra day)
Camera (you won't regret it!)
Earplugs – for in the hut 😉 (you also won't regret it!)
Weather
ALWAYS check the weather before hiking in New Zealand. The weather conditions can change quickly, and you don't want to get stuck up in the outback with 100km/h winds or hail. Metvuw.co.nz is a great site to check the weather. You can also always pop your head in the local DOC-office and ask for the weather conditions there. Find more information and maps of the Liverpool Track on the DOC-website!
Read more details about Liverpool track below!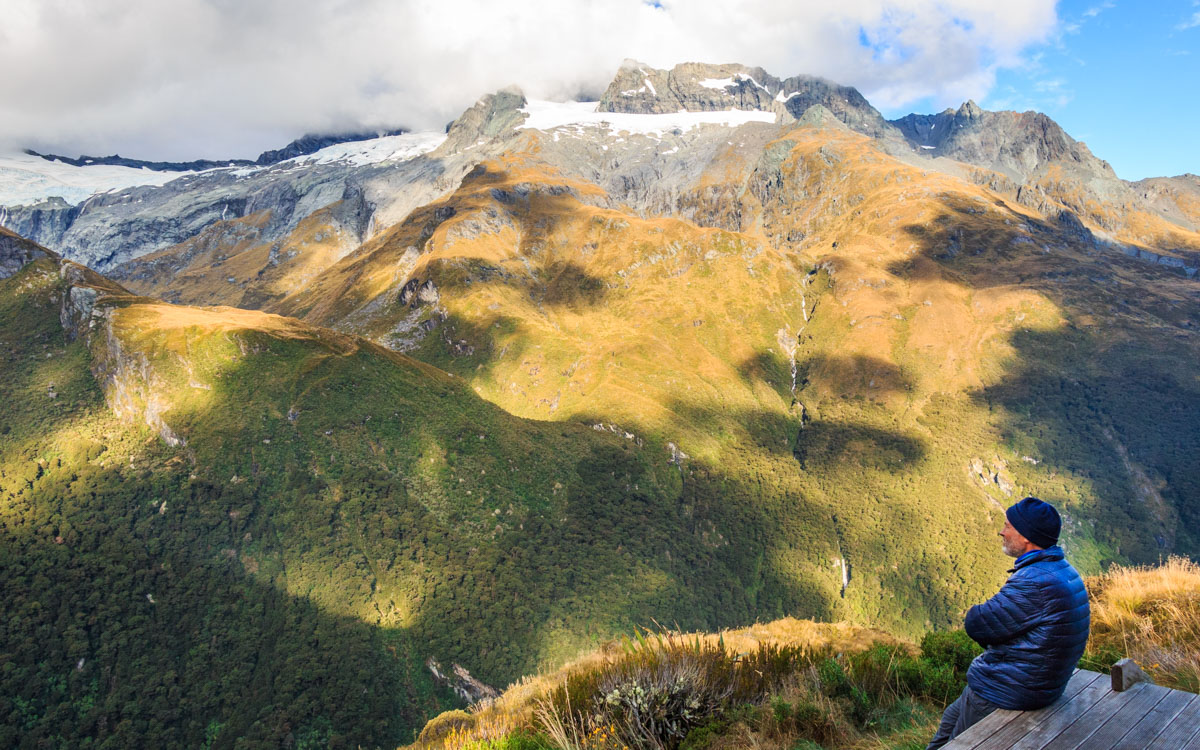 I chose the hut to spend my last day as a 29-year-old. Yes, that meant hiking 15km while I could be just having drinks in a bar instead…
The first part is flat through the Matukituki valley and then you go steep up the mountain for the last part. I hadn't done many walks in that area, besides the Rob Roy Glacier Track, so I was excited to explore more (and I wanted to prove myself that my 29-year-old legs weren't that old).
It was the beginning of April, and the weather wasn't perfect. Rain was about to set in, but we decided to go for it anyway, because we were prepared and rain won't kill you 🙂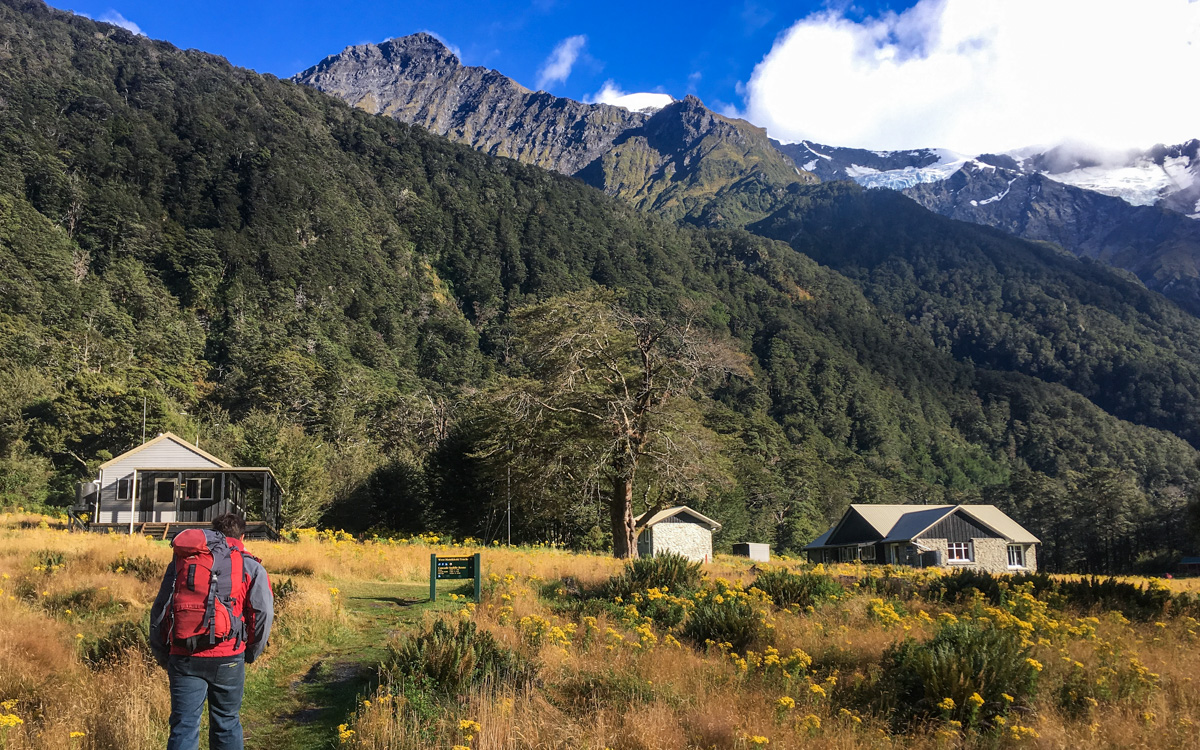 Enjoy the flat Valley
We started walking early, at 7.45am. The first two hours of the hike were flat, through lots of farmland and cows. Be ready to step in some poo too.
At one point you'll see Mount Aspiring Hut appear in the valley. This hut is quite popular with locals, to take the family and enjoy a weekend in nature. When we arrived, there were only a few hikers and a kind DOC ranger. If you squint your eyes you could already see Liverpool hut.
The other hikers were using the hut as a base. There are lots of hiking routes leaving from Mount Aspiring Hut, and they were doing a few after each other. They hadn't done Liverpool Hut yet, but warned us about a steep and dangerous part at the end of the track. "People have died there", they said.
I wasn't really happy hearing that, especially because rain was on its way. We decided to go, and would return if it became too dangerous.

Steep up!
An hour later of walking through the valley we had some lunch and started the climb up the mountain. By that time the rain had arrived. We were soaking wet, and looking forward to a tea in the hut. Nico and I were getting a little worried about the steep slab, because rain makes everything very slippery.
We hiked two hours steep up, grabbing on to trees and branches. In many places you're climbing 45°. You'll get used to holding on to the trees and rocks. The first meters were hard, but once I got used to the track it was quite fun. I felt like a monkey. It took us two hours to hike one kilometre up – you can imagine how steep the climb was!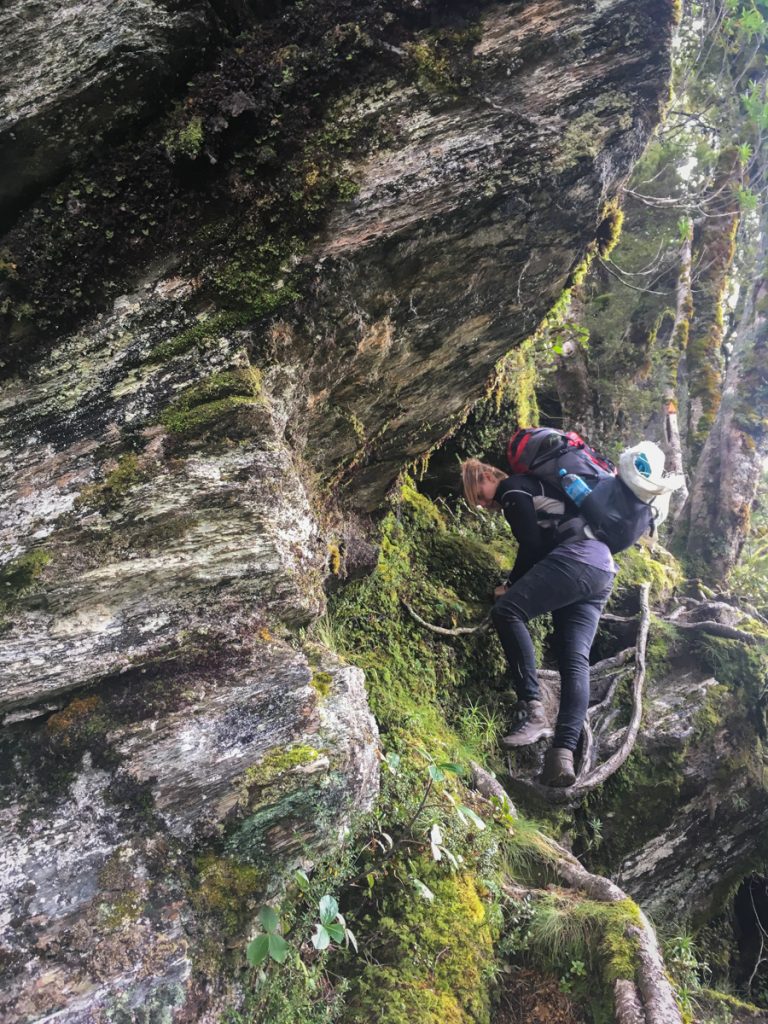 I kept walking and waiting for the scary bit to come, but it didn't happen. Apparently we had already passed it. It was indeed a bit exposed, but nothing to be afraid of as long as you use your brain and your hands!
Note: If you're afraid of heights and exposed parts: don't do this hike! It can be dangerous if you don't know what you're doing. At one point you're climbing steep on rocks without any trees around you, which can be slippery. 
Amazing views
Liverpool Hut has the best views! First of all, it is a beautiful hut, but the views are just through the roof. You see the valley stretched out in front of you and you have mountains facing you in every direction.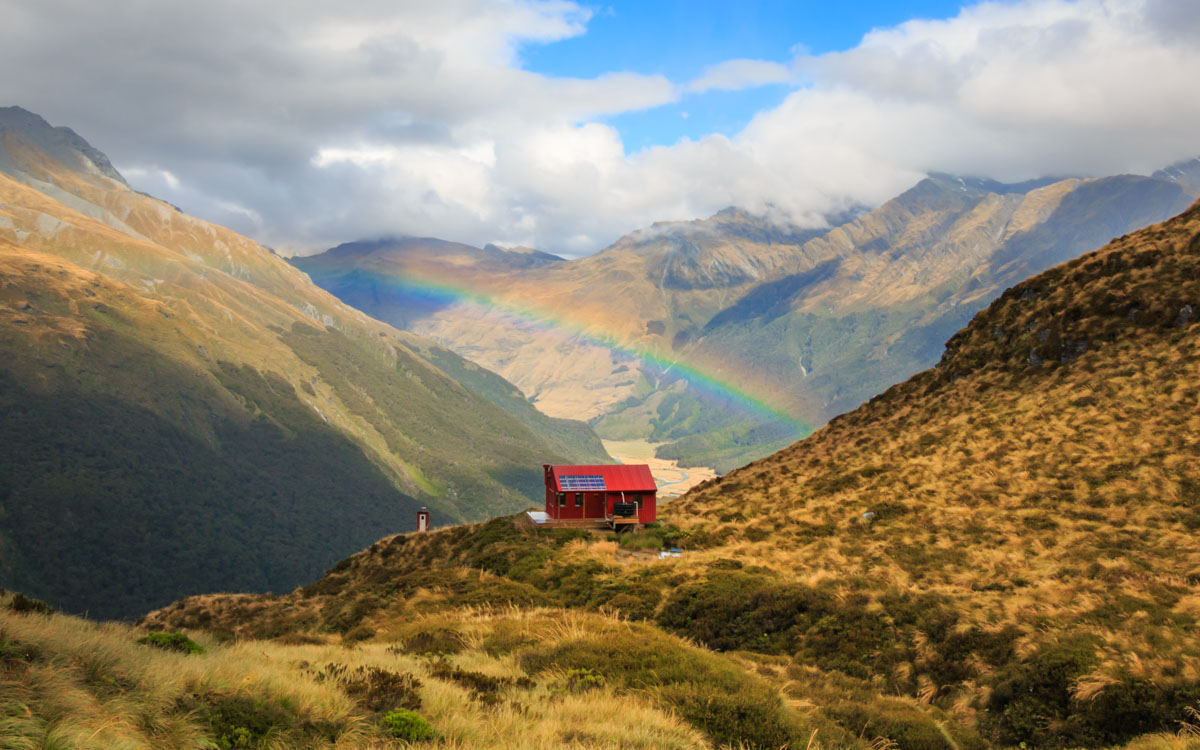 After a surprisingly warm night we woke up early in the morning. On a cue, at 7.30 am a group of kea's landed on our roof and started making noise. Kea's are the world's only alpine parrot and very cheeky (and a bit naughty). They like to steal and break stuff, so be careful that you don't leave anything laying around in their presence.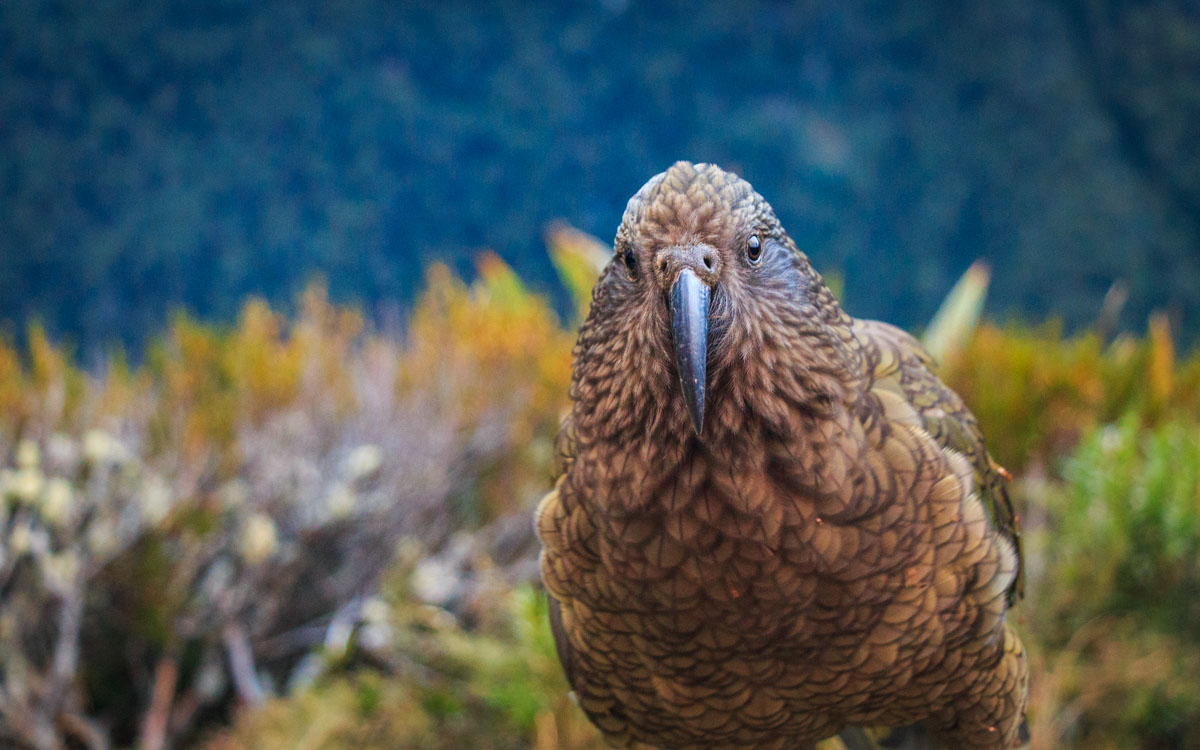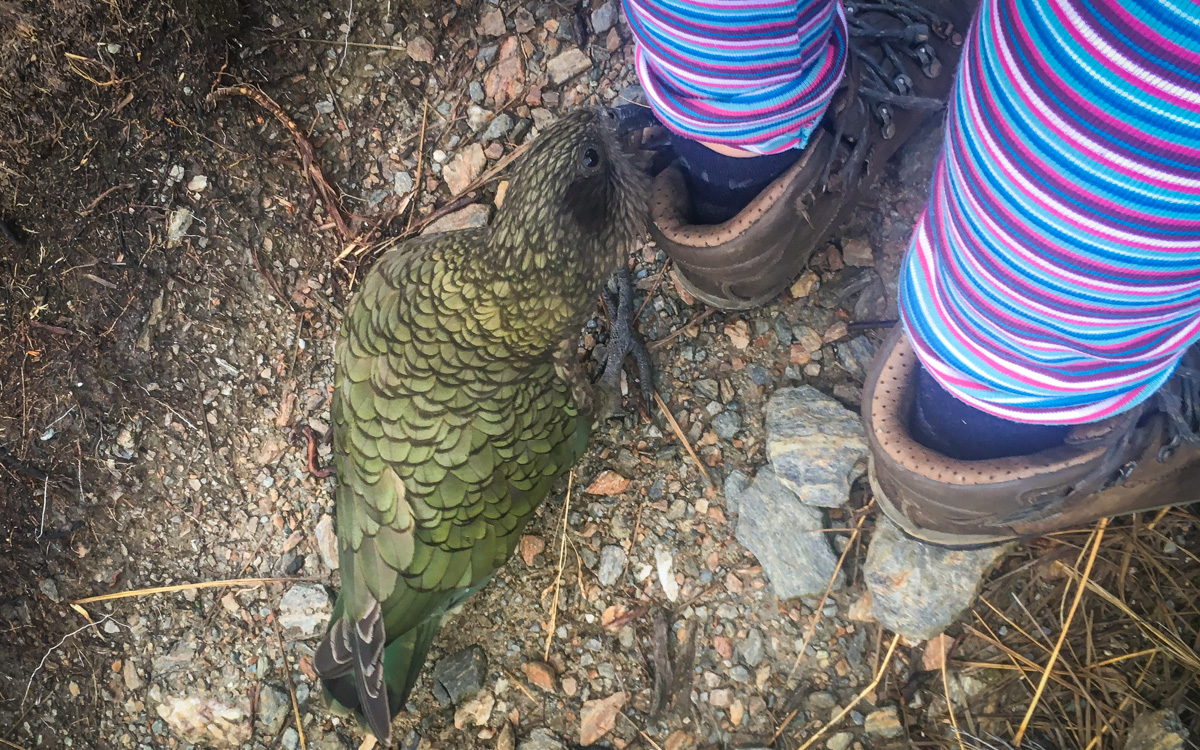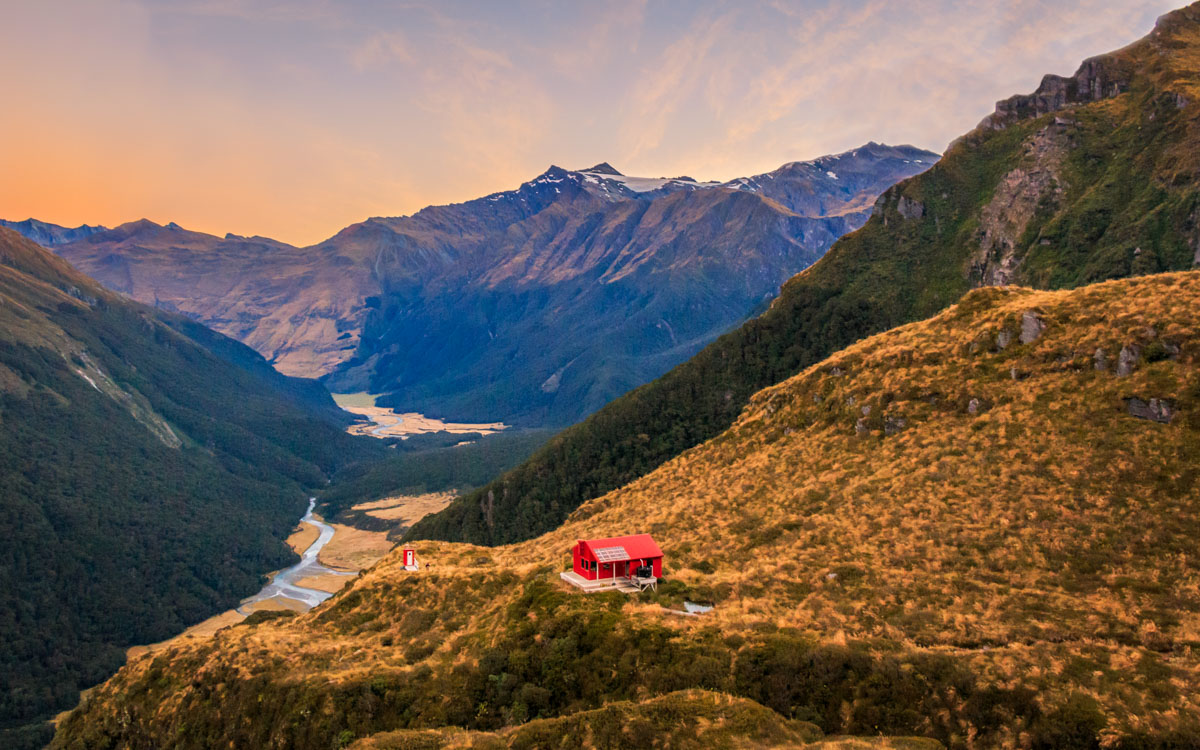 Ready to start walking? Are you going to do Liverpool Hut? Or have you already hiked it? What did you think? Let me know in the comments!