Planning a weekend to Dinant? This little town in the south of Belgium offers the perfect mix of history, culture and beer. It's a cute little town and perfect for a weekend away.
I never had the habit of visiting those lovely towns in my own country. Growing up in Europe, it was easy to travel. From city trips to Berlin to holidays in Portugal, everything was easy. Why explore your own country when there are so many other countries to visit, right? I think many of us are guilty of this (unfortunately!).
Having travelled a lot, I'm starting to appreciate the things my country has to offer – yes I'm talking about the chocolate and beer, but also the history! In Perth (Australia) I once joined a guided city tour, and they were talking about a historic monument – it was 100 years old… In Belgium my granddad's house is older than that.
So I decided to visit Dinant, a medieval town in Wallonia, the south of Belgium. I was ready to explore this hidden gem, walk through the historic streets and of course try the local beers. Have a read, and you'll understand why you should visit Dinant too!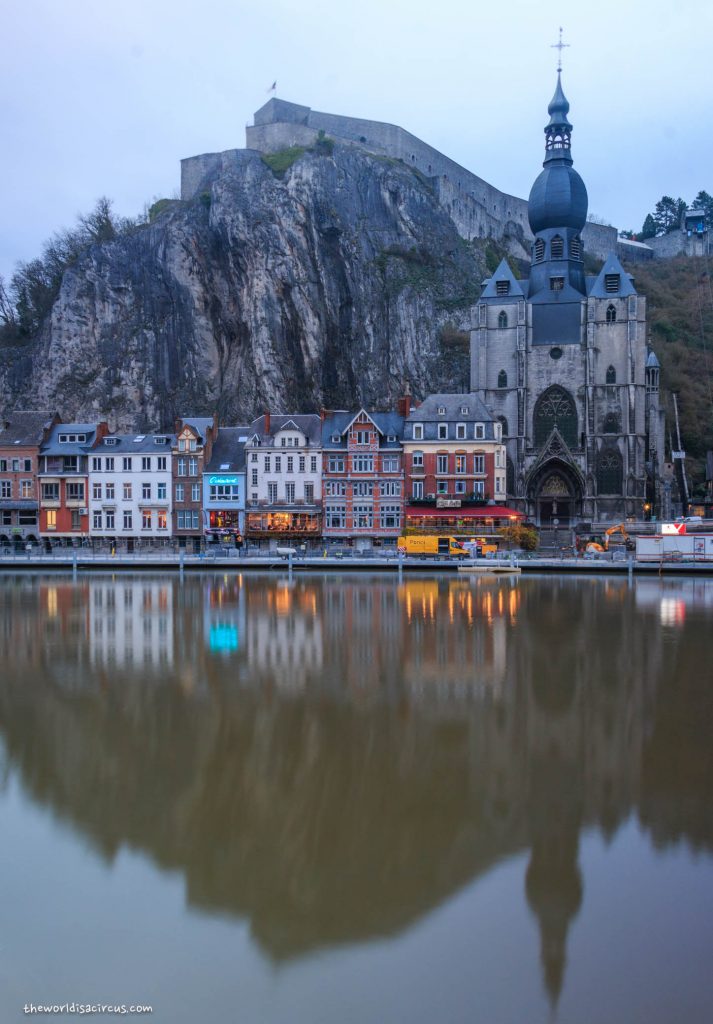 Dinant's story
Dinant's story is one of many battles. First of all, Dinant has been there a long time. The first mention dates from the 7th century. Isn't that amazing? I love walking around towns and realising it has been here for ages!
Dinant was exposed to quite a few battles in the Middle Ages, as it had a strategic location on the Meuse river. Also in World War 1 there was a lot of destruction, when French and German troops fought for the town in the Battle of Dinant. 80% got destroyed. But just as every place that saw destruction, it got rebuilt and is a beautiful place to visit now!
Because exploring is always more fun with two, I asked my friend Sarah to join the party! Here's what we got up to!
1. Being a nun at Hotel La Merveilleuse
La Merveilleuse means wonderful. It used to be a convent, which is kind of a monastery for nuns. Hello Saint Lieselot! I behaved, because you never know if those nuns are watching from above…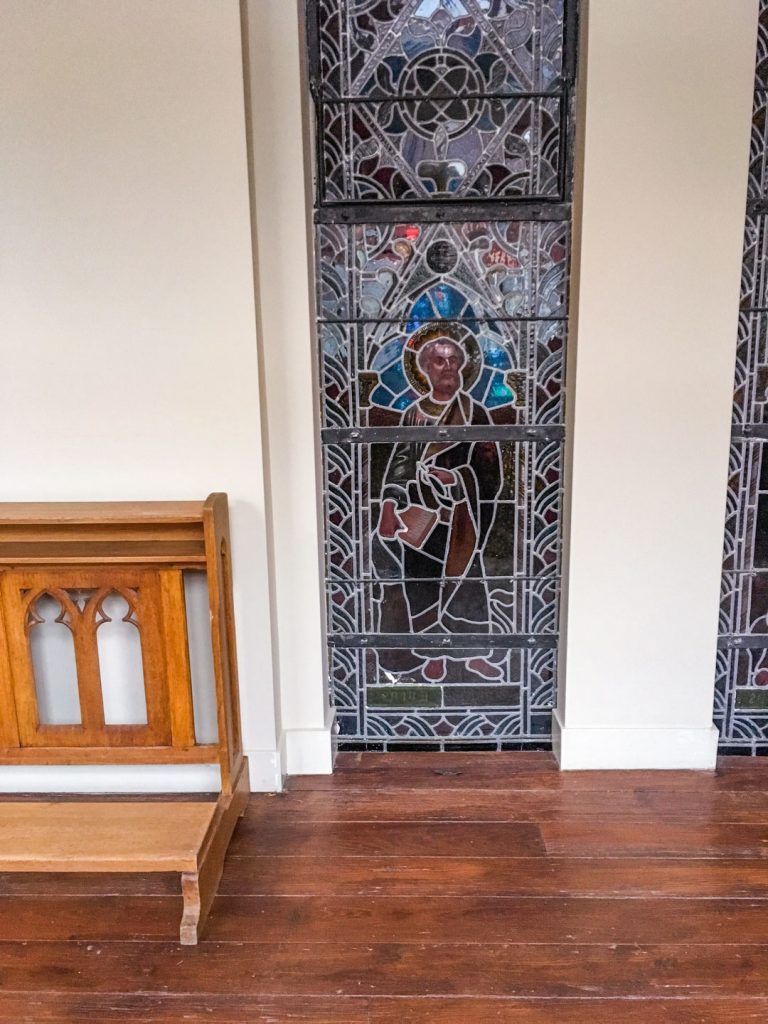 If the nuns had rooms like this, life was pretty good… It turned into a hotel in 2008, and I absolutely love what they did with the place. The wood in the rooms and peaceful interior match perfectly, add some historic artefacts, and you get a real feel of the monastery.
There's also a cave complex underneath the site, with a passage of 6km and three big rooms. Doesn't that sound right out of a James Bond movie?
What I also loved about visiting Wallonia again, is talking in French! The receptionist at Hotel La Merveilleuse was incredible nice, and happy to let me speak French. He offered to speak Dutch, but I refused! Poor guy 😉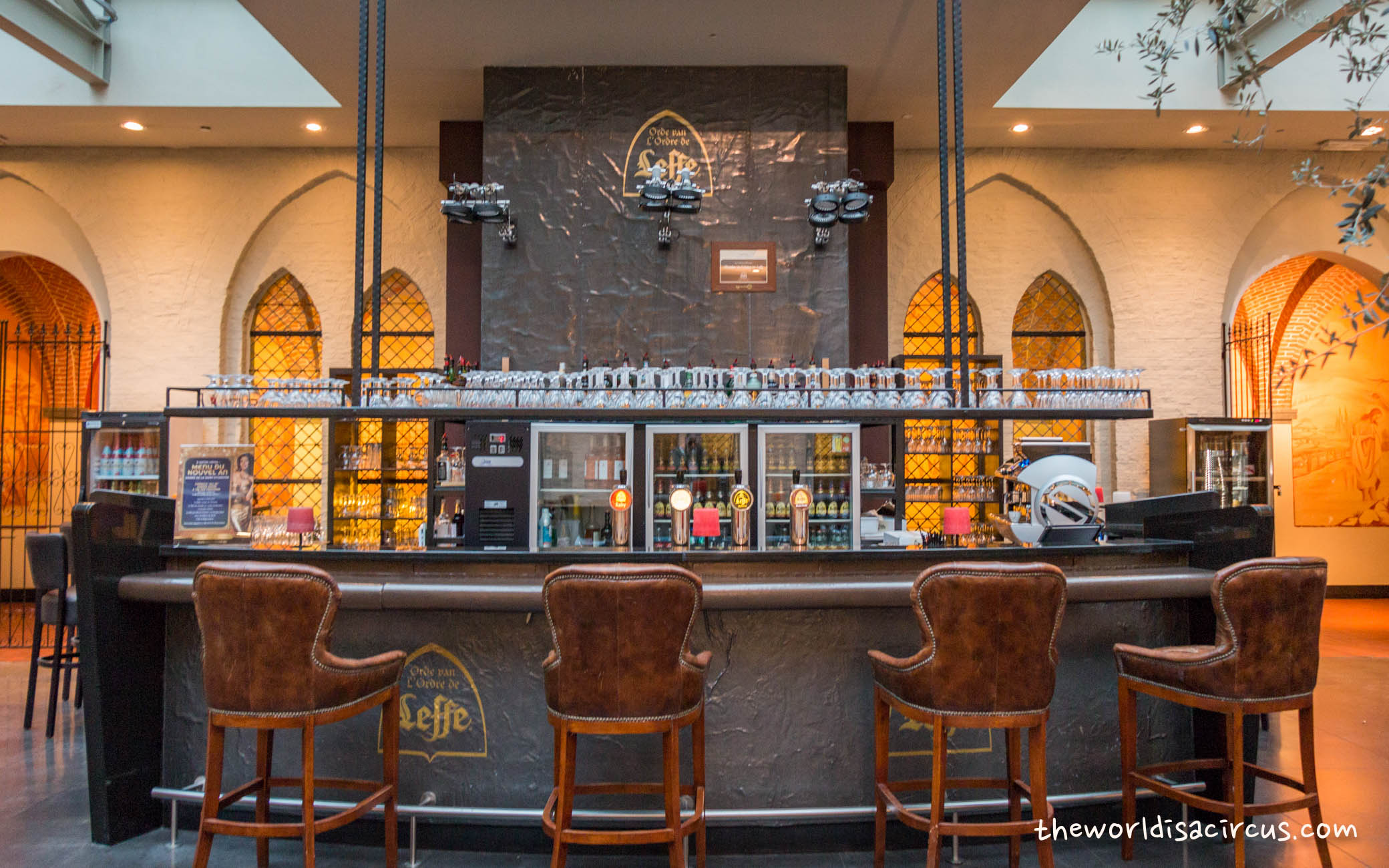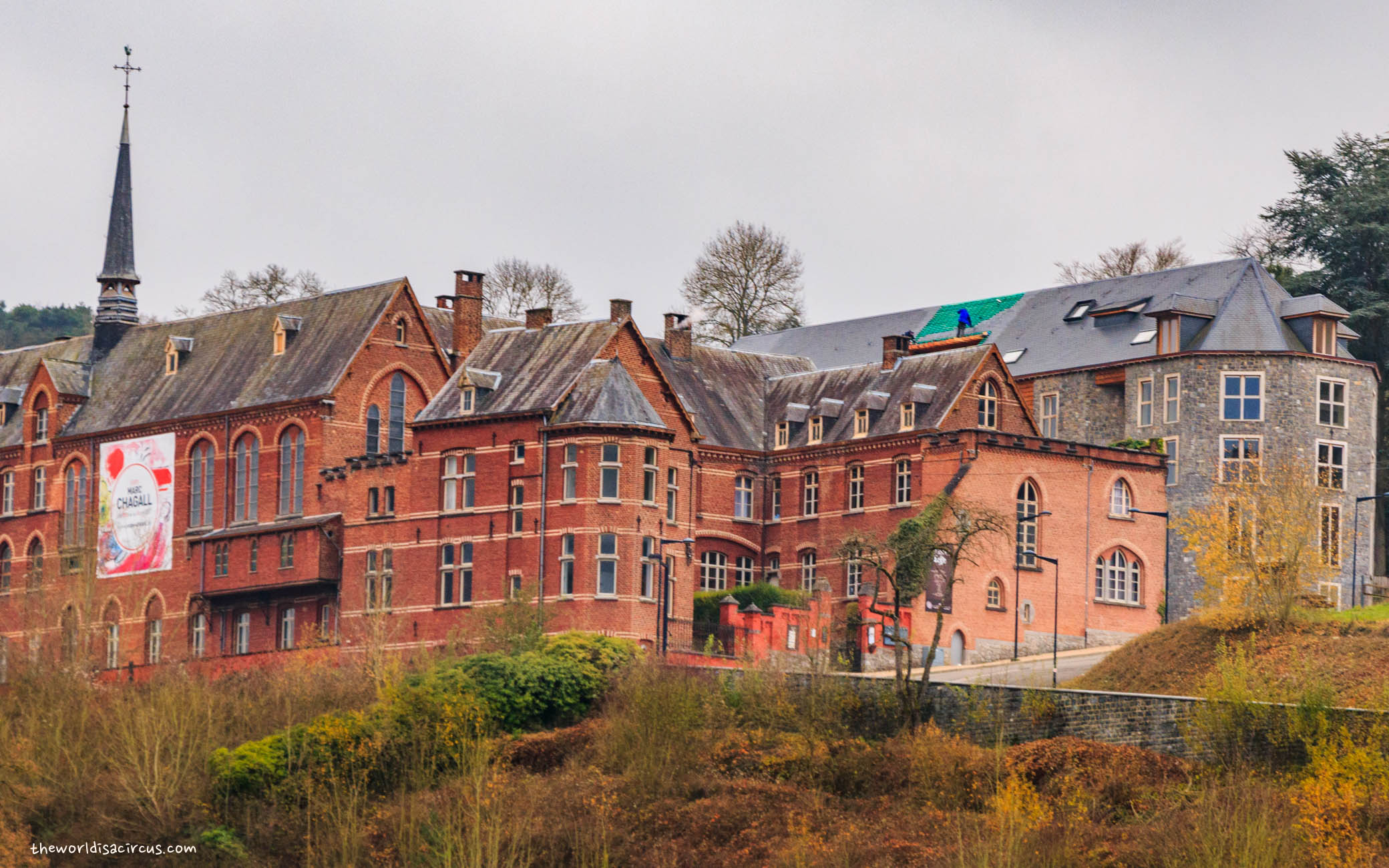 Hotel La Merveilleuse also has a sauna, which is open to public. Sarah and I treated ourselves on a sauna and wellness visit in the morning. Girls will be girls!
2. History lessons at the Citadel
The Citadel of Dinant is this impressive building, towering high above the town. You can walk up many stairs, take a cable car or drive to the top (note: the cable car doesn't run in winter).
When we entered the citadel, it started raining… (that's Belgium for ya…), but we didn't let it change our mood or plans!. A lot of the Citadel visit was inside, making it accessible in any kind of weather – and no one is going to die from a splash of rain anyway.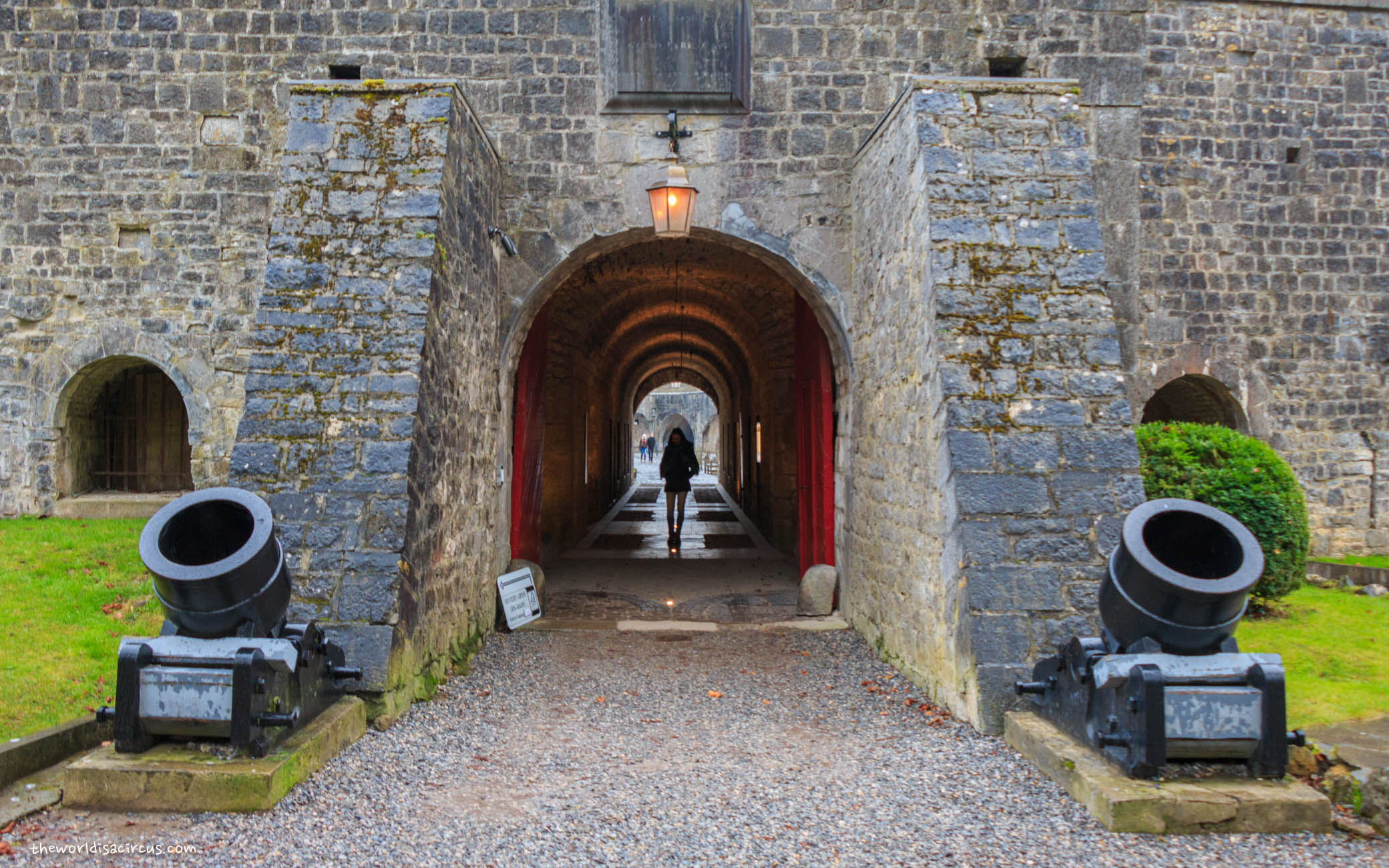 You walk through cool halls with visual effects showcasing the Citadel's history. I was surprised by how interesting and fun they made it. Sometimes the history of a place can be told in a boring way, which was definitely not the case here.
You'll learn a lot about World War 1 in an interactive way. You see pictures, read heart-breaking stories, and 'experience' an attack. On top of that it is literally on top of a mountain, so you get a great view.
Follow the tour all the way to the end, as there is something really fun at the last part. I'll give one hint: you'll get dizzy!
Entry fee is only 8.50€ and gives you a few hours of fun and exploring. Find more info on their website, as they also offer deals with boat tours. And if you're really in to old buildings; another castle you can visit in the area is Ruines de Crèvecœur.
3. Mussels at Chez Bouboule
A local favourite is Chez Bouboule, a restaurant known for tasty mussels. They've been serving mussels for over 50 years, and are also referred to as: "The King of the Mussels" – definitely my kind of place.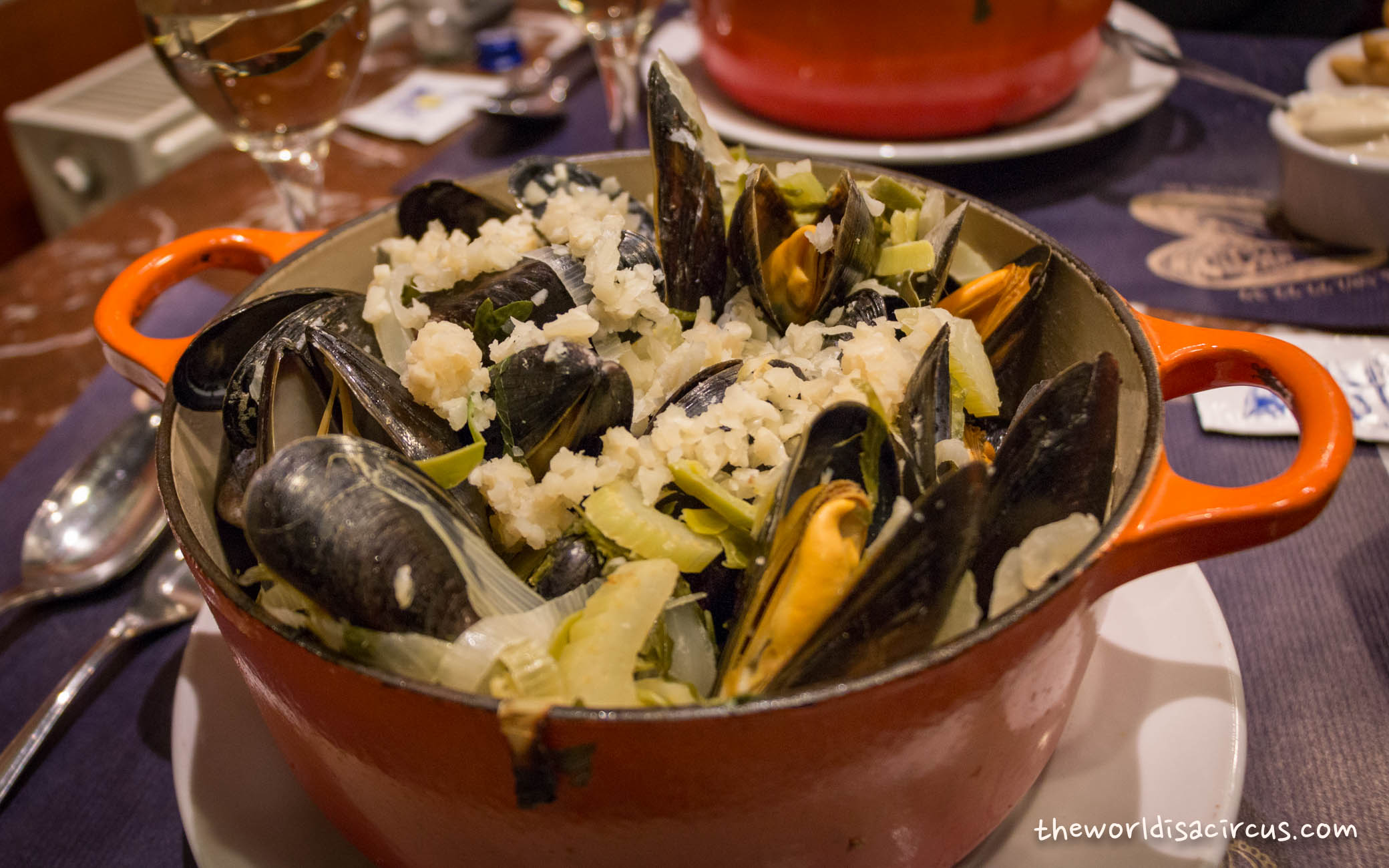 I couldn't pass on that, right? I'm a huuuuge mussel fan. It's my go-to dish every time I visit my family in Belgium (thanks Dad for making the best mussels and fries at home).
Chez Bouboule offers 40 different ways of serving mussels, I went for mussels with garlic. It was as I expected: perfect. I finished the entire pot, all 1.2kg… And I don't feel bad – there's no stopping me when eating mussels.
You can have a browse on their website. It is in French, but this way you already get a feeling for their food.
4. Maison De Sax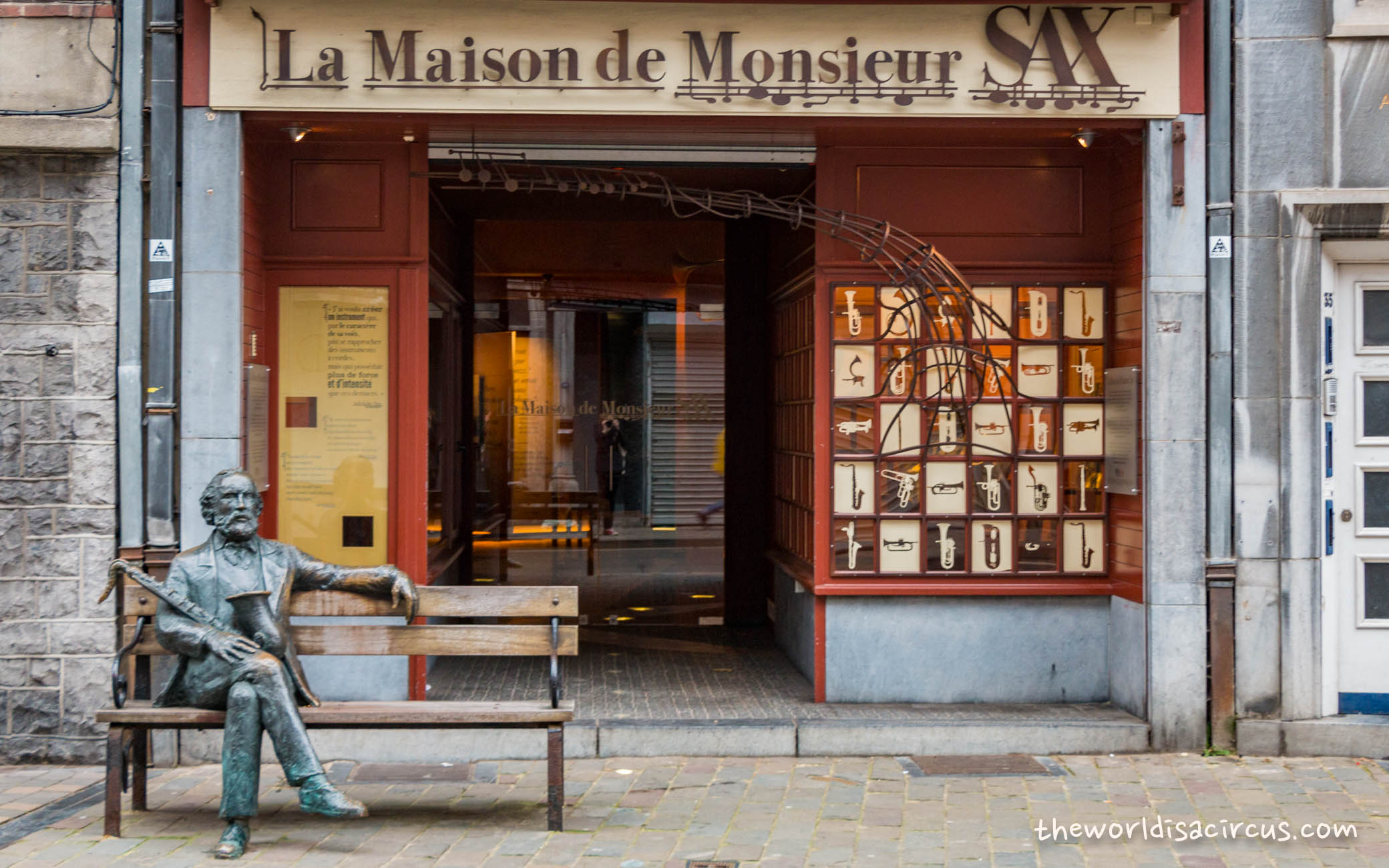 Who would've thought that the inventor of the saxophone was born in Dinant? It's true! Alfons Sax was born in 1814 in Dinant.
La Maison de Monsieur Sax (literally: The house of Mr. Sax) is a little, free museum, teaching you the history of the saxophone. Don't expect too much though, it's very small. But it's a nice quick stop if you want to learn more about the invention of the saxophone.
5. Tasting Leffe beer!
Belgium is a country of many beers, often brewed by monks in abbeys. That's no different for Leffe.
Monks in the Middle Ages started brewing Leffe, to check if the water was potable. The filter process made sure the water was free of epidemics like typhus. An added bonus was that it was tasty – lucky us!
Because there are still monks living in the The Abbey of the Notre-Dame Leffe, only guided visits are allowed. There are also other places to learn more about the history of Leffe (and to taste it of course!).
Maison De Leffe is a great stop for a taste of the beer and of the history! It's located in Hotel La Merveilleuse, so you'll get a feel of the old nun monastery too.
You can also visit one of the beer shops in town and take some beer home, or drink one (or two) at Café Leffe!
6. Couque de Dinant
The Couque de Dinant is probably the weirdest biscuit I've ever had. This biscuit can be dangerous, if you don't know how to eat it.
That's because… it's hard as stone! No kidding. The bakers use only two ingredients: flour and honey, making it very hard. They don't even use water! If you try to bite a piece off, you'll seriously lose a tooth.
Because I don't want this to happen to you lovely people, here's a step-by-step guide:
1. Break off a SMALL piece of the Couque de Dinant
2. Place it in your mouth and let it get gooey – Don't chew!
3. Wait a few minutes until you feel it getting softer
4. Start chewing
5. Enjoy! (You'll taste the honey now)
This biscuit is obviously not for the impatient one! The recipe goes back all the way to the 15th century, when the people of Dinant didn't have a lot of food. They made some sort of dough with ingredients they did have: flour and honey.
7. Chateau de la Poste
A 20-minute drive from Dinant you'll find the beautiful castle Chateau de la Poste. When you're driving through the gates, you'll feel like you're starring in a royal movie. Can you already see your prince or princess waiting?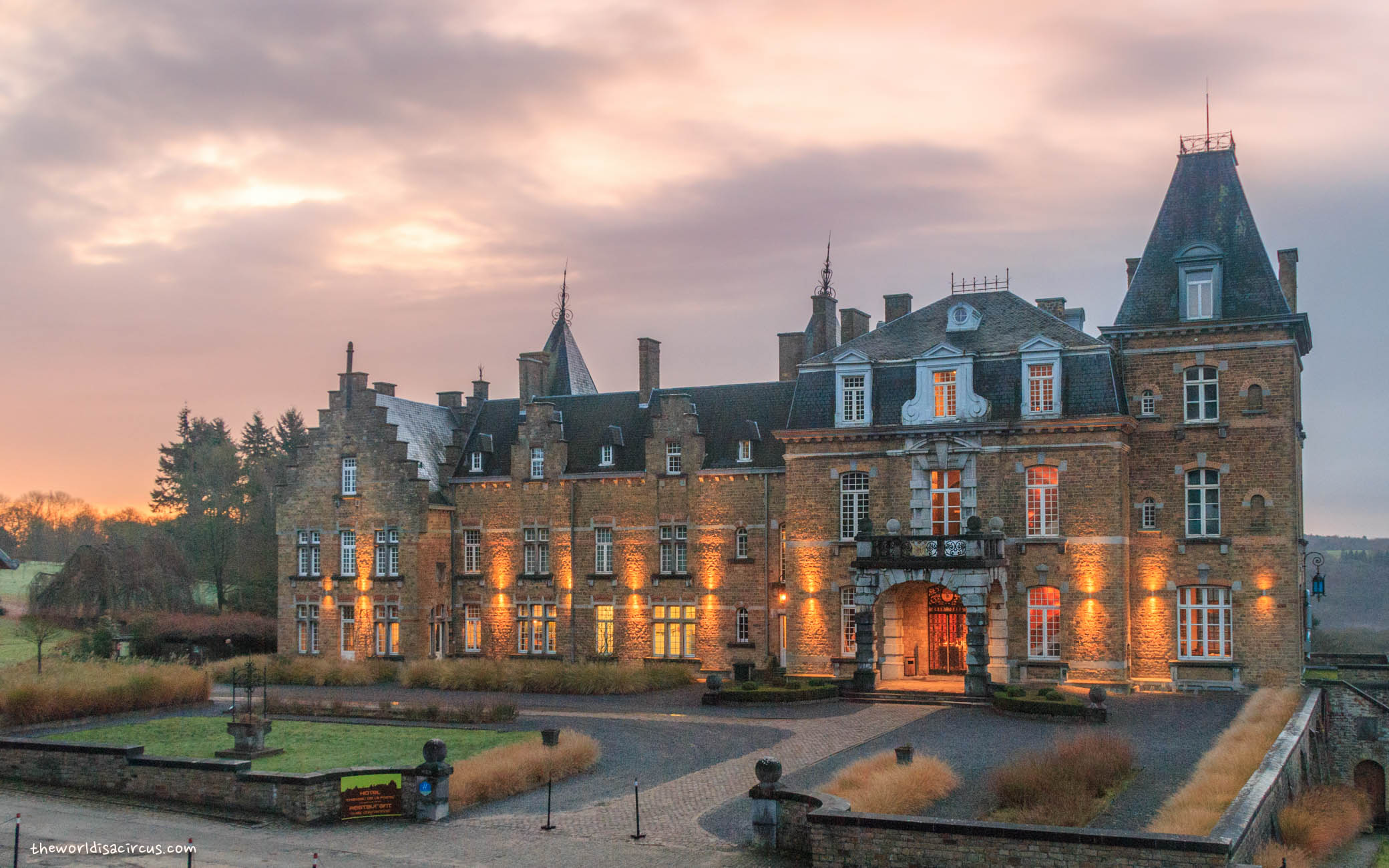 The hotel is quite large, with 42 rooms, but it didn't feel crowded at all (did you see how big that castle is?!). There is a lot of space, beautiful dining rooms and a large outside area to discover. Sarah and I spent the night in a room on the corner, meaning we had two windows giving us a nice view. Lucky us!
The room is compact, and has everything you need. I loved the large mirror, decoration and modern style! The bathroom and toilet were a bit small, but definitely good enough. The only thing I missed was some tea in the room.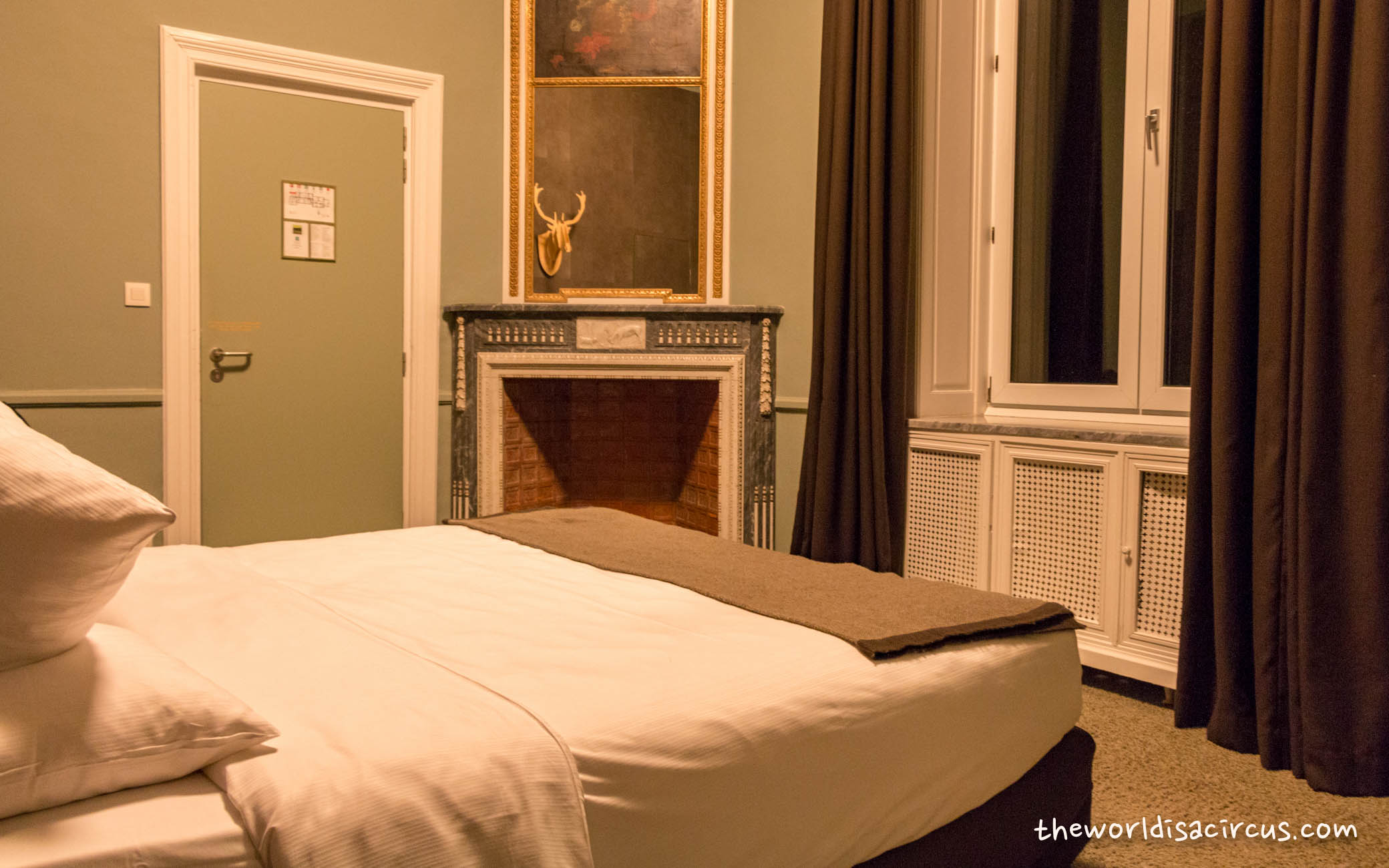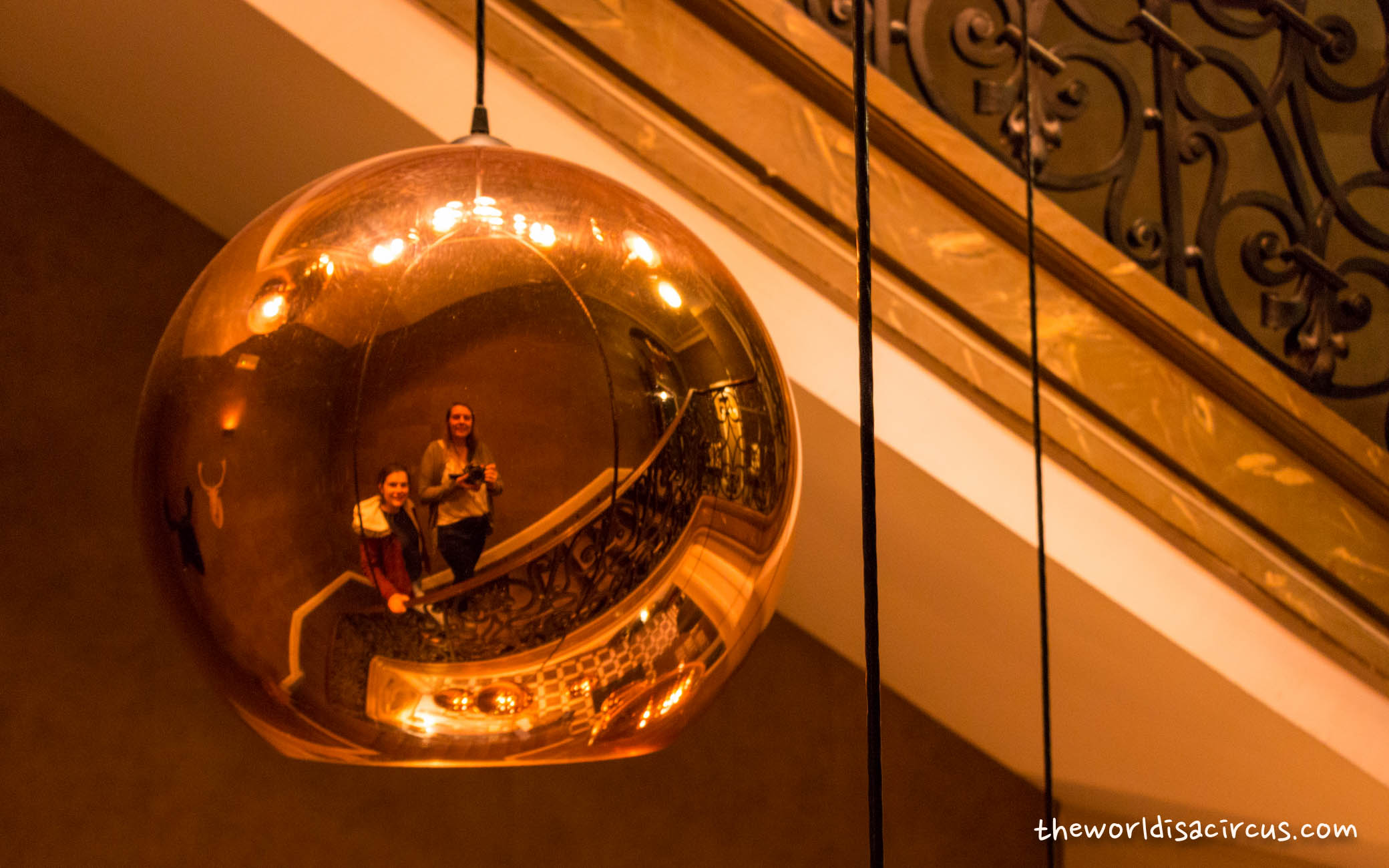 After my princess sleep and some sunrise photography, Sarah and I had a big breakfast. The breakfast was beyond impressive. I could've stayed all day, just eating food. Of course, that isn't princess-like, so I watched my manners…
Chateau de la Poste is located on a huge domain – seriously huge. We went for a stroll after breakfast, through the forest and past lakes, taking in the fresh air (no rain that morning!).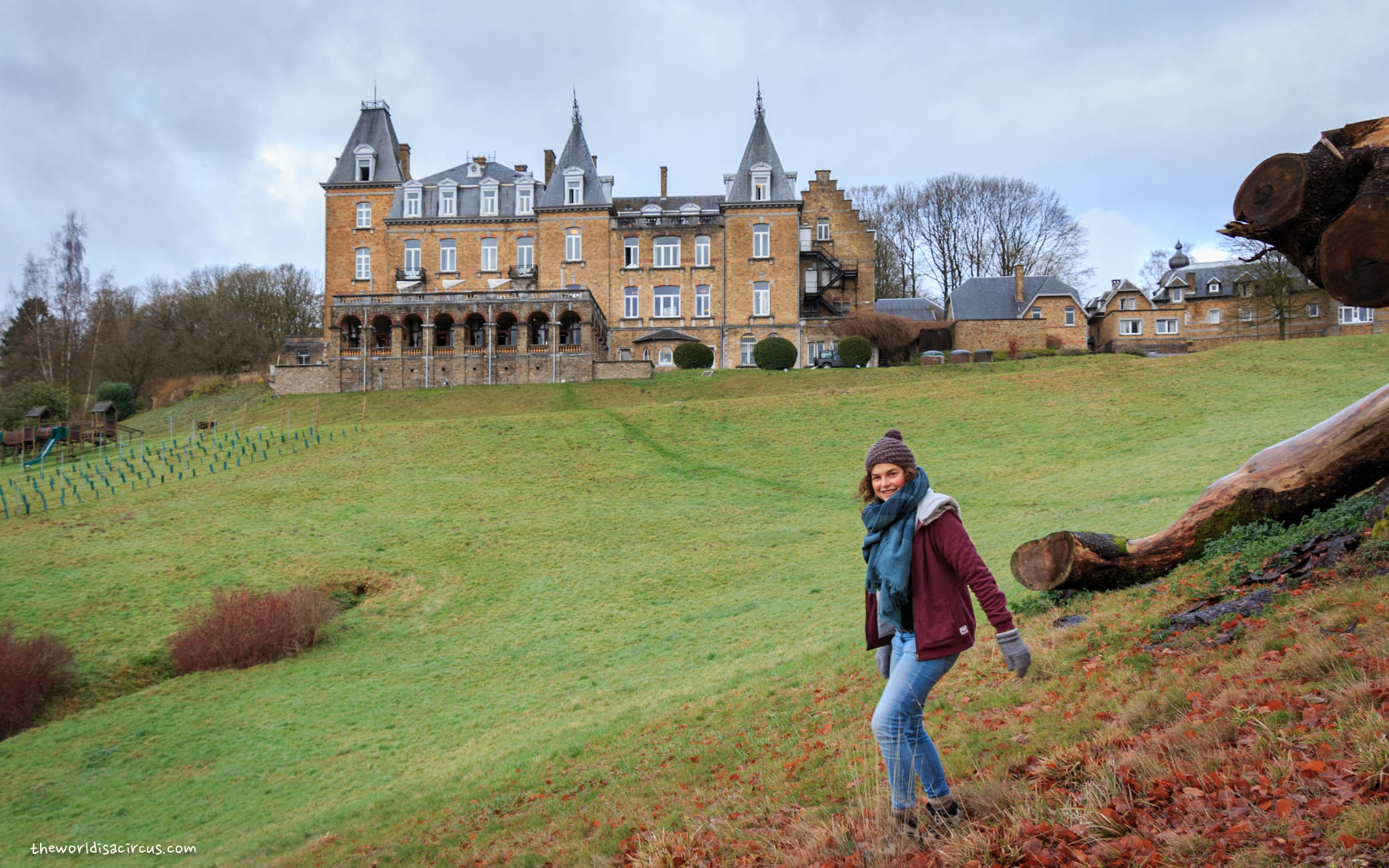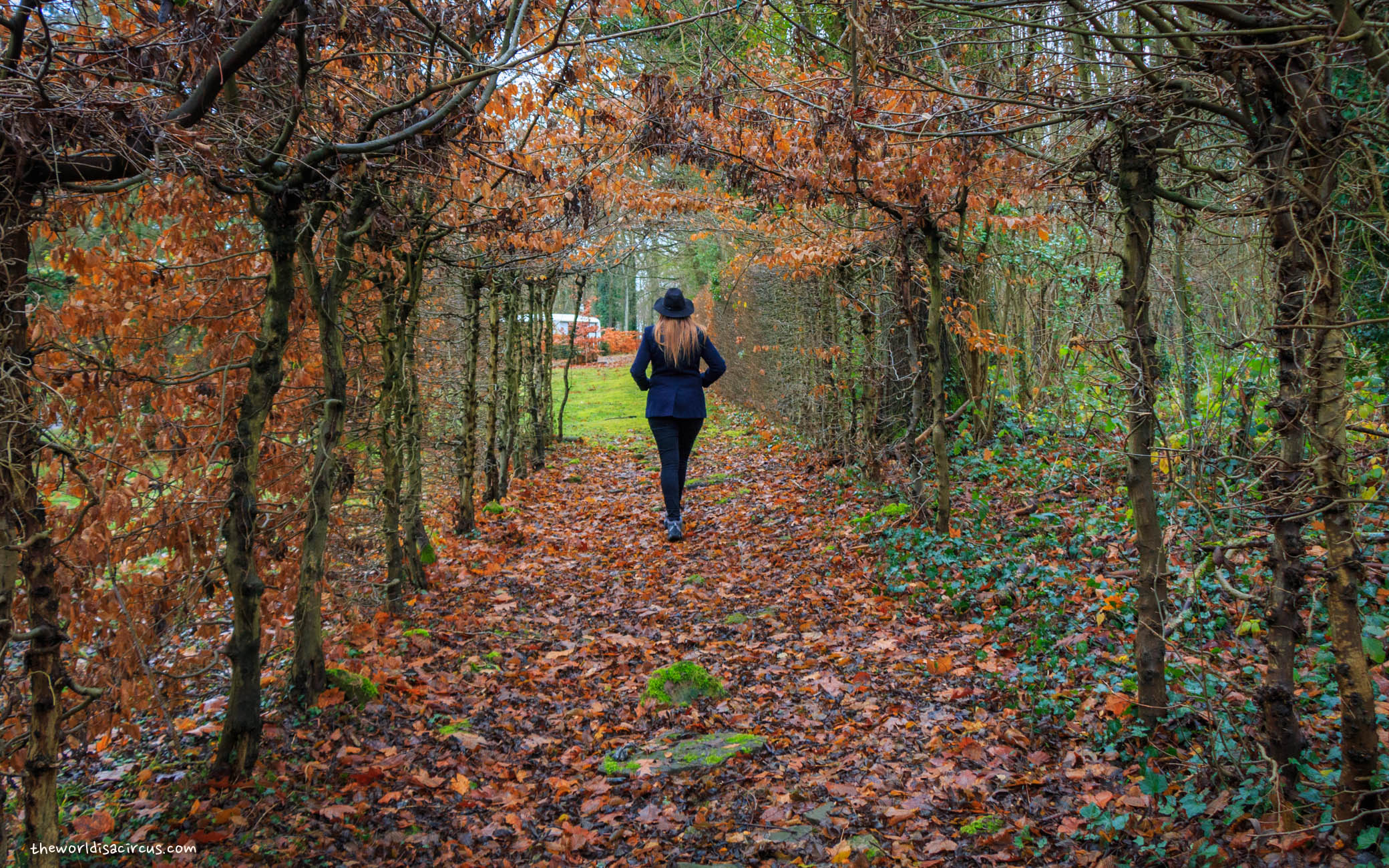 Practical Information to Visit Dinant
How to get there?
Brussels to Dinant is some 100km, with many options to get there!
Car: the highways in Belgium are well maintained and easy to navigate. It will take you an hour and fifteen minutes. Try to avoid rush hour though, as there might be a lot of traffic on the road!
Train: the train from Brussel-Centraal to Dinant takes two hours, with one transfer. Sit back, relax, and enjoy the ride through Belgium. You arrive in the centre of Dinant and can walk easily to your accommodation. It will cost you 13,40€ one way. Buy online or at the counter.
Bus: Belgium has a good network of busses, but I wouldn't recommend taking the bus from Brussels to Dinant, it will take you a long time and you'll have to change busses a lot. If you're already in Wallonia, you could take a TEC bus. From Namur it will take you an hour. But I'd still recommend taking a train, as that will be faster.
Where to sleep?
It's not because Dinant is small, that there aren't a lot of accommodation options available. I had a great experience at the two hotels I stayed at (see above), but if you'd like to have another look, check here: hotels Dinant.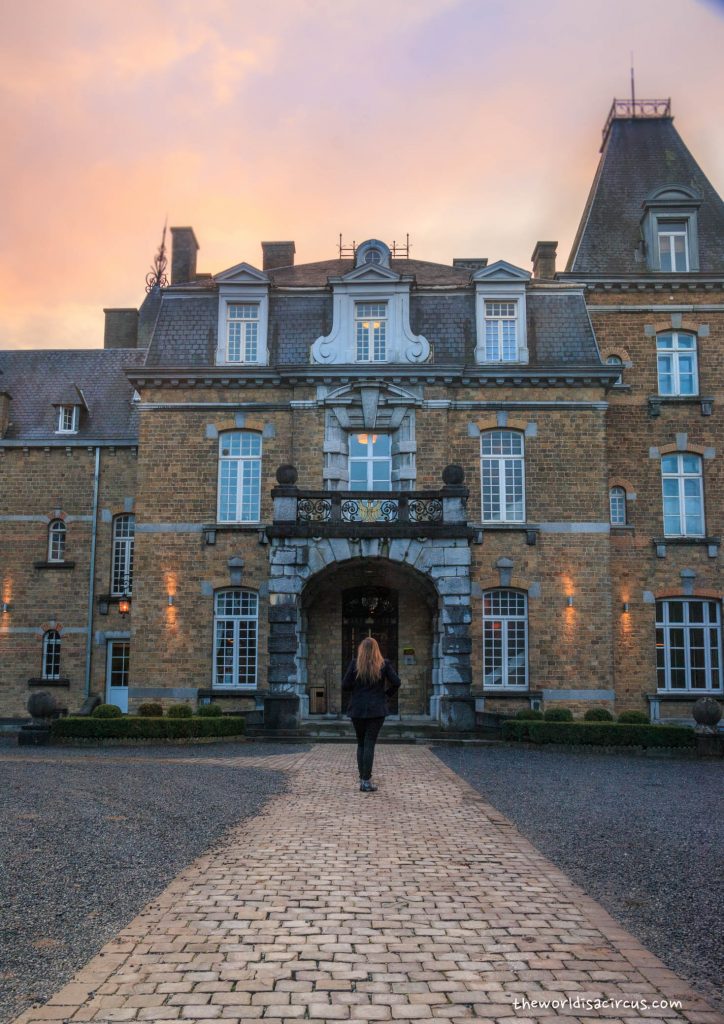 So next time you're travelling through Europe, don't just DRIVE through Belgium. Please, make a stop and visit Dinant! Enjoy the food, drinks and history in cute little towns like Dinant!
Disclosure: When I was visiting Belgium I really wanted to explore my backyard, so I reached out to Wallonia Belgium Tourism. They hosted me on this trip, but all opinions are as always my own. I had done my research and suggested what to do, so you can count on it being true! Some of the links in this article are affiliate links, which supports this site without costing you anything extra. 
Did you like what you read? Pin and save it for later!