The Maldives are a paradise. The white beaches, the blue ocean and the sunny weather make it the perfect holiday destination. But it will cost you an arm and a leg.
At least that's what I thought.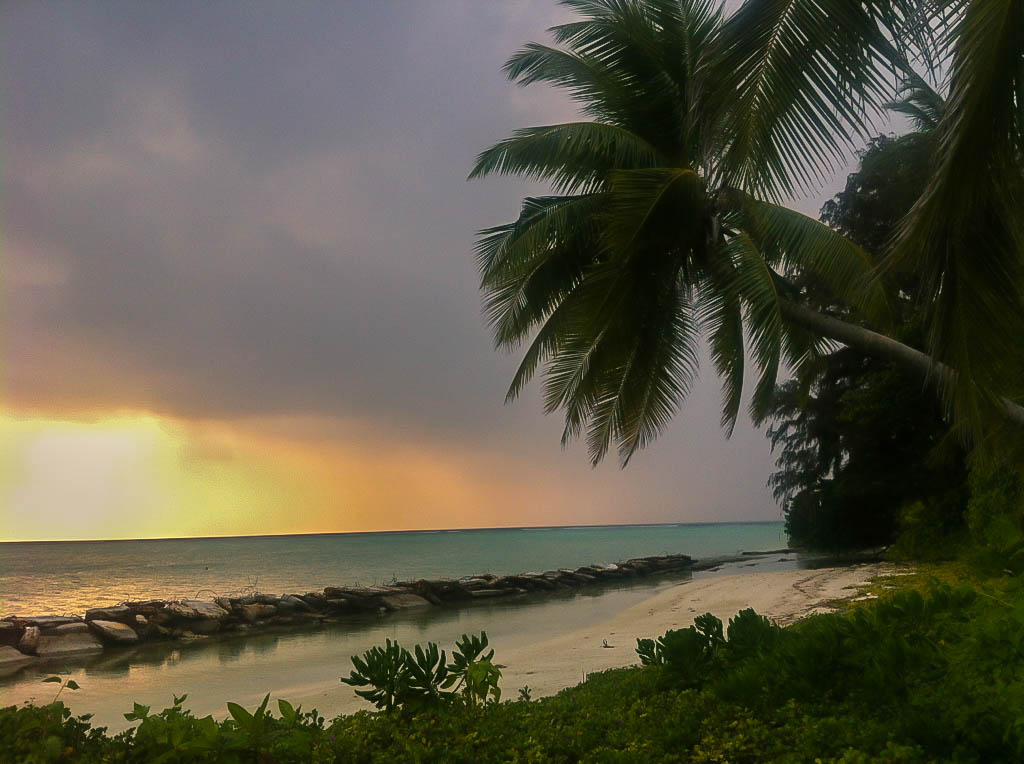 Yes, the luxury resorts have horrendous prices, but you're not obliged to go there. The Maldives can be done on a budget.
Six years ago guesthouses started popping up, due to a change in regulations. For the first time tourists were allowed to stay among the local population, rather than just on privately owned resort islands. But many budget travellers still don't know this is possible.
How can I save money?
1. Cheap accommodation: cheap is relative in this case. You won't find rooms or dorms for 10 dollars. Guesthouses range from 30 to 60 dollars for a double room, which is still way cheaper than the over-expensive resorts. We found good deals on Agoda and booking.com. Try to book in advance, you'll be surprised by the online discounts (they can go up to 50%). Another option is AirBnb. Unfortunately camping is not allowed.
2. Food: the food is good and cheap. On the more touristy islands (like Maafushi) you have a larger offer, with prices from 5 to 10 dollars. Try for sure Mas Huni, it is the typical Maldivian breakfast. Delicious!
3. Ferries: going from one island to another? Choose the ferry. It is cheap (2-5 dollars) and an experience. It is very basic, you won't find comfy chairs or many tourists on them. It is slow (we spent 6 hours on it one time), but it is still way cheaper than the speed boats. Those will cost you more than 60 dollars a head for a 20 minute ride. So take your book out, relax and you'll be fine!
4. Activities: activities can be expensive. Especially if you like diving – the Maldives are a perfect spot. One dive is 50 to 80 dollars. But there are possibilities. I was lucky to have friends who know the art of negotiating. We managed to make a deal on Maafushi for 20 dollars a dive. We guaranteed him we would do at least 10 dives and we were with a group of 5. He wanted customers, so he accepted. It all happened in a friendly manner. Don't be afraid to negotiate! It will pay off.
Also check with your guesthouse for excursions. They know the island the best and can recommend stuff. Compare the prices of some guesthouses and then choose the one you prefer. It's perfectly fine to do an excursion with another guesthouse. Most guesthouses have as well fins and goggles, so you can always snorkel by yourself on the island.
There are 1,190 island in the Maldives. 192 are inhabited. Those islands are very small, you can cover them in 20 minutes. None of the streets are paved (which is charming) and there are no ATM's. Make sure you withdraw enough money on arrival in the country. If you plan to go island hopping and don't want go back to Malé, make a good estimation of the money you'll spend. We also had a problem with our credit card. Our VisaCard was not accepted, MasterCard was though.
Muslim country
The Maldives are a great holiday destination, but it still is a muslim country. Meaning there are some rules you have to obey. On arrival in the country you sign a paper that you won't bring pork, porn, religious symbols or alcohol into the country. Alcohol is forbidden on the local islands. You'll only find it in resorts or on 'Safari Boats'. The latter is a boat close to a local island, where you can have a drink. They are rare, but if you're lucky you can jump on a boat to go to the Safari Boat. Quite some effort for a beer, but you get nice views on the sunset as well.
The no-alcohol-policy made it an interesting New Years Eve. A NYE without alcohol? No way. Not even a bottle of bubbles? The day before NYE a waiter approached us secretive and asked if we would like to buy some alcohol. A friend of him would bring it with a boat. Our eyes lit up and we had a fun NYE ahead. The day itself the waiter was nowhere to be found. After a couple of hours he shows up with guilty eyes. In his poor English he said: "My friend drink it all…". So that was it. No alcohol for us. Well, we sucked it up, put on our party shoes and had fun. My first NYE without a sip of alcohol. A great memory.
In muslim countries it is also not allowed to show too much skin. This is the same on the Maldives. In the resorts you can do whatever you want, but on the local islands you have to wear respectful clothes. Meaning, you can't run around in your bikini. Even on the beach. On the popular islands (like Maafushi) there are bikini beaches. You are sheltered from the locals and they are sheltered from your 'nudity'.
Because independent and budget travel to the Maldives is still new, there isn't an overload of information online. I did a lot of research and figured the rest out on the spot. For those who are going to the Maldives, I hope I was able to give some tips. For those who thought the Maldives were too fancy to end up on their travel list: Think again!