Update 9 December 2019: there has been an eruption on White Island with more than 5 people losing their lives. Among them Hayden, our lovely guide who showed us the island. RIP Hayden and condolences to Hayden's family, friends and colleagues and all other people who lost their life.
—
I spent my last day of the year on a volcano… And I don't mean a dormant one, but an active one! White Island, or Whakaari in Māori is only 48 kilometres from Whakatane, on the east coast of the NZ North Island.
Only three months ago there was a minor eruption on White Island! But that didn't scare me off; I wanted 2016 to end with a bang! Not a literal one of course (sorry, I couldn't leave this one hanging).
Every year I try to find something different to do on the last day of the year. In 2015 I found myself motorbiking the NZ South Island and in 2014 I had the weirdest, alcohol-less New Year's Eve in the Maldives.
White Island you beauty
There are two options when visiting White Island: accessing the island by boat or by helicopter. I chose to go by boat with White Island Tours. It turned out to be a good choice, as they were awesome!
At 8am we were cruising to White Island – I was so excited! For the first time in my life I would walk on a volcano. And not just any! It is New Zealand's most active cone volcano and has the majority of its cone under water. The volcano is playing a trick on you by showing only 321m of himself, however this is only the peak! The full height is 1600m!
The boat ride was perfect to wake up slowly. One hour and a half on the water, with my hairs in the wind, enjoying the ride and getting a morning greet from the dolphins.
WAIT – what?
Hell yes, on this trip there is a big chance to see a pod of dolphins. If you've never seen dolphins in the wild, it is magical – believe me. They're so playful and just spread this joy. I promise you they put a smile on everyone's face – even the sourest person.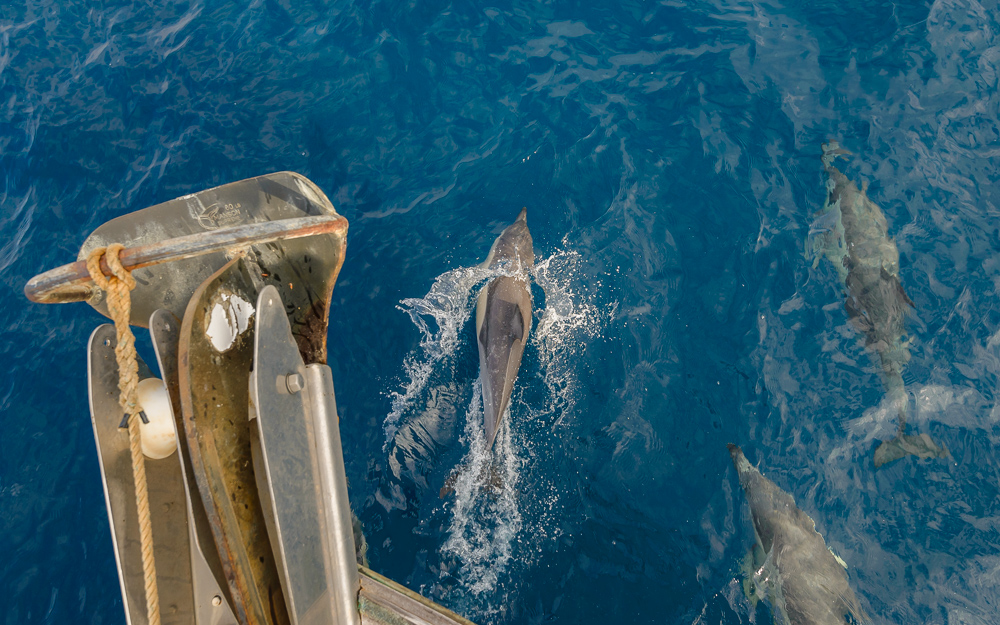 You also pass Whale Island, a protected wildlife sanctuary that's home to a number of endangered plants, birds and reptiles. It looks quite impressive when riding by. Because of it's precious nature it is highly restricted to the general public and you can only visit with White Island Tours.
Masks on!
Our arrival at the volcano felt like a moon landing. Was this rocky, weird shaped, moon like surface covered with white steamy clouds our planet?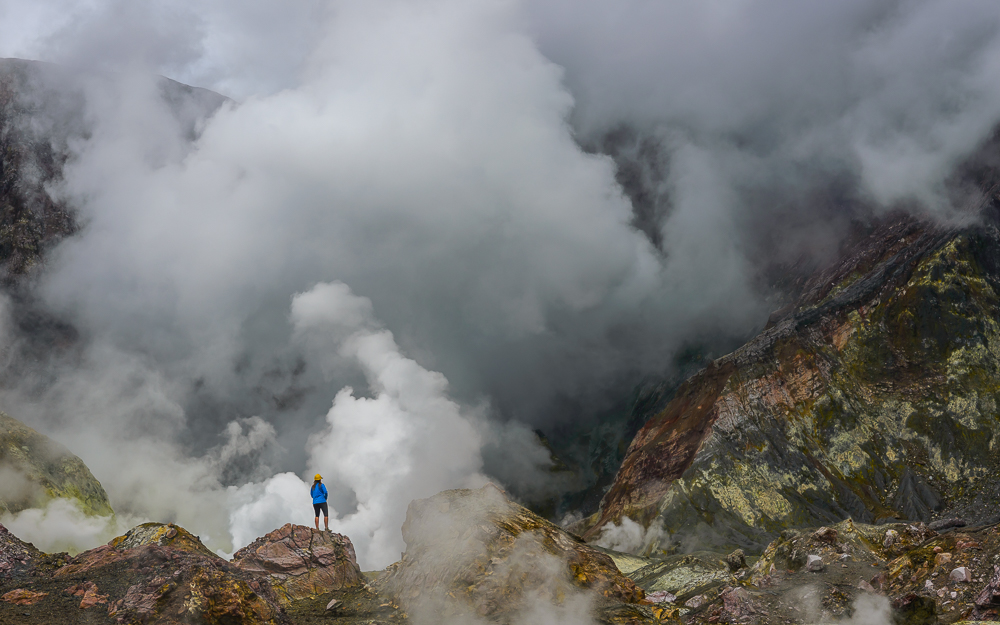 Once divided in small groups we began exploring the island. Just mind-blowing. I was walking on a volcano of 150.000 to 200.000 years old! Can you imagine that? I find it sometimes hard to think beyond our time. These amazing artefacts of nature have been here so long and so much has happened on the place you're walking. I just love it!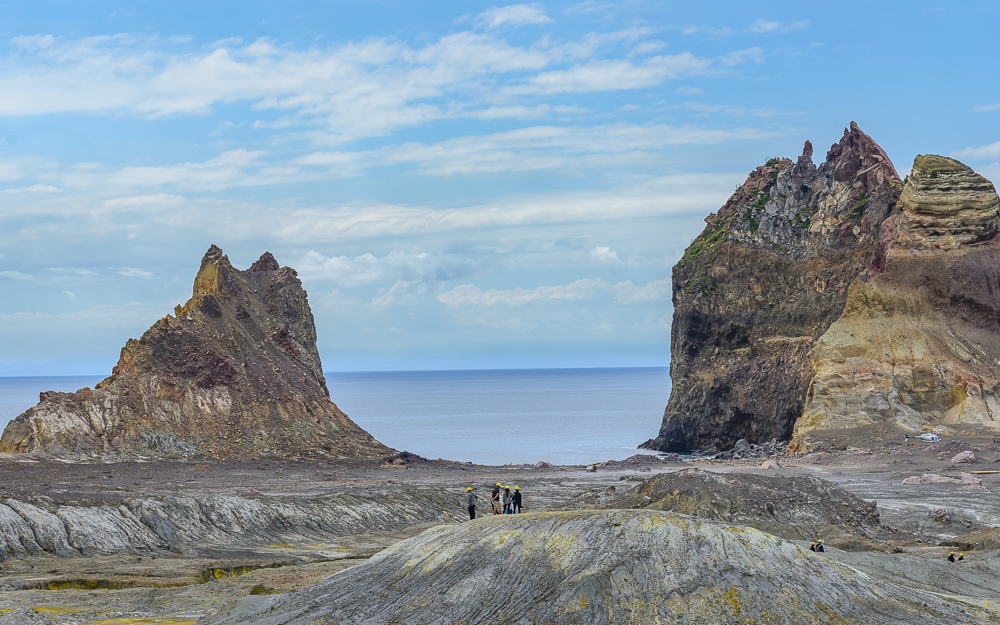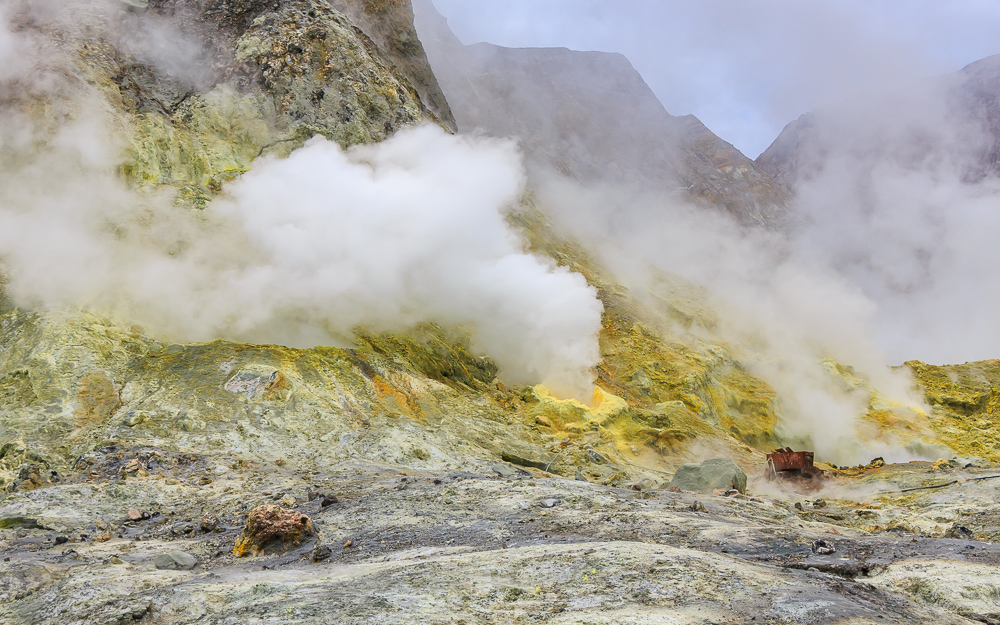 Because the majority of the volcano is under water we were actually walking in the inner crater, which is quite unique! There were a lot of little hills that I love to stand on, but in this case the guide had to temper my enthusiasm a bit.
Those little hills aren't as innocent as they seem. Many of them only have a thin layer of crust, which means you would crack through and fall down in the volcano… My lovely guide tested a few hills for me, so I managed to get this photo.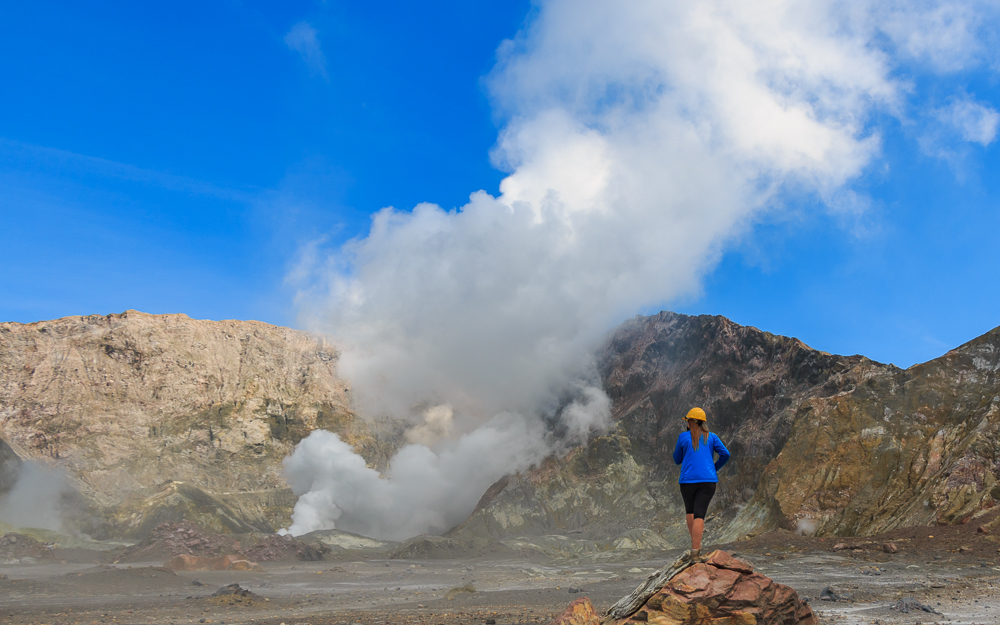 Hayden, the lovely guide, told me has been working at White Island Tours for eight years now, and said that it never gets old. His daily visits to the volcano stay interesting, because the scenery changes every day. A few months ago for example there was a blue crater lake and that now has disappeared. Another plus is meeting new people every day. I hope he still agrees after testing those dodgy hills for me…
Walking on White Island is an amazing overload for your senses. The colours, the view, the boiling mud, the smells… Ten minutes in our walk the gases were coming our direction, our cue to put the gas masks on. Those steam vents are officially called steaming fumaroles, it is an opening in the planet's crust, which emits steam and gases. It's a weird sensation walking in between them, they're very cool to see and in general harmless, but it might be harder to breathe for some people and it stings the eyes.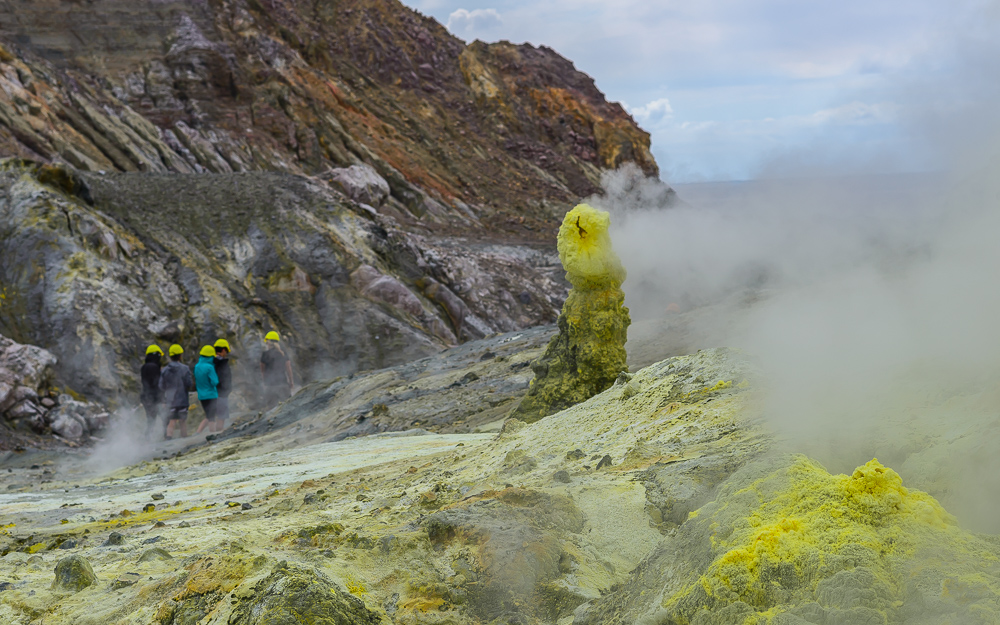 What I really appreciated is that the tour guides ask everyone to really stay on the one track, to ensure minimum human impact. And White Island Tours doesn't take visitors to the island when it is raining, to prevent damage to the soft surface. Companies that care about the environment are always better!
What's in a name?
A nice little fact is that the full Māori name for White Island is actually Te Puia o Whakaari, meaning The Dramatic Volcano, pointing at all the white steam that's coming out of it. A little bit of drama on the last day of the year, I like it! 
Explorer James Cook chose the English version in 1769. He called it White Island because to him it appeared white. Cook never got close enough to realise it was a volcano.
Since its discovery there have been a few mining operations to get sulphur. But in the 1930s mining came to an end, after a few fatalities due to eruptions and a crater collapsing) and the economy. The remains of the sulphur factory are cool to see. You can walk between very old buildings, corroded by the gases. It feels like you're on the set of an apocalyptic movie.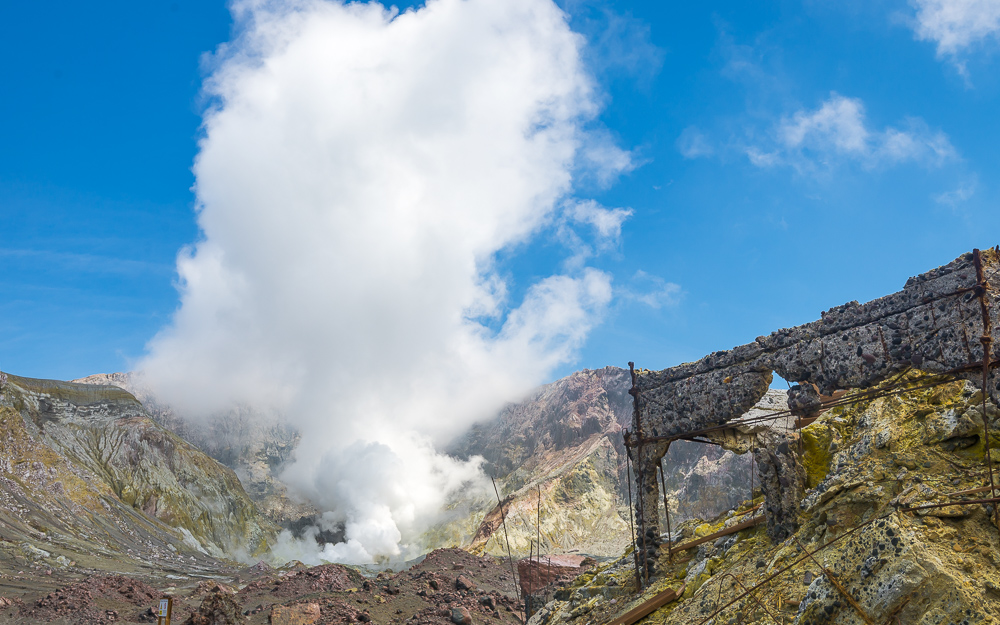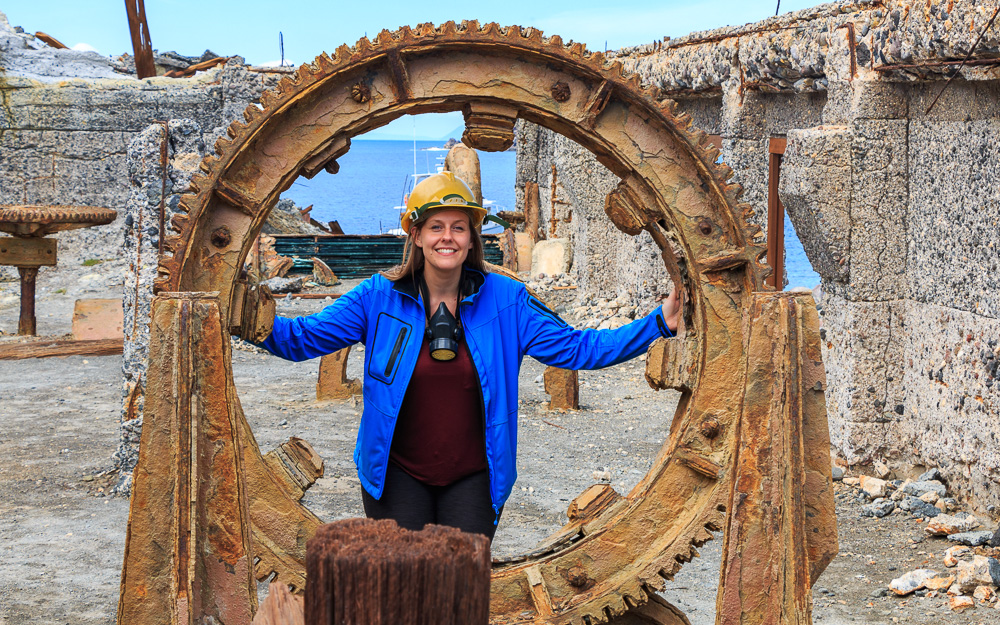 Goodbye 2016
We spent about an hour and a half on the volcano and then it was time to go back.
To finish this already amazing last day of the year we got AGAIN a visit from a pod of dolphins. I'm not sure if 2017 will be able to top that… but I hope so! Bring it on!
Disclosure: I got offered a free tour to White Island via White Island Tours in order to be able to write an honest review about my experience. All opinions are, as always my own.